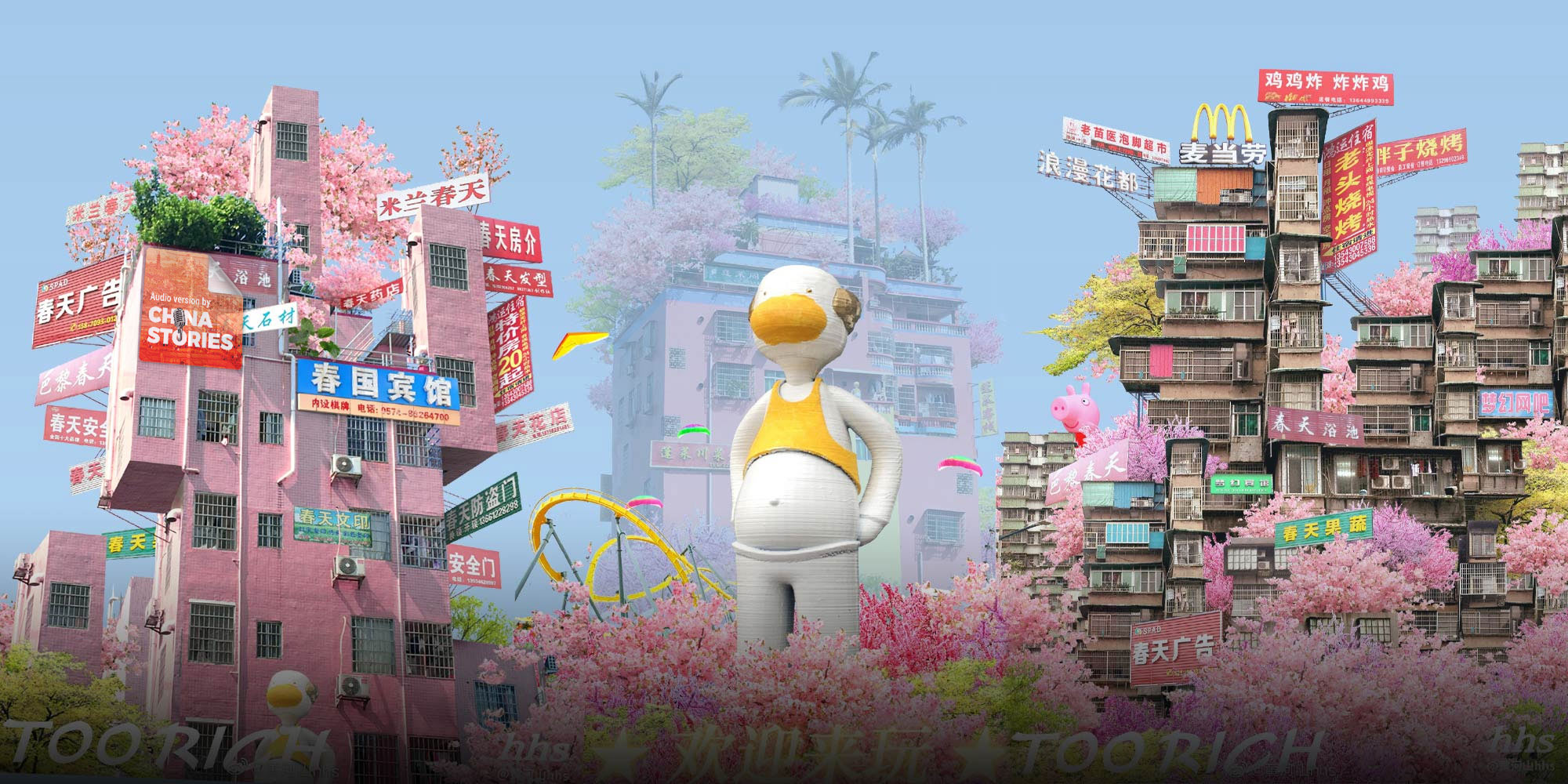 FEATURES
Chinese Buyers Join Metaverse Land Rush
China has seen a boom in all kinds of virtual houses, as domestic enthusiasts jump on the metaverse bandwagon.
Artist Huang Heshan started building virtual houses as an art project. Now, a boom in interest in virtual property has got him selling them for very real money.
His project TooRichCity is a virtual city led by a fictional middle-aged bald man who is not shy about showing his belly, and composed of tottering towers made of 3D-rendered concrete and rustic, campy shop signs Huang collected in China's lower-tier cities and villages.
Huang initially imagined TooRichCity to be an "intellectual property" that could be franchised as a movie or TV series, but he added a metaverse angle to it this July while preparing for a creators' event. It proved to be a lucrative move.
He sold 310 "houses" — digital images of buildings in the form of NFTs, or non-fungible tokens, unique units of data stored on a blockchain — within two days for 400,000 yuan ($63,000), mostly to young buyers. Each buyer received a property certificate and an invitation into a group for owners on social app WeChat, like any house buyer in China. The main difference is that property owners in TooRichCity cannot yet experience their estate, except by admiring a picture of it.
As the offline housing market in China hit a "historic" low point with the fall of property giant Evergrande, according to Beike Research Institute, virtual real estate is a hot commodity, driving front-page articles and hot conversations on social media. The domestic trade publication China Real Estate Business listed "metaverse property" first in an article on the "top 10 industry news of 2021."
Facebook's recent name change to Meta has helped fuel hype for metaverse products of all kinds. Meanwhile, "metaverse property" remains a loosely defined term. While believers look forward to one day owning houses in a Matrix-like simulated world, the market now includes everything from digital images of houses traded as NFTs to virtual reality houses in games.
Hot properties
Much of the enthusiasm around metaverse property is being driven by the success of Decentraland and The Sandbox, virtual worlds that offer users the right to buy virtual land and customize it as a sort of localized video game, with land records kept on a blockchain. A fitting comparison would be if you reimagined the video game Second Life for the blockchain generation.
The U.S.-developed projects have attracted eye-catching investments from celebrities, including the American rapper Snoop Dogg and Singaporean Mandopop star JJ Lin. These deals also made headlines in China, and over recent months several high-profile Hong Kong investors — such as Adrian Cheng of New World Development and the real estate firm Sun Hung Kai Properties — have also bought into The Sandbox.
Now, a growing number of people on the Chinese mainland are scrambling to buy up real estate inside Decentraland and The Sandbox. Carson, an early Chinese investor in The Sandbox, told Sixth Tone that metaverse property is attracting three kinds of people in particular, namely, "The opportunists, the investors, and the idealists."
Owners of virtual land in The Sandbox or Decentraland can use them to build custom "worlds" — essentially, video games made with a set of tools provided by the platform. "Metaverse property represents the right to choose your own lifestyle," Carson said.
Carson, who prefers to be referred to by his pseudonym in the blockchain world, self-identified as an idealist. Carson is a member of a crypto community that jointly runs a Sandbox world called LuluLand. He's a council member of LuluLand's "decentralized autonomous organization." LuluLand recently held a Christmas party at which users played online games including hide-and-seek and participated in treasure hunts for prizes like snowman NFTs.
It is not a world everyone in China has access to. Buying land on platforms like The Sandbox takes cryptocurrency, and all cryptocurrency transactions have been banned since September. Determined Chinese residents need a virtual private network and overseas bank account to buy in.
For this niche group, real estate NFTs have so far proved lucrative. Over the last two months, the price of land in The Sandbox has increased over thirteenfold from around $1,175 to $15,612. It is not known how much of this money came from Chinese players.
Despite an ongoing crackdown on cryptocurrency mining and trading, the Chinese government has not banned NFTs or the metaverse, pointed out Winston Ma, an adjunct professor at NYU Law School.
"However, when NFT includes the term 'token,' and the NFT trading market sees exponential growth of volume, it's hard to imagine that NFTs can develop in China without being associated with cryptocurrency — and the related regulations," Ma said.
Domestic brands
There are other ways to join the hype within China. You can get the virtual reality experience without the property deed, or the property deed without the virtual reality experience.
Hu Qiaohao has a "metaverse property," as he called it in vlogs on Bilibili and Xiaohongshu, with a panoramic view of Earth that cost just around 3,000 yuan: there is a bedroom, a living room, and a mini-fridge containing 3D images of his favorite drinks. The key to his virtual home is a virtual reality headset from Beijing-based VR start-up Pico Interactive, which was recently acquired by Chinese tech giant ByteDance for 5 billion yuan.
Every Pico user can access and customize a virtual home in their headset, including purchasing virtual furnishings, and invite other Pico users over. There's no way to sell a virtual Pico house to someone else unless the owner resells their headsets.
"When you log in, you see an immersive space that we call home; you can talk to others and play interactive games," the VR industry professional told Sixth Tone. "Real estate companies could build commercial streets, and when people have their virtual avatars, they can go shopping together and watch movies like they do in real life."
Meanwhile, a digital product with a metaverse twist saw a boost in attention and value last year, before being flagged by market regulators for creating market-moving hype.
Virtual houses — 3D renderings that serve as the user's home base — from Chinese life simulation mobile game Honnverse spilled into secondhand trading app Xianyu for resale after the game launched in late October.
Some early users got virtual homes through a lucky draw during beta testing, before deciding to flip them. One priced their 3D glasshouse for 980 yuan; another offered a chalet for 999 yuan.
One user from the southern province of Guangdong, who listed a virtual seaside villa for 2,999 yuan, told Sixth Tone he had a dismissive view of Honnverse despite wanting to turn a buck from it.
"This is all fake. I believe in the metaverse, but Honnverse and metaverse are two different things — having a property in Honnverse is like FarmVille," said the user, who refused to disclose his name for privacy reasons. He said he received over a dozen inquiries in the first few days of listing the property.
Stock of Honnverse's creator In My Show surged after CEO Li Meng released a public letter envisioning a metaverse future, with its market cap rising 500 million yuan between Nov. 18 and Nov. 19.
But the boom did not last long. On Nov. 20, the Shanghai Stock Exchange accused the company of misleading investors by describing its plans outside official channels. Xianyu removed all products mentioning Honnverse after two weeks, including the Guangdong user's seaside villa.
Following the incident, he mused, "With real houses, it's all about 'living in, not speculation,'" referring to an anti-speculation slogan. "Are they going to let us play games with digital ones?".
Long road ahead
In addition to regulatory uncertainties, aspiring metaverse property owners need to be aware of technological limits.
"We are still a bit far away from the ultimate metaverse," Chen Dongyao, assistant professor at Shanghai Jiao Tong University, told Sixth Tone. "An immersive user interface experience is one of the key missing pieces from a technology perspective," he said.
"Metaverse could be the ultimate application to orchestrate a wide range of the latest computing technologies such as VR, AI, and 5G. I believe [it] has great potential," Chen added. A team he recently led invented a wearable and untethered on-body hand-tracking system called MagX, allowing users to employ natural gestures in interactive scenarios within the metaverse.
Chen sees hardware as the driving force to improving the user experience. VR headsets are as close as most people can come to a metaverse experience, but they are often "cumbersome and awkward," he said, adding that the science and business world should also work to develop hardware and explore applications beyond gaming.
Poor user experience and a lack of content are two of the most prominent issues in the market adoption of VR and AR, but that is changing as more creators and developers join the industry. Market research firm IDC has predicted that China will become the world's largest consumer market for AR and VR by 2024, accounting for 36% of the world market.
But technology won't attract users unless there's something to see, so metaverse companies are also courting content creators. Artist Huang's team is in talks with The Sandbox and Decentraland to bring the TooRichCity IP onto a blockchain-enabled platform, so that prospective house buyers can tour their property and residential compound. He imagines buyers one day running small businesses, selling street food or mending bicycles — common trades in China's lower-tier cities, where Huang got inspiration for the project — via digital avatars.
For some investors, technology development isn't the point. It doesn't matter what equipment is ready because "imagination matters the most," said Yan Suji, founder and CEO of Mask Network, an Ethereum-based encrypted messaging application.
There are many ways to make financial bets on the metaverse, but the concept of property may be easier to understand than others for retail investors, he said.
Yan has invested in a "digital construction company" that relies on the "play-to-earn" model made famous by Axie Infinity, in which users perform repetitive tasks in order to earn tokens and NFTs.
It's all in the cloud, but so are many offline real estate purchases, said Yan. "You imagine Evergrande would never breach its contract, so you buy a house that will be completed in three years," he said. "If you are willing to buy that, what are you not ready to buy?"
Correction: A previous version of this story identified "Carson" as the owner of LuluLand. Carson told Sixth Tone that he does not own LuluLand, but participates in its governance as a member of a decentralized autonomous community, or DAO, known as SanDAO.
Editor: David Cohen.

(Header image: A collage shows Huang Heshan's project "TooRichCity." Visual elements from @黄河山hhs on Weibo, reedited by Sixth Tone)