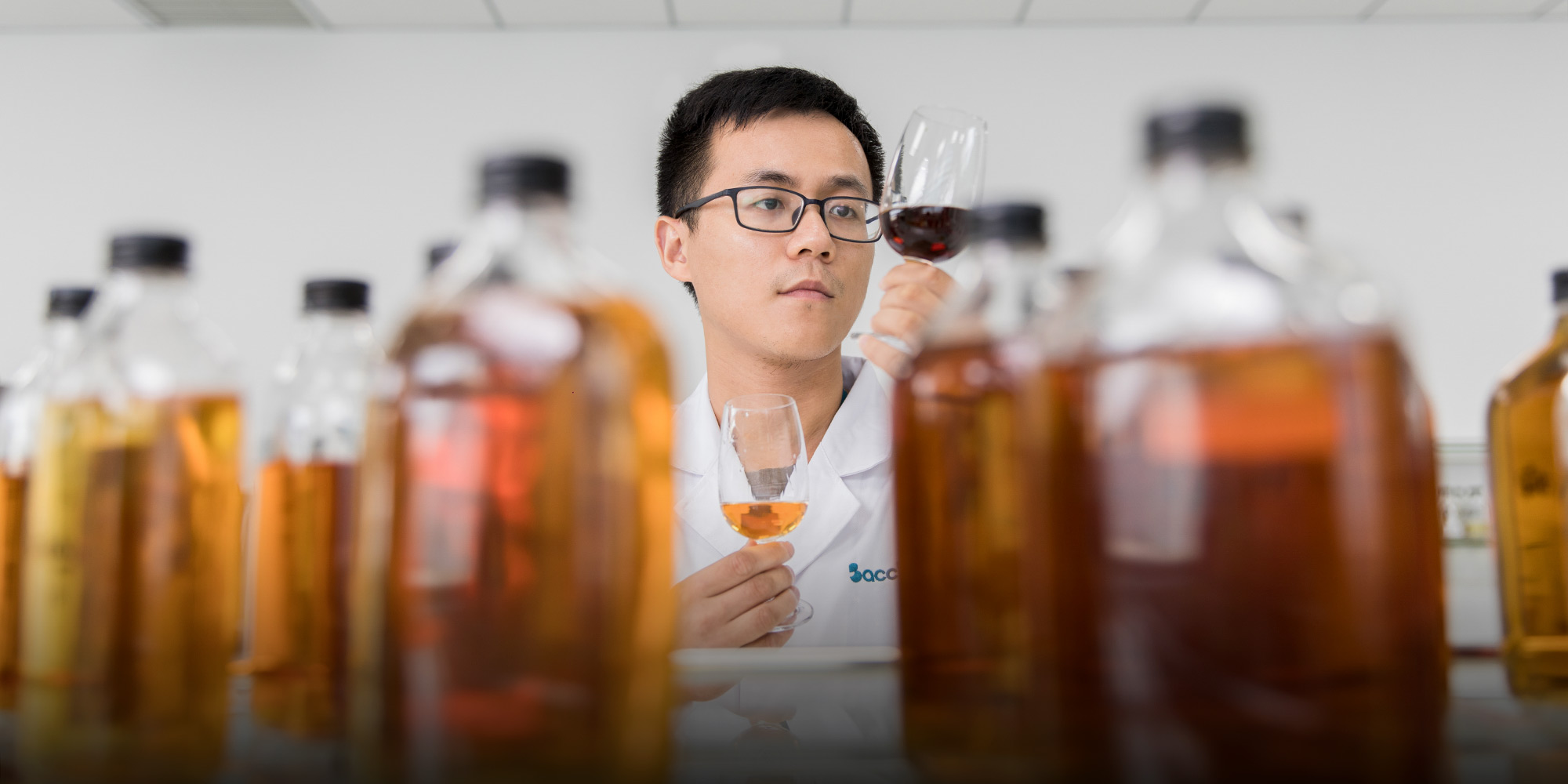 FEATURES
The Race to Create a Whiskey From China, for Chinese People
Banking on the fast-expanding middle class, Chinese and Western liquor companies are eager to build Chinese whiskey brands. But with a years-long wait for each batch, domestic and international suppliers alike are betting on the unknown.
Scottish whisky is known for peaty flavors and an air of oak-paneled luxury. American bourbons usually contain sweet and mellow notes. Japanese whisky has emerged as the sophisticate's choice, higher priced and a little unknown. And Chinese whiskey… Can we get back to you in 2024?
China isn't known for its whiskey, but that could change in the next few years. At least a dozen distilleries have been established in the Chinese mainland in recent years, and they are experimenting with local climates and ingredients, especially in the southwest. Pernod Ricard, the owners of whiskey brands including Chivas Regal and Glenlivet, began production at a malt whiskey distillery in Sichuan province in August. Diageo, which owns over two dozen whiskey brands including Johnnie Walker, recently announced plans to invest in a single malt distillery in neighboring Yunnan province.
They're banking on a growing market for the spirit.
Whiskey accounted for just 1% of China's liquor market in 2020, while Chinese white spirit baijiu took up 96%, according to domestic management consultancy Ries.
It's not the first time whiskey has been on the rise. The market peaked at 13.7 billion yuan (around $2 billion) in annual sales in 2012, before falling to just 9.3 billion yuan in 2016. As of 2020, sales haven't recovered to their 2012 level.
Experts say that the major anti-corruption campaign of the early 2010s likely explains the decline. "The ban on entertaining at public expense starting in 2012 explains Scotch whisky's decrease in value in 2013 and after," said Anita Jiang, an associate at market research firm Euromonitor International. She added that a drop in Scotch whisky sales, a high-end sub-category, mainly drove the trend.
But with the growing middle class, whiskey sales in China have been climbing back up in recent years. Euromonitor estimated that China will see a 28% increase in whiskey sales from 12 billion yuan ($1.9 billion) in 2021 to almost 16 billion yuan in 2025. "China is the largest alcoholic beverage market in the world in both value and volume terms," Sam Fischer, president of Diageo Asia Pacific and Global Travel, told Sixth Tone. "There's room for many different products."
"Given the activity from both big and small players this year, everyone is saying that 2021 is the beginning of an era for Chinese whiskey," says Wu Hao, one of the master distillers at the Laizhou Distillery in Sichuan province, where he's working on experiments like Scotch-inspired whiskey aged in Chinese yellow wine casks. Wu joined Shanghai Bacchus Liquor in 2017, when the company previously known for making alcopop Rio began work on a 1.5 million-square-feet distillery that completed construction this May.
White spirits to brown
High-end whiskies have begun to win fans in China.
Guangzhou-based equity investor Liu Xu told Sixth Tone he converted from local spirits after trying whiskey at a private member's club in Beijing in 2016. He was used to intense baijiu sessions at business banquets, in which drinkers push each other to down shots until the bottle is dry. He found whiskey is suited to "a sit-down discussion and enjoying it slowly."
It also offers more options for brands, prices, and consumption, he said. "The default option for baijiu is Moutai, but with whiskey, the price varies greatly from several hundred yuan to tens of thousands, even millions," Liu said. At business events, he still regularly drinks baijiu.
"I usually drink whiskey by myself when I watch a movie at home or try to have a quiet conversation, and it's also good for romantic occasions."
Yao Xin, a whiskey bar owner in northwest China's Yinchuan city, said he started seeing an increasing number of young people willing to try whiskey since he opened his bar in 2019. He attributed the changes to industry promotions, whiskey experts, and hobbyists.
That includes efforts from Diageo, the world's largest spirits seller. Diageo has reached over 12,000 potential Chinese whiskey lovers through a "whisky culture education" institution called Diageo Whisky Academy, and has organized 13 whiskey summits across China since 2017, Fischer said.
"Yinchuan locals' understanding of whiskey has graduated from the likes of Jack Daniels and Jonnie Walker to the basics of single malt and Japanese whisky," he said. Now, many customers prefer mainstream single malt Scotch labels such as Glenfiddich and the Macallan, he added. The latter two brands have tripled and doubled in market share in China from 2015 to 2020, respectively, according to Euromonitor. They have been chipping away at market share previously dominated by leading brands like Chivas Regal.
On one hand, an increasing number of people are introduced to whiskey for the first time; on the other hand, those that are already in the door are upping their game. "Whiskey consumers tend to go for big brands, but niche brands have gradually taken hold among advanced drinkers," Huang Shan, a Guangzhou-based lifestyle columnist and owner of e-commerce liquor store The Drinkers' Shop, told Sixth Tone.
In his online store, the two best-selling whiskies are single malt scotches: Black Burn, an entry-level product priced at less than 200 yuan, and Glencadam, a 10-year-old whisky that cost 920 yuan.
His store does not carry any Chinese whiskies now, but he plans to "sell and prioritize any Chinese whiskies that have appropriate quality and price points," he said.
Whiskey with Chinese characteristics
Liu, the Guangzhou whiskey drinker, turned up his nose at the idea of Chinese whiskies. "I am not sure if China has the right conditions for it; even if we do, it will take such a long time for it to age in casks," he said. "I do not plan to try any Chinese whiskies."
Two Chinese whiskies are currently available on Taobao, China's largest e-commerce platform. Customers have been underwhelmed by both. One buyer of the 388-yuan Holy Land whiskey from Yunnan wrote: "It's so-so, it tastes like it hasn't aged long enough."
Whiskey from Shandong-based Loom & Shuttle Spirits Distillery has sold slightly better than Holy Land, with just over a dozen purchases in December compared to Holy Land's eight. "It's pretty good for a Chinese whiskey," one buyer wrote in the review section for a 480-yuan single malt.
The ingredients of whiskey are simple: grain — malted barley if it's single malt Scotch — yeast, and water. After fermentation, the mix is distilled to increase alcohol content, and then aged in oak casks for years. This wood aging is what gives the spirit its brown color and much of its characteristic flavor. Scotch is usually aged in casks recycled from aging other drinks such as sherry or port wine, adding some borrowed flavor to the product.
Ivy Lü, a project manager in Shanghai who started drinking whiskey in 2017 and now frequents tasting sessions, said she believes in the prospects of Chinese whiskies.
"There are certain areas in China where the climate and terroir may be suitable for whiskey production, with our drinking culture for baijiu and yellow rice wine, we have our own brewing techniques. It'd be interesting to taste Chinese whiskies," she told Sixth Tone.
Infusing whiskey with yellow rice wine notes is exactly what Wu is up to. In late October, Laizhou Distillery made waves in the domestic liquor industry by putting their New Make, or unaged whiskey, in 20 ex-yellow rice wine casks. A traditional Chinese liquor drunk during cold winters, yellow rice wine shares flavor with sherry, Wu said.
But it's important to respect the traditions of whiskey-making, too. "Whisky is an imported good, which means we cannot change things at will," Wu said. "Only when we have a strong base can we discover what can make it Chinese." Wu prefers to use the Scottish spelling "whisky" for his product because he uses brewing and distilling techniques he learned in Scotland.
Wu also pointed at local grains for potential future experiments: corn, rye, wheat, and China-specific grains such as sorghum and hulless barley. In addition to yellow wine casks, he said, the distillery has also stocked up bourbon casks, sherry casks, and China-made oak barrels for experiments. "These are the elements that we can mix with our China stories," Wu said.
As with winemaking, terroir and water resources are key factors when whiskey producers choose a location. Diageo's location in Yunnan Province, Eryuan, is a water source for the famous Erhai Lake. Pernod Ricard said they share the same water sources on Sichuan's Mount Emei with Nongfu Spring, the Chinese bottled water brand. Laizhou Distillery's location in Qionglai, Sichuan, which is China's biggest baijiu production hub, is also known for its water quality.
Betting on the unknown
"Chinese whiskey is at a nascent stage, with few players. There is no major brand or distillery," Huang, the lifestyle columnist, said. "If [any company] can take the initiative and become the leader in the pack, it can have the status of 'Yamazaki' in China, which is a very appealing prospect." He referred to a widely known Japanese whisky brand.
"It will probably be popular, riding on the waves of the guochao trend," he added, referring to a fad for Chinese elements and domestic brands, partially driven by nationalism.
But unlike other products in China's fast-moving consumer markets — which also hinges on Chinese young people's spending power — it takes years before a master distiller even knows what product they are putting out in the market. According to Chinese national standards, whiskey requires two years of maturation in casks; those who expect to drink Laizhou's yellow rice wine casked whiskey have to wait until at least 2024.
In the meantime, Wu needs to sample, observe, taste, and record how the spirit ages in the cask. He said that whether the final product would be single malt or blended is undecided.
Neither Diageo nor Pernod Ricard has disclosed when they will launch their first Chinese whiskey.
Wu is looking forward to the day in 2024 when his seven-year effort faces the market. "Consumers will have an even better understanding of whiskey by then. Every producer will have products to sell, and it will be an era when a hundred flowers bloom."
Editor: David Cohen.
(Header image: Wu Hao, one of the master distillers at Laizhou Distillery, works on experiments, Aug. 4, 2021. Courtesy of Laizhou Distillery)