Li Yan, head chef of a restaurant in the southwestern Chinese city of Dali, celebrated New Year's Eve in style on Friday night: by cooking a tempura salad in front of hundreds of thousands of people.  
The chef was taking part in a marathon, 13-hour livestream named the 2022 New Year Earth Relay. Featuring over 50 plant-based food experts from around the world, the event encouraged viewers to ring in the new year by saying goodbye to their meat-heavy diets. 
The online event attracted a huge audience of over 800,000 on Chinese social platforms — a sign of the growing interest among China's millennials in plant-based diets, according to Li Yihong, one of the livestream's organizers. 
"There's an upward trend for plant-based diets, but there's still a long way to go to educate consumers," said Li Yihong, a planning director at the Beijing-based Good Food Fund, an organization run by the nonprofit China Biodiversity Conservation and Green Development Foundation. 
Young Chinese are adopting flexitarian, vegetarian, and vegan diets in record numbers, as activists and celebrities increasingly speak out about the ethical, environmental, and public health problems caused by the country's rising meat consumption. 
China's vegan food market is predicted to be worth nearly $12 billion by 2023, up from under $10 billion in 2018, according to market research firm Euromonitor International. 
Sales of plant-based meat in particular are booming, with major food and beverage chains including McDonald's, KFC, and Starbucks introducing alternative meat products into their Chinese stores in the past few years.
China's plant-based meat industry is forecast to grow 200% over the next five years, according to a white paper published by Bloomberg Businessweek and Starfield, a Chinese plant-based meat brand, in 2021. 
Chinese millennials are the main driving force behind this growth, the report found. Around half of millennials said they consumed plant-based meat for health reasons, while 27% said environmental concerns were the main factor. 
Chef Li Yan had his restaurant Xiaolou adopt a plant-forward menu last year to take advantage of this trend. Over 85% of its dishes are now plant-based, he told Sixth Tone. 
"We only have three meat dishes on the menu, and they're all using locally raised, free-range beef for animal welfare reasons," Li said.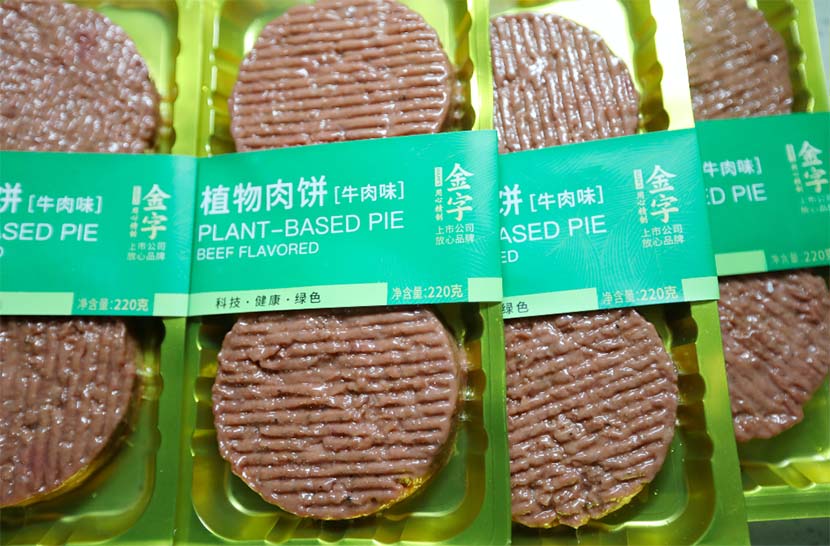 Plant-based patties produced by Jinhua, a Chinese food company. People Visual
Yet China's growing vegetarian movement has also provoked backlash in recent months, with campaigns highlighting problems in the meat industry sparking anger on Weibo, a Twitter-like social platform. 
In December, Zhang Jingchu — a well-known Chinese actor — faced criticism after promoting a pro-vegetarianism documentary in which she and other public figures described eating meat as "cruel" and "unnecessary."  
"Who gives you the right to point fingers at my plate, as if eating meat is like committing a crime?" wrote one user on Weibo. "I have the right to choose what I would like to eat." 
The organizers of the New Year Earth Relay are trying to avoid such controversies by advocating a "plant-forward diet" — encouraging people to cut down, rather than cut out completely, their meat consumption.  
"It's not a black-and-white issue, like you have to pick a battle between vegans and the rest," said Jian Yi, founder of the Good Food Fund. "A vegan lifestyle may not be appropriate for everyone." 
The adoption of a plant-forward diet, where people ensure at least 85% of the dishes they consume are free from animal-based products, can still have a big impact, according to Jian. China's per capita meat consumption has more than doubled since the 1980s as income levels have risen, though Americans still consume nearly twice as much meat on average each year.
Zhang Bimin, a psychiatrist based in the southern city of Guangzhou, is one of many young Chinese who has recently decided to go vegan. The 30-year-old made the call after watching a documentary detailing how meat companies treat their livestock. 
"I couldn't stop crying and swore never to hurt any more animals for the sake of my eating habits," Zhang told Sixth Tone. 
Editor: Dominic Morgan.
(Header image: LIvestreamers promote KFC plant-based meat products, in Shanghai, April 27, 2020. People Visual)