On the No. 13 Line from Xizhimen Station, a public transit hub on the second ring road close to Beijing North railway station, it just takes 18 minutes to reach the heart of China's internet industry: Xi'erqi.
Home to internet giants such as Kuaishou, Baidu, Lenovo, and Didi, rush hour sees thousands of IT professionals flood into the subway station at Xi'erqi from the many industrial parks nearby. On the platform, a swirling sea of humanity awaits.
The road above is no less chaotic. Pedestrians mob the three-way junction near the station as impatient cars honk and weave their way through gaps in the crowds. When they finally turn the corner, most drivers invariably stomp on the gas and speed off with a roar.
Watching the bedlam while stooped under a traffic light, a young office worker waiting for his Didi ride sends a voice message to his friend on WeChat: "There are so many people — it's like Plants vs Zombies."
Despite the comparison with a mobile game where a player fights off unending hordes of zombies, the subway is essential. As it makes its serpentine, ceaseless circuit across the city, the subway is not just a lifeline but also a backdrop to many stories.
Packed like sardine cans, its coaches offer microcosms of the city — office workers dozing standing up, a symbol of its relentless grind; or a passenger lost in a book, a reflection of its intellectual elite.
For many, subways are just about the commute, but where there are people, there are always memories. Though originally similar in both form and function, subway stations have gradually developed their own characteristics that become symbols of the city's districts.
Among the subway stations closely linked to China's booming internet industry, few are more prominent than Beijing's Xi'erqi Station. In some ways, this station mirrors the rapid growth of the industry itself.
In 2003, when the original platform was opened, China had around 50 million internet users; Taobao, which eventually revolutionized the nation's spending habits, had only just gone live, and Baidu's first forum post was made in December that year.
By the time the new, and current, Xi'erqi platform launched in 2010, Baidu had been listed in the U.S. for five years and its headquarters moved to Baidu Tower — near Xi'erqi Station.
Any surge in industry is driven by people. As internet companies continue to grow, so will the number of tech employees in Beijing. And most will alight at Xi'erqi Station.
People cross a road near Xi'erqi Station in Beijing, 2021. Chen Meizi/Ciwei Gongshe
Then and now
A few hundred years ago, Xi'erqi — its name seemingly originated during the Ming dynasty (1368-1644) — was all but desolate.
To defend against invaders, the Ming court not only renovated the Great Wall to the north of Beijing but also built several outposts, where soldiers and horses were stationed. At the time, the area was just vast grassland, perfect for raising horses.
The Ming dynasty divided garrison areas into stations, which were further partitioned into battalions, and then companies. Each company was made up of ten banners, or qi, of ten households each — the smallest administrative unit.
At the time, northern Beijing comprised ten banners: one of them was Xi'erqi, which literally translates to "two western banners." Originally, just 20 families and their horses inhabited Xi'erqi.
None could have imagined then that the land of their homes, stables, and pastures would one day become one of the most densely populated and affluent areas in the national capital.
Back at the subway station, most IT professionals seem to easily identify with order — it means increased efficiency. It's why the crowds waiting on Xi'erqi's platforms form neat queues at the subway doors. With every train that stops, passengers wait patiently on the platform for others to get off before surging into the cars.
In 2019, a video on the microblogging platform Weibo showed people boarding the subway at Xi'erqi. Mistaking it for Shinjuku station in Tokyo, the uploader praised Japan's civic sense.
When a number of Weibo users pointed out it was actually a scene from Beijing, the uploader deleted the video.
Though the Xi'erqi station opened in 2003, it was deemed too small to accommodate the growing number of passengers just seven years later. It was then moved to its present location, about 50 meters away.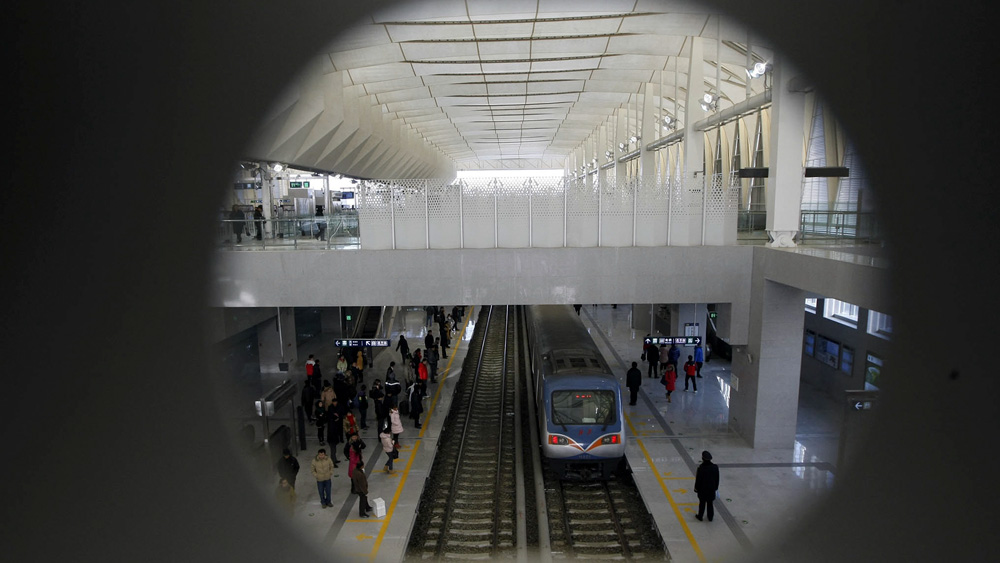 A view of Xi'erqi Station on its first day in operation, Dec. 25, 2010. He Ke/Legal Evening News/People Visual
Down to earth
After the inauguration of the new station building in 2010, a cluster of small kiosks opened at the old station's spot. The aroma of steamed buns, corn congee, grilled sausages, and candied chestnuts would waft into Xi'erqi station's southern entrance.
Here, IT professionals in a hurry to get to work in the morning, or with little time to eat dinner in the evening, stopped for a quick bite.
For Zhang Wei, who completed an internship at an internet company nearby in 2016, Xi'erqi station always conjures up memories of grilled pancakes. "There were pork and chicken pancakes; the pork ones were particularly tasty. When I walked over there, that delicious smell hung in the air. I can still remember just how tasty they were. The first bite was the best," he says.
Despite his zest for pancakes, Zhang has rarely eaten them since finding full-time employment in 2017. He just gets off work too late. "During the internship, I was at 7 p.m. and had time to eat them. Now, my work finishes at 9 p.m. I would probably starve to death before I arrived," he says.
Though Zhang has since left Xi'erqi, he crossed the station once, but couldn't find the kiosks. Instead, the entire block was cordoned off with blue construction panels.
In 2020, when demolition work began at the former location of Xi'erqi Station, this paradise of breakfast kiosks was removed. Now, the area's only snack options are the Huihuang International Shopping Mall or the convenience stores at the Science and Technology Park.
But traces of the old station linger; a battered street sign survives. A little over a meter tall, it seems on the verge of toppling over and still stands only because a samaritan propped it up with a brick.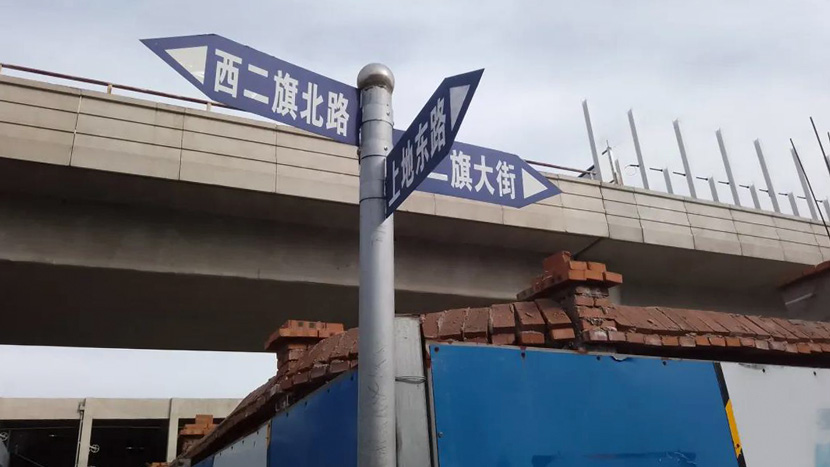 A street sign outside Xi'erqi Station, 2021. Chen Meizi/Ciwei Gongshe
The sign points to three directions: Xi'erqi North Road, Shangdi East Road, and Xi'erqi Street. One road, however, is missing: Houchangcun, which today symbolizes China's IT industry. Kuaishou, Baidu, Tencent, Lenovo, Didi — this road is home to them all. It is also infamous for epic traffic jams.
Considering Houchangcun garnered its reputation years after the station was built, the sign is an anachronism that has only barely survived.
In the first few years after graduation, Zhang Wei lived at one end of Xi'erqi North Road. Though his commute to work only took 10 minutes in a taxi, it could take around 50 minutes at rush hour.
Cab drivers rarely accept such short-distance, long-duration fares. So Zhang had little choice but to order a ride the moment he woke and then pray a driver would agree by the time he finished getting dressed.
It isn't easy for the cab drivers either. According to a Didi driver surnamed Wei, he is least willing to take passengers to Xi'erqi during rush hour.
"On the job, we try to take advantage of rush hour to accept as many fares as possible. The morning rush is from 7 to 10. If you accept fares to Xi'erqi, you'll be stuck in traffic for an hour," he says. "It means that for the whole morning, you'll only be able to accept two or three fares at the most — which is a waste of a day."
To avoid the gridlock, Wei usually begins his shift on the northern side of the Science and Technology Park where many IT professionals rent apartments. It helps bypass the notorious jams along the western roads near Xi'erqi station.
On Friday nights, the evening rush at Xi'erqi starts earlier than usual. By around 7 p.m., several streets around the station come to a complete standstill. Once, during this time, Wei got a ride request to Xi'erqi subway station. After the passenger got into his car, he tentatively asked, "It's very congested around Xi'erqi Station. How about I take you to the Academy of Life Sciences Station instead?"
The passenger refused and said he was not in a hurry. Wei tried: "What about Yongfeng Station? There's no traffic in that area." The passenger refused again.
A migrant, Wei moved to Beijing from a small town in the neighboring Hebei province. Then, he'd never taken the subway before, and didn't realize two nearby subway stations could lead to completely different places.
After narrating this anecdote, he asked: "Couldn't he (the passenger) have taken the subway from the station at the Academy of Life Sciences?" I replied: "That's the Changping Line. They'd need to get off at Xi'erqi and change lines."
"What about Yongfeng station? Would Yongfeng station not be okay?"
"Yongfeng is only connected to Line 16. He probably wanted to take Line 13."
The opening of the new Xi'erqi station on Dec. 25, 2010, meant a significant increase in passengers. Five days later, a level of the station that linked it to the Changping Line was opened too. As a result, in addition to employees in the vicinity, the Xi'erqi station also serviced a growing number of Changping residents who transferred there on their trip downtown.
Around this time, China's mobile internet era was poised to expand. In the summer of 2010, Steve Jobs announced the iPhone 4 at the Apple Developer Conference — for many Chinese, this was their first chance to purchase a smartphone.
At the end of 2010, China Mobile announced that its 3G network would encompass the entire nation, and 4G was just around the corner. The advent of smartphones and high-speed broadband not only pushed IT giants of the desktop age to transition to mobile platforms — it also meant fertile ground for the growth of many new start-ups.
Since 2009, Baidu, Netease, Didi, Sina, and Kuaishou have moved their headquarters to Houchangcun in Xi'erqi. One year later, Tencent built its new Beijing headquarters just a block away from Sina. Though fierce rivals, the two companies together account for the most online traffic on smartphones.
In 2020, the total output of the companies within Houchangcun reached 336.63 billion yuan ($53 billion) or close to 130 billion yuan per square kilometer. Every inch of land here is like gold.
Given its proximity to this much wealth, Xi'erqi may seem understated, considering its bleak, commercial aesthetic.
In contrast, Wangjing East Station, about 20 km away — home to Alibaba and delivery giant Meituan — feels more cosmopolitan. One Wangjing East station exit is under an Alibaba office building.
At 4 p.m., two young Alibaba employees were deep in conversation at a yogurt shop, where the cheapest cup sells for 29.9 yuan.
At Xi'erqi station, however, 29.9 yuan is enough to eat a full belly's worth at a wonton chain or at a Japanese restaurant. The shops along the street closest to Xi'erqi station have been renovated in recent years, but most are still fast-food chains.
In this part of town, security guards with a monthly salary of only 6,000 yuan and million-yuan-a-year executives alike love getting cheap malatang, or spicy hot pot, from the Huihuang International Mall.
Among the rush hour crowd, the most popular attire in summer is plaid shirts or T-shirts; in autumn and winter, black down-filled jackets and custom company hoodies.
It begs the question: Did IT professionals adapt to the lifestyle of Xi'erqi or did they shape it?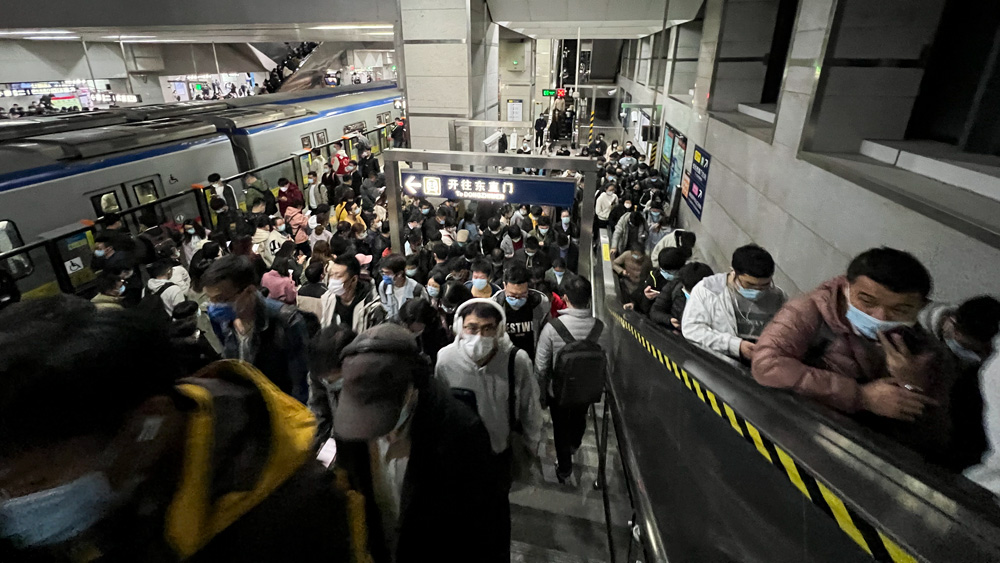 Passengers crowd Xi'erqi Station, Oct. 22, 2021. People Visual
In and out
Constructed in a low-lying area, the Xi'erqi station gets worse during every heavy downpour in Beijing. Getting to the station requires crossing not only streets, but mini rivers.
On July 16, 2018, Liu Lian had to navigate through knee-high water to get from the station to her nearby workplace. Standing at 176 centimeters, Liu is hardly short for a woman. In a video she shared on WeChat, China's social app, she is seen wading through the water. The caption: "It's a good thing I'm tall!"
A defining symbol of the downpour was a viral image: At the entrance of Xi'erqi Station, an IT worker sits on a trash can half-submerged in a pool of stagnant water, holding an umbrella while engrossed on his cellphone.
At the station, the iron railings outside are movable; during peak hours, they form a twisting labyrinth that forces commuters to queue up. At other times of the day, each corner railing is removed so people have a more direct path inside.
To prevent passengers from getting drenched, subway officials set up a tarpaulin canopy. During the pandemic, in addition to dealing with the rain, the staff at Xi'erqi station also shouldered prevention and control duties.
At around 2 p.m., a cleaner scrubbed down the sliding platform doors with disinfectant. Although announcements request that passengers refrain from leaning on the doors, few listen, so this part of the station requires regular disinfection.
Donning yellow latex gloves, the cleaner worked his way from one end of the platform to the other, spraying disinfectant with one hand and wiping with the other. He says: "Disinfectant is in this bottle. Each day, we need to spend at least 18 to 19 hours cleaning."
The cleaner didn't even take a break during our interview; he moved diligently from one sliding door to the next as he spoke. He only stopped to look up at the train as it glided into the station, bringing with it a mighty gust of wind. Before this gust could even settle, just as the sliding doors closed and the train started up again, he resumed spraying.
His utility room is located under the stairs. After wiping down the railings, he put the spray bottle and rag inside and dragged out a bag of garbage that he had emptied from the bins along the platform.
As the Double Eleven shopping festival approached last month, the Wangjing East Station near Alibaba's headquarters was decorated with ads for T-Mall. Aggressive promos replaced the billboards along the tunnel walls while the entire platform was decked out in the app's signature red triangular flags.
Not in Xi'erqi though. Despite the many IT giants in the area, the station's advertising spaces were ultimately sold to Lagou, a job recruitment website. A series of ads peppered the walkway from the entrance to the platform and the glass walls that prevent passengers from falling onto the tracks.
All in the same shade of green, their slogan was stark yet candid: "Internet professional looking for a new job? Use Lagou."
And considering IT professionals give Lagou a lot of business, Xi'erqi Station has witnessed many farewells.
IT employees usually change jobs just after the mid-year performance evaluation and the end-of-year bonus. Whether they've worked together for only a few months or several years, it is common courtesy for coworkers who've grown close to wish each other well. More often than not, they meet for a meal at the restaurants near Xi'erqi station.
Yao Hao, who had just resigned from a large company nearby, chose to hold a farewell dinner at a beef hot pot restaurant next to the station. Though he called it a farewell dinner, he actually wasn't going that far. His new company was just down the road from the old one. But it would still require braving the bustling crowds of Xi'erqi.
Every day, at mealtime, restaurants are packed with workers from nearby companies. Even at farewell dinners, before sharing workplace gossip, most take a good look around first to make sure no acquaintances are within earshot.
Company IDs are an easy way to identify coworkers. Near Xi'erqi station, many attach them to a lanyard worn either around their necks or held in one hand.
It was almost 10 p.m. by the time Yao Hao and his colleagues finished the farewell dinner. Afterward, a couple of them walked back to their company to finish some work, while others went home.
At an intersection, one of Yao's coworkers asked about what they would do if they achieved financial freedom in the future. One coworker working in R&D said, "After lying at home and doing nothing for a while, I would still have to find something to do, otherwise I'd feel worthless."
Another in testing remarked with a laugh that the coworker had grown too used to being busy. "Being able to laze around at home is such a joy. You're free to read, or learn musical instruments, and you don't have to work to prove your worth," said the coworker.
People and companies alike come and go like the wind. Industries rise and fall. Amid it all, Xi'erqi station still stands.
Every day, someone gets off at this station for the first time to start a new chapter of their career; someone takes a taxi home from here for the last time, bidding farewell to China's Silicon Valley.
Many like to complain too. The roads are rundown, the station is crowded, there's little good food around, the station floods when it rains, and the bus stop is too far away.
But when most leave, Xi'erqi still conjures up complex emotions. Like when an adult living in a posh condo fondly recalls the dilapidated cottage they grew up in.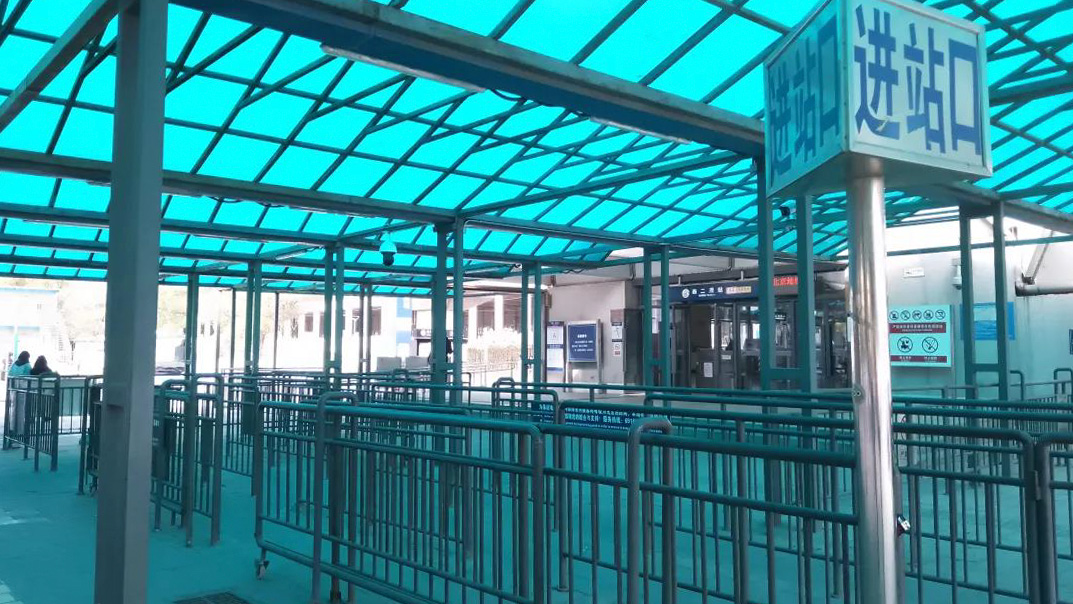 The queueing area at the entrance to Xi'erqi Station, 2021. Chen Meizi/Ciwei Gongshe
Anthropologists say subway stations are defining elements of modern urban landscapes. As portals through which urban commuters pass from one state to another, the relationship between subway stations and people is, at once, intimate and distant.
However, the huge crowds of IT workers who rub shoulders here every day have little time to dwell on such abstract concepts. They have more pragmatic concerns: "When will the evening peak at Xi'erqi station come earlier?"
Zhang Wei, Yao Hao, and Liu Lian are pseudonyms.
A version of this article originally appeared in Ciwei Gongshe. It has been translated and edited for brevity and clarity, and published with permission.

Translator: Lewis Wright; editors: Xue Yongle and Apurva.
(Header image: Passengers at Xi'erqi Station in Beijing, 2018. People Visual)