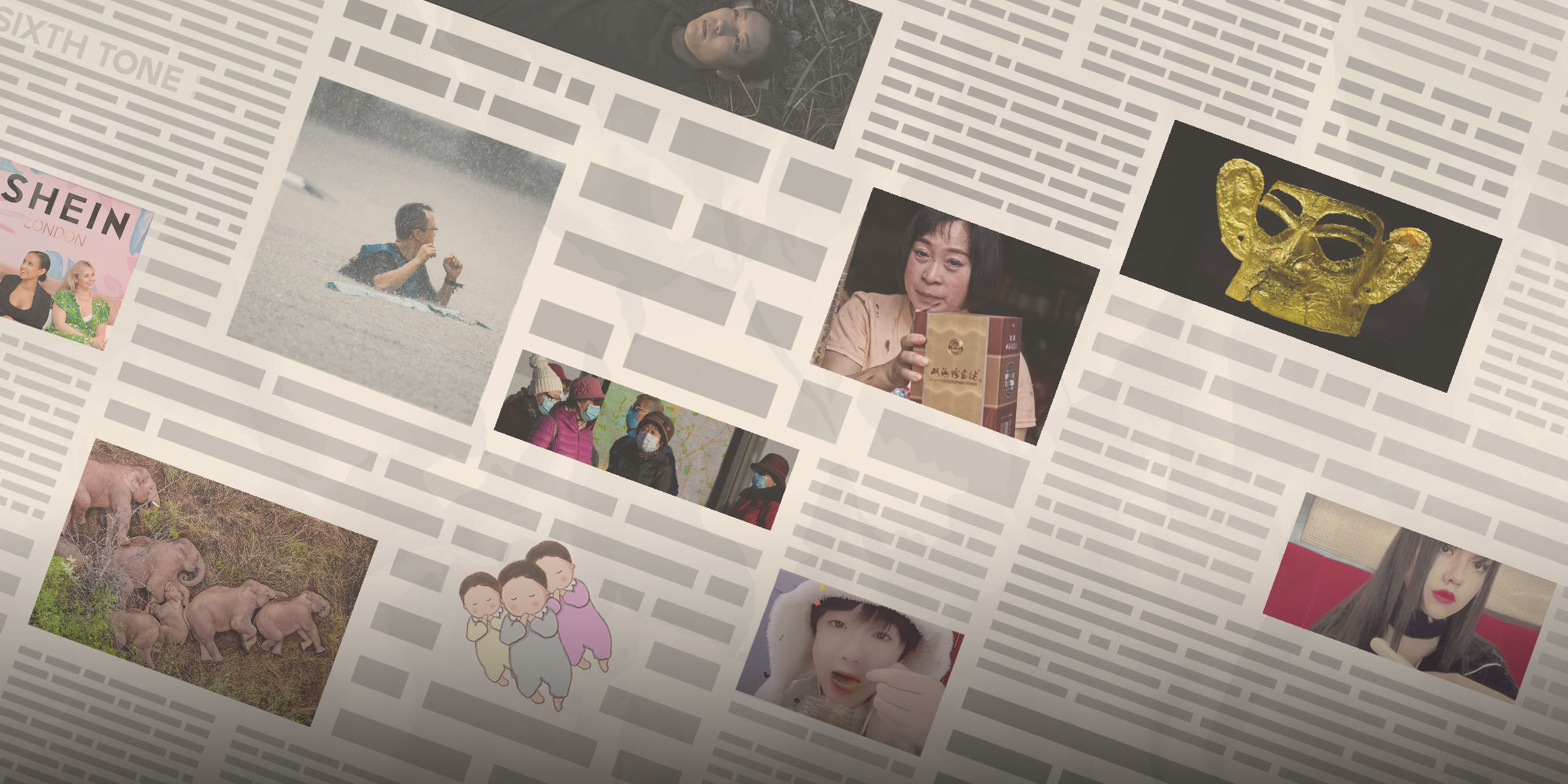 NEWS
Year in Review: Sixth Tone's Top Stories of 2021
Our most popular news, features, commentaries, and visual stories this year.
From the devastating floods in the central Henan province over the summer and the sporadic COVID-19 outbreaks during the year to policymakers emphasizing "common prosperity" in tackling inequality and the regulatory clampdowns on the country's major industries, Sixth Tone reported some of the most important stories from China this year.
Our journalists covered a wide range of topics involving the country's demography, including the newly enacted three-child policy to the aging crisis, as well as the decline in birth and marriage rates. We consistently reported on the curbs and crackdowns that shook the education, entertainment, gaming, and tech sectors in 2021.
Amid an imminent climate crisis, our coverage of the environment and ecology underscored China's conundrums, as well as commitments, in tackling a global emergency. We also followed stories on the sexual abuse allegations against pop idol Kris Wu and TV host Qian Feng, and continued reporting on the progress, setbacks, and struggles faced by the LGBT community.
Then, there were stories that allured us, such as newfound trends like NFTs, youngsters revolting against oppressive work culture and societal expectations by lying flat, a group of elephants wandering across the southwest Yunnan province, and the astronauts who embarked on the country's space-building missions.
As 2021 comes to an end, here are some of our most popular stories based on website views and social media metrics.
The Mysterious Ancient City That's Rewriting Chinese History
The first discoveries of a nearly 3,000-year-old civilization were made as far back as 1929, yet it took over half a century for the site's true significance to be recognized. The recent discovery in Sanxingdui has raised profound questions about China's ancient past, and now researchers believe they're finally close to finding some answers.
Changemakers: The Five-Year Issue
For Sixth Tone's fifth anniversary in April, we revisited some issues and individuals central to our first half-decade covering today's China, profiling five people from various backgrounds who have shifted mindsets and reshaped discourse.
The Shady Labor Practices Underpinning Shein's Global Fashion Empire
Shein has become a favorite of Gen-Z shoppers in the West by offering thousands of new styles a week at ultra-low prices, overtaking H&M and Zara as the United States' top-selling fast-fashion retailer. A Sixth Tone investigation found that Shein uses a range of troubling practices to ensure it can produce clothes quicker and cheaper than the competition — tactics that leave thousands of Chinese workers vulnerable to exploitation.
Why 15 Elephants Went on a 500-km Journey in China
Fifteen wild Asian elephants who have journeyed hundreds of kilometers through the southwestern Yunnan province puzzled experts and put local residents on edge. Sixth Tone mapped out the herd's route through Yunnan to find out why they strayed so far from home.
A Wife's Search For Missing Husband in Zhengzhou Takes Tragic Turn
Zou Deqiang was one of the 14 commuters killed underground inside a packed subway train amid a devastating flash flood in the city of Zhengzhou in the central Henan province. This is the story of Bai and her desperate efforts to locate her husband. Also, here's our explainer video on how the tragedy unfolded — and how it could have been prevented.
Five Years of China's Anti-Domestic Violence Law
Five years ago today, China's first Anti-domestic Violence Law formally came into effect. This three-part series includes an interview with feminist scholar and activist Feng Yuan to review the law, a commentary on the struggles of divorcing an abusive partner, and a first-person account by a perpetrator of domestic abuse turned volunteer and advocate.
China's Ongoing Struggle Against 'Sissy' Young Men
The narrative around "sissy pants" or "feminine men" is being discussed in the same breath as the country's demographic crisis, with the volume of voices claiming China is facing a "masculinity crisis" growing louder both from the public and the state. Short video app Douyin supposedly deleting an account of a user after netizens reported him for being effeminate once again aroused discussions on the topic.
How to Live for Free in Beijing: An Artist's Guide
Zou Yaqi often worried she'd be unable to afford to live in Beijing after graduation. So she decided to set herself a daunting challenge: Survive in the city for three weeks without spending a single yuan. It turned out to be a piece of cake.
China's Hottest New Rental Service: Men Who Actually Listen
Chinese women are fed up with dating self-absorbed men. Now, "butler cafés" are offering them more attentive male company — for a fee. The outlets have found success by tapping into the frustrations of Chinese women, many of whom feel society remains far too patriarchal.
In China's New Age Communes, Burned-Out Millennials Go Back to Nature
Fed up with the grind of urban life, young Chinese are starting over in the countryside, where they aim to build a new society without "privilege or hierarchy." The Southern Life Community is one of the growing number of Chinese intentional communities in which members choose to form settlements based on shared values, often living a communal, largely self-sufficient existence.
For more stories, please follow us on Twitter, Facebook, Instagram, and LinkedIn. You can also subscribe to our newsletter for the best of Sixth Tone every week.
Compiled by Sixth Tone editors Bibek Bhandari and Zhang Ru.
(Header image and icons: Visual elements from People Visual, edited by Ding Yining/Sixth Tone)