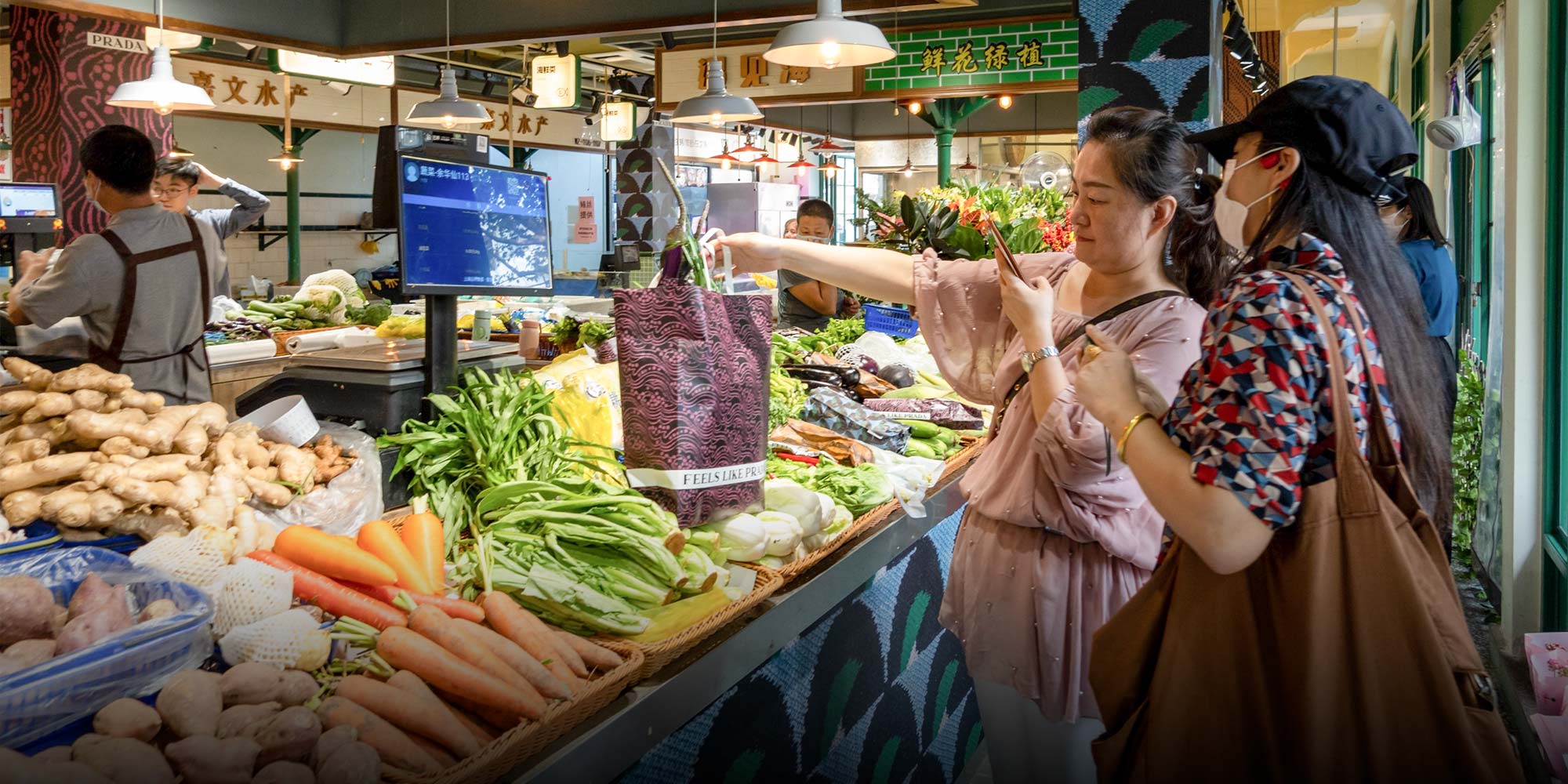 VOICES & OPINION
Saving China's Wet Markets
The wet market is a Chinese institution, but if they can't win back young shoppers, they may not be around for long.
This October, a Chinese wet market made headlines around the world, and not for the reasons you're thinking of. As part of a two-week collaboration with Prada, vegetable stalls at Shanghai's Wuzhong Market were festooned with the Italian luxury brand's logo and packaging. The event drew crowds of Chinese fashion lovers — and plenty of criticism, especially after a visitor was accused of throwing away a package of Prada-branded celery immediately after taking a selfie with it.
Much of the backlash centered on the issue of food waste, but the collaboration also highlighted an uncomfortable truth regarding the future of this Chinese cultural institution: For many young Chinese, traditional wet markets are simply not part of their lives.
As a 32-year-old in the southern province of Guangdong, I know very few people my age who regularly shop at wet markets. I research wet markets and consider myself a fan, but even I rarely go more than once or twice a month. My parents visit one every day, though, and never seem to tire of it.
There are multiple factors behind wet markets' declining popularity among young Chinese. First, urbanization has pushed Chinese family structures toward nuclear families and solo living. That, coupled with the rise of fast-paced, high-intensity jobs, has left an increasing number of young people reliant on take-out. Home-cooked meals are now a luxury, and even when young workers do have time to cook, they tend to prefer convenient and time-saving options for buying food, like shopping for groceries online.
The development of the grocery and fresh food industry over the past 30 years has likewise not been kind to wet markets. In the 1990s, the rising popularity of supermarkets siphoned off their customers. The 2010s have seen supermarket chains stumble, but the winners of this latest transition are not wet markets; instead, they are small, community grocery stores opened right outside neighborhoods and communities, some of which have grown into chains.
The potential of the grocery market also aroused the interest of online retail giants like Alibaba and JD.com, which began to build community grocery products and services — such as online ordering and 30-minute delivery — more in keeping with the consumption expectations of young Chinese. This wave crested in 2020, as Chinese e-commerce platforms scrambled to launch "community group-buying" services nationwide. This model relied not on brick-and-mortar storefronts, but a "pre-sale and pick-up" model that focused on online sales and centralized delivery. Users could pick up their orders from a convenient, centralized drop-off point on the way home from work.
New retail models are often heavily subsidized by online companies looking to expand their market share and thus have significant price advantages over wet markets and other traditional retail outlets.
Another factor in the wet market's decline is the simple fact that many wet markets aren't pleasant spaces. The majority of existing wet markets in China were built in the 1980s, and few of them have been updated since. Their equipment is dated; their drainage, ventilation, and lighting work poorly; power supply systems struggle to keep food fresh during the increasingly muggy summers. Many wet markets were privatized in the 1990s, and some of these new private operators have failed to adequately invest in sanitation, resulting in piles of sewage and garbage in close proximity to the produce.
In short, although there are nice wet markets, their public image is defined by the three-word phrase: "dirty, messy, and subpar."
Given these realities, is there any hope for wet markets to make a comeback? In my research, I found that wet markets looking to refurbish their image generally take one of three tacks. The first approach is to embrace gentrification, often by turning wet markets into supermarkets or otherwise making them appear more upscale. 
The most famous examples of this model can be found in Hong Kong. Of that city's 211 wet markets, 121 are publicly owned, and the remaining 90 are controlled by the real estate investment trust Link REIT. Since 2017, Link has contracted management of its wet markets to commercial companies that have invested heavily in rebranding them as "premium markets." There, wealthy shoppers can buy seafood from Japan, caviar from Russia, and other goods previously available only at high-end supermarkets. This has not always worked out for local residents, as those unable to afford the high prices were forced to look elsewhere. Some even started buying their groceries across the border in the neighboring city of Shenzhen.
Vendors, too, were squeezed as the gentrification model resulted in more centralized operational structures. As rents doubled, many stalls once occupied by small-scale vendors working on shoestring budgets were leased out by larger firms. Both of these shifts have significantly altered the character of the city's wet markets.
A more common approach in cities on the Chinese mainland has involved government-led renovations and renewal projects. For example, a large number of wet markets in the southern Hainan province were renovated between 2017 and 2018 to bring them in line with uniform technical standards. In an effort to join the ranks of "national sanitary cities" and "national civilized cities," one city in the province invested tens of millions of yuan adding or updating ventilation systems in its wet markets, installing electronic screens and other equipment, and sprucing up exteriors.
Prada's collaboration with the Wuzhong Market is an extreme case of this model in action. Architects and designers are brought in to make the markets look more appealing, but their internal business structure and, to a large extent, the composition of the vendors remain unchanged. The updates are thus merely limited to superficial renovations. Done right, however, the renovations can enhance the appeal of a market to young consumers, benefitting vendors and market operators alike.
The last model involves meeting young people halfway. For example, Guangzhou's Lingnan Group has announced plans to start selling pre-cut, semi-prepared dishes that could be quickly cooked at home. That way, young people interested in cooking but hard-pressed for time can get a taste of cooking without the drudgery.
Other markets are trying to restore an oft-forgotten function of traditional wet markets: social networking. They have built flower shops, bakeries, bookstores, and senior centers on-site, expanding them from a place to buy food into a shared community space.
Will these renovations enable wet markets to withstand the challenge from "new retail" and continue to play an important role in the lives of Chinese families? There's no easy answer, but I'm optimistic. Relative to the industrialized, standardized food supply system with its long logistics chains and uniform stocking practices, wet markets represent a treasure trove of local ingredients. In Hainan, one young interviewee told me that grocery shopping with her parents had taught her to enjoy the market, in part because she could get locally produced, seasonal foods there that she couldn't find elsewhere.
Wet markets are changing, but I hope that they'll still maintain their flavor, if only to preserve a key part of China's urban diversity for the next generation.
Translator: Katherine Tse; editors: Cai Yineng and Kilian O'Donnell; portrait artist: Zhou Zhen.
(Header image: A woman takes a photo of a package bearing Prada's logo at Wuzhong Market in Shanghai, Sept. 28, 2021. IC)