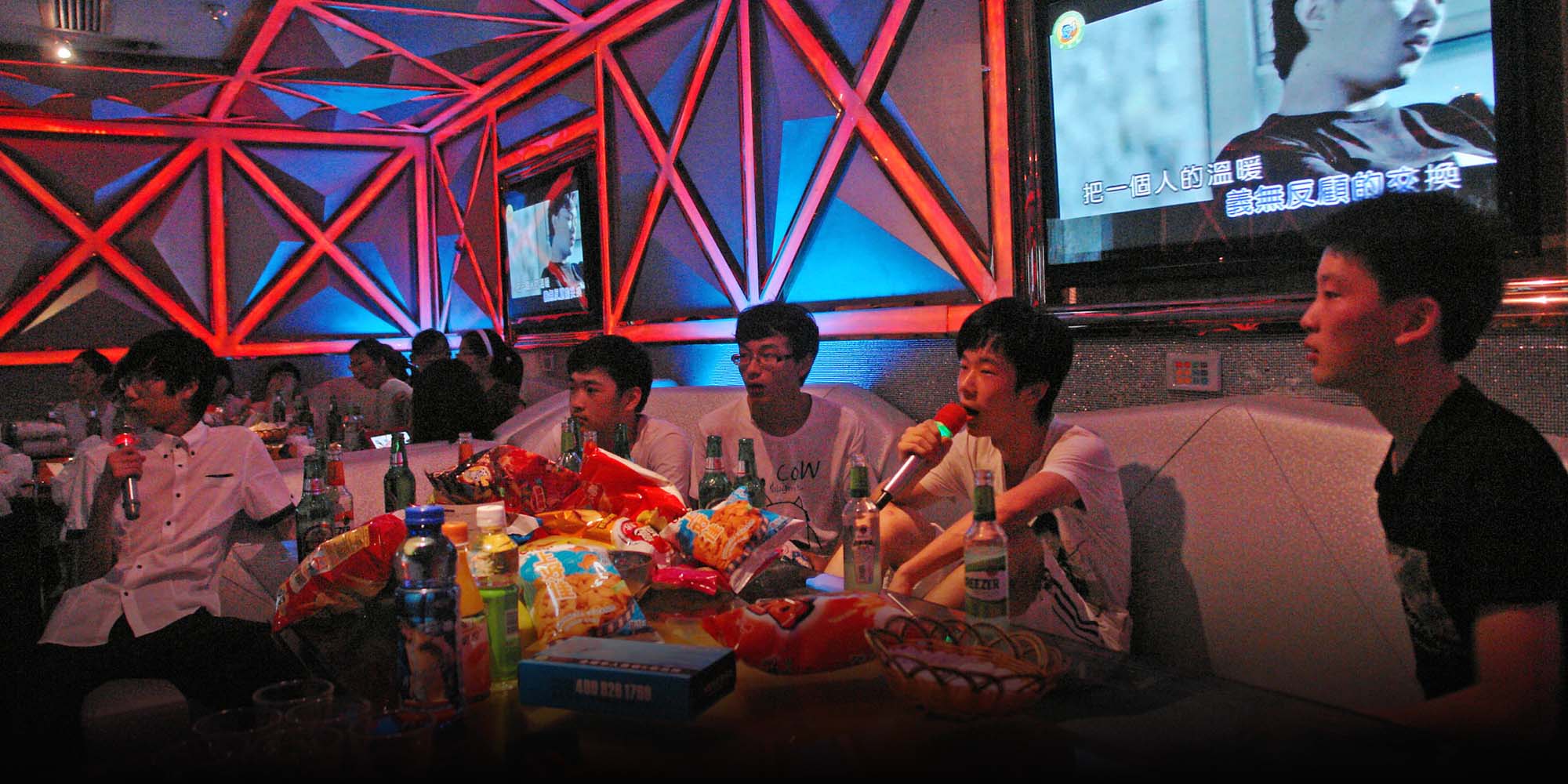 NEWS
Are Young Chinese Really Over Karaoke?
While the younger demographic is seemingly ditching KTV parlors for other activities, the elderly have stepped in to fill the gap.
SHANGHAI — China's beloved and booming karaoke parlors aren't the same anymore.
Younger crowds at the bustling venues, where loyal patrons sing along to their favorite songs, are thinning. Business isn't taking off as before, with consumers saying they now seek activities outside of singing and drinking inside a cubicle.
"When I'm in the mood for singing, I just turn on a karaoke app and use a microphone at home," Zhang Jingwei, who previously frequented karaoke parlors at least once a month, told Sixth Tone. "I've spent more time on role-playing and board games lately."
Karaoke crossed over to the Chinese mainland in the 1980s after gaining immense popularity in Japan the previous decade. Commonly referred to as KTV across Asia, it quickly turned into a must-do activity during holidays and weekends, resulting in a boom for businesses across the country.
But recent data shows that love is gradually fading.
Though footfall at KTV venues has consistently declined over the years, the pandemic slashed clientele by nearly 80%, according to an estimate from state broadcaster China Central Television. Last week, financial outlet Yicai reported there are only 56,300 karaoke-related enterprises in China compared with over 120,000 at its peak in 2015.
Over the years, major franchises such as Cashbox Partyworld have shut most of their karaoke parlors because of growing competition. Last year, Beijing's popular King of Party let hundreds of employees go due to "shocking" gaps in profits.
And then, the playlist is shrinking, too. In 2018, karaoke parlors lost over 6,000 songs after a crackdown on copyright infringement, while a government order banning songs with "illegal repertoire" over the summer has further slimmed selections.
"There are not as many song choices at KTV as before, and the number of KTVs is also decreasing," said Xu Shirui, a 21-year-old student from the northeastern city of Changchun, adding that a venue near her school also shut recently.
Her sentiments echo tens of thousands of comments under a related hashtag on microblogging platform Weibo, asking: "Why don't young people go to KTV anymore?"
"Only one or two people sing at KTV while others play on their phones," commented one Weibo user about the average night out. "It's so much pressure to sing in front of others," said another.
The growing need for more entertainment options among the young demographic has in fact pushed them away from karaoke parlors, according to Toni Yang, a brand consultant specializing in youth culture. She said the shortcomings of KTV parlors "cannot be ignored" amid a plethora of alternatives attracting young people.
"KTV requires core participation — there are those who sing well and those who love to drink — while others are merely paid audiences," Yang told Sixth Tone. "There's no sense of a fair involvement at KTV."
Enter offline group games.
Entertainment genres like offline role-playing murder mystery games have soared in popularity as of late, despite authorities targeting those with obscene or violent plots. Yang said "script murder" games have emerged as a novel way of socializing for young people — they even serve as blind dates — and are gradually replacing KTVs.
There are some 45,000 venues that host script murder games across China, offering an easy and affordable escape. The industry is predicted to climb to 17 billion yuan ($2.6 billion) by the end of the year, according to consultancy iiMedia.
"It's more relaxing than singing at KTVs for most young people," Yang said. "Those uncomfortable in social situations can temporarily let go of their inhibitions in role-playing games, while KTV is more suitable for social butterflies. More so, everyone can showcase their different (personality and strengths) in role-playing games."
But while one demographic is distancing itself from KTVs, another has stepped in to fill that void: the elderly. In the first half of 2021, KTV clients aged 60 to 70 rose by nearly 30% compared with the same period in 2019, while those between 70 and 80 doubled, according to online service platform Meituan.
Fang Minhua, a 65-year-old retiree from Shanghai, is one of them. He said many people from his generation didn't have the luxury of entertainment when young, so are now seizing that opportunity.
He took singing lessons along with his wife after retiring, and now frequently visits KTV parlors with dozens of his peers. The group usually spends hours dancing and singing to revolutionary songs and pop tunes from the '80s.
"KTV is not exclusive to young people anymore, and it has become very cheap in the afternoons," Fang told Sixth Tone. "Singing KTV has enriched my retirement life. It also fulfills my desire to sing in front of people."
Meanwhile, KTV parlors are also adapting to the changing trend, welcoming new patrons with special packages and time slots. For example, the eastern coastal city of Qingdao offers free karaoke sessions for residents over 60 at certain venues, while selected KTV parlors in the eastern Jiangsu province provide free and low-priced singing sessions for groups over the age of 50.
Mao Xining, a university student in Shanghai, said she witnessed the changes firsthand. While she has scaled back on karaoke, it has become a regular pastime for her mother and her friends in the eastern Jiangxi province.
"They love to go to KTV because it's an affordable way to get together and entertain each other," Mao said. "In Shanghai, KTV costs higher, and there are also many alternative entertainment options."
Additional reporting: Liang Jiaqi; editor: Bibek Bhandari.
(Header image: Young people sing at a KTV parlor in Shaoxing, Zhejiang province, June 19, 2013. IC)