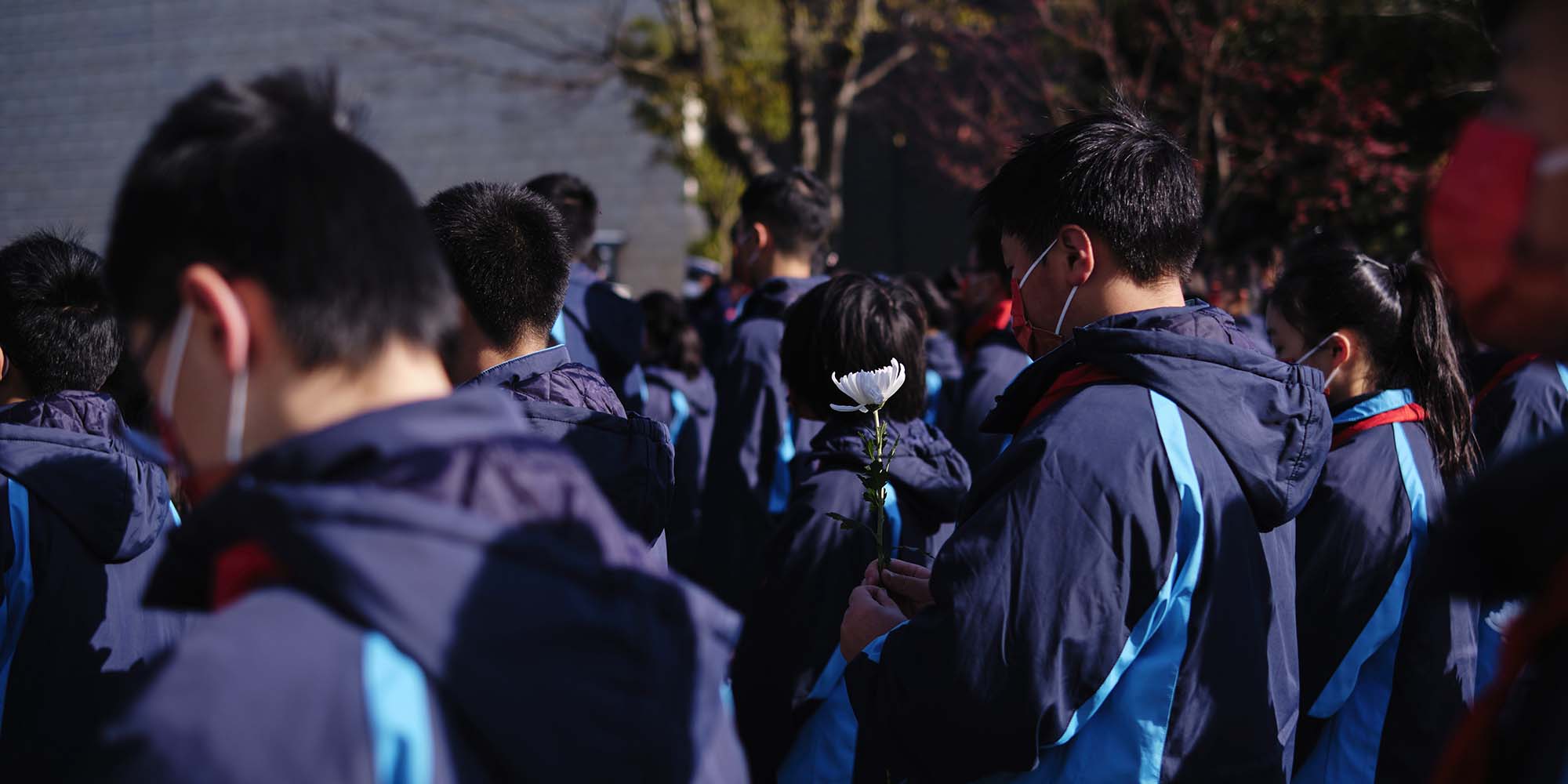 NEWS
Shanghai Holds Memorial Service to Commemorate Nanjing Massacre
This year marks the 84th anniversary of the massacre that killed an estimated 300,000 people.
SHANGHAI — Under the clear blue sky on Monday, hundreds of residents in Shanghai stood outside the city's Anti-Japanese War Memorial Hall holding chrysanthemums to commemorate the 84th anniversary of the Nanjing Massacre when hundreds of thousands of people were killed.
Nanjing, then the capital of the Republic of China, was invaded by the Japanese army on Dec. 13, 1937, marking the start of six weeks of mass carnage. About 300,000 Chinese civilians and unarmed soldiers were killed and thousands of women raped during the invasion, according to official estimates.
"The Nanjing Massacre should be remembered not only for the number of people slaughtered, but for the cruel way people died," Ye Huanggen, a Shanghai native, told Sixth Tone outside the Songhu Anti-Japanese War Memorial Hall.
The 85-year-old served in the People's Volunteer Army from 1955 to 1959 in Nanjing. Although Ye did not experience the Anti-Japanese War as a soldier, he said he remembers the Japanese troops invading Shanghai when he was a kid.
"What the Japanese soldiers did to Chinese people is unbearable," Ye said.
Since 2014, Dec. 13 has been designated as the National Memorial Day for the victims of the Nanjing Massacre and soldiers who sacrificed their lives in the Anti-Japanese War. On Monday, several websites across the country — including news and e-commerce sites — went black and white to commemorate the day, while residents in Nanjing observed a minute of silence, an annual ritual.
In Shanghai, an annual memorial service is held outside the Songhu Anti-Japanese War Memorial Hall. The Songhu Battle, also known as the Battle of Shanghai, was the first battle between the National Revolutionary Army and the Imperial Japanese Army that ended in November 1937.
Nanjing was occupied by Japan immediately after they defeated Chinese troops.
Correction: A previous version of this article inaccurately stated the Battle of Shanghai started in November 1937. It ended on that date. 
(Header image: Students attend the National Memorial Day in Shanghai on Dec. 13, 2021. Wu Huiyuan/Sixth Tone)