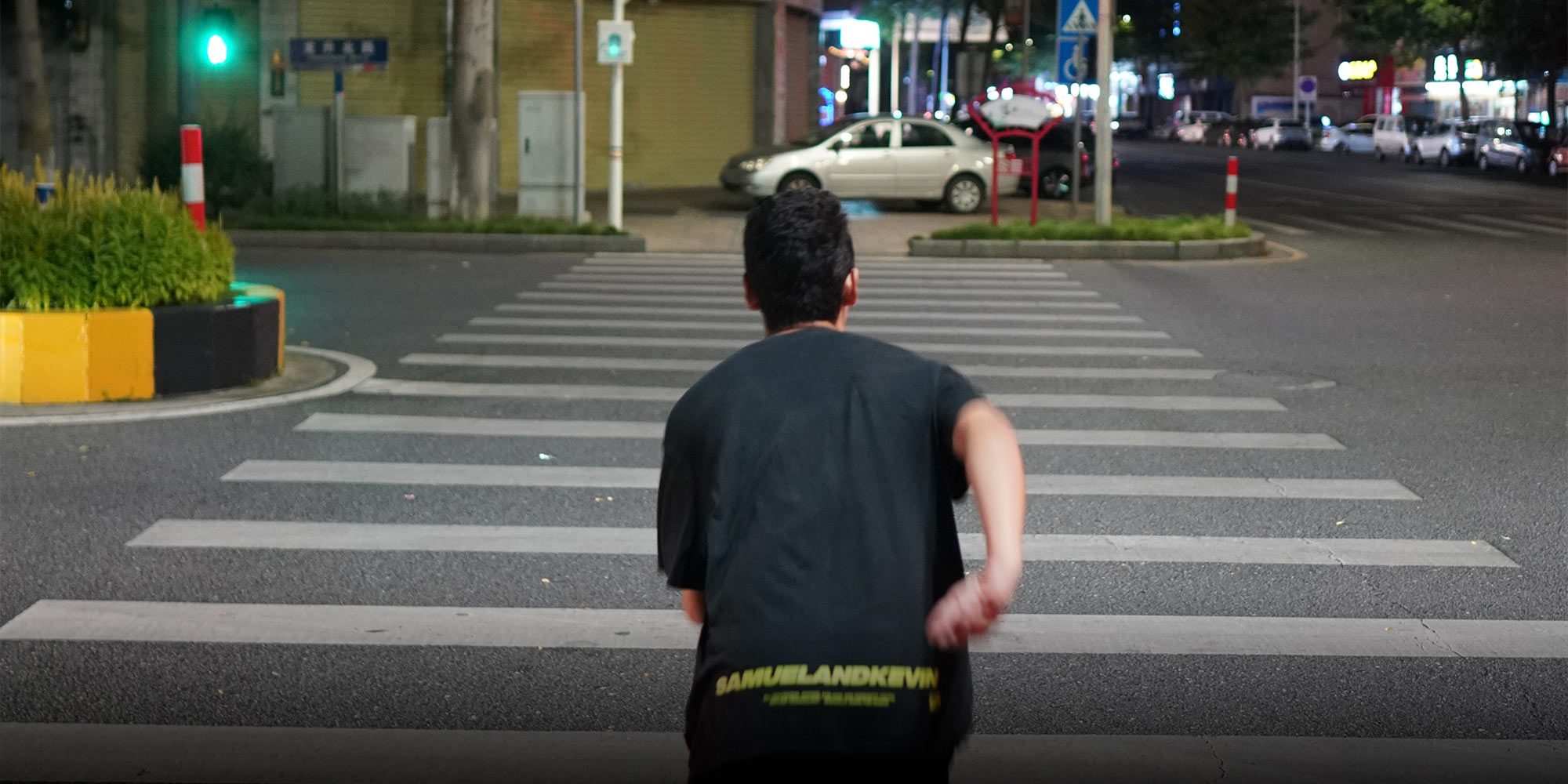 SIXTH TONE ×
Inside China's Trade Schools: Young, Restless, and Craving Change
Each year, millions graduate from vocational schools. Their concerns, however, go largely unnoticed.
Tan Junbao often skipped class, mostly to visit the internet café. He says he never drank alcohol or got into fights, nor did he ever go clubbing. He quickly asserts though that his life was "more exciting" than anyone else in his class.
The vast majority of his classmates never played truant, and they always sat in the right place at the right time. But they rarely paid any attention. "Some slept; some talked during class; but most were busy on their phones," says Tan.
He always sat in front, often daydreaming, sometimes even dozing off. One day, Tan says, he woke up and glanced back only to find the entire class slumped over their desks, fast asleep. Once awake, they would just stare into space.
"It was like waiting to die," he says. "There was nothing but an empty, dead stare." Pausing for a moment, he repeated muttering an expletive for emphasis: "It really was like waiting to die."
In 2018, Tan graduated from a vocational school in Shunde, a district in Foshan in the southern Guangdong province, with a major in numerical control.
Until 2019, Shunde ranked highest among China's "top 100 districts" for eight consecutive years. One of its subdistricts, Lunjiao, a renowned jewelry hub, is home to Tan's vocational institute that specializes in jewelry.
Tan's alma mater in Shunde is among the 9,896 secondary vocational schools across China. Over the last 15 years, such schools have admitted around 100 million students aged 15-18 — accounting for about 40% of this demographic across the country.
Though considered the future workforce, particularly in manufacturing or services, vocational school graduates are forced to navigate multiple obstacles. Their concerns — from the low quality of education they receive to their bleak job prospects after — often go unnoticed.
With their future hanging in the balance, the pace of change may not be fast enough.
Inside the schools
Like most across China, at Tan's vocational school, students do not compete for admission — tuition is free — there are no score or household registration requirements, and applicants need only provide a middle school diploma.
According to a teacher surnamed Wang, at Tan's vocational school in Shunde, the students' backgrounds also mimic the national average. "A 10th of the 1,000-odd students in each batch are children of small factory owners, who commute to school in luxury cars," he says. They help run the family business after graduation and opt out of universities.
The remaining 90% come from rural areas or urban migrant families, many once left-behind children.
That includes Tan, now 21, who is from a village in Panyu, near Guangzhou, the provincial capital of Guangdong. His father is an excavator operator, while his mother is a childcare worker. To earn extra pocket money while at school, Tan worked several part-time jobs.
One semester, he spent his two-hour lunch breaks as a busboy for a noodle shop nearby, earning 20 yuan ($3) and a free lunch every day. But it was so tiring that he usually slept through afternoon classes.
Here, most students worked odd jobs — distributing leaflets, service jobs in restaurants or hotels, or working on factory assembly lines. For Tan's classmate Liu Lirong, 19, those days were blissful. "I didn't have to cook at home. I spent all my pocket money buying snacks and sharing them with friends," she recalls.
Since graduating last year, Liu has been unemployed. "It's hard finding a job. I've already decided to tangping," she says, referring to slang that literally means "lie down." The buzzword grew in popularity among China's young workforce to reflect their indifference towards oppressive work culture.
After school, Liu had little time to herself. Her mother often asked her to stop for groceries on the way back home, where she then helped with the cooking, tidying, laundry, and other household chores.
Only once the housework was done did she get some breathing room. With no computer at home, Liu and her younger brother often sat in the living room at night to watch TV. She loves dramas with strong female leads, especially stories about women who "started off badly and then grew powerful."
'I'm trash'
Liang Zicun, a postdoctoral fellow at Tsinghua University, spent two years conducting research at the Shunde vocational school. He says the most common catchphrase he heard from students was: "I'm trash."
Tan's parents once hoped he would get into college, but Tan admits that he went to vocational school simply because his grades were too low. Sometimes, his mother beat him with a clothes hanger for his dreadful scores.
In July, Tan invited me for dinner with his family. However, his mother wasn't home that night, so his father — one hand wrapped in gauze after a workplace accident — cooked dinner.
During the meal, Tan's father repeatedly said: "I have not been a good father." He says he never got to study much but knew he had to ensure his son's schooling, and so toiled away operating an excavator.
Despite struggling initially, his son did not disappoint. Under Liang's influence, Tan advanced into a specialized college after graduating from vocational school to major in early childhood education.
This college had partnered with a teacher training institute, which offered him a bachelor's degree if he could manage both courses. Starting in freshman year, he attended classes during the day and studied for his undergraduate degree at night.
Few choose this path, given its demanding workload, but Tan recognized the importance of a diploma. If he took nine subjects a year, he would get his undergraduate degree by the time he finished vocational college. He is among the few to successfully transition from vocational school into an undergraduate program.
The next day, I hoped to meet Liu's family too, but she quickly turned down the idea. "You went to Tan's home yesterday," she started, and said after a pause: "The gap between our families is enormous."
A left-behind child, Liu moved from her home in the southwestern Sichuan province when she was six. That year, her parents, both migrant workers, returned after working years elsewhere to pack their things and pick Liu up before moving to Shunde.
It was, she recalls, the first time she met them — a memory that haunts her even now. When she ran out to greet them, she remembered calling them "uncle" and "auntie." Liu says, "All my mother did was give birth to me — nothing more."
Her father, a factory worker, often took his frustrations out on her and, on occasion, even beat her, but she never reported him. She was afraid they would send him away, which, she says, would "sit on my conscience and hurt my mother."
A widening rift
In June, Zhang Mi, a social worker, interviewed 33 graduates in vocational schools across Guangdong. She found that beyond a severe lack of resources, the curriculum at such institutes lagged far behind current industry needs.
Accounting classes were still teaching students about counting money, while molding classes taught them how to file iron. The cars repaired at some schools were so old that graduates realized they couldn't possibly repair contemporary models.
Wang, the teacher at the Shunde vocational school, admits that it is difficult for schools to fully keep up with the times. Given the exorbitant cost of equipment, the investment they require far surpasses that of ordinary high schools.
"We have to acknowledge the disconnect; we obviously lag behind," says Wang. "Most cutting-edge equipment is channeled to university students since vocational education sits low on the totem pole."
Tsinghua University researcher Liang Zicun recalls that when he arrived at Shunde, he observed several details around campus symptomatic of student apathy. One placard at the Shunde school read, "Compare your effort, not your intelligence." And, while referring to students, a teacher quipped to him, "Vocational school is just a place for waste transformation."
Once, not long after class started, the head teacher began distributing nail clippers. She had just learned that school officials were about to conduct a grooming and attire inspection, and urged students to quickly trim their nails.
Wang says, "For students at our vocational school, their IQ, EQ, and other abilities were never that great."
Asked if he struggled to empathize with the difficulties students faced, he says: "I went to a vocational school."
Wang grew up in a village where vocational school was the only option available. But he studied hard and was one of only two students in his class to eventually attend university. It only reinforced his belief that "success or failure comes down to the individual."
Wang graduated from a Project 211 university — an endeavor aimed at improving the research standards of high-level universities in China — and started teaching a specialized course at a vocational school. He was initially very passionate about teaching and research, but was soon disillusioned with the students' lack of interest.
He says he realized one day that perhaps he needed to adjust his way of thinking: Maybe his lectures were too complex, or his expectations of students too high.
But change is gradually seeping in. Wang points to the accounting program being renamed "accounting services." He says this signified that instead of training students to become accountants, the course prepares them to support professionals with tasks like bookkeeping, running errands, filing taxes, or scanning files.
Over the past two years, Wang has helped supervise courses. During this time, he found that some teachers blatantly avoided planning their classes, so he begged them to improve. When they blamed the students, he sternly told them that they were "passing the buck."
Simultaneously, Wang also pushed for teaching reforms. He broke large classes down into smaller ones and moved more students from ordinary classrooms into training rooms, where they could actively work with machinery.
"Our vocational students just need more practice," says Wang. "If you spend three years teaching them basic operations like twisting screws, and you keep twisting and twisting, they will definitely learn."
Another teacher at the Shunde school surnamed Han underscores that most problems for students start outside classrooms. She says: "There are family and social problems too, and there is very little that can be done in the classroom."
Future and options
In June, Zhang Mi spoke with HR personnel from 10 companies in Guangdong's Pearl River Delta area. She found that, at best, companies expected vocational students to become skilled workers or low-level managers.
One HR executive from an auto parts factory bluntly told her, "University students make the rules; vocational students can only follow them."
And of the 33 vocational students she interviewed, only a handful said they held a job for up to one year. Even those who graduated a decade ago jumped ship often. None had a clear idea of what they wanted to do; they just chased "more money and [a job with] relatively more freedom," she says.
However, it is also difficult for vocational students to enter undergraduate programs. They could take the gaokao — China's national college entrance exam — but competing with regular high school students puts them at an obvious disadvantage.
However, some government initiatives allow vocational students to test for individual majors at certain colleges within their province. Guangdong has over 400 vocational schools but fewer than 1,000 places in its undergrad programs allotted for them.
Shunde vocational school graduate Liu Lirong opted out of higher studies. She says: "I did three years [of vocational school] and wasn't interested in anything. It all felt so boring and dry."
She saw college as "a waste of time" and felt she was better off trying to find a job immediately to gain experience. Moreover, a senior in her program, who attended a specialized college, told her the learning materials there were the same as they used in their vocational school, which only steeled her further against higher studies.
When her classmate and friend Wenli recently landed a job, Liu's mother said: "Wenli won't even attend your wedding now… she only talks to you when she needs to get her packages." (Wenli had her mail delivered to Liu's house.)
Liu has had a bad year: in one job, her telemarketing sales ranked last overall; at a factory she joined, the managers bullied her. She barely lasted one month in either job. And while settling her final wages with the factory, they didn't pay her according to the contract. Feeling cheated, she never wants to work at a factory again.
Liu is now considering her neighbor's suggestion to sell shaved ice desserts. But what she really wants is to open a malatang shop — selling spicy hot pot, a popular street food — with Wenli. Asked how much money they would need, she replied: "We haven't looked into it yet. It's a very long shot."
Back at the Shunde vocational school, jewelry majors seemingly have more options, unlike Liu. The school's jewelry studio has the best resources, and among its teachers is a prominent jeweler from Hong Kong with more than 50 years of industry experience.
Of the 300 students majoring in jewelry, the studio only accepts about a dozen. Those selected don't attend class but are apprenticed to jewelers instead, working 14-hour shifts with only half a day off each week.
On display at the studio are some of the more exquisite pieces students have crafted. Pointing to one, Wang says: "Beyond the classroom, these things are created by people working on assembly lines."
It meant even gifted students would eventually end up on assembly lines after graduating.
Gesturing out the window, Wang says, "Look at that street. There's always a street sweeper. When you say you want to change something, doesn't there still have to be someone sweeping? Of course, we'd then say that we won't be the ones sweeping, nor will our children — that it'll be someone else sweeping."
Machines without souls
Most teachers believe Chen Zichuan, 24, is among the Shunde vocational school's best graduates. Born in Zhaoqing in Guangdong, Chen graduated from the jewelry studio in 2016. And after winning silver at the WorldSkills Competition, he now crafts high-end jewelry at Chow Tai Fook, a famous retailer based in Hong Kong.
Though other vocational schools have invited Chen to give motivational talks, he doesn't describe his experience simply as "motivational." His parents couldn't work because of poor health, so he traveled alone to Shunde to attend vocational school.
The first step to success for him was perhaps luck, since he just happened to choose the best major available. There, he found he had a natural talent for jewelry and was among the few students passionate about the field. Firm in the belief that even small trinkets can convey emotions, Chen crafted several rings for his mother, including one that looks like a smile when worn.
Three years later, he was among six other studio classmates chosen to apprentice at Chow Tai Fook, earning only around 1,000 yuan ($160) a month. It was lower than most jobs available to vocational graduates, and they had little idea about when they could become full staff members. The uncertainty convinced the other five classmates to eventually quit.
Chen thought about changing jobs too. He considered working at a small jewelry company, where salaries were higher but realized he wouldn't learn much.
Torn between immediate financial benefits and long-term development, he opted for the latter, repeatedly telling himself that perseverance would pay off. He continued his apprenticeship during the day and made jewelry at home at night, which helped him earn an additional 1,000 yuan each month.
Two years later, he progressed to making high-end jewelry meant for auction houses. There, three or four people worked together to make adjustments after getting the inverted mold, much like "getting the spare parts and then assembling a cellphone." Though part of the job felt like an assembly line, Chen says "originality and thinking" were involved.
After performing well in yet another competition the following year, he was awarded 100,000 yuan in prize money and an apartment with 20 years of rent waived. Now, Chen makes over 10,000 yuan a month.
One of his younger classmates, Xu Xiaomei, also graduated from the same jewelry studio, but her experience was poles apart from Chen's.
After graduating, Xu attended a specialized college and continued majoring in jewelry. She completed her program this year and worked as a wholesale assistant at a jewelry company for a monthly salary of 3,000 yuan before jumping ship.
Now, she is a mentor for a project that claims to "transform you into a jewelry craftsperson in 46 days" — something she candidly says is unlikely. Her job involves ge jiucai, which translates as "cut leeks," and is slang for making money from ill-informed customers.
Xu is currently also preparing for the WorldSkills Competition, where she hopes to do as well as Chen. If successful, she could apply to be recognized as a leading local talent in Shenzhen, which would make her eligible for 2 million yuan in subsidies. She says this is the only path open to vocational graduates.
These days, Chen is a little anxious about how best to plan his next steps. "You might say it's a humbling profession," he says. "Put a little more nicely, I could be called an 'artisan.'"
He thought it was an interesting title, and after thinking about it for a moment, said: "Workers are just machines without souls."
Of late, Tan Junbao often thinks about workers and vocational school graduates too, and their grueling work in factories or restaurants. He says, "They all work hard, but they never get what they deserve."
Under Tsinghua University researcher Liang Zicun's influence, Tan is now a voracious reader. Next to his bed is a large bookcase, brimming with books on sociology and literature. Three were on his desk: Jean-Paul Sartre's "Being and Nothingness," "The Complete Works of Lu Xun," and "Romeo and/or Juliet" by Ryan North.
It began when Liang convinced him to read Paulo Freire's "Pedagogy of the Oppressed." "I read a sentence multiple times and still didn't understand it," says Tan. "It took me half an hour just to finish a page and one year to finish the book."
Chatting about vocational students looking for jobs, Tan recalls an epiphany he had after reading Freire's book: some people resist injustice not in pursuit of justice but in the service of elevating their own status. It made him think of factory workers who, after a minor promotion, turned around and started bullying others.
His older brother, who has an undergraduate degree, has long insisted that only hard work inevitably leads to success, saying, "Failure is always because you're not working hard." Their divergent views have led to several arguments.
Tan also idolizes Luo Xiang, a law professor whose unconventional lectures have won him millions of online fans. He has watched all his videos but recalls one in particular, which says: "People can only be the ends, not the means."
I asked him what it meant.
Tan replied: "We should work to live with dignity and lead a good life, rather than using people just to realize an economic [objective]."
Chen Zichuan, Xu Xiaomei, Wang, and Han are pseudonyms.
A version of this article originally appeared in Positive Connect. It has been translated and edited for brevity and clarity, and published with permission.
Translator: Katherine Tse; editors: Zhi Yu and Apurva.
(Header image: Wu Yang/Positive Connect)