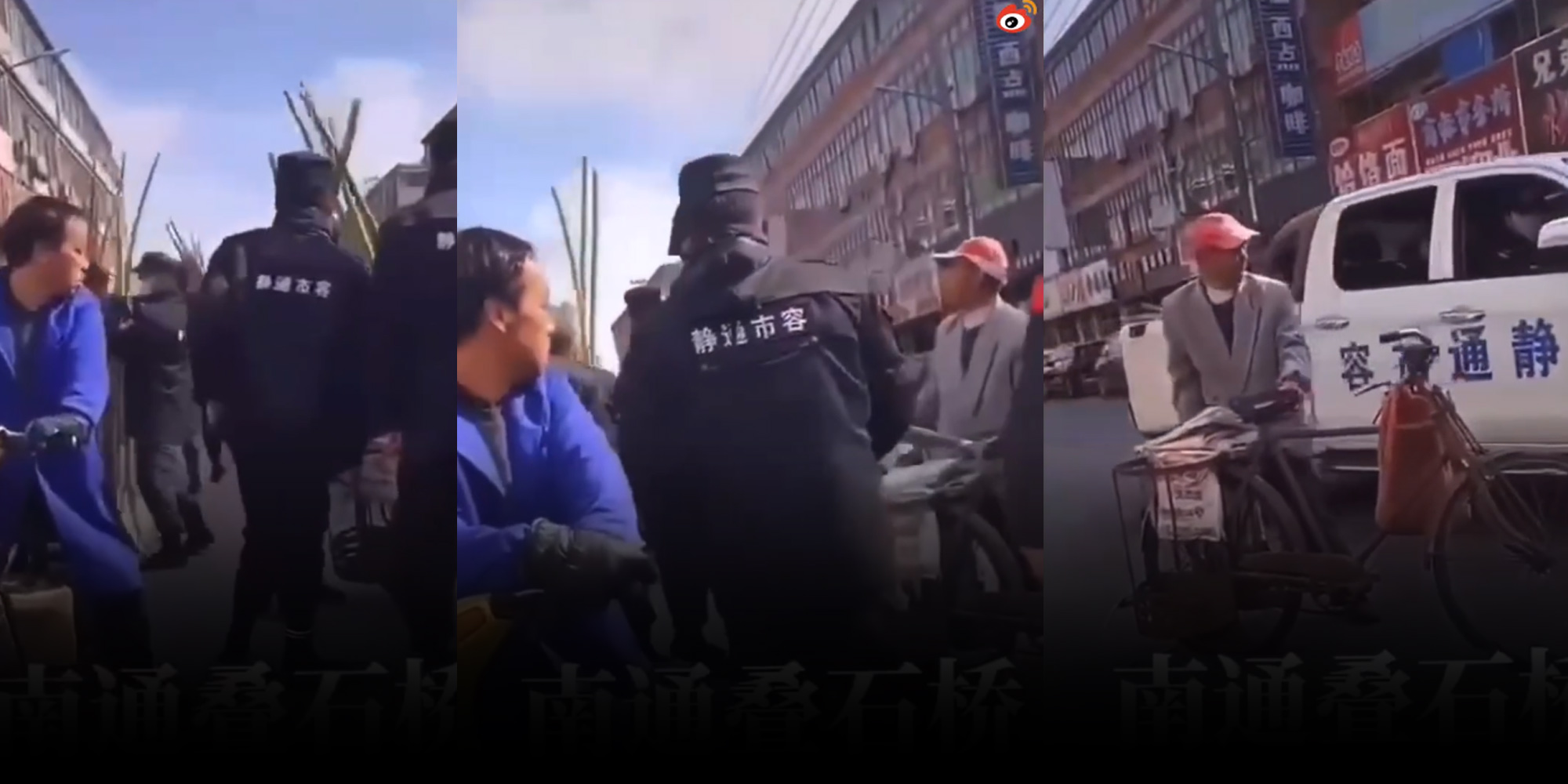 NEWS
Sugarcane Seizure Raises Fears of Subcontracted Law Enforcement
A Chinese city's use of subcontractors to enforce local regulations against street-vending has landed officials in legal hot water.
China's long-running campaign to keep its streets free of unauthorized merchants is once again in the news this week, after an unofficial law enforcement team in east China's Jiangsu province were filmed Monday forcibly seizing sugarcanes from an elderly street vendor.
In the now-viral video, several individuals dressed in black uniforms can be seen crowded around the vendor — identified by Sixth Tone's sister publication, The Paper, as a 73-year-old local farmer. The men then begin pulling long-stalked canes from a basket affixed to his bicycle as the vendor looks on in tears.
According to the vendor's granddaughter, surnamed Zhang, he was hawking produce on a bicycle when men dressed in urban management uniforms stopped him and confiscated his goods. "He is not the kind of person who would (normally) cry in the street," Zhang told The Paper, adding that her family was upset over her grandfather's treatment and had filed a complaint with the local government.
The incident, which took place in Sanxing Township in the eastern Chinese city of Nantong, has reignited a longstanding debate in China regarding the role of the notorious "urban management" teams known as chengguan, this time with a twist: The uniformed men in the video are not official chengguan, but subcontractors, an arrangement that has raised questions as to the lawfulness of their search and seizure.
According to an official statement released by Sanxing Township, the sugarcane seizure was performed by contractors hired through a third-party service, the Jiangsu Jingtong City Appearance Management Company.
Although many cities use subcontractors for service jobs like street-sweeping or security, Sanxing's decision to put subcontractors in a position of poorly defined authority over residents is legally dubious, according to experts, as Chinese law states only government officials are authorized to enforce regulations.
Wu Jun, an associate professor of law at Soochow University, told Sixth Tone on Wednesday that, although government subcontracting is common in China, public enforcement powers cannot legally be subcontracted to private parties. As a result, the Sanxing subcontractors' actions in this case were "undoubtedly illegal," Wu said.
One problem with such arrangements, according to Wu, is lax supervision and implementation of subcontracting agreements. "In many cases, the government just signs a contract and moves on, without overseeing the contract's implementation," Wu said. The task now, Wu added, is to determine which party bears legal responsibility: the city for illegally subcontracting enforcement powers to a private party, or Jiangsu Jingtong, for overstepping the bounds of its subcontracting agreement.
On Wednesday, authorities in Nantong announced that they had punished five local officials in relation to the incident, including members of the city's urban management team, and "admonished" the mayor of Sanxing Township.
That announcement came a day after the city said it would permanently suspend cooperation with Jiangsu Jingtong.
Also on Tuesday, the head of Jiangsu Jingtong, Zhang Shoukun, told The Paper that his staff were merely "holding" the sugarcanes, adding that the company had since apologized to the vendor for the use of "crude" methods.
Editor: Kilian O'Donnell.

(Header image: A collage showing the vendor's sugarcanes being confiscated by law enforcement contractors in Nantong, Jiangsu province, Dec. 6, 2021. From @硬核科技迷 on Weibo)