A local government-run social media account has found itself in hot water over its too-cool-for-school content in recent days, sparking a heated online debate over whether Chinese authorities should use humor to attract more followers.
Shenzhen Municipal Health Commission has won a huge following for its official account on the social app WeChat by creating health advice articles filled with references to popular online memes and slang. But the account is also facing backlash for its informal style.
In late October, an anonymous commenter on the online edition of the People's Daily, a state-run newspaper, complained about the account's "vulgar" content. Though the user didn't cite specific examples of articles they deemed inappropriate, local officials in Shenzhen issued a response on Sunday.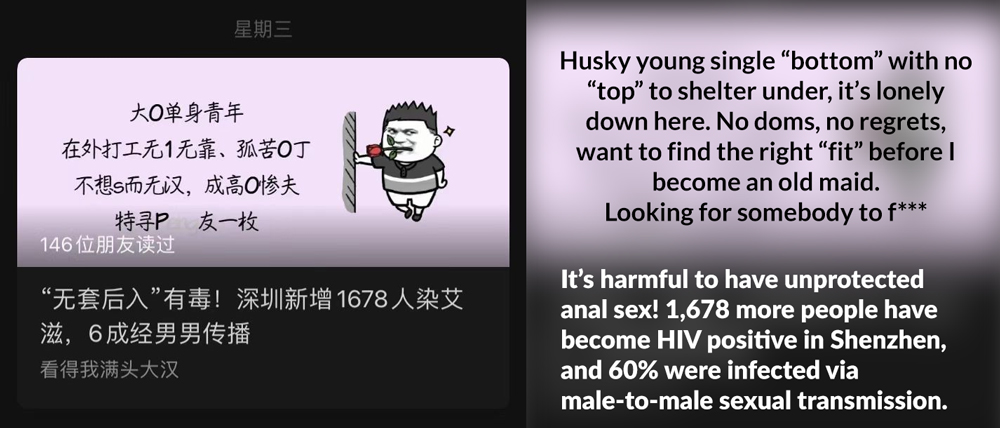 The cover image of the viral article on HIV prevention, published Dec. 1. From Shenzhen Municipal Health Commission's WeChat public account, translated by Sixth Tone
In a statement, the city's health bureau promised that its WeChat account would "maintain a professional, neutral, and objective style" in future. The post attracted enormous attention on social media, with a related hashtag receiving over 160 million views on microblogging platform Weibo.  
Many Chinese government departments have experimented with clickbait-style articles to generate traffic in recent years, but Shenzhen's health bureau has been unique in its ability to attract young readers. Its WeChat account has an impressive 13 million followers, and its most popular articles have been viewed millions of times on the platform. 
Unusually for a Chinese government-run account, its health advice articles are dotted with racy jokes and references to popular culture. A recent article urging readers to drink less bubble tea used a GIF comparing boba to goat poop.
The department also made headlines by creating banners encouraging local residents to get vaccinated that adapted the lyrics of a hit 2018 pop song, "Learn to Meow," so that they read "let's get the vaccine together." (The words for "vaccine" and "meow" are homonyms in Chinese.)
On Dec. 1, World AIDS Day, the account again went viral by publishing an article encouraging gay men to wear a condom during intercourse. The piece contrasted starkly with most official health advice by including frank discussions of anal sex and spoofs of Mao-era propaganda posters. 

In-text memes from a viral article on HIV prevention, published Dec. 1. From Shenzhen Municipal Health Commission's WeChat public account, translated by Sixth Tone
Though some netizens have said they consider it inappropriate for an official account to publish this style of content, Shenzhen Municipal Health Commission has received an outpouring of support since Sunday. 
Jun Zhengping Studio, an online portal run by the state-owned People's Liberation Army Daily, called Monday for more tolerance for official media accounts that dare to innovate.
"If an account does its job well while being popular among netizens due to its personalized content, such ventures undoubtedly deserve recognition," it wrote.
A 27-year-old surnamed Zhang, from the central Hubei province, told Sixth Tone she recently followed the Shenzhen account after reading its World AIDS Day article.
"While laughing heartily at the text and illustrations, young people can learn scientific knowledge in a much more effective way than hardcore science articles," said Zhang. "I hope more local health authorities can learn from it."
Dong Guanpeng, dean of the School of Government and Public Affairs at the Communication University of China, said the real source of the conflict over the Shenzhen Municipal Health Commission account lay in its dual role. The account is tasked both with providing common-sense health advice as well as acting as the official mouthpiece for the city's health department. 
"Some sensitive groups may not be pleased to see such vivid and detailed descriptions of some contagions … on social accounts that bear official government titles," said Dong. "These platforms should mainly offer interpretations of policies, responses to public questions, and general health knowledge."
The solution, Dong suggested, might be for local authorities to create multiple accounts — and keep the viral health content separate.
Editor: Dominic Morgan.
(Header image: A collage of screen grabs showing content published on the Shenzhen Health Commission WeChat feed. From its WeChat public account)