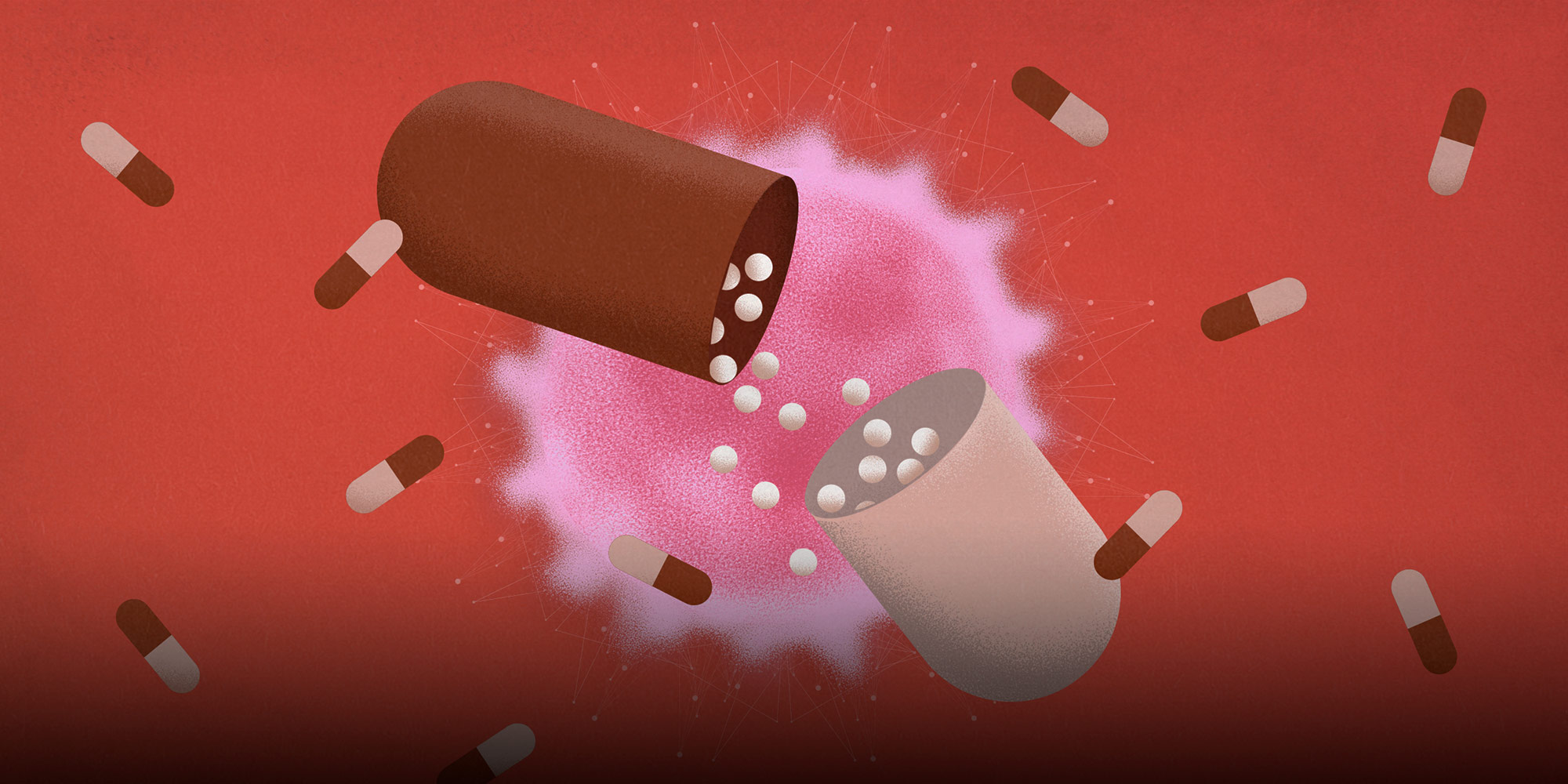 FEATURES
The West Now Has New COVID-19 Cures. How About China?
Drugs designed for the coronavirus could make infections less severe. Will they allow the country to open back up?
To China's pharmaceutical industry, the COVID-19 pandemic has been a trial by fire. Long lagging behind Western counterparts, the greatest medical emergency of a lifetime has seen it make strides, to date producing seven COVID-19 vaccines and bringing more to clinical trials.
And now that the pandemic is entering a new phase, with Western pharmaceutical companies recently receiving emergency approval for COVID-19-specific treatments that stop infections from leading to severe disease, their counterparts in China are, again, not far behind.
Two Chinese drug makers say they are close to bringing intravenous antibody treatments to market, and the country's scientists are also racing to design oral pills, with a few such drugs currently in trials.
How effective they will be — especially against the recently discovered Omicron variant and other possible future mutations — is not yet clear, but they hold the promise to significantly lower the strain on medical resources as well as the public health risks of a possible loosening of China's strict border controls. On Saturday, Chinese respiratory expert and government advisor Zhong Nanshan listed effective drugs as one of the factors necessary for China to "return back to normal."
Up until recently, doctors treating COVID-19 patients had mostly relied on existing drugs that were originally designed to treat other diseases, testing dozens of candidates with at best limited results. In laboratory experiments, HIV drugs lopinavir and ritonavir were found to be able to prevent the coronavirus from replicating. They were widely used until the WHO in July announced human trials had shown they had "little or no" effect on COVID-19 patients. China too stopped recommending their use. Similarly, Ebola and Hepatitis C antiviral remdesivir enjoyed early popularity but has yielded inconsistent results in clinical trials.
Seeing whether existing drugs work against a new disease is taking a chance, with the upside being you might get an officially approved treatment relatively quickly, says Ding Sheng, dean of School of Pharmaceutical Sciences at Tsinghua University. "But the chance of [an old medicine] working successfully on a new disease is very low," he tells Sixth Tone. "It's like trying a key you already have on a new lock."
Antibody treatments
But at the same time, pharmaceutical companies around the world have worked to find a cure specifically for COVID-19. In recent months, the U.S. and U.K. have authorized treatments using monoclonal antibodies, lab-made molecules that bind to specific spots on the coronavirus' spike protein, impairing its ability to invade human cells and thus slowing down an infection. This class of drugs includes sotrovimab, made by British GlaxoSmithKline and American Vir Biotechnology, and REGEN-COV, which is made by U.S.-based Regeneron.
They have shown to be able to reduce the risk of hospitalization and death by at least 70% if taken relatively soon after infection. In later, more severe stages of COVID-19, most complications arise from the body's immune system attacking the body itself, which antibody treatments cannot alleviate.
The frontrunner in China's race for a COVID-19 cure is an antibody therapy called BRII-196/BRII-198. It is being developed by domestic pharmaceutical company Brii Biosciences and a team led by the country's top virologist, Zhang Linqi at Tsinghua University in Beijing. Composed of two types of monoclonal antibodies, the medicine should be administered via intravenous infusion and be given within 10 days from when symptoms of COVID-19 first appear.
In October, Briii Biosciences announced that in a large-scale human trial involving over 800 patients in multiple countries including the U.S., Brazil, and South Africa, the therapy reduced death and hospitalization by 78% among people who are at risk of developing severe COVID-19, such as seniors or those with preexisting health conditions. Detailed data is yet to be published in an academic journal.
The company applied for an emergency use permit to the U.S. Food and Drug Administration in October. The team has also submitted their application to the Chinese regulator, and they hope to secure domestic approval in December. "It could happen any day now," Zhang says. "This could be the first COVID-19 cure approved in China, so it is important both practically and symbolically."
Update: On Wednesday, Chinese authorities authorized BRII-196/BRII-198 for people aged 12 and above.
The BRII-196/BRII-198 antibody therapy has recently been given to hundreds of COVID-19 patients in China under compassionate use during outbreaks in the southern Chinese city of Guangzhou and eastern city of Nanjing, Zhang says. This use, outside of a clinical trial, did not give any insights into its effectiveness, however.
Most patients in the foreign trials had been infected with the highly infectious Delta variant, Zhang says. In preparation for new virus variants, such as Omicron, Zhang says his lab has a stockpile of promising antibody candidates in case the current treatment needs to be updated.
A Beijing-based pharmaceutical start-up, Singlomics, is working on a similar therapy in collaboration with researchers at Peking University. The treatment consists of only a single type of antibody named DXP604 that also binds to the coronavirus' spike protein. The therapy is being tested among a small number of domestic volunteers in a phase two trial, according to Shi Qian, Singlomics' CEO. He adds that the company plans to roll out large scale phase three trials overseas, where there are more patients.
Shi tells Sixth Tone that DXP604 is highly potent and has the potential to work on "nearly all existing and future virus variants," because it binds to a place on the virus' spike protein that, if mutated, would also decrease its ability to bind to and enter into human cells. Detailed data has yet to be published.
Zhang, the virologist working on the BRII-196/BRII-198 therapy, says that while it's possible for an antibody to work on all variants in the lab, how well it works in humans can only be tested through large-scale clinical trials. Other researchers have also cast doubt on the feasibility of a "mutation resistant" antibody. Several worrisome virus variants, including Delta and the newly emerged Omicron, all have mutations on their spike proteins but continue to invade human cells — and possibly do so even more efficiently.
Most antibody therapies solve this problem by combining two different antibodies, which also boosts potency. "It's basically a math problem," says Wang Jun, a pharmacology professor at the University of Arizona. "If you can have 10 or even 20 different antibodies in your drug, you'll likely get better protection against variants, because there's a higher chance that some of the binding spots on the virus stay unchanged and the drug remains effective."
But mixing more antibodies together requires a more complex drug design, Wang tells Sixth Tone, and the already expensive treatment would become more unaffordable. DXP604 having only a single antibody, Shi says, "could significantly lower the price." He adds that one dose of DXP604 — enough for one treatment — costs around 1,000 yuan ($157) to produce. Sotrovimab is priced at over $2,000 in the U.S.
Antivirals
Another possible way to treat COVID-19 is with antivirals. Instead of preventing the coronavirus from entering human cells, antivirals are designed to block the virus from replicating and spreading to other cells. Experts say safe and effective antiviral pills for COVID-19 would be the real game-changer, because doctors only need to prescribe the drugs to patients, who can then take them themselves at home, drastically reducing pressure on hospitals.
Antiviral pills also tend to cost less to make, allowing them to reach more people. "In the vast majority of scenarios, oral antiviral pills have an absolute advantage over antibody therapies," says Ding, the Tsinghua professor, who is also the director of Global Health Drug Discovery Institute, a non-profit research organization.
On Nov. 30, a U.S. expert panel recommended the FDA to authorize molnupiravir, an oral antiviral pill for COVID-19 developed by Merck and partner Ridgeback Biotherapeutics, despite trial data showing the drug only cuts the risk of hospitalization and death from COVID-19 by 30%, much lower than what preliminary data suggested.
"The efficacy of this product is not overwhelmingly good," The New York Times quoted David Hardy, an infectious disease physician in Los Angeles who's on the expert committee. He nevertheless voted to authorize the drug, saying "there is a need for something like this."
Last month, pharmaceutical giant Pfizer announced its antiviral pill, named paxlovid, cuts the risk of hospitalization and death by 89% when given within three days after COVID-19 symptoms start, although detailed data is yet to be published.
Chinese drug makers are a step behind when it comes to antiviral pills, but several experimental drugs are in early stage human trials, including two candidates designed by Shanghai Institute of Materia Medica under the Chinese Academy of Sciences.
While the treatments are already being developed at unprecedented speed — usually a drug could take a decade to make — Ding says support from China's central government is still lacking. "Novel drug discovery and development is a high-risk business," he says. "Because you are actually exploring something unknown, you'll run into failures on the way. So greater investments can truly accelerate the exploration process." Purchasing unproven drugs in advance, a strategy used by several western countries, could offer great help, he adds.
Vaccines are paramount
Even after coronavirus drugs become available, vaccines will remain crucial, all scientists Sixth Tone spoke with agree. Cures can't stop the virus from spreading.
"Drugs act more like a fire extinguisher which is to help when vaccines fail to provide enough protection," says Wang, of the University of Arizona. "When you don't vaccinate enough people, there'll be more people who become infected and need to take these drugs. That'd actually accelerate the speed at which the virus mutates and becomes resistant to the drug."
An open and perhaps unanswerable question is whether the potential future availability of COVID-19 cures might make the Chinese government reconsider its "zero-tolerance" policy toward COVID-19, wherein it launches stringent control measures over even a single case and keeps the county's borders mostly closed.
As of Nov. 29, nearly 80% of the Chinese population was fully vaccinated against COVID-19, and cities across the country have launched booster programs. But the sly virus continues to break through the defense, causing sporadic flare-ups across the country. Chinese companies are developing vaccines with the same mRNA technology that made the Moderna and Pfizer vaccines highly effective. But, despite the CEOs' ambitions and matching levels of confidence, large-scale trial data have yet to be released, a sign that getting home-made mRNA vaccines into Chinese people's arms may still take time.
All in all, it has become clear that with the emergence of highly transmissible virus variants and waning vaccine immunity over time, herd immunity, a scenario where enough people become immune to the disease either via vaccination or infection, may be unachievable. COVID-19 cures could make loosening restrictions more palatable. Tsinghua's Zhang says the drugs will "provide confidence for gradually opening up."
"You could still get sick even if you're vaccinated," Zhang Wenhong, a prominent infectious disease doctor, said during a conference in Shanghai in October. "Drugs free us from the fear of dying from the disease." He then quoted ancient Chinese military strategist Sun Tzu: "To be victorious over the coronavirus, we shouldn't hope that it never comes, but hope that we'll have enough weapons when it does."
Editor: Kevin Schoenmakers;visuals: Fu Xiaofan and Ding Yining.
(Header image: Fu Xiaofan/Sixth Tone)