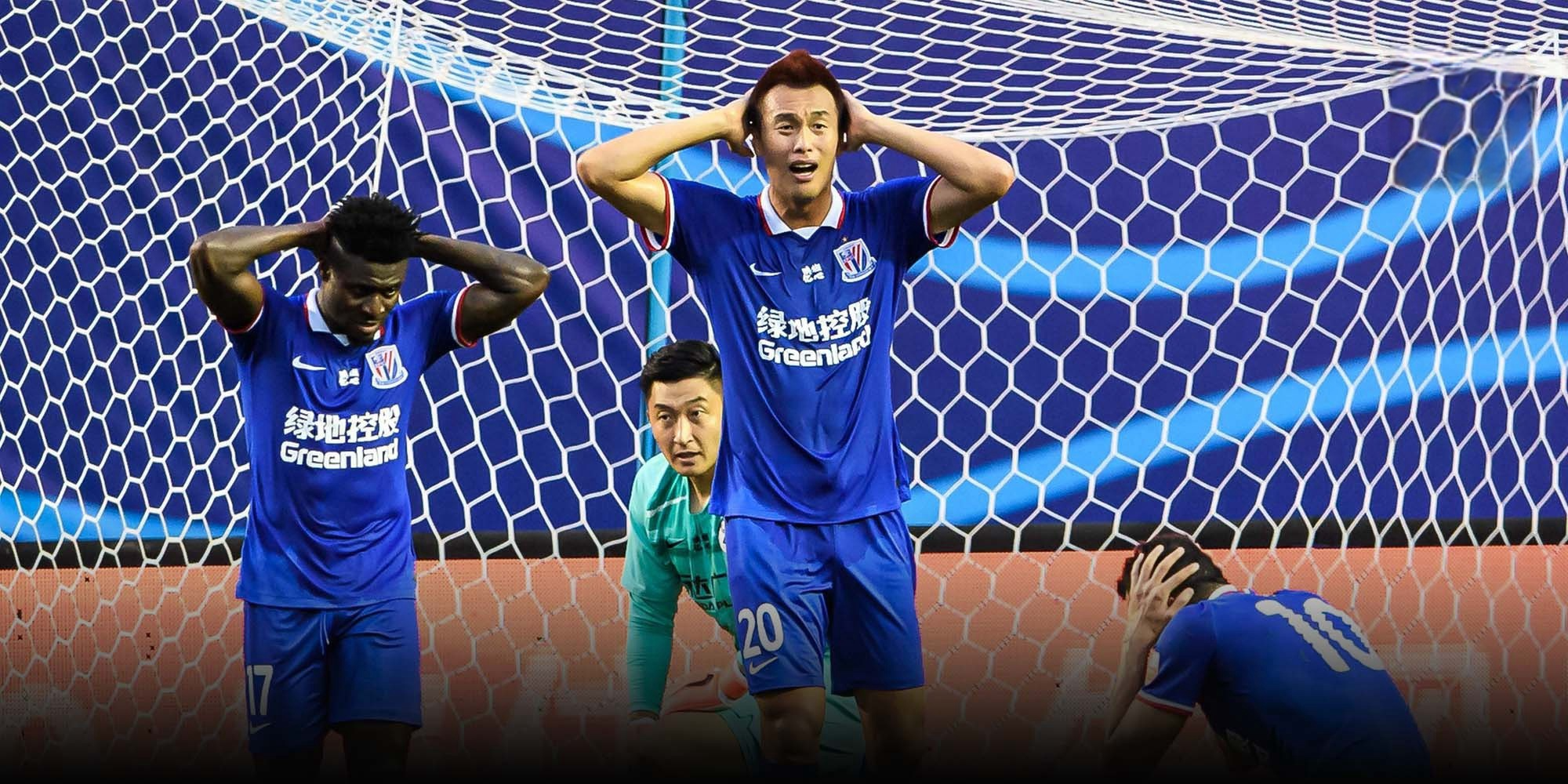 FEATURES
China's Soccer Dream Has Turned Into a Debt-Addled Nightmare
Just a few years ago, Chinese Super League teams were outspending Europe's leading superclubs. Now, they can't even afford to pay their own players.
In February 2016, Italian soccer legend Antonio Conte issued a stark warning to the sport's European heavyweights. The then-Chelsea head coach had lost two top players — Oscar and Ramires — to Chinese clubs over the preceding months, and he worried many more would be tempted to follow.
"The Chinese market is a danger for all," said Conte. "Not only for Chelsea, but for all the teams in the world."
Yet, nearly six years later, things look very different. Chinese soccer has turned out to be a danger, above all, to itself.
The Chinese Super League (CSL) captured the world's attention in the late-2010s, as China launched an audacious campaign to establish itself as a "soccer superpower." Chinese clubs spent extraordinary sums to lure superstar players from overseas, offering deals that even Europe's top sides couldn't match.
But the boom was built on debt, and now the CSL is facing one of the worst financial crises in world soccer. Clubs were already running eye-watering losses before the pandemic. Since COVID-19 hit, their finances have gone into a tailspin.
The league returned after a four-month hiatus last weekend, but the action has been overshadowed by the ongoing crash. The situation is dire, with the future of nearly every club in jeopardy.
Twelve of the league's 16 teams have fallen behind on paying their players' wages. Many aren't able to pay their staff, either. There has been a mass exodus of foreign players, with Oscar and the former Manchester United midfielder Marouane Fellaini the only truly high-profile signings remaining.
The clubs' income, meanwhile, continues to fall. Broadcast and sponsorship revenues have plunged — and the CSL's partners are reportedly pushing for even greater cuts. Ticket sales are a distant memory. The league has been played behind closed doors for two seasons due to China's strict pandemic control rules, and this is unlikely to change any time soon.
To make matters worse, many of the clubs' corporate owners are mired in their own debt crises. Chinese soccer fans often jokingly refer to the CSL as "the real estate league" because so many clubs are owned by property companies. Now, several of these firms are in default — and appear keen to get their ailing soccer clubs off their books.
Local governments in several Chinese regions are in negotiations to bring their hometown teams under state control. If the talks fail, there's a risk more CSL clubs will suffer the same fate as Jiangsu F.C., which was abruptly dissolved just three months after winning the 2020 league title.
It has been a dizzying reversal for a league that was once considered the coming force in global soccer. As recently as early 2019, Li Yuyi, vice-president of the Chinese Football Association (CFA), was confidently proclaiming his ambition to make the CSL the "sixth-biggest football league in the world" — after the "big five" European leagues in Britain, Spain, Italy, Germany, and France.
At the time, this goal looked attainable. China's unveiling of a plan to promote soccer in 2016 had sparked a flood of investment into the CSL. Many of the country's biggest companies bought clubs and began spending lavishly on foreign players.
Paulinho, Hulk, Yannick Carrasco, Alex Teixeira, and Marek Hamsik were just a few of the high-profile arrivals that followed. Conte, the Chelsea manager, had good reason to feel threatened: The players coming to China weren't aging stars looking for a final paycheck, but top athletes at the height of their powers. When Paulinho left Guangzhou Evergrande in 2017, he walked straight into F.C. Barcelona's first team.
For a few years, the CSL appeared to be gaining real momentum. Broadcasters from more than 90 countries and regions — including ESPN — bought the rights to screen Chinese league matches. Arenas like Guangzhou's Tianhe Stadium and the Workers' Stadium in Beijing were packed to capacity most weeks, with "ultra" fan groups similar to those found in Italy creating a raucous atmosphere.
But in reality, the bubble was already close to bursting. Li, the CFA official, left his post just a month after setting his "sixth-biggest league" target. His replacement, Chen Xuyuan, struck a markedly different tone.
Chen was the owner of one of China's biggest clubs — Shanghai SIPG, later renamed Shanghai Port — and had been a major player during the boom. His purchases of Brazilian stars Hulk and Oscar for $59.8 million and $66.4 million, respectively, had helped the Shanghai club win the CSL title in 2018. But as soon as he started work at the CFA, he began calling for an end to the era of "money soccer."
He wasn't alone. By the summer of 2019, there was widespread agreement that the CSL clubs' losses had become unsustainable. In July, a dozen of China's wealthiest entrepreneurs — including Xu Jiayin of Evergrande Group, Wang Jianlin of Dalian Wanda, and Zhang Jindong of Suning.com — met in private to discuss how to reform the league, people with knowledge of the meeting told Sixth Tone.
The 12 business leaders signed a joint statement calling for the CSL to impose a strict wage cap and be given greater independence from China's sporting authorities. They were half-successful: The government retained control, but it did introduce a wage cap.
The change might have been enough to prevent a hard landing for the CSL, but then the league was hit with two devastating blows: the pandemic and the Chinese real estate crisis.
As COVID-19 took hold, China introduced extremely tough measures to control the virus — and the impact on the CSL was severe. All home and away games were canceled and the league was split into two regional groups. Teams were forced to play behind closed doors inside two bubbles in the northern city of Dalian and east China's Suzhou.'
The clubs not only earned nothing from ticket sales, but also received lower broadcast revenues under the new system. Whereas the regular season used to consist of 30 rounds of matches, it now had just 14, with the top sides going through to a championship play-off.
Chinese banks, meanwhile, began tightening their lending to real estate companies in 2020, making it even harder for CSL clubs to pay their bills. Thirteen of the league's 16 members are owned or part-owned by Chinese property groups. As many of these companies came under financial pressure, they became increasingly reluctant to subsidize loss-making ventures like soccer teams.
The sudden demise of Jiangsu F.C. in March was a wake-up call — a sign of just how broken the league's financial model had become. The club's owner — electronics retail giant Suning.com — had splurged to sign Alex Teixeira and hire Italian coaching legend Fabio Capello during the boom, but the company was now billions of yuan in debt. Within months of pulling the plug on the soccer club, the company was forced to accept a $1.36 billion state-led bailout.
Now, nearly every club in the league is experiencing severe cash flow problems. All but four CSL clubs have confirmed they are behind in paying player wages.
"The club hasn't paid wages for more than five months already, and we haven't heard any news about when we'll be paid what we're owed," one Beijing Guo'an player told Sixth Tone. Players from teams in Chongqing and Wuhan say they haven't been paid for more than seven months.
At several clubs, the problems go even deeper. Guangzhou F.C. and Guangzhou City F.C. — owned by the property giants Evergrande Group and Guangzhou R&F Properties, respectively — haven't paid their club staff for over two months, club insiders told Sixth Tone. Guangzhou City is reportedly locked in a legal battle with its turf supplier over missed payments, while local state-owned enterprises have taken control of Guangzhou F.C.'s massive new 120,000-seat stadium, which is currently under construction.
"At present, the group's funds are less than ideal, so the temporary suspension of salaries is understandable," a Guangzhou City executive told Sixth Tone. "I hope the situation improves soon, but I think reforming the club's ownership structure is a more realistic approach."
State-led takeovers appear to be the only way out for many clubs. Local officials in Guangzhou are currently in talks with a state-owned pharmaceutical company about buying a controlling stake in Guangzhou City, according to domestic media. Similar discussions are taking place between local authorities and clubs in several other cities, one CSL club executive told Sixth Tone.
The buyouts may bring clubs a reprieve, but not necessarily the players. Club executives are insisting that players will need to accept salary cuts no matter what happens.
"The only way for players to avoid unpaid wages in the future is to reduce their salaries," the Guangzhou City executive said. "Otherwise, even state-owned enterprises won't be able to afford such high sums."
Beijing Guo'an is currently discussing a contract extension with one foreign player whose current annual salary is more than 10 million yuan, a club insider told Sixth Tone. The club, however, has reportedly told the player that he will have to lower his demands to 5 million yuan before tax to secure a new deal.
Further salary reductions appear inevitable, as the CSL's value as a product has plummeted. In 2015, the league signed a record broadcast deal with China Sports Media (CSM) worth 8 billion yuan over five years. But subsequent deals haven't come close to matching this figure.
Two years later, CSM renegotiated with the CSL, signing a new agreement worth 11 billion yuan over 10 years. Two online video platforms — LeSports and PP Sports — then took over the rights, but soon fell into arrears on their payments. After COVID-19 hit, PP Sports fell into a debt crisis and dropped out completely.
When Chinese tech giant Tencent stepped in to acquire broadcast rights to the CSL this year with a deal worth 240 million yuan over three years — just 5% of what CSM paid in 2015. And the company is already trying to negotiate the deal down even further, a Tencent staff member told Sixth Tone.
The CSL's sponsors are also pushing to renegotiate their deals, a CSL employee told Sixth Tone. They are making the same argument as Tencent: namely, that they paid for a 30-game season, but due to the new format, have only received a competition half that length.
It's unclear how much the CSL's partners will end up paying. During the 2008 season, when the global economy was in a deep recession, each CSL club had to settle for an annual payout of just 1.5 million yuan, 750 cases of Kingway beer, and a Canon printer. This year, Chinese soccer fans joke, the payout should at least be slightly better than that.
The return of fans to stadiums would provide clubs with a financial lifeline, but club executives aren't holding their breath. Chinese authorities have maintained tight restrictions on all large-scale sporting events throughout the pandemic, and the country is still battling to bring a stubborn COVID-19 outbreak under control.
"If the league had home and away games, Guo'an would expect to earn around 50 million yuan a year in regular ticket sales. Last year, there was nothing, and it's the same this year," an executive at Beijing Guo'an told Sixth Tone. "We're worried about whether home and away games will return next year. At the moment, we're not optimistic."
For now, the Chinese clubs are having to adapt to the new normal as best they can. State-backed takeovers should bring some financial stability, but the era of big-money transfers appears to be over. Players' agents, meanwhile, expect their clients will have to accept deeper salary cuts.
"The domestic transfer market doesn't exist anymore," a veteran agent told Sixth Tone. "No club is going to spend money on players — being able to find a team that'll accept free agents is as good as we can expect. There's also no room for negotiation when it comes to salaries."
Last year, one Chinese national team player was offered a new contract by his club worth just 2 million yuan a year, according to the agent. At first, the player refused to sign, arguing he was worth more, but eventually agreed to the deal. But then, the club's owner got cold feet. On second thought, 2 million yuan is still too much, he told the player.
"This year, things are only likely to get worse," the agent said.
Editor: Dominic Morgan.
(Header image: Shanghai Shenhua F.C. players react during a 2020 Chinese Super League match, in Dalian, Liaoning province, Aug. 10, 2020. IC)