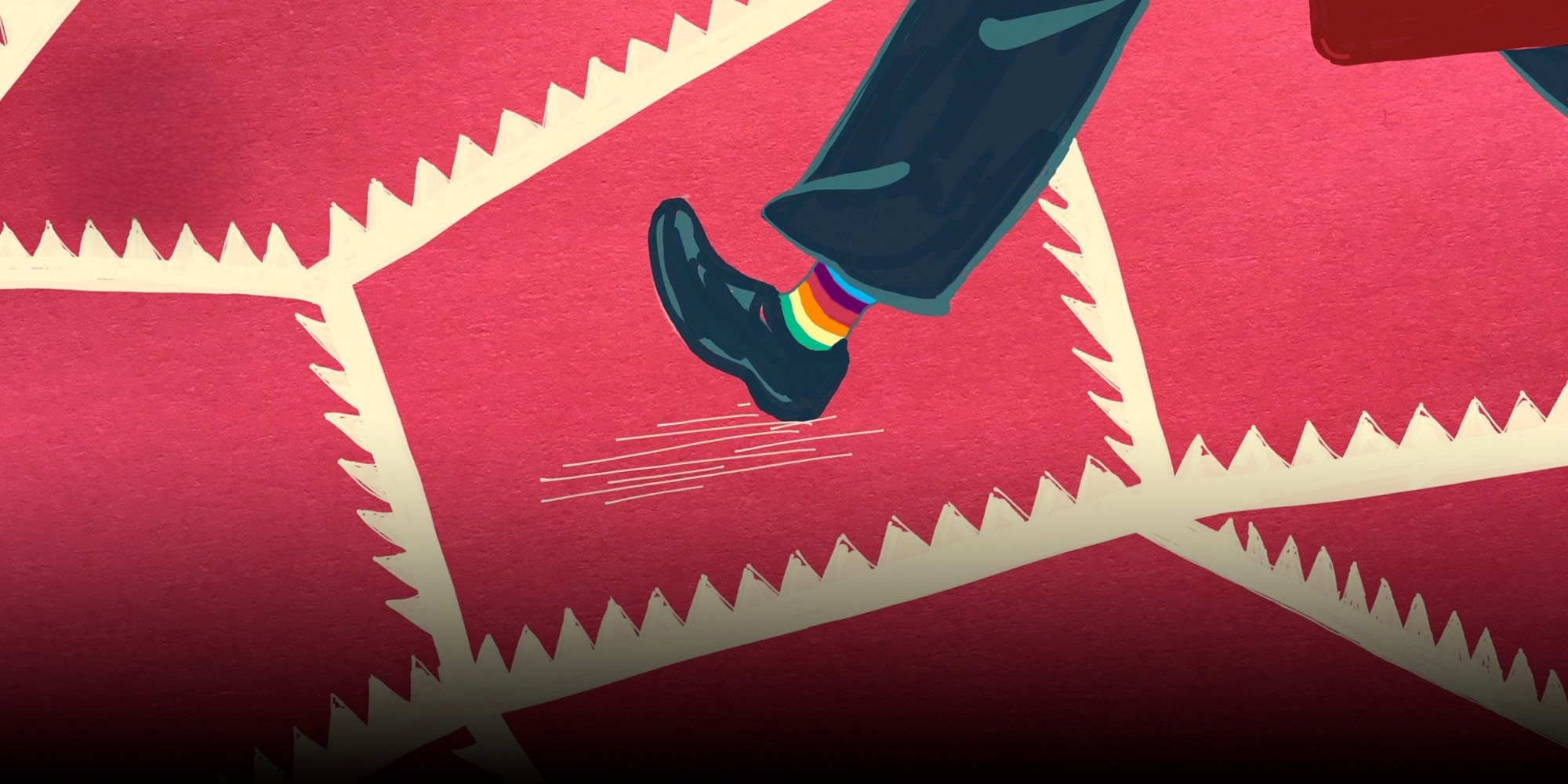 FEATURES
Scammers Are Using Dating Apps to Extort China's Gay Men
Experts say the stigma faced by the LGBT community have emboldened the fraudsters who exploit them.
Jiankang remembers the exact date and time he was scammed while searching for love online.
It was the International Day Against Homophobia, Transphobia, and Biphobia on May 17 last year, and he was having dinner with his roommate in Shanghai — until a video call disrupted the evening. The caller — "Mind-Piercing Ice" — was the "cute-looking" man he had chatted and exchanged contacts with on the Chinese gay dating app Blued just the week before.
The 27-year-old accepted the call on social messaging app QQ indiscreetly. A naked man, masturbating, appeared for about 10 seconds before disconnecting. Then a message popped up. He clicked the link in it, only to find a video of himself watching the man please himself. He doubted if the person was the same one he'd connected with on Blued, or even if the profile picture on the app was real.
"I panicked," Jiankang, who only gave his first name to protect his privacy, told Sixth Tone, recalling the moment he saw the message on QQ and discovered the archive link was infected with malware that had obtained his phone's contact list. The scammer would also call and text him later to negotiate.
"Do you want to deal with this?" the message read. "I will let your friends, colleagues, and relatives know you are a gay pervert."
The man then demanded 30,000 yuan ($4,700) to make all the exchanges disappear. 
Jiankang's saga is part of a series of scams targeting China's gay community on popular dating apps and online forums that have grown in the past few years. The issue again became a topic of conversation within the community last month after several men shared similar experiences to Jiankang's on a forum for gay men on the review platform Douban.
Though somewhat a new phenomenon in China, these catfishing techniques are similar to ones that have existed for years elsewhere. From Ghana to India and Australia to the United Kingdom, they follow a similar pattern: Fraudsters set up honey traps on dating apps to start conversations with gay men looking for hookups or relationships, coerce them into sharing explicit images and videos, and later threaten to use those materials or chat logs to expose them.
Such tactics typically work best in countries where same-sex relationships are criminalized — which dissuades victims from approaching the police — resulting in gay men paying hefty sums to avoid persecution.
In China, homosexuality is no longer a criminal offense, but unseen red lines and unsaid rules remain. Despite progress over the past decade — many big cities house queer venues and host LGBT events, and advocates are even lobbying for same-sex marriage in the country — both online and offline spaces for the community are gradually shrinking.
And even though the general attitude toward the LGBT community is more tolerant than before, many still prefer not to disclose their sexual preferences due to low social acceptance. A 2016 research by the United Nations Development Programme showed only around 5% of the over 28,000 Chinese respondents who identified as LGBT had revealed their sexual orientation, gender identity, or gender expression at school and work, while nearly half the respondents kept it hidden from their families.
"For gay men in China, the biggest concern is usually whether their parents and family members will accept them," said Wu Shangwei, assistant professor in the School of Journalism and Communication at Jinan University in Guangzhou, and who is researching how dating apps mediate Chinese gay men's social relationships, told Sixth Tone. "The scammers took advantage of this."
Posts on social media platforms by users claiming to be gay men who were tricked on various online platforms — including Blued — indicate that such activities are widespread, though the extent of such scams is unclear. 
Blued declined to comment for this story, though the company's 2019 corporate social responsibility report showed that it had deleted some 6 million users that year for violating the app's regulations.
Jiankang said Blued deleted Ice's account soon after he reported the scam. Meanwhile, some scammers are starting to cast their nets further than just dating apps.
Twenty-five-year-old Bai, who used a pseudonym to protect his identity, said he was tricked on Douban when a user who claimed to be gay messaged him a link to download a gay porn app. Through the link, the user gained access to Bai's phone contacts.
Bai told Sixth Tone that the man demanded 6,888 yuan — eight is a lucky number associated with wealth in China — to keep his secret. When Bai refused to pay, the individual called his mother, threatening to reveal her son's sexual orientation to family and friends.
But even his mother — who he said "wanted me to be straight" — refused to budge.
"My mother was on my side this time, we were united against the scammer," Bai said. "This incident has actually improved my relationship with my family and brought us closer. But absence of strong social inclusion emboldens scammers to use sexual minorities as a reason to commit fraud."
Sixth Tone's email to Douban for comment went unanswered by time of publication.
Scammers preying on individuals often make headlines in Chinese media, with thousands falling victim to "naked chat scams," where imposters posing as women entice men into sending nude photos which they later use to extort money from them. Between 2011 and 2020, some 2,000 people in more than 20 provinces had been bribed out of 24 million yuan, domestic media reported.
While straight victims who report such fraudulent activities to the police has helped bust those operatives, experts say gay men aren't in a similar position to do so. Many fear going to law enforcement may be counterproductive, and that they could be outed in the process.
"Scams targeting gay men are different from those targeting heterosexuals — they are consciously taking advantage of the marginal status and stigmatization of the gay community in our society," said Wu, the assistant professor.
Jiankang, who fell into the trap despite being aware of such scams, said many gay men on dating apps remain unaware of such schemes — and their quest to find love online has often led to unexpected consequences. He said a few of his peers at a Shanghai-based gay support group where he volunteers have shelled out between 20,000 to 30,000 yuan to protect their identity and sexual orientation.
But Jiankang refused to pay his scammer, and eventually Ice stopped messaging him. 
"At one point, I felt desolate and wanted to ask why he had such an extreme hatred for gays — why he was turning that hate to attack and exploit us," Jiankang said. "He purely used the vulnerability of those gay people too afraid to come out to make money."
A year after the episode, Jiankang said he is still bitter about his experience on dating apps but nonetheless kept his Blued account — he just uses it more cautiously. He has since learned to invest a little more time before accepting phone calls or clicking on links from prospective dates and even tries to educate potential scammers — something he tried with Mind-Piercing Ice.
"I told the scammer that gay marriage is already legal in places like the United States," Jiankang said, referring to their chat. "The scammer answered, 'I know, I know, you still can't survive.'"
Editor: Bibek Bhandari.
(Header image: Shijue Select/People Visual, reedited by Sixth Tone)