Sprinter Xu Donglin arrived in Tokyo in a wheelchair. Because the surgery he had undergone for a torn meniscus in 2020 hadn't been a complete success, liquid leaked into his knee whenever he moved. To give the inflammation a chance to slowly subside, he was instructed to avoid walking as much as possible. Wherever he went — to the Olympic Village, to the canteen, and to the venue where the competitions were held — his coach would push him.
Xu is the guide for Liu Cuiqing, a para-track and field athlete who competes in the T11 category, for people with complete visual impairment. Runners wear blindfolds during races, and a short band connects them with their guides. It is their job to run alongside the runner, perfectly mirroring the athlete's every move while making sure they stay within their lane, until just before the finish line.
Since 2013, Xu and Liu had trained, competed, and won together. In 2016, in Rio de Janeiro, they brought home two golds, a silver, and a bronze. The Tokyo 2020 Paralympic Games, held this year after the Olympics, would be their second. They weren't necessarily nervous, but they were unsure of how things would turn out. Sports can be cruel. Injuries take their toll, and younger competitors will happily take your place on the podium.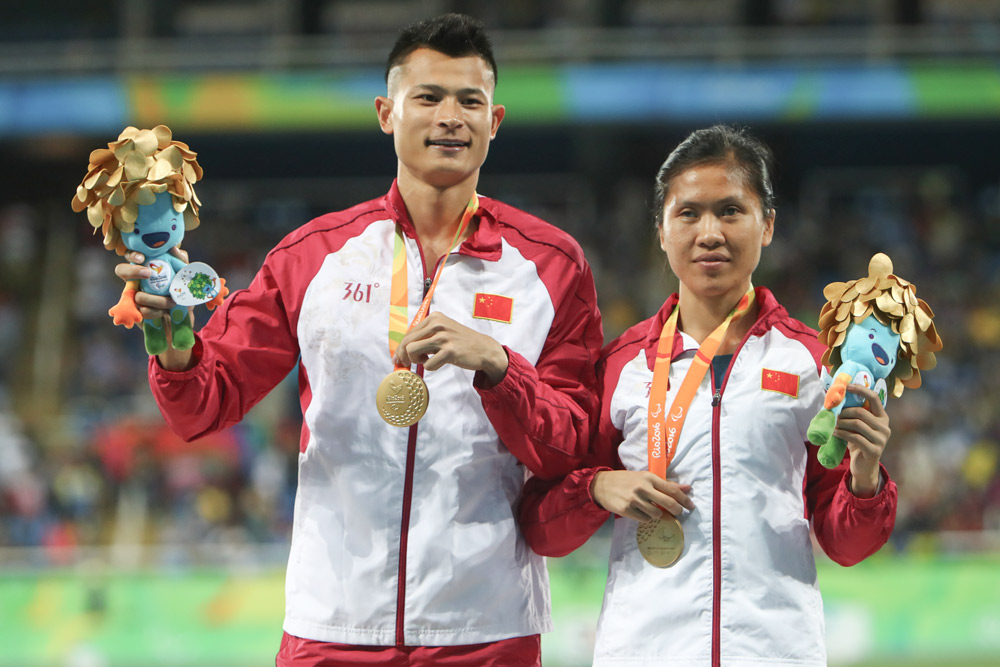 Gold medalist Liu Cuiqing (right) and her guide Xu Donglin pose on the podium at the medal ceremony for the Women's 400m (T11) during the Rio 2016 Paralympic Games in Brazil, Sept. 16, 2016. Lucas Uebel via People Visual
For months after his surgery, Xu had to rehab his knee and couldn't run. That left Liu to temporarily train with another guide, and without the trust and tacit understanding she had built up with Xu for over seven years. The stand-in's movements and technique weren't quite the same. Though Cui never fell, she accumulated several small injuries.
When Xu returned as Liu's guide, and they began high-intensity sprint training, Liu's injuries played up. Her hip joint gave her severe pain. She couldn't stand up, much less run. Xu changed their regimen to training in a pool and on bikes to stay fit. But, with both of them battling injuries, their preparation for Tokyo was far from ideal.
It was right around that time that Xu on one occasion got angry with Liu, which was rare. The training clock had not yet run out, but Liu, out of pain, let go of the rubber band. Xu found this difficult to tolerate. In his eyes, no matter what — even if they had to walk to the finish line — she should have held on.
In Japan, expectations for the duo were tempered. Both were running with pain. Liu was mostly concerned about Xu's knee, afraid that forcing the issue would cause irreversible damage. But if they gave up, he wouldn't forgive himself. "It's okay, I know what I'm doing and can keep up," he said.
The 200m final on Sept. 4 was the last of 11 races across four events on their schedule. The physical and mental stress peaked because, the day before, they had started at 6 a.m. and hadn't finished the third race of the day until after 7 p.m.
Standing on the track, Liu shouted, "Let's go, Cuiqing!" They high-fived each other. He set up the starting blocks and gave her a pat on the shoulder, signaling that the run would start soon. The gun sounded, and they both quickly popped up, speed and rhythm perfectly in sync.
They spoke no words, relying on the 10-centimeter-long rubber band for communication. On the bend, Xu tilted his arm towards her, and when the straight track came, his arm raised up straight ahead. Two meters before the end, Xu slowed down, pulling back the band. Liu immediately rushed forward, crossing the finish line alone.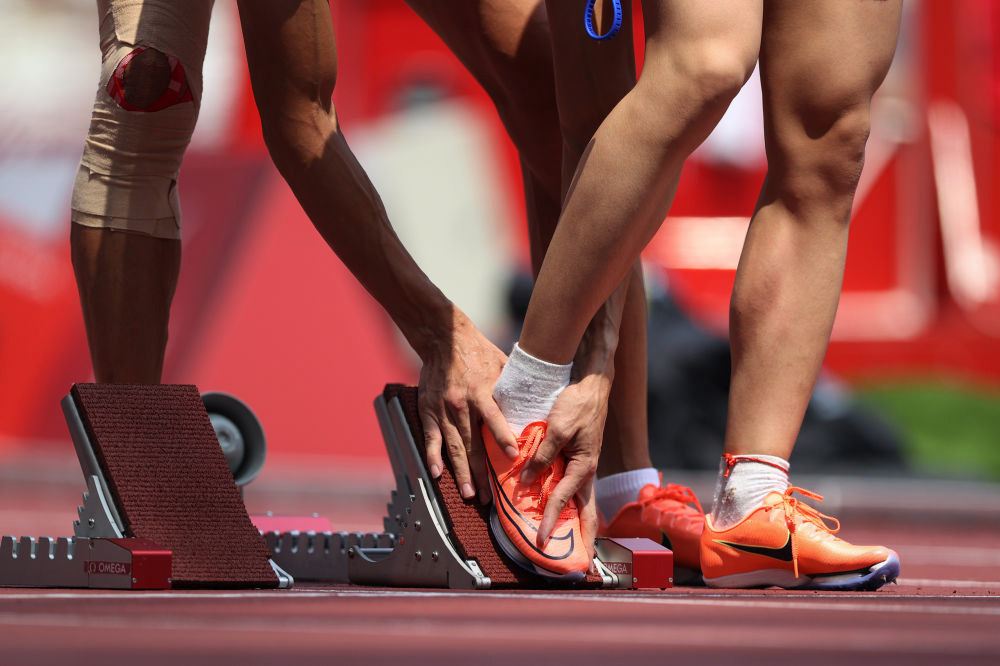 Guide Xu Donglin (left) helps Liu Cuiqing to step on the starting block during the Tokyo 2020 Paralympic Games in Tokyo, Japan, Aug. 28, 2021. Xinhua
Gifted
In December 2013, they met for the first time at the training center in southern China. Xu thought the woman in front of him was introverted. He could say 10 sentences to her, and she would respond with a "hmm" at most.
The coach arranged for them to be paired up, but Liu was skeptical. Xu felt it. She never took the initiative to communicate, and if he asked her what she liked to eat, she'd reply "whatever." Asked if she understood a movement during training, there'd be no response. If there was a new move to be learned, she'd often shy away.
Liu wasn't always so closed-off. Born in 1991, in the countryside outside Nanning, in southern China's Guangxi Zhuang Autonomous Region, she loved to dance and perform, and her talent was obvious. When playing, she could run faster than any of the other children.
At the age of 10, her eyes became itchy, painful, and red. Her family thought drugstore eyedrops would be enough to help her recover. But a week later, after that had brought no relief, her mother took her to the hospital in Nanning. The doctor said the optimal time for treatment had passed. There was no cure, and no point spending money the family didn't have to seek treatment outside the province, they added.
The world in Liu's eyes became increasingly blurred, before turning completely dark. She became insecure and silent. Liu was sent to a school for the blind and gradually learned to accept her fate, planning to open a blind massage parlor — the most common path for the visually impaired in China — so she wouldn't have to rely on her mother.
One day in 2010, Liu was sitting in class when the physical education teacher suddenly pushed the door open and yelled: "Guangxi Disabled Persons' Federation is here to select athletes. All girls go down!" The students stood in line on the playground, and the coach told everyone to bat a ball and do a jumping squat.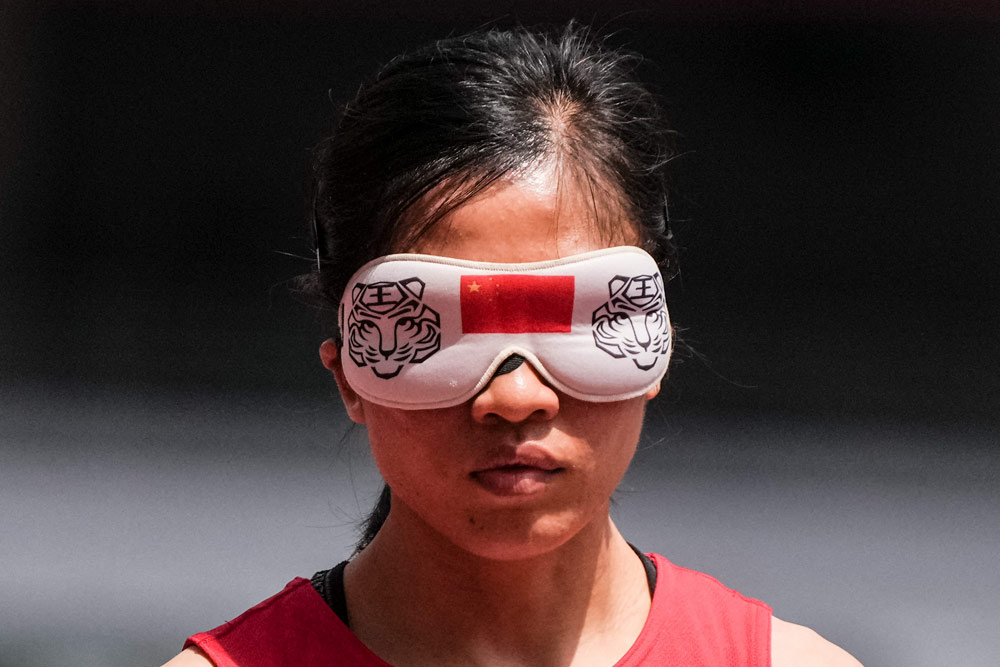 Athlete Liu Cuiqing wears a mask during a heat of the women's 400m (T11) at the Tokyo 2020 Paralympic Games, Japan, Aug. 27, 2021. Yasuyoshi CHIBA/AFP via People Visual
Liu obeyed the instructions, swung the bat, squatted, jumped, and was soon selected. The coach felt she was the right height and had the muscle strength for track and field. It all came down to talent, as she hadn't done these things for a long time. Girls usually jumped rope for physical education and did very little running.
Liu didn't hesitate. The coach told her to go and she went, not understanding what athletics would mean to her. After years of staying in a closed school and not being able to go outside, the world was "curious, exciting, and fun."
At that time, there were almost no blind athletes on the Guangxi provincial team. Only a few weeks later, a young girl was found at the athletics training school to come help her.
She could only imagine movements through touch and verbal description. Others told her there were no obstacles in front of her. But in the dark, Liu just couldn't feel at ease. She ran crookedly, leaning back and in a defensive posture at all times. But she was hardworking enough, falling down and getting scraped, getting up and going on. She would eventually complete any task set by the coach.
Soon, Liu entered the national disabled athletics team. She trained hard and her results were good, but it was difficult to break through to a world-class level. After over three years running track, she had changed her guide four times. Each one was only assigned to her for a particular sporting event. After a few months, just when they had built up enough trust, it was time to say goodbye.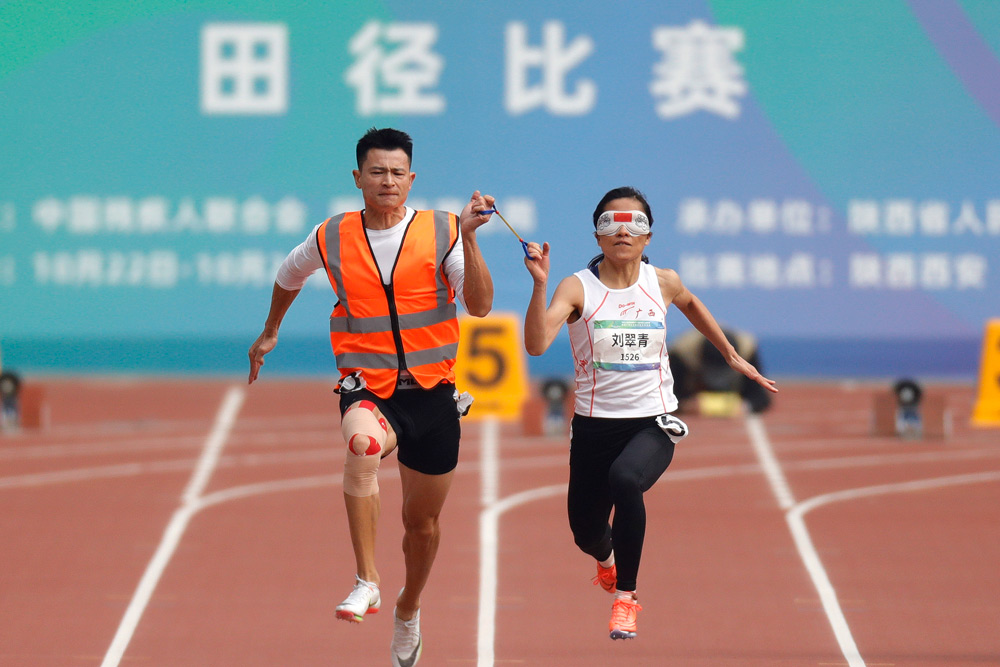 Xu Donglin (left) and Liu Cuiqing during a race in Xi'an, Shaanxi province, Oct. 24, 2021. Zhao Bin/Chinese Business View/People Visual
Bonding
Xu also served as a "temporary" guide. He started practicing track and field at the age of 16, and was on the Jiangxi provincial team — dreaming, like all his teammates, of becoming a national champion and competing in the Olympics. In 2010, he got injured, derailing him from a path to the top. Full of regret, he retired the following year, thinking he would become a coach.
Just a month after he left, a coach with the Disabled Persons' Federation asked him to work with a visually impaired athlete. At that time, guides were hard to find. Not many people were willing to do it, and many didn't understand exactly what the job was. Xu hesitated. The coach said that it would only take four or five months, until the race was over. He agreed.
Back at the provincial team in the compound, his teammates were surprised, and asked him, "How do you come back and not return to the team, but just go running with a little girl every day?" Then in his early 20s, in his physical prime, Xu felt awkward. They had to hold hands during training, which embarrassed him.
But since he had agreed, Xu practiced hard with the female athlete every day. She was not completely blind and had some sense of contrast. In training, it wasn't too exhausting to communicate. She could see a bit of his movement demonstration. She'd had several guides by that time already. So as a novice, Xu was often the one needing instruction.
A few months later, at the National Games, they won three gold medals. Xu thought his assignment was over, but soon, he received a call from the athlete: "We were selected for the London Paralympics, can you accompany me for a few more months?"
This time there was no hesitation. Xu entered the national team to become a guide. "Going to the Olympics is my dream as well," he said. He also felt the value of his job. Before, these athletes didn't win championships; with him, they could.
After the London 2012 Paralympic Games, the International Paralympic Committee ruled that the guides could receive their awards on stage with the athletes. They put the medals on each other, got certificates with their names on them, and stood together at the flag ceremony. Xu felt that he had lucked into the best of times.
But partnering with Liu was a whole new challenge. She could not see anything, and her heart was closed off. Xu put on a blindfold to try to better understand the world Liu was living in, staying alone in his room and letting his roommate guide him out for meals. He originally planned to wear it for a full day, but he couldn't even get past noon. In total darkness, he didn't have a sense of place and started to imagine things, intensifying his fear. He realized that, what Liu needed, was a very trustworthy person by her side, "so that she could boldly run forward," he said.
Outside of training, he spent as much time as possible with her, eating, walking, and listening to music together. He began to pay attention to every little detail. Liu could not tie her shoelaces tight enough, so he would squat down to retie them for her; when giving her water he wouldn't just hand the bottle over, but guide her hand to touch the bottle, then she could take it; at mealtimes he didn't simply ask what she wanted, but listed out the dishes for her so that she could make her own choice.
Liu soon felt that this new guide was different. Others would lead her to a seat and tell her not to move, but Xu Donglin described the scene to her, what was behind her, and what was to the right and left. If someone she knew was coming, Xu would tell her ahead of time and prepare her for greetings.
Her teammates joked with her: "Wow, your guide even helped you tie your shoes!" Liu sometimes smiled, thinking that this guide really likes to talk. When Xu was present, she felt as if she had another set of eyes, and was at ease. She is introverted and doesn't talk much, so she is often ignored by many people — but not him. He always made her feel like she was respected.
Liu Cuiqing and guide Xu Donglin celebrate winning the gold medal in the Women's 200m (T11) Final during the Tokyo 2020 Paralympic Games in Tokyo, Japan, 2021. Xiong Qi/Xinhua
"Eyes, trust, a soldier's weapon"
When it comes time to learn new moves, Liu can't imitate. Xu breaks down the moves in detail, trying to paint a picture for her in words. He lets Liu touch his legs, showing how high they lift and bend, until she has a rough idea. He then takes her legs to show her, making sure she gets it right.
Liu takes in the moves little by little, pieces them together, hundreds of times a day, until muscle memory kicks in. Being used to her old way of moving, she was skeptical and thought the new technique slowed her down, but she didn't push back. She trusted him, and looked forward to the results. Xu is faster, so he needed to adapt. If she lost her rhythm, or was about to fall, Xu slowed down and used the rubber band to give her a tug.
A few months into their partnership, Liu took first place in a national race. She had never believed she could run so fast before. Both felt it was the moment that solidified their trust — the results were proof.
That little piece of rubber band binds them together tightly. Ten centimeters long across the middle, with a ring on each end, the total length is no more than 30 centimeters. Xu describes it as "eyes, trust, a soldier's weapon." One person grabs each end, and every day they do thousands of synchronized arm swings and high leg lifts, until they are automatically in sync.
Distance and speed gaps can be felt in the strain of the band. At first, Xu still needed to issue short commands — "straight," or "up" — while running. Now, they don't have to mess up their breathing and rhythm anymore — everything is communicated through the band. Having partnered for a long time, sometimes just before an event, clutching the ring, Xu can feel what kind of race they're going to run.
Soon, they welcomed the best time in their professional careers, becoming the focus of every major competition they competed in. In 2014, they won gold medals in the 100m, 200m, 400m, 4×100m, and the long jump at the Incheon 2014 Asian Para Games. Liu began to be known as "The Flying Woman of China."
In the 400m preliminaries at the Rio Paralympics, Xu strained his thigh while accelerating, and could not walk after the run. He lay in bed for a day and a half, and only got up for the final. Before the start, Liu felt that he was acting differently from usual, walking crookedly and limping, but since she couldn't see it, she couldn't determine how serious the injury really was. When Liu asked him before the race, he smiled and said no problem, you can run at your usual pace.
After finishing way ahead of everyone else and taking the gold, he did not hug Liu like usual, but fell down at the finish line and didn't get up for a long time. "Five meters more and I couldn't have made it," he said.
Their second Paralympics wasn't easy either, with Xu managing his knee with a brace, injections, and tight bandages. But Liu got silver in the 100m event, and won gold at the 400m, setting a new Paralympics T11 record. Xu hadn't thought they'd be able to reach that level again. Over the past year of training, they had never gone so fast. Even though, before their injuries, they'd posted even quicker times.
The relationship between the two is like family — Liu isn't good at expressing herself, and rarely thanks Xu. But after winning the 400m final, she solemnly told him, "Thank you for bringing me to the top podium despite having an injury."
In their very last race of the 2020 Paralympics, the 200m event, Liu won another gold. With the slimmest of margins — just 0.004 seconds — she prevailed. Liu donned the national flag, and Xu lifted her up — something he only does when he feels they truly outdid themselves.
A version of this article was originally published by White Night Workshop. It has been translated and edited for length and clarity, and is republished here with permission.
Translator: Matt Turner; editors: Zhi Yu and Kevin Schoenmakers.
(Header image: Xu Donglin (left) and Liu Cuiqing during the Tokyo 2020 Paralympic Games in Tokyo, Japan, Sept. 2, 2021. Yohei Osada/AFLO SPORT/IC)