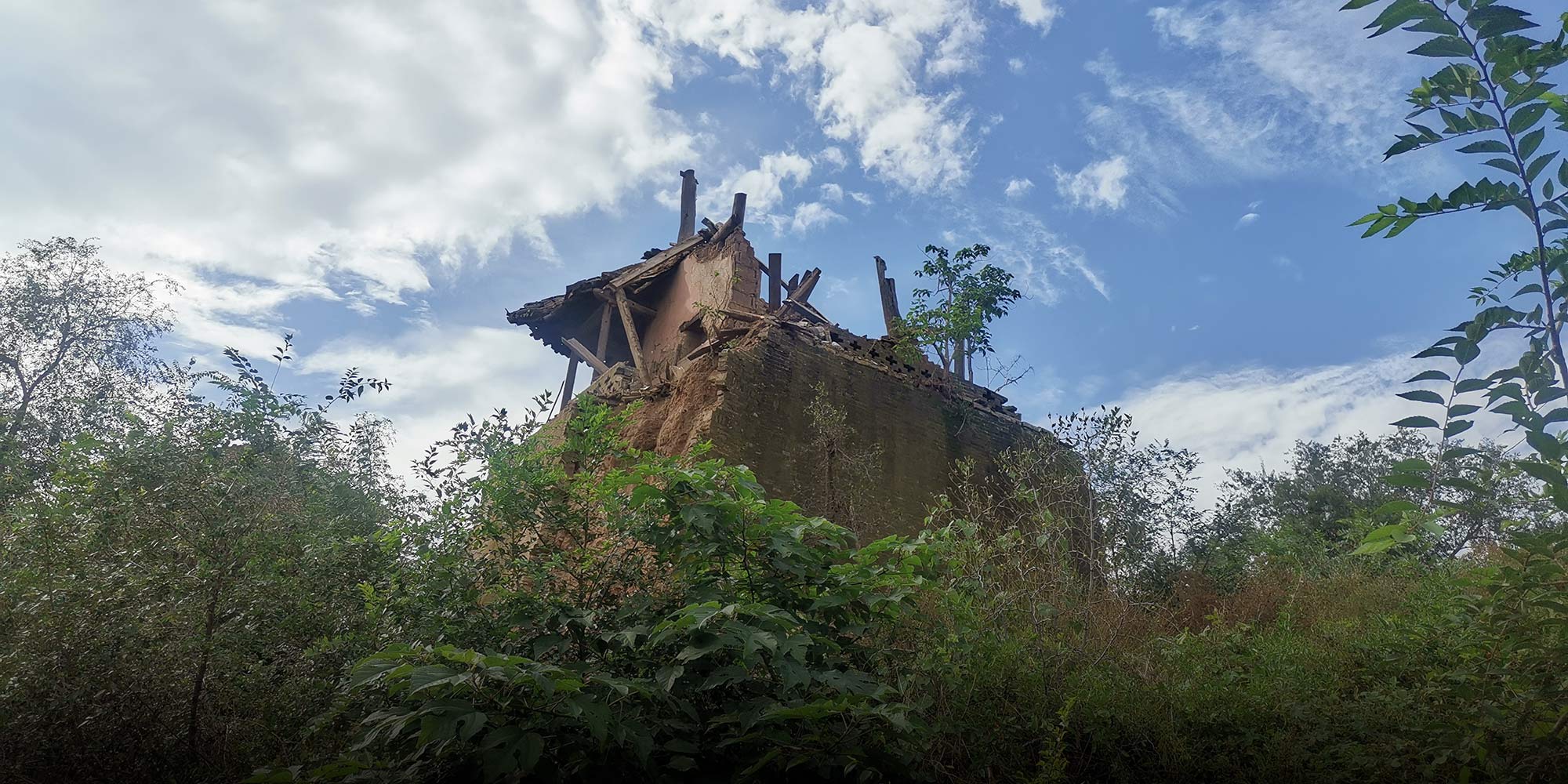 SIXTH TONE ×
In Rural China, a Tower's Collapse Warns of Storms to Come
China loses, on average, four historical buildings every day. Will climate change speed up that pace?
SHANXI, North China — Just as nobody in Yanjiazhuang Village knew exactly when the Kuixing Tower was built, nobody saw when, on a rainy night, it crumbled to pieces.
Over the past century, the humble two-story tower had stood alone in the southeast corner of the village, looming over corn and wheat fields that were plowed, sowed, and harvested every year anew. Children scampered through its creaky wooden staircase, trains thundered past, and buildings behind it grew taller. As the tower aged, its beams started to twist from wind and rain until it finally toppled altogether during a heavy storm this October.
Judging by the tower's wooden structure, one architectural historian estimated that it was built between 1851 and 1861, the reign of the Qing dynasty emperor Xianfeng. In those days, Confucian scholars built similar structures around the country to worship Kuixing, the god of learning, and pray for good luck on the imperial examinations. Yet the Kuixing Tower in Yanjiazhuang had become anonymous: It was neither listed as a protected heritage site nor had any historical records.
It gained attention only after its collapse. Following a summer of climate change-fueled extreme weather in China, including the deadly floods in Zhengzhou and the surrounding Henan province, Shanxi was hit by persistent downpours in September and October. From Oct. 2 to Oct. 7, the province received as much as one-fifth of the rainfall for all of 2020. Shanxi is rich in historical artifacts and architecture, and the damage they sustained from the heavy rain became a focus in the aftermath. When the skies cleared, the tally in Shanxi stood at 1,783 damaged immovable cultural relics. In Pingyao, a well-known ancient town, part of the city wall crumbled.
The collapse of Yanjiazhuang's Kuixing Tower in Yanjiazhuang became a warning sign that such a fate could befall all the other poorly maintained historical structures scattered across China's countryside. With the threat of climate change looming, they are awaiting rescue. Can China keep what remains of its history intact in a future with increasingly extreme weather?
Collapse
Liu Gaoyun, 63, is Yanjiazhuang's conservator. He and a village cadre manage the village's five ancient cultural relics. For as long as he can remember, Kuixing Tower has always stood there, withstanding even the heaviest rains. He never imagined it would fall apart.
On Sept. 23, Liu and the township's other conservators received an order in their group chat that they must increase their patrols. On his rounds, he discovered the roofs of the village's Niangniang Temple and ancestral hall were damaged and leaking. Meanwhile, the four pillars that held up Kuixing Tower's roof looked close to giving in. Liu quickly took photos and reported his findings.
The head of the village, Yan Yilin, was patrolling in the morning of Oct. 5 or 6 — he can't remember — when he saw that the second story of Kuixing Tower had completely crumbled, leaving only a third of the first story. Swaths of the external wall of the 3-meter-high base of the tower had peeled off, while the wooden beams, tiles, and bricks had mixed with the rammed earth and slid to the ground. A tree as tall as a person that had bored its way through the cracks of the wall emphasized the tower's status of disrepair.
"The tower has collapsed!" The news quickly spread through the village.
The news saddened Liu. "It's like losing something in your house," he said.
Staff members from the Cultural Relic Protection Center of Xinjiang County — where Yanjiazhuang is located, not to be confused with western China's Xinjiang Uyghur Autonomous Region — visited the site on the afternoon of Oct. 8 and reinforced the outside wall around the eastern base of Kuixing Tower to prevent further damage. Some of the large pieces of wood — mostly rotten — were hauled away, stored, and tabulated by the village committee in hopes that they might be used again in future restorations.
Lian Da, a painter of ancient architecture, saw the photos of the collapsed tower online. "It already outdid itself just by lasting until 2021," he rued.
Now 43, Lian began visiting villages in Shanxi province when he was 20 and has since painted thousands of ancient buildings. He visited Yanjiazhuang's Kuixing Tower in April 2015 after hearing about it from friends, and found it to be the most run-down Kuixing tower he had ever seen. The lower pillars had toppled over, the eaves had crumbled, and the entire structure had become severely slanted and misshapen.
He likened it to "an elderly person with one foot in the grave," where one push or a gust of wind might well knock it over, but called its fragmentation and durability "very moving." He drew a painting of Kuixing Tower and included it in his book.
After learning about its fall, Lian hesitated whether to share the news on social media, afraid officials would think he'd be "kicking up a fuss." But in the end, he posted: "Now that the tower is gone, people should be told under what circumstances it fell down" — an allusion to the sorry state of much of the countryside's ancient architecture.
In China, immovable cultural relics that have been appraised fall into three classes: national, provincial, or city or county grade. But many are ungraded. According to official statistics, Shanxi province had 53,875 immovable cultural relics as of July 2020, of which ancient architecture made up 52%. While 13,405 sites were listed as protected, the remaining 40,000 or so were ungraded.
While higher-level relics are well looked after, there is limited budget for the upkeep of lower-level and ungraded relics, such as Kuixing Tower. Tang Dahua, an enthusiast of ancient architecture, rushed to Pingyao and Xinjiang after the rains. He discovered that the national and provincial cultural relics largely suffered from leaks — a manageable issue — but that severe damage had befallen the county cultural relics, ungraded cultural relics, and other ancient cultural relics in villages, most of which had been left to fend for themselves.
The Third Nationwide Cultural Relics Survey, in 2021, found that 44,000 immovable cultural relics had disappeared over the preceding 35 years, an average of four losses a day. The vast majority were ungraded cultural relics.
Pending renovations
Few residents of Yanjiazhuang Village knew what the Kuixing Tower was for, and simply referred to it as gelou, meaning "multi-storied building." People went to the Niangniang Temple or their ancestral hall instead to worship or pray for good fortune. In recent years, the number of the village's young people who tested into prestigious universities has dropped, leading some to point to the tower's disrepair as one cause.
When He Qilong, 57, who lives right across from Kuixing Tower, was young, he and the other boys would often climb to the top, where they could look out at the reed marshes. The wooden stairway that led to the second story disappeared when he was a teen, and very few people have ventured up there since.
People in rural Shanxi believe they will face difficulties every nine years. And so, at multiples such as ages 27, 36, and 45, rituals are held to ward off misfortune. In Yanjiazhuang, the most important of these ages is 36. All the people that age would take a group photo, and pray for a smooth transition into the next nine years. More than two decades ago, He Qilong and eight peers posed in front of Kuixing Tower for their group portrait. The men donned festive red sweaters and starched suits, as well as ties or sunglasses for some. The tower's subsequent deterioration meant it was one of the last times it was chosen as a background.
People floated the idea of repairing the tower for decades. Conservator Liu said that the village had no funds to undertake renovations and that nobody had taken the lead on crowdfunding efforts. Some villagers had no concept of cultural heritage protection, thinking that "old things serve no purpose anyway." The village committee has also laid low, not wanting to be accused of stirring up "feudal superstitions."
Lian, the painter, sees the Kuixing Tower's collapse as a reflection of how the village, like most everywhere across China's countryside, had lost its working-age people to the cities. When he visited Yanjiazhuang Village, he didn't encounter a single soul. "With the village declining, who would go fix a run-down tower?" he asked.
Lian could sense that the villagers' emotional ties to these ancient buildings had grown "weaker and weaker." When villagers gathered around him to watch him paint, some would ask if he made a huge profit from selling his art. He replied, "Cultural relics are significant because they preserve your village's history, not because of the money."
During the political upheaval of the 1950s and 1960s, countless temples were destroyed because they were seen as symbols of feudal superstitions. Lian once visited a village that had more than 40 temples in its heyday. It only had one temple left, and it had been renovated into a school. The frescoes, statues, and steles had long collapsed, leaving behind the bare wooden framework.
The post-revolution generation of villagers had rarely witnessed the traditional cultural activities that would be held at the temple, and their elders dared not tell them about it, Lian said. Ever since, children have grown up unaware of the temple's religious role and artistic value. He had once visited a temple dedicated to the Jade Emperor, one of the most important deities in Taoism, only to find that the temple elder had been looping a Buddhist mantra.
Moreover, Lian said that it is hard to ensure quality on the rare occasion lower-grade ancient cultural relics undergo repairs. The slightest carelessness could erase a painting or an inscription. And many a facelift has turned temples into anachronisms: their wooden door and window frames had been changed to glass panes, or the roof had been replaced with blue steel tiles. A husband-wife pair spent 830,000 yuan ($130,000) on repairing an old temple, but the paintings on the frame beams ended up looking like floral prints from pajamas. Another temple ended up with frescoes of the Japanese manga series Sailor Moon after its repairs. The list goes on. "Isn't that just the same as destroying it?" Lian fumed.
In addition, many renovation projects are monopolized by large companies, whereas small companies and traditional folk artists, lacking official qualifications, rarely land such work. This can lead to local characteristics of ancient architecture being "renovated away." For instance, the well-reputed Palace Museum restoration team remade an ancient building in Shanxi in the style of the Forbidden City, the imperial palace in central Beijing. Likewise, when workers accustomed to restoring local architecture in central Shanxi province worked on restorations in southern Shanxi, the result was an entirely different style.
Lian believes that ancient buildings need long-term maintenance and restoration, rather than hasty overhauls. That work would mostly rely on older conservators, some of whom have lived for many years in temples deep in the mountains under difficult conditions. The monthly salary for national and provincial-level conservators is only 300 yuan, whereas city- and county-level conservators make 200 yuan and 100 yuan a month, respectively.
Having worked as a conservator for five or six years, Liu primarily patrols the sites, looks after the fire equipment, and prevents fires and theft. He said that the cultural heritage bureau tends to come only when he reports that the situation has grown dire, but even then, they rarely take action. "They'll just say there's no funding," he said. As far as he can remember, he has never received his salary in full. Some counties simply have no way to pay, he explained. "Whether a conservator devotes enough time and effort depends entirely on their conscience."
The lucky few
Two kilometers away, the Kuixing Tower in Longquan Village has had an entirely different fate.
It continued standing tall in the cornfields after the rain had stopped. The two-story building has gray-brick flooring, an ornate interior of carved beams and painted rafters, and wooden dougong, or interlocking wooden brackets commonly used in traditional Chinese architecture to support overhanging roofs. A colorfully painted clay statue of Kuixing stands inside. The words inscribed above the main entrance proclaim the god to be "the progenitor of culture," while hanging couplets and red lanterns dedicated by the villagers decorate the door frame.
Former teacher Meng Shisuo believes that the tower would have crumbled too, if not for the restorations 16 years ago. In his recollection, the village used to have other Qing dynasty-era temples for various other gods, but they were all torn down. Only their Kuixing Tower remains. The villagers saw it as a protector of generations of young people hoping to test into respectable colleges.
In contrast to the neglected Kuixing Tower in Yanjiazhuang Village, Longquan Village's tower is constantly filled with burning joss sticks. Early in the morning on the first day of the Lunar New Year, villagers will flock to the tower with tributes and to burn incense, praying for favorable weather and their children's academic success. On the 15th day of the ninth lunar month, the village committee will invite performance troupes, folk dancers, and stilt walkers, with people beating gongs and drums as well.
Meng recalled the Kuixing Tower undergoing repairs once a long time ago, but in the absence of long-term caretakers, the roofing tiles fell apart; leaks appeared and led to water damage; and termites ate into the beams. The villagers always had intentions of repairing the tower, yet nobody wanted to organize. "If we don't fix it, then our village won't have a single cultural relic left," said Meng, explaining his mindset at the time. He decided to take on the project after retirement.
Most of the 4,000 villagers supported his idea to repair the tower. The businesspeople among them stepped up with donations of 5,000 yuan or 10,000 yuan at a time until they finally raised 50,000 yuan. The village committee then covered the remaining 10,000 yuan.
Meng, 63 years old at the time, formed a tower restoration committee together with a handful of people older than him. The village cadres helped transport them to other villages to search for help, where they found folk craftspeople to design a plan and rebuild it faithfully. Worried about losing materials, they took shifts standing guard every day. The project took a year to complete.
This year, the village's 36-year-olds raised 100,000 yuan to overhaul the road and steps leading to Kuixing Tower. They also draped the eaves with small lights that sparkle during the Lunar New Year.
More than 10 kilometers away, the Kuixing Tower in Xizhuang Village was likewise fortunate enough to be saved. Built during the reign of Qianlong (1736-1795), it became a county-level relic during the Third Nationwide Cultural Relics Survey and started undergoing renovations in April this year.
"If we hadn't fixed it, it would have suffered the same fate as the Kuixing Tower in Yanjiazhuang Village," said 55-year-old Yang Yingjie, the head of the Xinjiang County Cultural Relic Protection Center. Last year, they had successfully petitioned 400,000 yuan in funding from upper-level government departments. They also used 300,000 yuan of the county's heritage conservation funding, which together gave Xizhuang Village's tower a chance at survival.
But most relics are not as lucky.
Yang Yingjie said that Xinjiang County has 725 cultural relics of all grades, including 29 national or provincial relics, 613 county relics, and 83 ungraded relics. Of the relics in the latter two grades, "75% are in a state of disrepair."
The county usually shoulders the funding for county-level and ungraded relics. In other words, the largest number of relics are the responsibility of the most financially strained level of government.
Xinjiang County is allocated 1.5 million yuan annually on its heritage conservation, more than many other counties in Shanxi province. Of that, 500,000 yuan are archaeological fees, and 600,000 yuan goes toward the conservators' salaries and upgrades to fire equipment. The remaining 400,000 yuan can only cover restoration for one relic — and "only a few fixes here and there" at that, said Yang. "It's not enough for structural maintenance."
Last year, they petitioned 300,000 yuan in emergency reinforcement funding with the provincial cultural relics bureau and repaired one building. They filed on behalf of three more relics this year but were unsuccessful.
County-level relics take precedence among the vast number of cultural relics awaiting repair, Yang said, with funding "almost never reaching ungraded relics." The priority is on ancestral halls, multi-storied buildings, and other public cultural relics in critical disrepair that could be used once repaired. As for the other structures that seem like they could remain standing for a while longer, "we'll add some reinforcements if needed, since there's only that bit of money every year," Yang said.
Surviving in the cracks
Yang Yingjie often feels like there's a sword hanging above his head.
Two years ago, he became the head of the Xinjiang County Cultural Relic Protection Center. Every year during the wet season, he fields call after call about damaged cultural relics. "Everywhere you look, something is crumbling," he said. This year, concerned about damage caused by rains, the center started on Sept. 25 by covering the county's important ancient architecture with plastic sheets to keep them dry.
In the following days, Yang Yingjie traveled through each village, taking stock of the damage and filing paperwork for renovation work. Yuncheng City, which oversees Xinjiang County, sent them 50,000 yuan of emergency funds. Conservation experts from the province and the city also came to investigate and assess the reported damage.
Yang couldn't help but bitterly list his grievances about grassroots conversation work: They are held accountable for any issues, even when there is no funding for repairs and no cooperation from the residents. "It's hard to survive when you're stuck in these cracks," he grumbled. In one county in Yuncheng last year, some of the components of ancient dwellings were broken down and then sold via black market all the way to Dongyang, a city in Zhejiang province, in eastern China. It caused a media maelstrom and led to charges for 27 people. "The head of the cultural and tourism bureau couldn't take the pressure and left," Yang said.
The biggest headache for Yang, however, was the question of protecting and utilizing a large number of ancient dwellings under private ownership. Of all the cultural relics in Xinjiang County, over two-thirds are ancient dwellings, with 80% in disrepair.
The Cultural Relics Protection Law determines that property owners of ancient dwellings are responsible for repairs and maintenance, and that the government will lend assistance to those unable to carry out repairs. The repair and renovation process involves applying with the cultural relics bureau, submitting a design proposal upon approval, and hiring qualified companies to do the repairs. After all that, the owners also have to invite experts from the city to give approval.
Given the astronomical costs of repairs, most owners are reluctant. They just want to tear the old dwellings down and build new homes. Some owners will challenge, "How is it that the house is mine, and yet I can't decide what to do with it?" Others complain, "If you don't have the funds to fix it, then why are you slapping the 'cultural preservation unit' label on us?"
On top of that, some people will call into TV stations and accuse the cultural relics bureau of refusing to fix collapsed homes. Other owners keep quiet about collapsed structures because they want to build new homes in their place. All the cultural protection center can do is to tell their conservators, "Even if it's crumbled, we can't touch it as long as there's still one wall standing." Yet they can't say when repairs can start; they can only cajole the owners.
The government did repair a small subset of ancient dwellings — all of which, Yang Yingjie realized, were in tourist areas. There were no rewards for repairing dwellings outside those areas, so nobody cared about them. Even with funding for repairs, tough questions still linger: how do you use the money? Which part do you repair first? How do you repair it? How do you use the structure once repaired? In the absence of any clear regulations, each locality has to figure it out on their own.
Meanwhile, sometimes urban residents who have the means want to buy a historical rural home and undertake repairs, yet state policy limiting families to one residential plot keep them from buying those ancient dwellings.
Yang hopes for clearer policies from the national government, as well as for higher levels of government to take responsibility for the most valuable dwellings. He believes many problems facing grassroots historical conservation are the result of local leaders paying inadequate attention to cultural heritage. There's a lack of skilled workers and equipment. Organizationally, things can be a mess.
In the two years since the Xinjiang County Cultural Relic Protection Center was established, its place in the administrative hierarchy has changed several times, being demoted from a branch-level unit and a deputy branch-level unit, and promoted back again. The official seal consequently had to be recarved three times. Once, when they filed an emergency cultural protection project, the provincial cultural relics bureau refused to accept their petition because their administrative level wasn't high enough.
Lian, the painter, said that repairing cultural relics outside of tourist areas was like throwing money into a black hole. In some places, "a collapsed structure just means one less responsibility."
Is there a way forward?
In 2017, Shanxi province launched its Civilization Watch project to encourage non-governmental participation in protecting cultural relics. Right now, 238 cultural relics across the province have been "adopted," with 300 million yuan raised in funding. At the same time, some adoption projects have also suffered instances of neglect, hasty repairs, and other scenes of chaos. Yang says that the effect of corporate adoptions remains unclear and can only be seen as a supplement.
Shanxi's Changzhi City explored another idea in 2019, starting a rescue program for ancient architecture in which they would erect rain sheds to shield critically damaged cultural relics with no funding for repairs. Yet the project could only protect a limited number of structures.
The supervisor of the Shanxi Culture Relics Bureau's utilization department said in an October interview that the next phase would focus on low-level relics and that resources would be directed accordingly.
Upper-level cultural protection departments have said that the collapsed Kuixing Tower could be repaired, but Yang still feels a little nervous. It wasn't a protected site, so could cultural protection funds actually be used for its repair? "It's even difficult to invite bidders," he said. "How do you justify the call for bids?"
He roughly estimated that repairs to the structure itself would cost at least 300,000 yuan, while costs for the entire Kuixing Tower site could run up to 700,000 or 800,000 yuan. At the same time, the more materials need to be replaced, the less historical value remains.
Yang says that "using the tower is the best form of protection," as it would quickly disintegrate if it was just sitting there. But how to use it remains difficult to answer. He very much feels the weight of the responsibility, saying, "You can't have a cultural relic in your care after being passed down for centuries and then have all these issues."
By mid-October, the rains had given way to blue skies, and the flood waters had receded from the village's fields. Yanjiazhuang residents busied themselves with harvesting whatever produce could be saved, turning their courtyards into fields of yellow as they dried their corn in the sun. Children chased each other through the streets. It was as if the rains had never even happened.
A version of this article originally appeared in The Paper. It has been translated and edited for brevity and clarity, and published with permission.
Translator: Katherine Tse; editors: Li Yijuan, Xue Yongle, and Kevin Schoenmakers.
(Header image: A view of Kuixing Tower in Yanjiazhuang Village, Shanxi province, Oct. 14, 2021. Zhu Ying/The Paper)