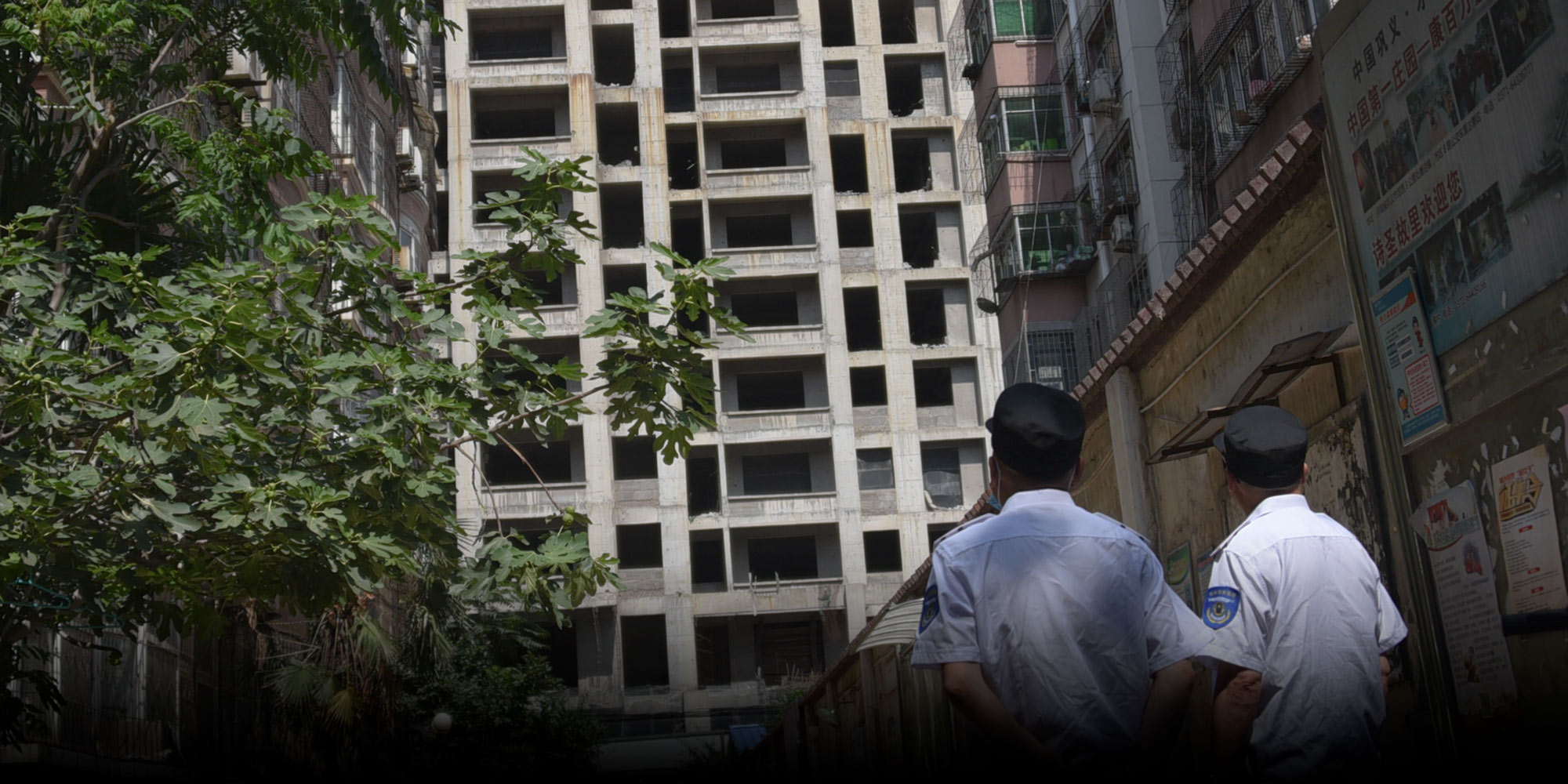 FEATURES
Pay Now, Own Never: China's Failing Developers Leave Buyers in Debt
For years, developers sold unbuilt apartments to fund construction. When it goes wrong, buyers can wind up deep in debt, with no house.
Zhang Junxiao and his wife have lived in a cramped, barely furnished apartment with bare, concrete walls for nearly three decades in the central Chinese city of Zhengzhou.
As the 51-year-old planned for their retirement in mid-2019, he decided to purchase a new apartment. He chose a two-bedroom apartment with an elevator in a complex called Qifucheng — "Happiness Town" — a complex of more than 20 buildings then under construction at the edge of Zhengzhou's city center, slated to be completed in 2020.
Zhang borrowed money from friends and relatives to pay cash for the 550,000 yuan ($86,000) apartment to take advantage of a discount for cash offers. All told, he borrowed more than 100,000 yuan from relatives and friends and spent all of his savings for retirement. Two and a half years later, Zhang still has the debts, but no new apartment.
By 2018, several nonbank lenders had sued the developer, Zhengzhou Zhongsheng Development Company, alleging that it was behind on payments, according to court filings. Private Chinese developers frequently borrow from such lenders at higher than bank rates.
In late 2019, construction at Qifucheng stopped, according to four buyers and local media. In July 2020, the developer said that construction would be delayed for 350 days because of factors including the pandemic and the city's air control regulations, according to local newspaper Henan Economic Daily. More than 400 days later, the developer is struggling with debt payments, and work on the apartment complex has not resumed, with no workers seen at the site, buyers say.
The developer has been ensnared by hundreds of lawsuits, with plaintiffs ranging from banks, contractors, and home buyers, to housing agents who say they helped it sell apartments but haven't received commissions. The Bank of Zhengzhou and Shanghai Pudong Development Bank have sued the company for failing to meet its debt obligations, according to court records.
"At first, I still held some hope. Now I have zero hope. I don't know what hope means. I don't know where hope is," Zhang said.
For years, China's property sector has relied on selling unbuilt apartments to fund construction. When times were good, it supercharged growth. But a downward housing market and high debt levels have forced some of the nation's largest developers to put construction on hold. When a project fails, ordinary buyers like Zhang can be left holding the bag. The Qifucheng complex alone sold more than 5,000 units before construction stopped.
Real estate giant China Evergrande Group has made international headlines as it struggles to make debt payments, but it's far from alone. Total sales among China's 100 largest developers were down by 36% in September compared with the same period last year, according to CRIC, a research unit of property services firm e-House Enterprise Holdings Ltd. In an October report, rating agency Standard & Poor predicts that about one-third of China's property developers may struggle to repay their debts in the next 12 months, calling the current downturn "unusually intense."
Zhang was counting on selling his current home so that he could pay off his debts. Instead, he's stuck at his old home while struggling to get by. His family members blamed him for making a bad decision. "Now I have all sorts of debts everywhere, but I still haven't got a new home," Zhang said.
Buying in on the ground floor — or before
Zhang, and other home buyers' predicament is partly due to the popularity of presales in China. The mechanism allows developers to fund projects by selling unbuilt apartments in advance. In some cases, buyers get discounts for paying early.
Presales are so widely used that it is often hard for home buyers to purchase new homes without paying in advance — and Chinese buyers strongly prefer new over "second-hand" homes. "Everybody was using presales. There were no 'readily available homes,'" said Jack Li, another Qifucheng home buyer.
According to housing regulations, money raised from presales should go into a dedicated account under banks and housing authorities' supervision, and should be spent only on construction of the associated projects. In practice, experts told Sixth Tone, authorities and banks rarely enforce these regulations strictly, and developers frequently use the capital for other projects, or to pay off existing debt.
Hu Jinghui, chief economist of Jinghui Thinktank and former chairman of the China Alliance of Real Estate Agencies, said that developers effectively use presales as a way to borrow without restrictions.
In the case of Qifucheng, many home buyers believe their money did not go to the supervised account as indicated in their housing contracts, but to other, unsupervised, accounts.
In a news story published on Henan Economic Daily last year, the Zhengzhou Bureau of Housing Security and Real Estate Administration said Qifucheng sold some apartments before the supervised banking accounts were set up, and the whereabouts of the money raised from these earlier apartments remained unclear. The Administration refused to disclose detailed financials of these supervised accounts, telling the local paper that it would need permission from the banks and the developer.
Qifucheng and its parent company could not be reached for comment.
It is not clear how funds raised by Qifucheng were spent, but buyers are convinced developers misused them.
"We ordinary people have given them our money. How can the company say it doesn't have money?" Zhang asked.
Another buyer, surnamed Zhou, has similar questions. "The bank and the developer completely violated the rules," she said. "Why wasn't the money sent to the registered, supervised account?" she asked. She declined to share her given name, citing privacy concerns.
Hu said presales need tighter supervision — or, he added, it wouldn't be a bad thing if the practice were ended in China. Without presales, he said, a number of developers would be forced into bankruptcy, but the end result would be a healthier housing market.
Presales and deposits were developers' biggest funding sources in both 2019 and 2020, according to the National Bureau of Statistics, accounting for more than twice the money raised from bank loans. While bank loans and bonds usually have an annual interest of at least 5%, capital raised from presales is entirely interest-free.
Li said if given another chance, he would not buy a presale home. Instead, he would choose to buy a second-hand apartment.
"Now so many apartments are unfinished," he said. "I live in Urumqi now. There are many unfinished buildings as well. When I saw them, I thought of my own unfinished building." He said he used credit cards and borrowed money from relatives and friends to finance his apartment, which cost around 670,000 yuan.
Li said he last visited Qifucheng in July, and there was no one there. The buildings' basements were inundated with polluted water.
"My wish is very simple. I hope the apartments could be built soon, and we can move into the apartment," he said.
Still on the hook
Zhou, a mother of two quoted above, also purchased an apartment at Qifucheng. But she carries a bigger burden: a 390,000 yuan bank loan.
She said that though Qifucheng has halted construction, she still needs to make a monthly loan payment of 4,230 yuan to the Shanghai Pudong Development Bank. She has tried to negotiate with the bank to see if she could get a loan payment extension but was unsuccessful.
"Most of us wished the loan payments could be suspended," she said. "When apartments are placed in our hands, we will resume payments. It is not that we don't want to pay off the loans."
Zhang Jie, a Shanghai-based lawyer and senior partner at the Yingke Law Firm, said home buyers are still obliged to make their monthly loan payments even if the developers halt construction. Zhang said home buyers' relationship with banks is separate from their relationship with the developers.
"Give home buyers a tip: when purchasing presales homes, it's risky. It is better to choose a reliable, strong developer so that your risk will be reduced," Zhang Jie said.
With a kid in kindergarten and another in primary school, Zhou said she needs to spend at least 10,000 yuan per month to pay for expenses associated with rent, her two children's education, a car loan, and this housing loan. The Qifucheng apartment was supposed to be her first apartment.
"To be honest, we are in a really difficult situation. I was just telling my husband the other day, 'If this apartment matter cannot be resolved, we may just abandon this apartment,'" she said. "I am tired of everything."
But walking away from loan payments would negatively affect the family's credit, which would affect her children's education and the family's travel plans.
In China, defaulted debtors are often put on a "credit blacklist," which forbids debtors from sending their children to private schools, traveling by high-speed trains and planes, and borrowing more loans from banks.
"To put it simply, this is a bottomless hole," she said.
Hopes of a bailout
When a developer abandons a project, buyers' best hope may be that someone else will finish it. Their odds are best when a complex occupies prime land, or otherwise offers a strong prospect of selling in a down market.
In the eastern city of Wuxi, an apartment complex, Xiexin Chenglifang, located in the suburbs near an office park with technology companies, including Alibaba, has halted construction since summer this year. In October, the apartment complex's developer's parent company, Chongqing Sincere Property Co., began bankruptcy proceedings.
Seen from a distance, the unfinished apartment complex looked giant and empty, with almost no workers at the site besides the security guards. Dozens of cranes stood quietly in the apartment complex. The walls of the main structures stood bare, and the multi-story skeletons of buildings rose high, casting long shadows.
The sales office contained a few salespeople, listlessly playing with cellphones. Mold was beginning to surface on the ceiling of the sales office with slogans like "create wealth for the future" painted on the walls.
When home buyer Gao Fan was stopped by the reporter at the door of the sales office, she was confident that the project would be finished eventually.
"It is impossible for an apartment complex to stay unfinished in such a good location," she said with a light tone, adding that she also purchased another apartment from Evergrande for 15 million yuan, which also halted construction. "In the worst case, the government can come to the rescue," she said.
Gao said she purchased two apartments in the complex as investments this March, but they were not delivered as promised this July.
"I don't think it will stay unfinished forever," she said.
Back in Zhengzhou, the government is trying to organize a similar plan for Qifucheng. Around July, the project, with intervention from the local government, formed a third-party committee consisting of a law firm and representatives from home buyers to help the apartment complex enter a bankruptcy reorganization process.
Home buyers were asked to send forms detailing their contracts' information and consent to the bankruptcy reorganization process, which allows new investors to take over some of the assets and revive the company by capital injection, according to home buyers and documents seen by Sixth Tone.
As of July 8 this year, the third-party committee has registered information for 5,370 home buyers and held meetings with six financial institutions. It is undertaking auditing work on this project's debt and assets and has sent bidding invitations to 14 companies who may have interests in taking over the project, according to a letter sent to home buyers by the third-party committee in July.
The reporter could not reach the third-party committee by phone.
Zhang does not hold much hope. He said he is confused about the bankruptcy process and has not been informed much of its progress.
"I still don't know what work they are doing. Everybody is saying that things are being pushed forward, but I don't know what is being pushed forward," he said. "Pushing forward things means that we can see reality, see the buildings resume construction, see real work done. Now there is none," he said.
Li was similarly confused about the bankruptcy process. He said he is unclear about what is going on. Besides being asked to register information relevant to his contract, he was not aware that the committee did anything else.
"All we can do now is to wait. There is nothing else," he said.
Hundreds of Qifucheng home buyers have posted videos on short video platform Douyin to document their hopes, struggles, tears, sorrows, and pains. In one video receiving more than 300 likes, a 75-year home buyer wept, saying that "the government will not just abandon us."
Editor: David Cohen.
(Header image: Two officials look at an abandoned construction site in Zhengzhou, Henan province, May 2019. People Visual)