The construction of the Embankment Building was a landmark event in 1930s Shanghai. Owned by the real estate mogul Victor Sassoon, it was the first high-rise condominium to be built alongside the Suzhou Creek — or anywhere else in China.
Feted as "the first apartment building in the Far East," the art-deco block represented the height of modernity at the time. Inside its massive concrete shell, the architects crammed 194 apartments, and around 20 maids' rooms on each of its six floors. Another two stories were set aside for businesses.
Since then, the building has borne witness to nearly nine decades of Shanghai's turbulent modern history. It remained standing through the Sino-Japanese War and the battle for Shanghai during the Chinese Civil War. In 1938, the tower was also used to house thousands of Jewish refugees who had fled persecution by Nazi Germany.
During this period, the Embankment Building embodied the social structure of Old Shanghai — both its cosmopolitanism and its colonialism. Until the end of the Second World War, it was dominated by foreign white-collar families and their Chinese nannies.
After the war ended, more and more Chinese professionals, government officials, and United Nations clerks began to move in. Offices for nearly every Hollywood studio set up shop here. Copies of Hollywood movies would arrive from America and sit in the Embankment Building, before being distributed across China.
After 1949, ownership of the building passed from Sassoon's company to the new Communist government. A large number of professors, artists, and government officials were assigned residences here, who formed a vibrant community.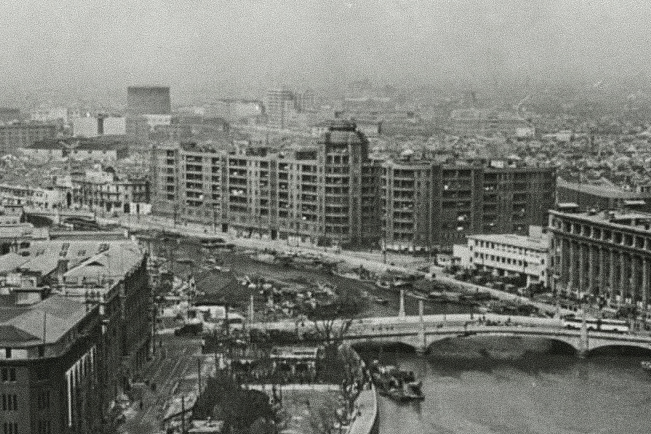 An archive photo shows the Embankment Building in the 1960s. AP
Then, in the late 1990s, came another sea change. The government began to allow apartments in the Embankment Building to be bought, sold, and rented as part of its market reforms. The building once again became a cosmopolitan space, as more foreign residents began to return.
Also among the new arrivals were me and my partner on this project, Kim Ye.
Kim, who was born in Shanghai in the 1980s, had become a visual artist after studying at Central Saint Martins in the United Kingdom. Since 2004, he has lived in London, Hong Kong, New York, and Berlin. But when COVID-19 began to make international travel difficult, he decided to move back to his hometown to be near his parents.
It was then he became intensely interested in the Embankment Building. As a 20-something, he had often visited the tower to party with his friends. His main memories of the place had been its dark, unsettling corridors, which he'd rush along before escaping to the safety of his friends' apartments. He never imagined back then that he'd one day buy an apartment in the building and become part of its history. 
After moving in, Kim was surprised by his neighbors' diverse backgrounds, and came to see them as a precious source of inspiration. Every resident was different, interesting, and had their own story to tell. Several of them had lived in the Embankment Building since the 1940s.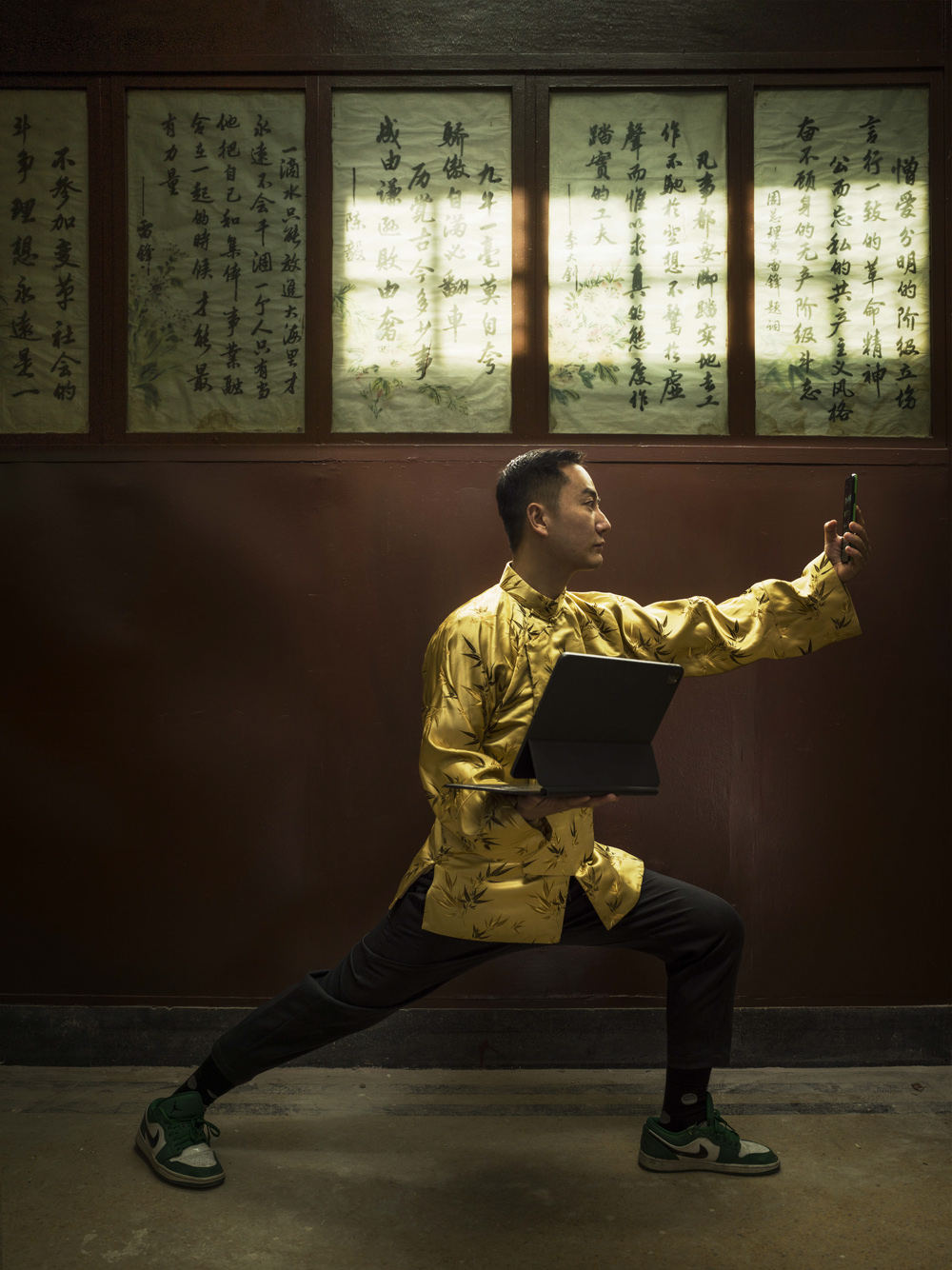 A portrait of Kim Ye, from the series "E.B. Portraits," 2021. Courtesy of Kim Ye
It was during this period that I met Kim. I had also become obsessed with the building, though for different reasons. As a graduate student in the United States, I had researched the history of Jewish migration. Shanghai had been one of the few ports welcoming refugees trying to escape anti-Semitic violence during the 1930s, providing them with hope and a home. And the Embankment Building had been one of the main reception centers. 
So, when I returned to Shanghai and began a new career researching and writing about the city's history, the Embankment Building was naturally the place where I chose to settle. 
Kim and I quickly bonded over our shared love of our new home. By this point, Kim had already started documenting the Embankment Building and its residents with his Hasselblad camera. He soon invited me to collaborate with him on the project: He would shoot portraits of our neighbors, and I would collect their oral histories and add historical context.
The result was "E.B. Portraits" — a project collecting the stories of dozens of Embankment Building residents, spanning a range of different generations, nationalities, and socioeconomic backgrounds. Together, it forms a jigsaw puzzle that pieces together Shanghai's complex history as a hub of globalization. Kim decided to showcase the project as his solo show at this year's PhotoFairs Shanghai exhibition.
We have been delighted with the recognition it has received. In recent years, the Embankment Building has become famous once more in China. Several movies and TV shows have been shot here, and the major renovation works currently underway at the building have also made local headlines. 
However, the soul of the Embankment Building remains its residents: They are the ones who bear witness to China's past. In such a diverse community, the tension between local and national identity, between new home and old, is always visible — and is clearly captured by Kim's camera. It's a perfect sample of Shanghai's cosmopolitanism.
Here are their stories.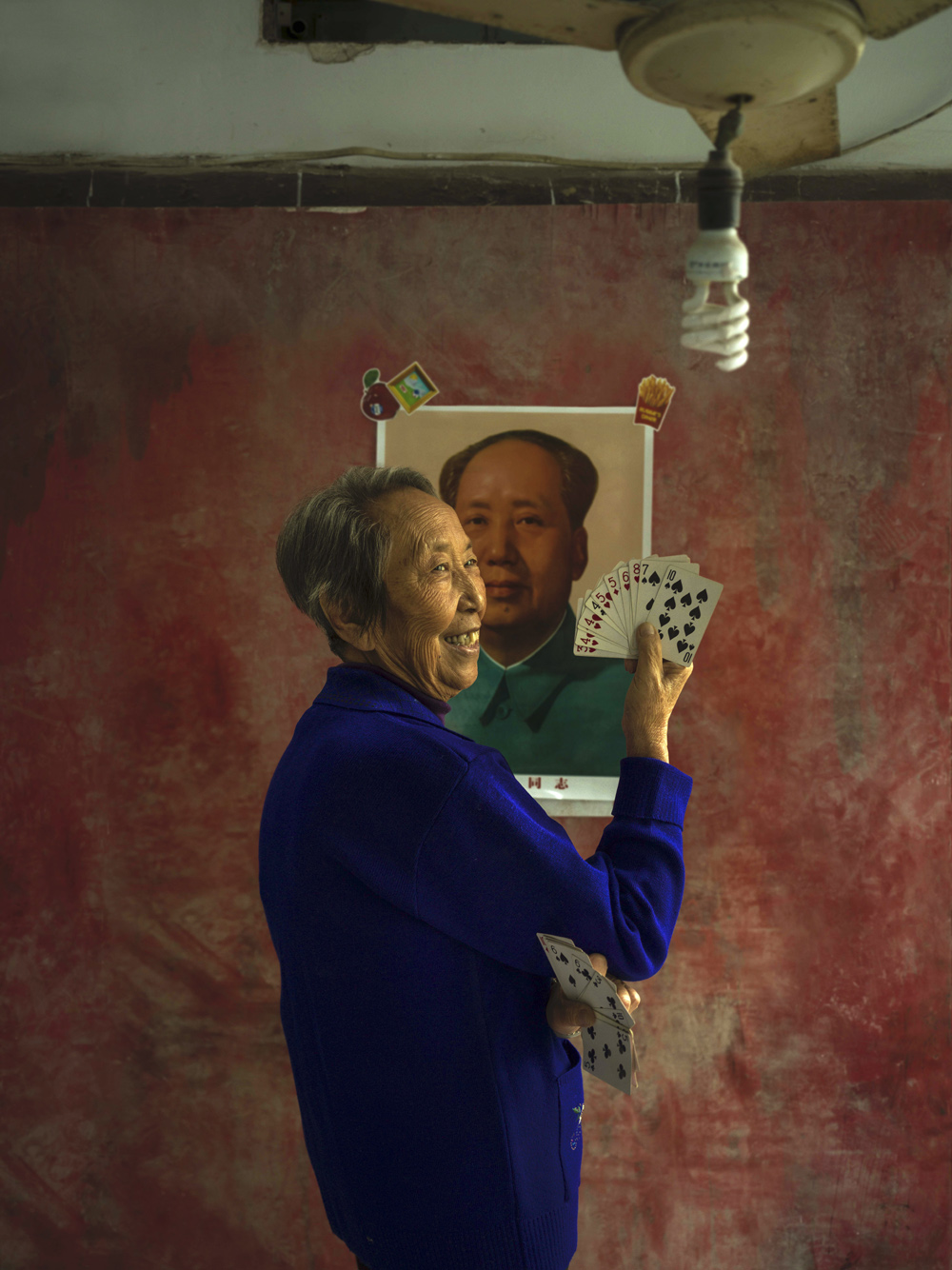 Courtesy of Kim Ye
Granny Jiang is E.B.'s longest-term resident currently. She was born in Zhabei (located in what is now the northern edge of Shanghai's Jing'an District) in 1939. When she was 5 years old, she came to live in the E.B. with her mother, who was working as a nanny for a British family residing in the building.
She witnessed the Japanese surrender in 1945 and the Communist Party liberating Shanghai four years later. She still remembers how the area around the E.B. became embroiled in one of the last fierce battles in Shanghai. Today, Granny Jiang is famous in the building for being an expert card player. Hosting card games and knitting sweaters are her main hobbies.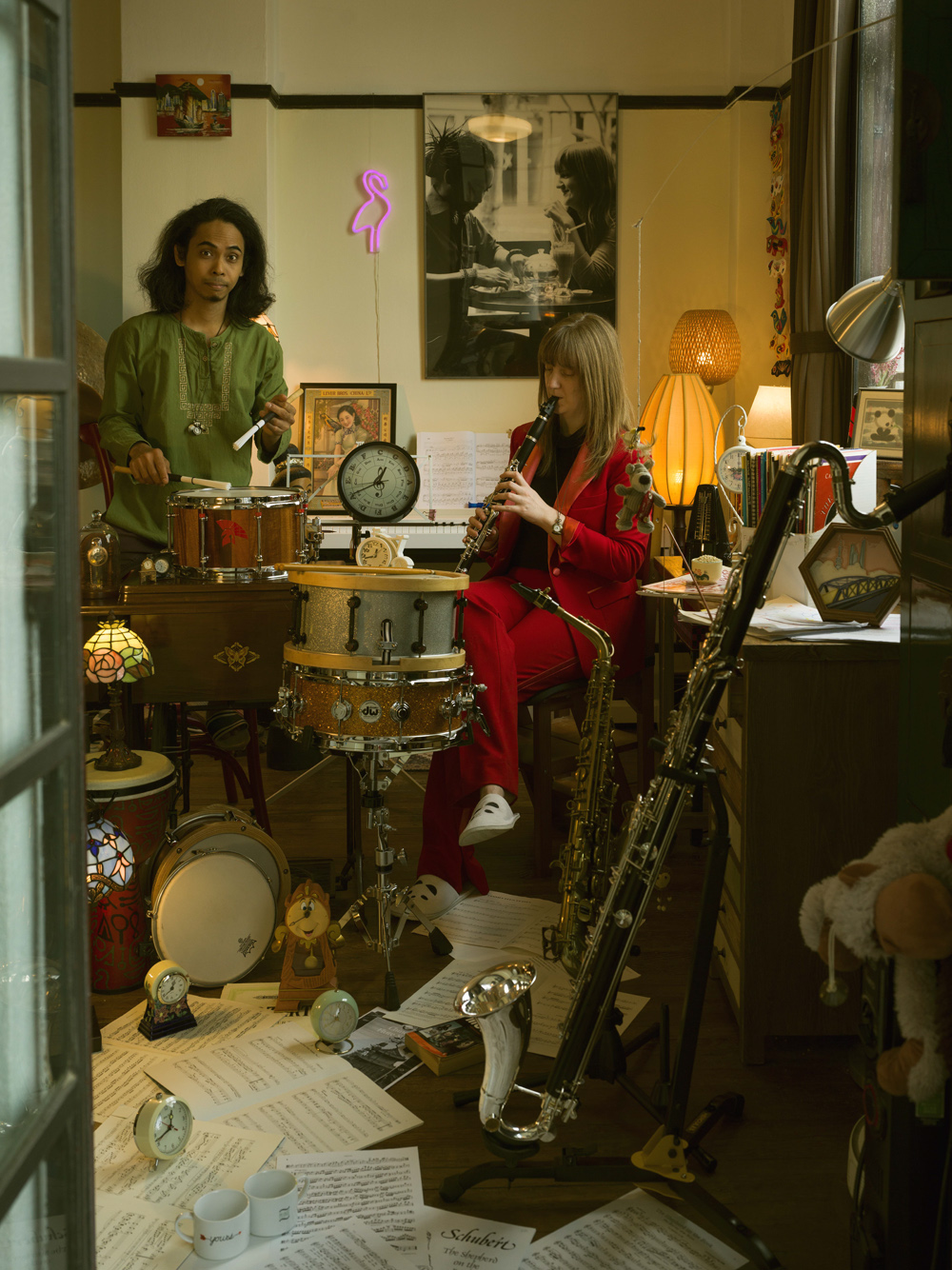 Courtesy of Kim Ye
Lucy and her boyfriend Yam are both music teachers. They have lived in E.B. for six years. She's from the U.K. and he's from the Philippines, but they met in Shanghai. 
The couple teach music to international school students and play in local concerts. Their relationship could be described by the Chinese idiom qin se he ming — a term referring to a harmonious union. This photograph was taken on their 12th anniversary.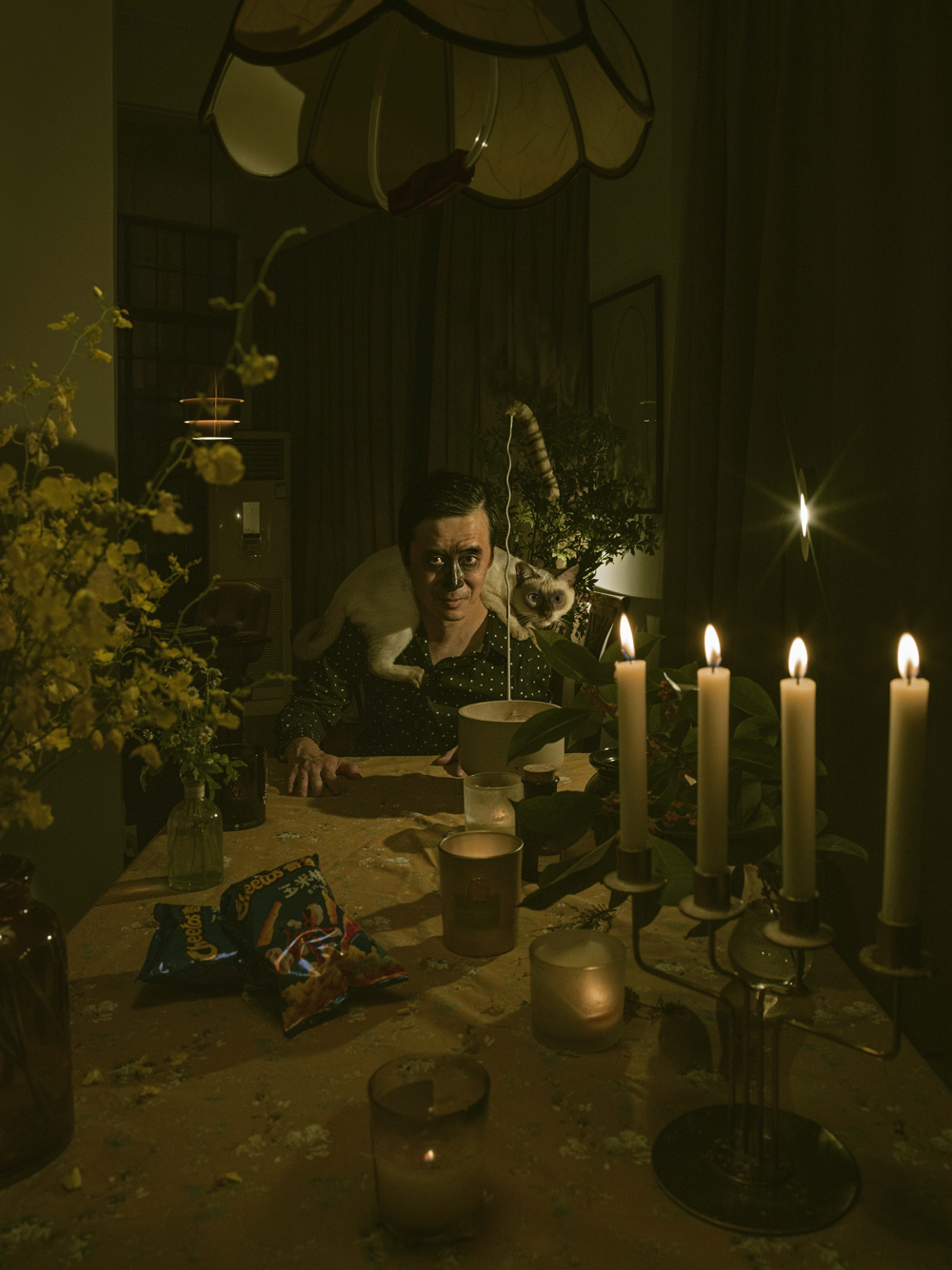 Courtesy of Kim Ye
Julius is a designer from Hong Kong. He has lived in the E.B. for seven years, but has moved apartments three times during that time. He never used to feel that Shanghai was home, and would fly back to Hong Kong every weekend. But since the COVID-19 pandemic began, he has started to think that Shanghai may become his permanent home. Like his cat Milou, Julius stays up late and gets up late. 
Courtesy of Kim Ye
Uncle Li was born in Shanghai's Hongkou District in 1935, graduated from the local Jiaotong University, and moved into the E.B. in 1965. At first, he shared an apartment with its original resident, who was also his colleague. But in the late 1990s, he was able to buy an entire apartment in the building from three other families.
With two sons who have settled in Canada and Hong Kong, Uncle Li feels proud of his success in life. These days, he tries to keep up with the times. He's a regular user of digital devices, makes payments using the social app WeChat, and does his shopping and reads the news on his smartphone.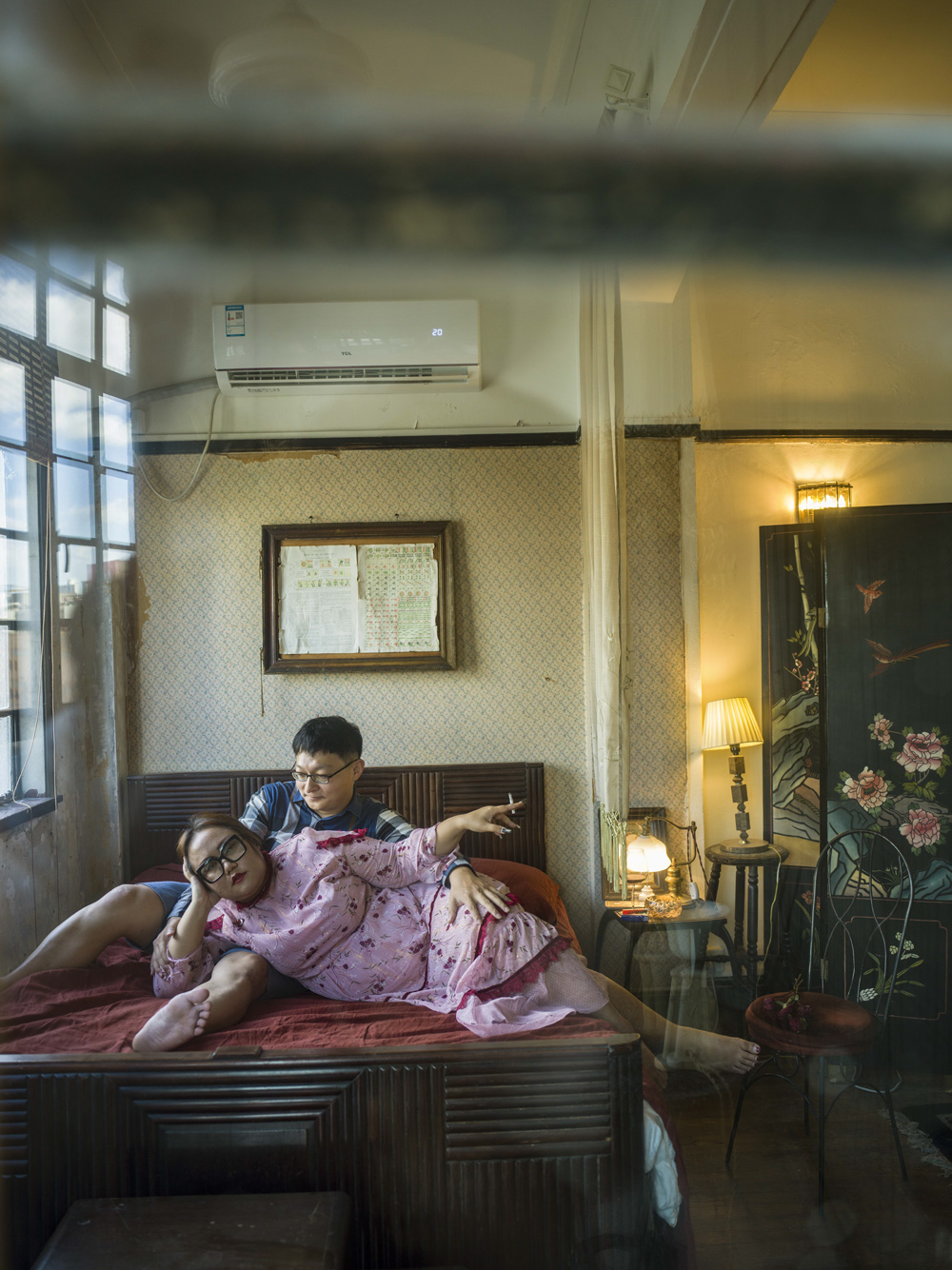 Courtesy of Kim Ye
Fon, a Thai-American teacher, spent the National Day holiday in Shanghai one year. During her trip, she bumped into Adam, a researcher focusing on historical buildings and sites in Shanghai, in the E.B. After chatting, the pair realized they had been schoolmates at the same university in the United States.
That was where their journey of love started. They now live together in the E.B. in an apartment decorated in 1930s Chinoiserie style, and have made many new friends in the building.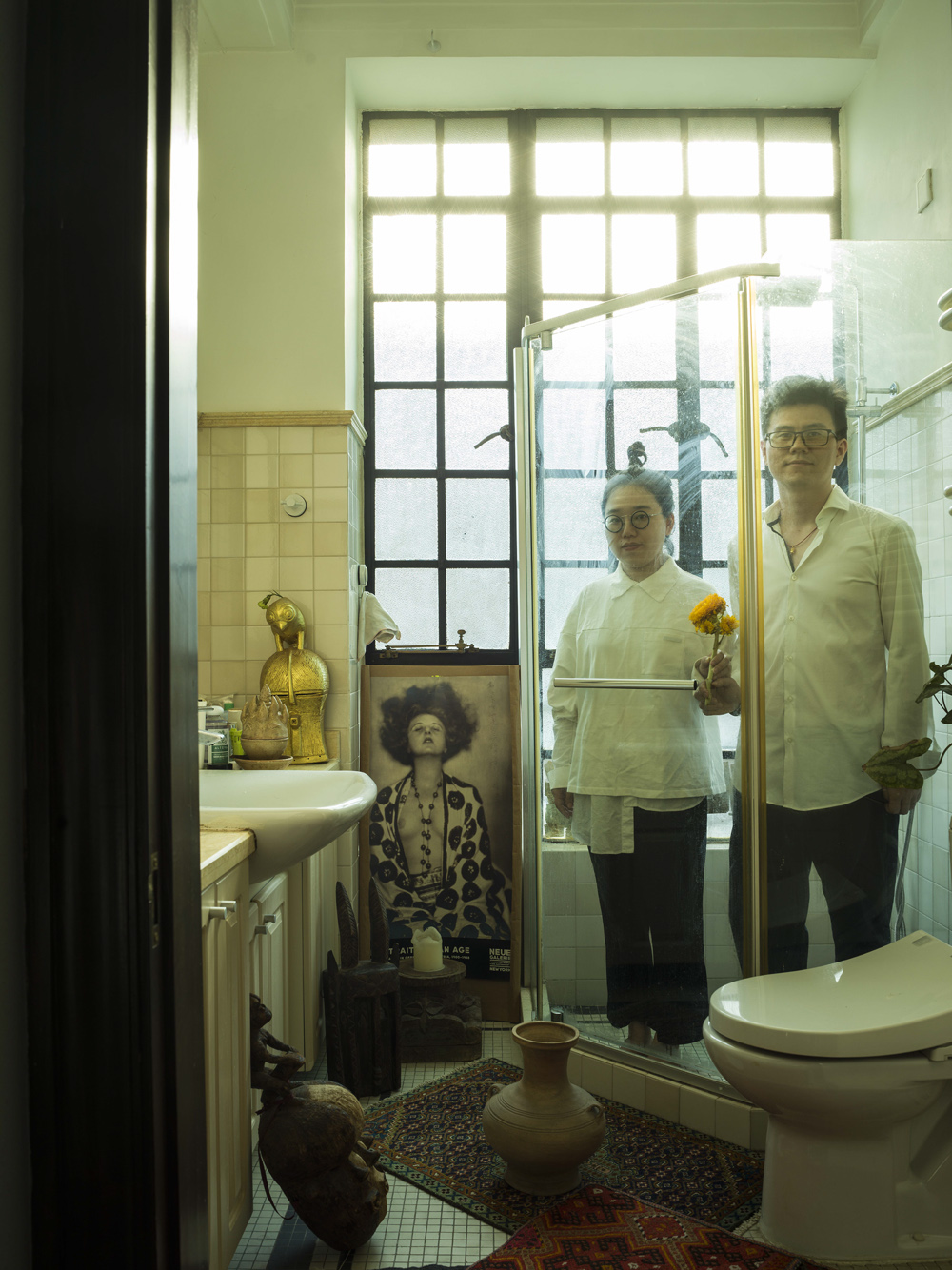 Courtesy of Kim Ye
Yuanyuan and her husband are a millennial couple who moved into the E.B. after getting married six years ago. They're both designers, and provided professional advice to their neighbors during the building's renovation works in 2021.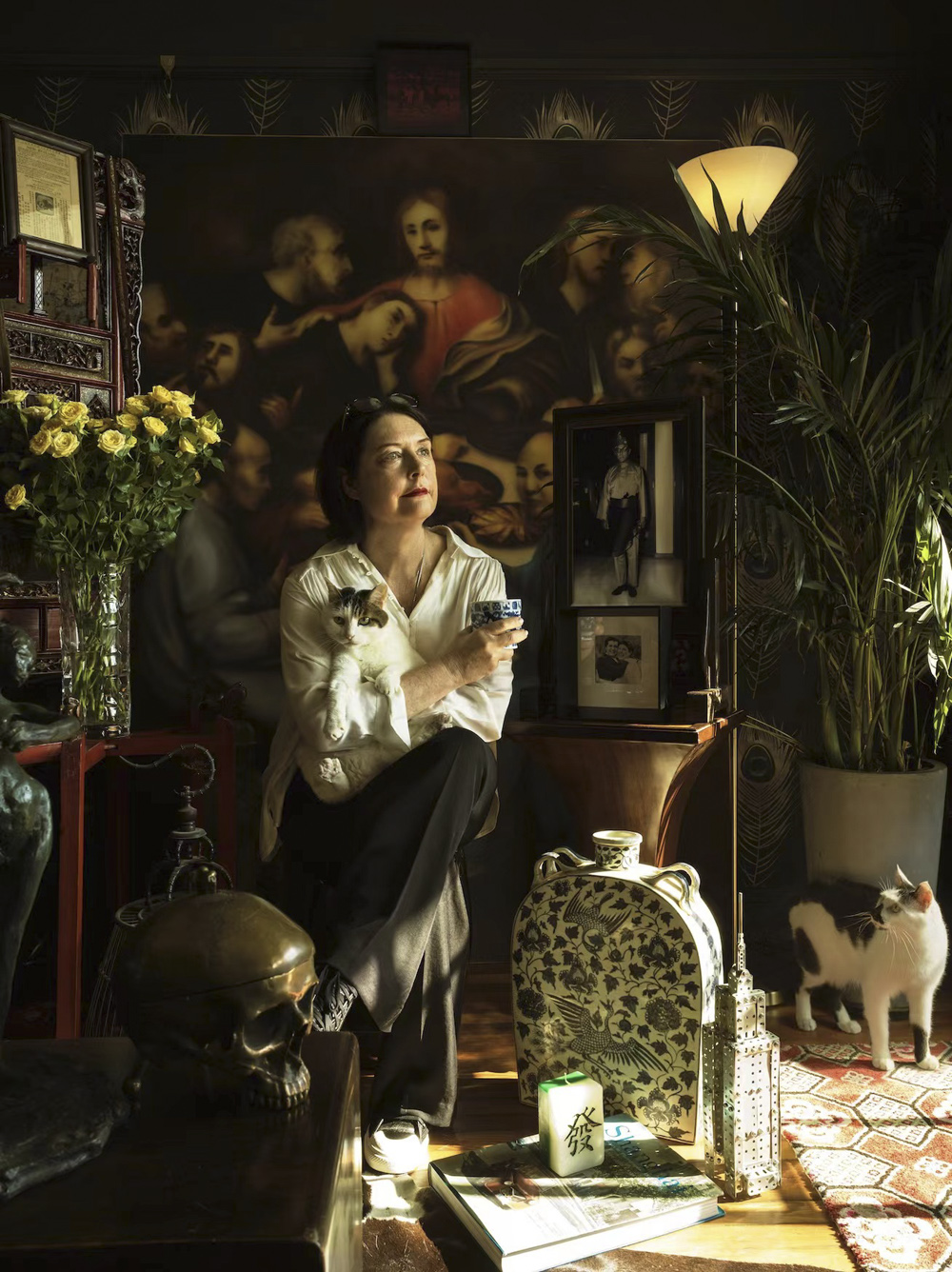 Courtesy of Kim Ye
Anna, originally from New Zealand but a resident of Shanghai for over a decade, moved into the E.B. with her husband in 2018. However, he has been stranded in Hong Kong throughout the COVID-19 pandemic. The couple loves collecting antiques, and their apartment resembles a museum. Her husband's family are Scottish and Malay-Chinese, but he grew up in Hong Kong.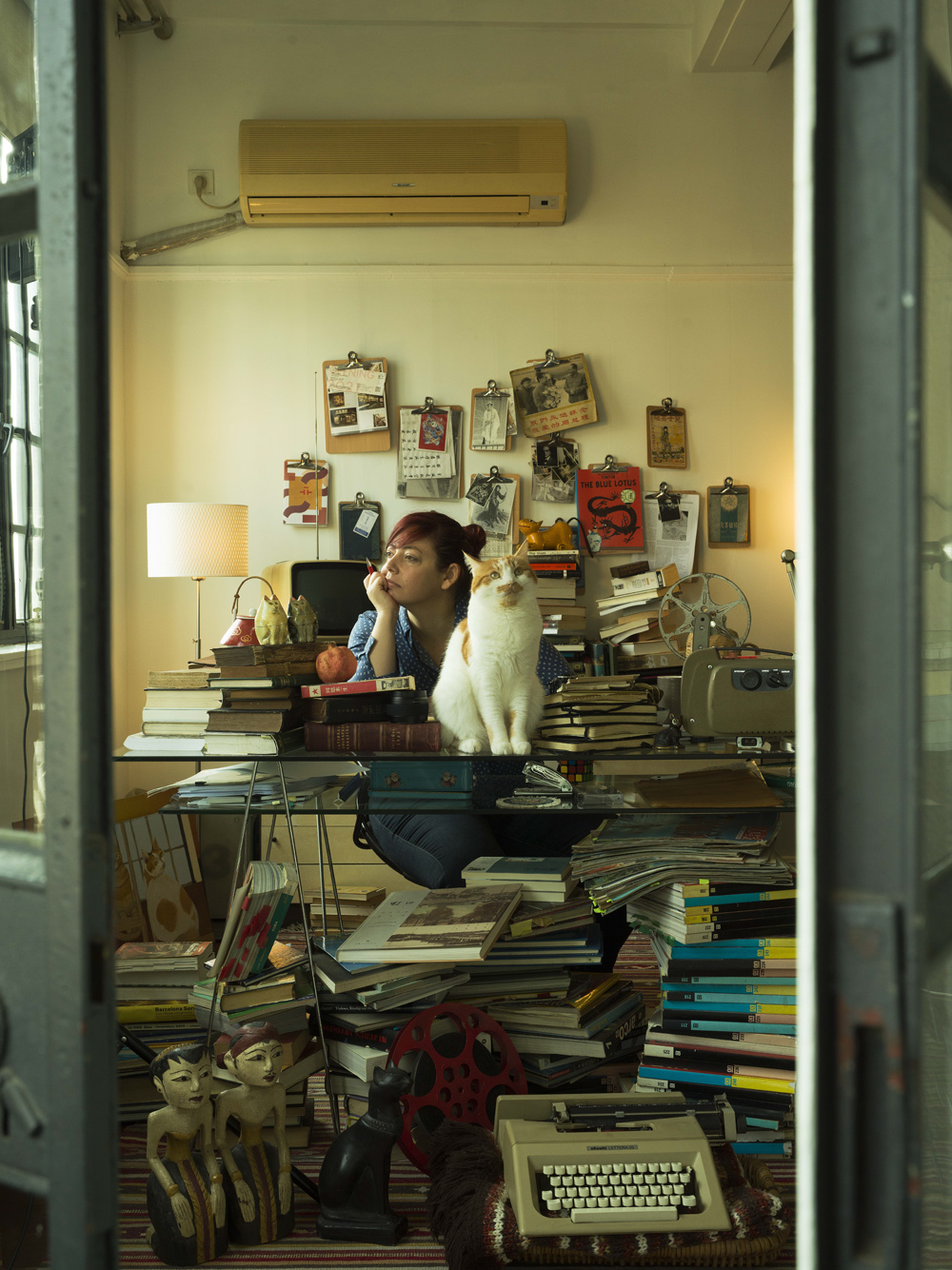 Courtesy of Kim Ye
Odet, who is originally from Spain, has lived in the E.B. for 11 years. She deeply values the history and architecture of Hongkou, the district where the E.B. is located.
Like her father, a film producer in Spain, Odet has become a producer and historian. She has made many videos about the history of Shanghai and China. She also gives regular lectures to Chinese and international college students, teaching them how to tell historical stories through film.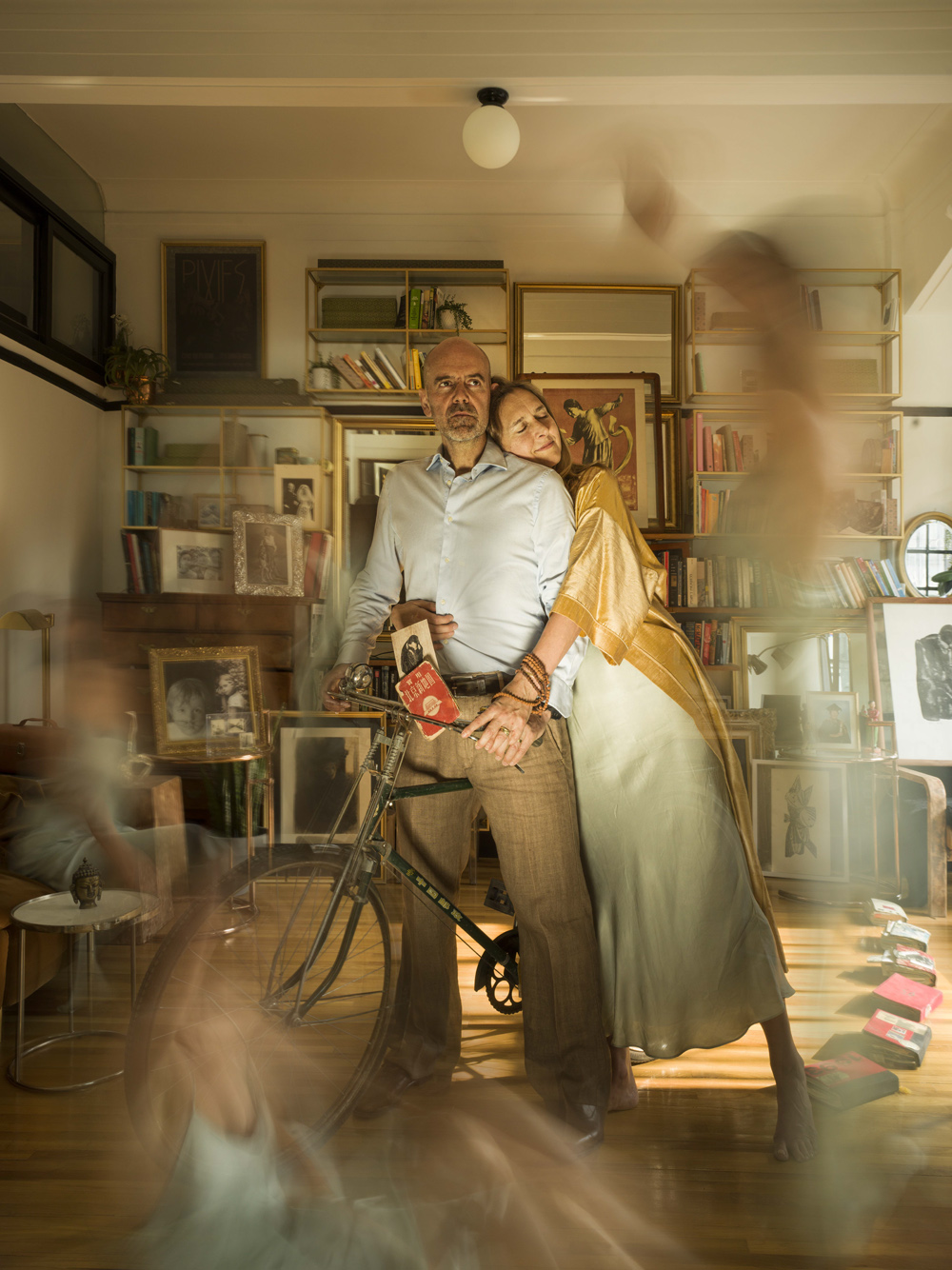 Courtesy of Kim Ye
Chris, from the U.K, first came to Shanghai on a student exchange to Fudan University in the 1980s. His partner, Sam, is a child of Swedish and Italian parents, who spent her childhood moving from country to country. 
The pair met in Hong Kong, before eventually settling in Shanghai. They have lived in the E.B. for 15 years. Sam works as a psychologist and conflict management specialist, while Chris is a risk analyst.
Chen Zhongwei is a researcher and writer whose work focuses on the history of Shanghai. A previous version of this article used as the preface for the "E.B. Portraits" exhibition was edited by Rawinrag Klinpinij.
Editors: Ding Yining and Dominic Morgan.
(Header image: A portrait of Granny Jiang, a resident of the Embankment Building, from the series "E.B. Portraits," 2021. Courtesy of Kim Ye)