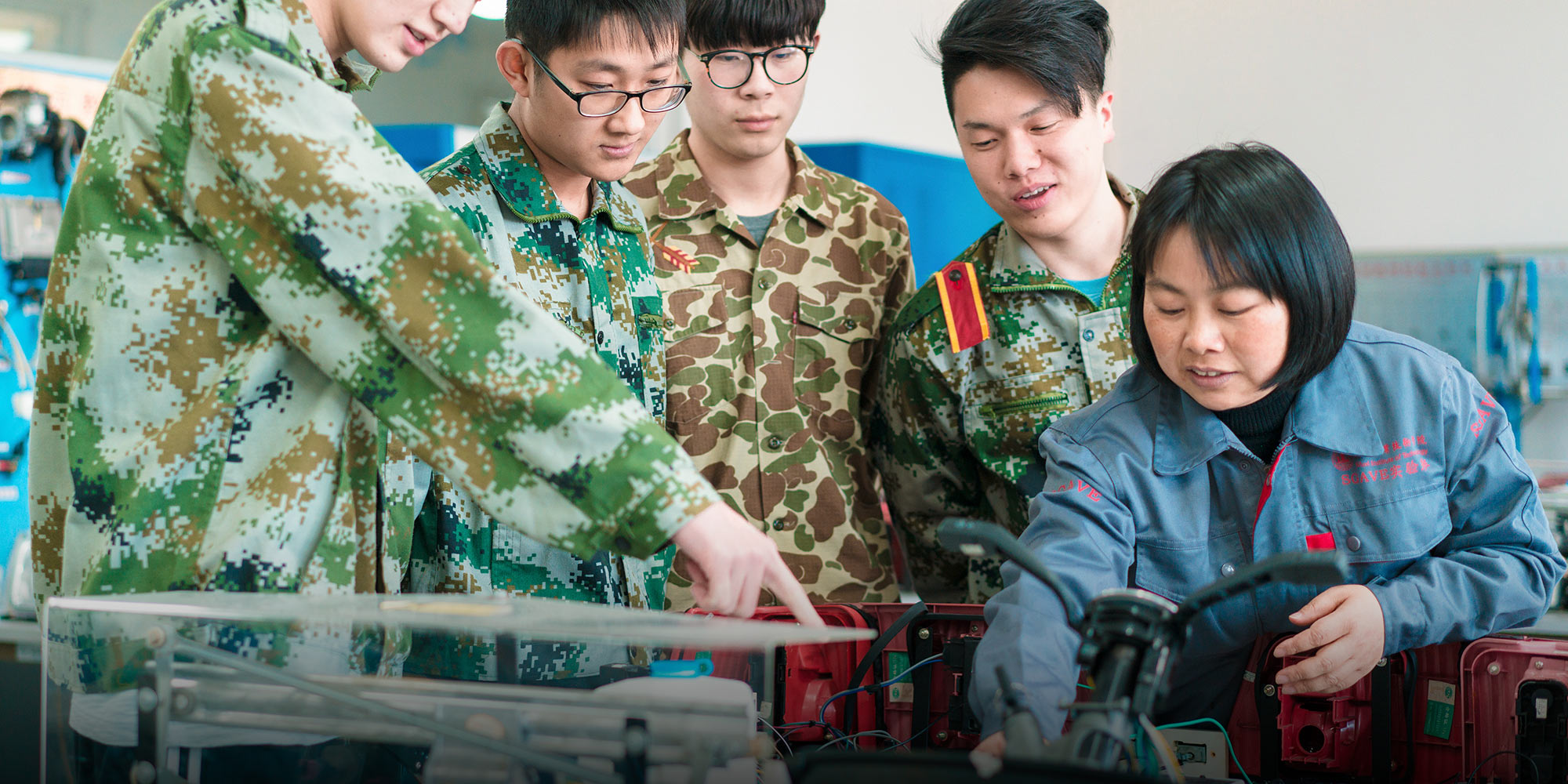 SIXTH TONE ×
China's Skilling Machine: How Trade Schools Are Stepping Up
Despite a surge in demand, factory jobs have few takers. Vocational colleges offering new skills may be the key.
In 2020, the labor shortage across 10 key sectors in China's manufacturing industry was estimated at more than 19 million. But despite the glaring surge in demand, for vocational college graduates, a factory job is often the last resort.
Coupled with the pressure to hasten automation, manufacturers, in recent years, have grappled with a fresh challenge: drawing China's young workforce back.
As a manufacturing powerhouse, the southern Jiangsu province is an important hub for vocational education in China. Here, reforms in skill development in the Suzhou-Wuxi-Changzhou metropolitan area outpace most of the country.
However, recent graduates from Wuxi's top vocational colleges speak the same refrain: They wanted to pivot to higher studies, or were holding out for better opportunities than the below-average salaries in manufacturing.
Students wanted
On June 22, the Wuxi Institute of Technology (WXIT) held a job fair just one week before the 2021 class graduated. The several dozen recruiters in attendance far outnumbered the young hopefuls; most seats at the many booths were visibly empty.
As students walked by, recruiters pounced, inquiring, "Are you looking for a job?" or "What is your major?"
After trying this approach for over an hour, the HR manager of a petrochemical equipment company, who asked to be identified only as Wang, said she received no resumes. Anxious, she moved to a better position to try and corner more students.
A third-year student with a ponytail seemed curious, and interrogated Wang on accommodation and take-home pay.
On learning that accommodation was a dealbreaker for this student, the head of the company's technical department — who was also at the job fair — agreed to negotiate. He told the student they were willing to bump up the offer instead, which "works out the same," and would cover rent expenses.
Among the vacancies Wang hoped to fill at the job fair was that of a gantry computer numerical control (CNC) operator, a position open for several months due to its high professional and technical requirements.
And since WXIT is renowned for its competitive advantages in mechanical manufacturing and CNC technology, it seemed the perfect place to hire.
For the position, the company offered a lucrative salary of "10,000 to 12,000 yuan ($1,500 to 1,900)." The processing department's manager surnamed Ke underscored that this pay involved six-day work weeks and possible night shifts too. After five years, the salary could increase to 15,000 yuan a month.
"In the past, students at such fairs were nervous around us. They'd walk around trying to speak with us and looked insecure. They were so eager to find a job," recalls Wang. "But now the market has shifted — companies aren't in the driving seat anymore. If we just sit here today without approaching them, we won't get a single resume."
The mercurial rise of internet companies has dealt traditional manufacturing a huge blow. The gig economy they enabled was the turning point along with the COVID-19 pandemic in 2020, says Wang, demonstrating the sharp drop-off with a downward trend.
"Hiring difficulties started gradually, but this year, things dipped sharply. For example, we don't have enough inspectors. We used to be able to fill such vacancies in around one month. Now, we can't find a single candidate even after two."
Surveys show that 41.1% of full-time drivers working for China's ride-sharing app Didi come from the manufacturing industry, and 35.2% of delivery drivers on delivery giant Meituan previously worked in factories.
"We can't compete with such internet-based companies. They don't seem to require professional skills, but offer better remuneration and more freedom," says Ke.
According to Zhu Jiayi, head of WXIT's career guidance services center, the institute organizes five job fairs each year. "Around 20 or 30 companies in the June job fair took part in the previous one too. This shows that companies could not fill all their vacancies. Basically, manufacturing enterprises form the majority at job fairs. With big orders to complete, they show up more often," she says.
According to Zhu, most graduates in factories don't work on labor-intensive production lines. They are primarily responsible for equipment maintenance on automated production lines or work in quality control and inspections.
Over the past decade, Zhu says she's witnessed a paradigm shift among students: "Since 2013, those choosing university over direct employment have risen significantly."
Weighing options
This year, roommates Peng Kai and Feng Yu graduated from WXIT with a major in mechanical manufacturing and automation. Both passed the zhuanshengben — the exam for vocational college graduates to upgrade to a university undergraduate degree in March but attended the job fair in June.
"I went with him just to take a look," says Peng Kai. "I think it's relatively easy to find a job in the machinery industry." While he started his undergraduate degree in September, Feng wanted to look for a job instead.
A keen draftsman, Feng hopes to secure a position in mechanical design. Since April, Feng hustled around Suzhou, Wuxi, and Changzhou, looking for suitable openings.
He also attended WXIT's spring job fairs, applying to around a dozen companies, landing interviews with half of them. But even after getting a couple of confirmations, he turned them all down.
"Some offered lackluster salaries, and in others, the positions weren't a great fit," he says. "There wasn't much scope for promotion either. At best, I might have earned 5,000 to 6,000 yuan after 2 to 3 years."
Some companies had irregular work schedules, frequent shift changes, and a basic monthly salary of just 3,500 yuan. Feng says he never seriously considered these: "Work so hard for so little money — who wants to do that." He hopes to earn around 8,000 to 10,000 yuan within the next few years.
But what if it takes five or even 10 years?
Peng Kai quickly chimes in: "Maybe something like short videos — I could just quit and do that to make money." To him, there are more ways for young people to make money now, which steers many away from manufacturing.
"Five to 10 years is too long," says Feng. "If I stay with a company for two or three years and my salary starts rising, then, after five or six years, it'll be several times what it was when I started. In such a scenario, of course I'd want to continue in the industry."
At the moment, Peng's plans to go on and get a graduate degree too. Ideally, he would prefer a research job at a state-owned enterprise or government agency rather than start as an easily replaceable front-line worker.
Ke, the processing manager, says that currently, their factory's main workforce was born in the '80s and comprised few young people. "When it comes to technical skills, there's definitely a drop-off. Young people today seem less willing to learn a trade and are instead just looking for a quick buck," he says.
Sun Ping is an assistant researcher at the Institute of Journalism and Communication in the Chinese Academy of Social Sciences. She says viral memes like dagong ren(a general term for skilled laborers) and workplace PUA(synonymous with job stress) capture the younger workforce's sentiment.
According to her, such memes have compelled people to start thinking about whether corporate employment is just "enslavement by capital."
"Don't talk to me about sacrifice, about proactive and voluntary hard work — the sense of a generation striving together is gone; people see things from a personal point of view now," she says.
"The meaning of work has become very practical and life-oriented. I want to buy a house, settle in a big city, and I need to think about my children's education."
She underscores that such goals did not exist before in the Chinese context. "Life was structured around the factory and community. State benefits were pre-established in such a way that when you got a factory job, there was an elementary school nearby," she says.
"But after capitalization and commercialization, and as the government continues to recede from people's personal lives, you'll find individuals powerless and very anxious. Meanwhile, work has become an extremely self-centered pursuit."
The way forward
Li Junkai founded a Chongqing-based company with three verticals, including consultation for vocational colleges and selling equipment from production workshops to colleges and universities.
A third arm of the company offers "in-post internships" for vocational college students — an arrangement where educational institutes embed students in jobs matching their majors.
While consulting, Li often offers colleges a number of suggestions: research leading enterprises to understand the supply chain, analyze skills students should acquire, choose enterprises with high technical capabilities to help design the curriculum.
For in-post internships, colleges should focus on labor-intensive enterprises, where the demand is highest for temporary workers.
Li claims he's visited at least a third of China's vocational colleges over the past 12 years. He says this discipline is most developed along the eastern coastal regions, such as Jiangsu, Shandong, and Zhejiang provinces. Therefore, he says, "It may be instructive to focus on the talent training model of vocational colleges in the Suzhou, Wuxi, and Changzhou area in Jiangsu."
And WXIT is arguably the best vocational college in the region. For Qian Xiaozhong, its director of the industry cooperation department, in-post internships are a "low-level" priority for college-industry cooperation.
"In their lean season, enterprises have little demand for workers and aren't looking to take on student interns. And the posts many enterprises offer are purely manual, which students are not interested in," he says.
Such challenges to college-industry collaborations are fairly common across the country.
Over the last decade, the increasing emphasis on automation has prompted new positions in manufacturing companies requiring fresh skillsets. In 2010, Qian led a team of teachers to research over 200 manufacturing enterprises in the Yangtze River Delta.
They discovered the challenges ahead: Many companies said they were unenthusiastic about collaborating with vocational colleges, which they believed were unable to keep up with the evolving needs of enterprises.
Based on their findings, WXIT decided to focus on core technologies linked to intelligent manufacturing in factories.
The institute has since formulated technical reform plans for various enterprises. For example, a few years ago, WXIT designed an automated storage facility for a factory in Changshu. Another collaboration followed, this time to upgrade the graphics user interface (GUI) for the storage facility's workshop management software.
The shift in focus has clearly helped. WXIT currently provides technical services to more than 200 enterprises annually, mostly within the Yangtze River Delta region.
According to Qian, industrial institutes can become models of "high level" college-industry cooperation. In such a system, leading industry enterprises funnel technology, human resources, and industrial assets into institutes, which in turn train personnel for them.
One such project is the Siemens Digital Twin Technology Industrial Institute, which began construction last year.
"Siemens' technology is ubiquitous in manufacturing, and we hope to improve teachers' understanding of new technology with their help. These new technologies will be introduced into the academic syllabus," says Qian.
"In terms of teaching staff, we've brought in many young PhD graduates over the last few years, who can also provide Siemens some technical support." Funding for such models is split equally between the institute and enterprise.
"The most important thing we hope to achieve is an exchange program — we send teachers to work for them, and they send engineers to teach our students," says Qian.
He hopes that top industry personnel can work at the Siemens institute for at least six months or a year on a rolling basis while also participating in devising training programs, curriculum standards, and such in the long run.
Skilling starts at home
The surge in embracing automation mandates a better-trained workforce. To adapt, the Haitian Plastic Machinery Group, a domestic giant in injection molding machinery, jointly founded Haitian University in June 2020 with Ningbo Polytechnic, a vocational college in Zhejiang province.
According to a local media report, the university is expected to train more than 300 "highly skilled personnel" from Haitian Group by June 2022. This is likely to increase to 1,000 per year in around three years. Since the university was established, Haitian Group has stopped recognizing self-taught undergraduate degrees.
This April, 21-year-old Yang Chenguang saw a poster for Haitian University in his work group on WeChat, China's social app. As far as he is aware, admission is open to all workers at Haitian Group, and the company pays half of the tuition.
Yang graduated from a professional training college last year. Late in June, he renewed his contract with the Wuxi branch of Haitian Group for three more years.
For Haitian Group employees, the most obvious symptom of the educational gap is the basic monthly salary: University undergraduates earn over 1,000 yuan more than those from vocational colleges.
Yang, however, decided not to sign up for Haitian University, simply because he didn't have the time to study. At the time, he worked 10-hour days, with rotating night shifts once a week, and just one day off every two weeks.
A CNC operator, Yang says each machine tool has different parameters, which are preset in its software, but the specifics need to be modified and debugged in situ. "I've set it up now, so the machine is working while we talk," he says.
Before Haitian, his first full-time job, Yang completed an in-post internship at a Japanese company for 10 months. Yang recalls the company's machine tools were imported from Japan and accurate to four decimal places. The flipside, Yang says, is that operating such advanced machinery requires little technical skill.
An engineer sets the program, and there's no need to debug or adjust the machine. Less than a month into his apprenticeship, Yang had mastered the job.
It offered a glimpse of his future. "No matter how much or little I did every day, I got about the same salary at the end of the month. Raises only come with length of service, and the maximum hike is 100 or 200 yuan extra per month, year on year," he says.
At Wuxi Haitian, new employees work under experienced technicians with around 10 years of service. While such veterans complete debugging in four to five hours, Yang needed twice as long when he first started.
"Since I wasn't very skilled back then, I often asked for help. I was really scared of making a mistake. In my trade, damaging the blade and scrapping parts are unacceptable," he says.
Yang has firsthand experience of how vocational education lags behind industry. "What I learned in school was too superficial and theoretical," he says. He obtained certification as a senior CNC lathe operator, but on joining Wuxi Haitian, he discovered CNC lathes had been phased out years earlier.
After he completed training, he was paid productivity wages like all regular workers — the more he worked, the more he earned. Recently, with more overtime, his monthly take-home pay has steadily increased to over 10,000 yuan ($1,500).
Yang says he's satisfied at the moment and has no plans to leave Haitian. His job offers social benefits known in China as "five insurances and one housing fund," which he says is far better than a job without any social security benefits.
And since the entry threshold is slightly higher, he isn't anxious about being easily replaced.
Future potential
When he was 15, Yang missed out on admission to his ideal public high school by just a few points. His family advised him to attend a vocational college rather than a private high school, where only money mattered.
"Full marks on the high school exam was 530 points, and with 390, you could go to a private high school. Mine was 415. At the time, you needed 419.5 points to attend Qingshan Senior High School and Wuxi No. 6 Senior High School," he says.
In the late '90s, as a financial crisis swept across Asia and reforms across China's state-owned enterprises led to mass layoffs, millions of high school students found themselves competing with laid-off workers to find jobs. To ease the pressure, in 1999, the government began expanding college and university enrollment.
It applied to vocational colleges too: their numbers increased from just 101 in 1998 to 1,468 in 2020.
As universities admitted more students, graduates from highly coveted vocational secondary schools no longer enjoyed guaranteed job assignments like in the 1980s.
"Students who did not pass the high school entrance exam went to vocational schools, leading to the misunderstanding that 'bad students go to vocational schools.' This made such schools even less popular," said a National People's Congress deputy at this year's Two Sessions — the annual meeting of China's top legislative.
The stigma has caused enrollment to plummet. According to official statistics, the proportion of those choosing secondary vocational education has generally hovered around 40% in recent years.
To address the issue, the government, in recent years, has focused on reforming its vocational education system. And industry experts, by and large, have applauded the move. At the same time, experts say, China still has a long way to go compared with countries such as Germany, where vocational education systems are more mature.
Industry veteran Li Junkai says: "Five years ago, there were only a handful of firms in China that specialized in this (vocational education service), which was seen as a relatively backwater industry."
Over the past few years, however, more and more competitors have emerged. Li says the country's vocational education has moved forward as a whole, and people's perception of this form of education and its social status is gradually improving too.
Now, more enterprises hope to get involved in vocational education, including companies like Huawei, Alibaba, Haier, Tencent, and Xuzhou Construction Machinery. "Leading enterprises are gradually recognizing the tremendous potential in vocational education," says Li.
Compared to his classmates from junior middle school who are now in their fourth and final year of university, Yang Chenguang entered the workforce two years earlier.
Asked if his life would have been different had he focused on academics instead, Yang says without hesitation, "It would probably be better. I've always regretted not going to senior high school."
But why?
Looking away, Yang was quiet for a few seconds before replying: "I don't know. I just think it's a real shame that I never went to senior high school or university."
Peng Kai, Feng Yu, and Yang Chenguang are pseudonyms.
A version of this article originally appeared in China Business Journal. It has been translated and edited for brevity and clarity, and published with permission.
Translator: David Ball; editors: Zhi Yu and Apurva.
(Header image: Students from the Wuxi Institute of Technology take part in a practicum, 2018. Courtesy of Wuxi Institute of Technology)