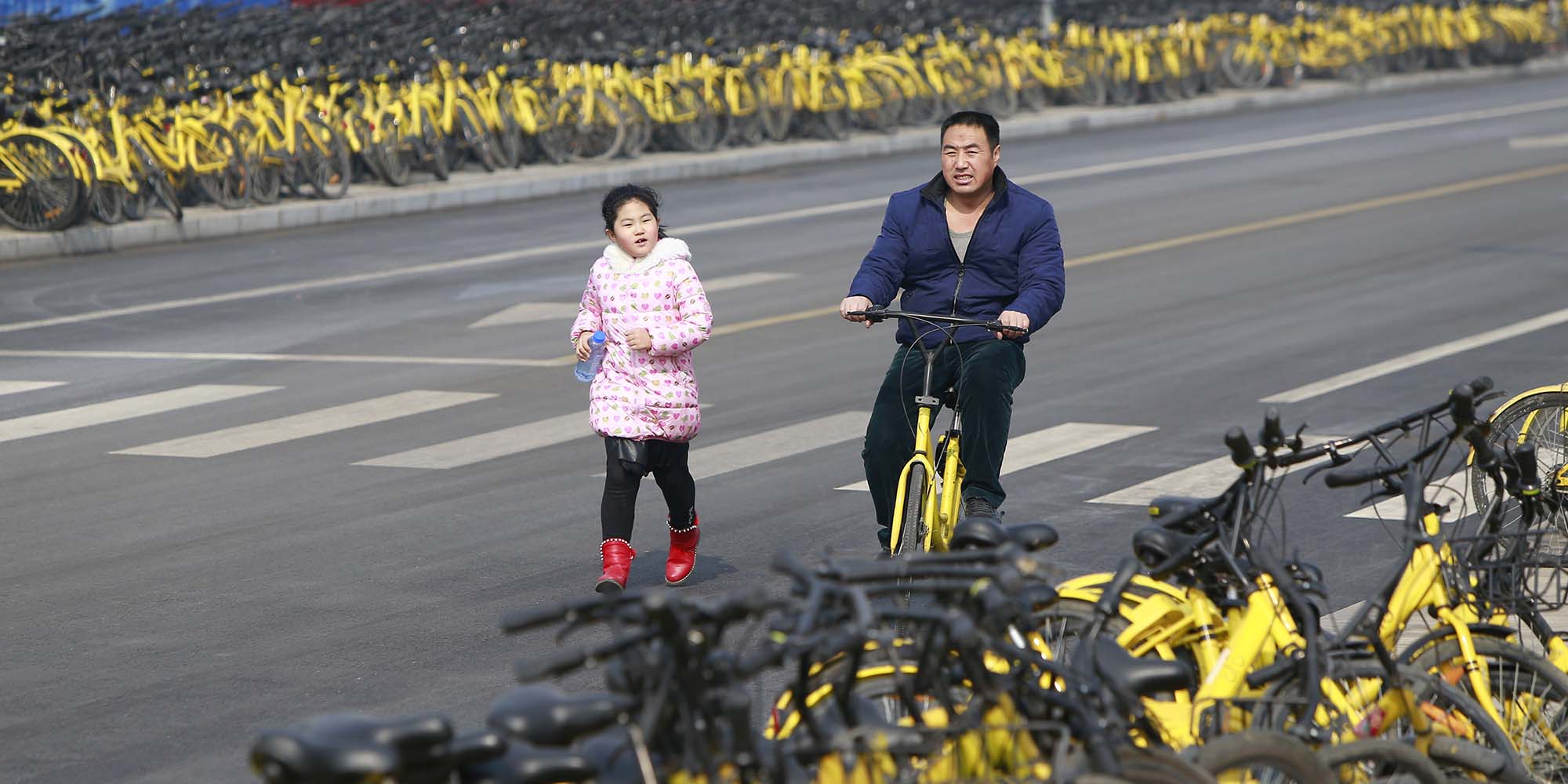 NEWS
Ofo Wants Users to Invite Their Friends Into Its Debt Pit
Can you make a buck off owing millions of people money? A former Chinese bike-rental company is trying.
With money owed to millions of jilted customers, its operating licenses suspended, and its assets seized or melted down for scrap, some companies would file for bankruptcy. The Chinese company that pioneered dockless bike rentals is going another route.

Three years after Ofo the bike rental service collapsed under a mountain of abandoned yellow bikes and lost deposits, Ofo the company still exists as a half-baked e-commerce app. And it's still promising to give users back their deposits — as long as the users give them even more money.

The controversial company returned to the news this week after telling users they could get their deposits back if they got friends to give the company money.

The feature was subsequently withdrawn from the platform after a state-run media outlet criticized it Nov. 21. However, unimpressed observers continued to take to microblog platforms to express their anger.

"This is asking users to cheat their friends," one Weibo user wrote.
Founded in 2014, Ofo is credited with popularizing the park-anywhere bike rental model that's now universal in Chinese cities. By 2018, Ofo had raised more than $2 billion and was operating in 21 countries.
But the company burned through its cash buying new bikes and entering new markets, and in 2018 it came crashing to earth. As the company ran into trouble, users started to ask for their 99 yuan ($15.50) deposits back. Without enough cash on hand to pay, it quickly turned into a bank run, with lines forming outside Ofo offices across China. Founder Dai Wei left the company during the crisis, replaced by Chen Zhengjiang from the firm's hardware department.
The firm had no money, no bikes, and no revenue, but it had an app on millions of phones and a captive audience desperate to reclaim their deposits. Then, in February 2020, it began to pivot into strange e-commerce territory, attempting to make money off owing people money.
At that time, Ofo released an update that replaced its bike rental app with an e-commerce platform, inviting users to redeem their deposits for store credit. But to get any money back, they had to put more in. Buy a load of toilet paper priced at 55.9 yuan, and you could use 0.48 yuan from your deposit — covering 0.9 percent of the price. To get their entire 99 yuan deposit back, a user would need to spend about 11,500 yuan of their own money, domestic media calculated.
The platform was vestigial, at best. Half a dozen users Sixth Tone spoke to said Ofo's marketplace is more like an advertising platform: All the products listed are links to stores on major e-commerce platforms Taobao, JD.com, and Pinduoduo. Meanwhile, it makes little attempt to deliver users a smooth shopping experience.

"I assume the platform uses technology from previous years, it often jumps forward and backward when loading pages, and the interface doesn't even fit my screen," a user told Sixth Tone. "It's the worst app I've ever seen."

Since then, Ofo has stayed in the news with variations on the theme, drawing users' attention with promises of a way to redeem their deposits. Earlier this year, the platform advertised a "recharge 10 yuan and get back 2.5 yuan deposit" plan, asking users to put more money into store credit.

Most recently, the app asked users to get their friends to join or add money to existing accounts, again promising to repay deposits in return.
With huge debts owed to its suppliers and at least 15 million users still awaiting deposit refunds, it remains a mystery why Ofo refuses to file for bankruptcy.
Despite occasional domestic media reports that Ofo was filing for bankruptcy following a rash of lawsuits over unpaid bills, Ofo has denied all such reports, insisting that it will continue to operate. Attempts to reach Ofo for comment using phone numbers and e-mail addresses listed on its web site were unsuccessful.
Corporate lawyer Ji Shijun once explained to domestic media that the majority of users will not be refunded if the company goes bankrupt because other creditors, taxes, and unpaid employees are first in line if the company is dissolved.
Ji also added that if executives were found during the liquidation process to have embezzled funds, company property, or evacuate capital contributions after filing as bankrupt, it may constitute criminal liability.
Editor: David Cohen.
(Header image: A man and a girl pass by rows of Ofo shared bicycles in Tianjin, Feb. 21, 2018. People Visual)