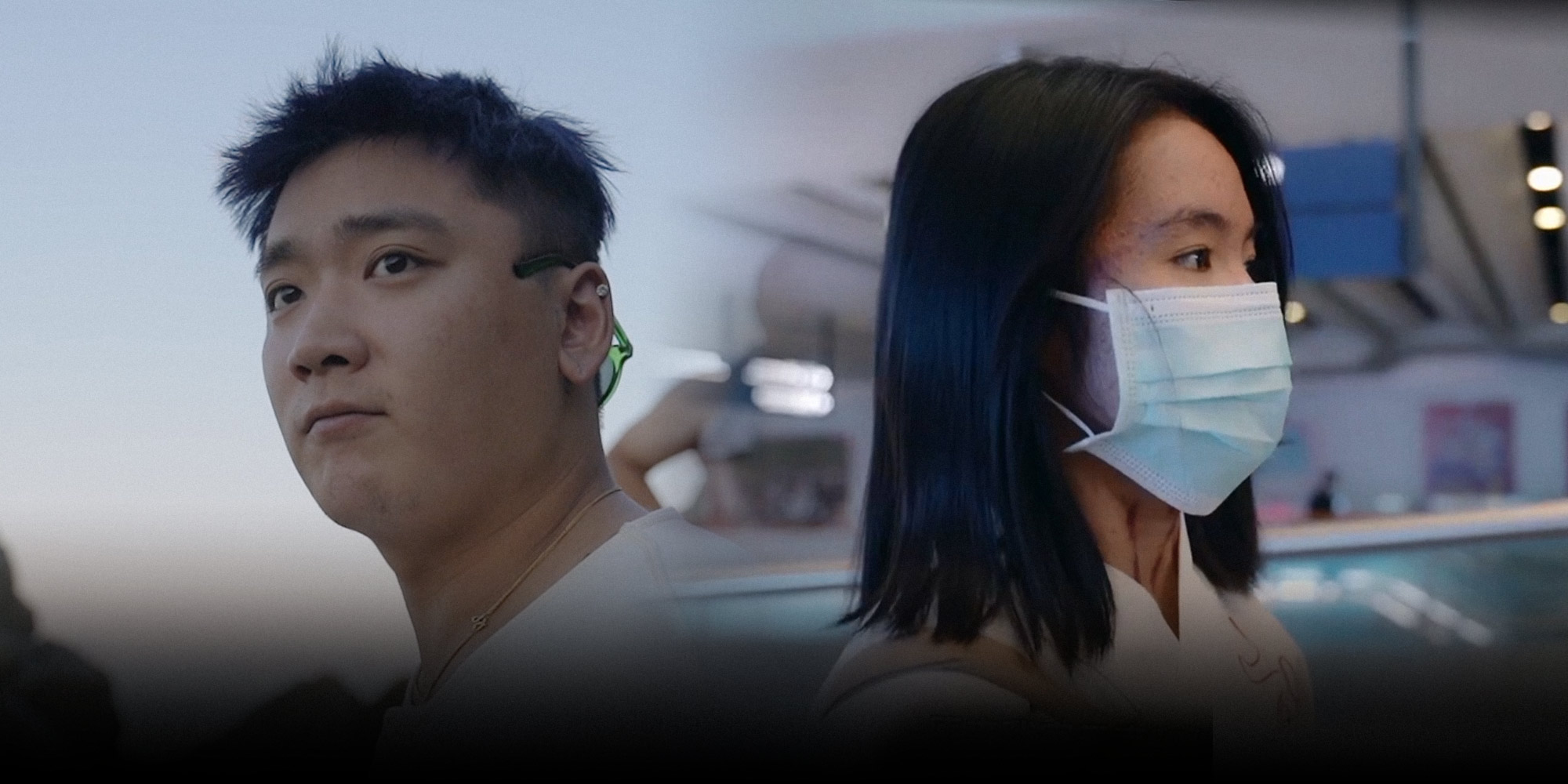 SIXTH TONE ×
They Swapped Lives for a Month. Did Anything Change?
Until it was canceled, "X-Change" let rural and urban students switch lives for a month. China watched the drama, and the divide, unfold.
Li Leyou is 17. She has a slender, oval face with hair down to her shoulders. About to finish high school in rural Yunnan, in southwestern China, Li's favorite subject is biology. She loves detective novels and dreams of being a forensic scientist.
At 23, Cui Jin recently dyed his short hair blonde, and habitually posts his trendy outfits on social media. From Dalian, the second-largest city in the northeastern Liaoning province, he runs his own online clothes store, helps out at his mother's noodle shop, and aspires to become an influencer.
Their worlds are far more distant than the 3,600 kilometers that separate them: in culture, wealth, and spirit. But seven years ago, they switched lives for one month.
And on television, all of China watched the drama unfold as the duo navigated new homes, schools, and friends.
Li and Cui were among four children featured in season 11 of the reality show "X-Change." Considered the "forerunner of Chinese mainland TV," the show offered urban and rural students the chance to experience each other's lives over the course of one month.
"X-Change" premiered in 2006 until it was canceled in 2018 after 18 seasons. Despite the hype and popularity it garnered across the country, the show was also accused of perpetuating stereotypes and exaggerating the truth, as some critics noted online, "to propel urban children to fame to the severe detriment of their rural counterparts."
For Li and Cui, however, transcending the country's yawning urban-rural divide couldn't have been more different. Ultimately, that one month helped shape the rest of their lives.
Li, who lost her mother as an infant, not only understood the bliss of maternal love, but now also dreams of the bigger world outside Yunnan. Cui, the teenage rebel since his parents' divorce, spent most of his month reconnecting with his father, and now has a new outlook on life.
This is their story.
Parallel lives
Had she not been chosen for "X-Change," Li believes she might have become a migrant worker a long time ago.
Her hometown is Zongla Village in Honghe County, Yunnan. Nestled amid mountains, it is home to just 41 families — almost all from the Hani ethnic group.
The Hani have their own festivals, language, and traditional attire. Before 2000, the village had little contact with the outside world, and most inhabitants couldn't even speak Mandarin.
Li's world was torn apart a little more than a year after she was born: her mother died, and her father was sent to prison. Her paternal grandparents took her in, raising her as their own, along with her aunt, who is just four years older than Li.
Her grandmother recalls the time Li was four, when she tugged on her dress to ask: "Grandma, did you give birth to me?" Too heartbroken to tell the truth, she simply responded, "Yes."
As Li grew older, the subtle differences between parents and grandparents gradually became more apparent. She also overheard villagers gossiping about her family, making her hypersensitive and insecure.
Li began helping with housework when she was very young and even went up the mountains to chop wood. She and her aunt seldom bought new clothes. At the time, this family of four depended solely on Li's grandfather's wages as a migrant worker.

At age six, Li started first grade at the best primary school in the township of Jiache, a two-hour walk away. Often, Li left home on Sunday for school, returning only on Friday, surviving the week on just 10 yuan ($1.5).
She rarely spoke at school and kept her head down most of the time. One classmate recalls it was difficult making friends with Li; she was also stubborn and once got into a fight with a boy.
One day in 2014, Li's teacher summoned her to the playground. That's where she first met two young women who were casting directors for "X-Change."
They asked her name, her hobbies, her thoughts on life outside the village. When answering a question about her family, Li burst into tears.
Zhang Tao, who directed "X-Change" from 2012-2018, says the profile for the show's rural participants were children in difficult or special circumstances — particularly those who could express themselves well.
The hunt for such candidates led the TV crew across rural China, scouring underdeveloped villages and towns. And with assistance from local publicity departments or bureaus of education and sports, they got local schools to recommend children for the role.
Individual interviews with prospective participants soon followed. "Sometimes I met hundreds of students and couldn't pick one. The casting took me longer than the actual filming," says Zhang.
Li was 10 when she was selected, though her ID card noted she was two years older. Her family couldn't afford a TV, and she had only occasionally watched cartoons in other people's homes.
She had never heard of "X-Change." But when the teacher said chosen students would not only be on TV, but also see the cars, planes, and high-rises in the city, Li could hardly wait.
More than 3,600 km away in Dalian, neither could Wu Li — the "mother" assigned to Li for the duration of the show.
Until her divorce in 2010, Wu managed a construction materials business with her husband. For a while, it afforded a privileged life: big house, chauffeur, and a wardrobe full of branded clothes.
Then their business went bankrupt and divorce followed. With her son Cui Jin, Wu moved into a rented house and opened a lamp store with money she borrowed from family and friends. The new shop kept her so busy that she barely had the time or energy to take care of her son.
"Even the big house we once lived in was always deserted. For company, I often spoke to myself in the mirror," says Cui.
After moving to the rented house, his mother bought him 40-yuan ($6) shoes, which he "refused to wear out of pride." Soon, he began goofing off at school, and his grades plummeted, causing heated arguments between mother and son.
And after earning his first paycheck selling clothes and sundries on social media, Cui says, "I went on lavish spending sprees around the city." Sometimes, he didn't even return home, feeling it lacked any warmth.
During this rebellious phase, Wu was at loss on how she could discipline him. In the years that followed, Wu struggled with her own finances too. After running the lamp store for a while, she worked at a beauty company before eventually opening the noodle shop this year.
Back in 2013, she once watched an episode of "X-Change." She recalls feeling immediately astonished at the maturity and compassion of children from rural China.
She was so moved that she texted her son, asking him to watch the show. To her surprise, Cui said he was more than willing to participate.
According to director Zhang, when selecting urban participants, they looked for children between 12 and 18, with strong, rebellious personalities or even irreconcilable conflicts with their families.
He says Cui signed up for the show hoping to improve his relationship with his parents. Cui hadn't seen his father for years, so the team decided to allow father and son to experience life together in the countryside.
Mothers and daughters
In November 2014, the "X-Change" crew arrived at Li Leyou's Zongla Village. It left locals stunned.
For the first time, a car from out of town arrived with several people from the city. Local officials explained what was happening over and over again, but the villagers just couldn't wrap their heads around the concept of filming a TV show.
The elders curiously hovered over the crew, watching them unpack cameras and drones to record initial shots. In the footage, villagers can be seen dancing around a sacred tree, singing an ancient Hani song; a moment later, Li Leyou is seen dashing across the village, tears streaming down her face as she calls out for her mother.
A week later, Li flew to Dalian.
The first sight of her TV daughter at the airport startled Wu. Li wore a flimsy pair of sandals, a shabby pink jacket, and had a thin schoolbag on her back. At the time, Li was about 130 cm tall, with a round face, almost like an apple.
On screen, Li looked up at Wu and timidly said: "Mom." Wu immediately removed her coat, draped it around Li, and took her school bag.
Seven years later, Li vividly recalls that scene. She says it was the first time she called anyone mom. Despite the swirling emotions, at that moment, Li decided: "This is my mother."
Simultaneously, Wu says she thought Li seemed like only a five -or-six-year-old, constantly astounded by everything in the city. During a trip to the market, Wu realized Li had never eaten fruits like bananas, strawberries, and grapes — in fact, she didn't even know what they were.
During that month of filming, they slept in each other's arms every night. When Wu was away on a business trip, Li says she couldn't sleep at all.
At the outset, the film crew scripted their lines and planned activities like meals and ski trips. After a while, however, Wu complained that some of it felt contrived. After some discussion, the crew agreed to let their relationship unfold more naturally.
Wu once took her to the company where she worked. When someone asked who the girl was, Wu responded without hesitation: "This is my daughter." The film crew wasn't with them; Li realized that for her, this wasn't a show or a performance.Their affection was real.
Li says her bond with Wu was different from what she had with her grandparents. In Dalian, it was warm, direct, and enduring — something she had never felt before. Wu says she always wanted a daughter, and Li more than made up.
A month later, their episode came to an end, and Wu accompanied Li back to Zongla Village. When they parted ways, Li sobbed and cried out "Mom" — and the tears began rolling down Wu's cheeks, too.
Taming a rebel
While Li revelled in maternal adulation and life in the city, Wu's son Cui Jin, 16 at the time, was far from prepared for the month that lay ahead in Zongla village.
Director Zhang says he's seen several urban "rebel teenagers" in his six-year stint on "X-Change." Before they arrived on location, he underscores, most urban teens foresaw a romantic, idyllic life in the countryside.
They imagined catching fish, hunting birds, and swimming. But when they got to a village, most were usually "dumbfounded."
Li's house, where Cui stayed for part of the show, was made of mud bricks, its interior illuminated only by the dim, golden light of a single dusty lamp. The family slept on a wooden platform built on stilts; underneath was a pigsty. On lifting the quilts, the pigs were visible through the cracks in the boards.
And though the crew had arranged for Cui's father to appear in the show too, he showed up late. Another "X-Change" participant, Yu Hai, a teenager from Qingdao in the eastern Shandong province, traveled with Cui to Zongla. That Yu's father accompanied him only exacerbated Cui's disappointment.
The culture shock coupled with his father's absence proved too much. On just his third day, Cui stuffed his suitcase, crept to the nearest road, and tried to run away. However, Yu Hai's father and the TV crew dragged him back to the village.
Wu recalls a frantic phone call from her son. Sobbing, he shouted: "I have bug bites all over my legs! I miss you to death! I wanted Yu Hai's dad to text you but he said it wasn't allowed. Can you understand how that feels? I'm dying here."
Fortunately for Cui, his father arrived soon after. That first meeting set the stage for perfect reality TV.
It was the first time father and son had met since the divorce. The bitterness unfolded on camera: Cui blamed his father for abandoning him; his father in turn called Cui a spendthrift, saying he was indifferent to his parents.
Recollecting those days now, Cui says he's "so ashamed" about his immaturity.
According to Cui, about three-quarters of the program is real, but the crew didn't hesitate to "manufacture" conflict. Sometimes, they took away their mobile phones, cigarettes, and money; on other occasions, they stirred the pot behind the scenes.
But in the end, all conflicts were neatly resolved.
In the final scene of his episode, Cui had seemingly changed for the better. In one scene, he sits with his father, and Wu, who accompanied Li back to the village, on the mountainside. As they chat, the family shows signs of recovering some of their lost warmth.
During a layover in Changsha on the way back to Dalian, Cui wanted to eat beef noodles and asked how much it cost, leaving Wu thrilled.
"Earlier, he never asked how much things cost — he just bought whatever he wanted," says Wu, adding that her son had not only learned about saving money but also communicated better with his parents.

According to Cui, the most meaningful aspect of taking part in "X-Change" was meeting and spending nearly a month with his father. Since then, they've stayed in touch, Cui has stopped quarreling with his mother, and he has slowly come to accept the divorce.
The show's filming at Zongla wasn't transformative for just Cui and his family. His arrival with Yu Hai, the boy from Qingdao, delighted students at the Central Primary School in Jiache.
At the time, both boys looked older than 16, were around 170-180 cm tall, had dyed hair and piercings, and wore flashy clothes. In the Jiache school, they became an instant sensation.
Li Li, a classmate of theirs, recalls playing basketball with them during PE class. The whole class crowded around them, addressed them as "big brothers", and asked about the world beyond the village.

Another classmate, Li Jingxu, says that in the dorms, the boys once used mousse to style the other boys' hair. "Everyone had a lot of fun, though they were quickly reprimanded by teachers," he says.
According to Li Li, the experience not only stoked their ambitions of city life but also inspired them to work harder at school. More than half the students in their grade went on to attend high school and technical secondary school.
The price of fame
Cui's first glimpse of the girl with whom he temporarily swapped lives was when his mother accompanied Li Leyou back to Zongla. Donning a pink cotton overcoat and a golden tiara, he heard Li address his mother as "mom" and saw them cry as they waved goodbye.
On the bus back to Kunming, Yunnan's capital, Wu suddenly decided to look into local adoption policies, hoping to take Li back with her to Dalian.
Director Zhang Tao says they even called the local civil affairs department but after lengthy deliberations, officials said Wu was not eligible to adopt: she already had a son and was not married.
The disappointment did not dent her association with Li. Before Li returned to Yunnan, Wu bought her a smartphone, telling her to call whenever she wanted.
The day Wu left, Li kept calling her, but was unable to get through since Wu was still aboard the flight to Dalian. The next morning, she finally got through, and the two sobbed as they chatted for more than an hour.
She told Li to study hard and help her grandparents with housework. If she needed anything, Wu would send it by mail.
For six months, Li often hid under her covers and cried as she pined for Wu. But she didn't dare tell anyone about her despair, believing no one would understand.
Li's former classmate Li Xian'en says that after she returned, everyone crowded around her, peppering her with questions. Li Xian'en was envious of the smartphone, which opened doors to video streaming websites and online soap operas.
In March 2015, Li Leyou's episode of "X-Change" went on the air. Her grandparents spent 500 yuan ($80) to buy a 30-inch color TV to see the show. Her aunt says they all watched it three or four times together.
In the show, Li dressed glamorously, lived in a big house, and spoke Mandarin. Though they couldn't understand what she was saying, her grandparents, who primarily spoke the Hani language, laughed and cried in sync.
Two teachers at the Central Primary School in Jiache recall that in the months that followed, Li's episode of "X-Change" was played on loop on TVs across the village.
The school also made arrangements for students to watch it together in the multimedia classroom. Li Xian'en says several classmates broke down at different points in the episode.
Many students found that Li Leyou had become more cheerful and self-confident after her stint in Dalian. Her grades improved, and teachers frequently praised and rewarded her. She also became increasingly popular in school.
Li says that while some children got along well with her, they complained behind her back that she was "too proud."
Recalling those months, Li admits that, to a degree, they were right. She says: "I finally had a mother and I had found a sense of self-confidence — why wouldn't I be proud? Was I supposed to keep feeling just as insecure as before?"
People from outside the village who watched the show sometimes visited Li, bearing toys and gifts. Many villagers did not understand why they wanted to come, which put the Li family in an awkward situation.
Zhu Jiangfeng, a local social worker, who sponsored fees for Li and several other children in the village after her "X-Change" episode aired, once visited Li and found her sitting alone on a bed covered with dolls.
He asked why she wasn't playing with friends, but Li didn't answer. He then asked if she would like to give one of the dolls to her friends. She replied, "They don't want them."
He realized immediately that had become isolated. "The children couldn't understand why 'X-Change' only chose her. Why was she the lucky one?" he says.
Not long after the episode's broadcast, Li's family consented to Wu Li's proposal to live and study in Dalian. Even for a show with an 18-season run on TV, this was rare among the many rural children it featured.
Meanwhile, Cui Jin left to attend university in the U.S. But unable to adapt, he stayed only for a few months before returning to China.
Li didn't travel as far but suffered the same dilemma in Dalian. Soon after "X-Change," she was accepted into a primary school near Wu's home but couldn't keep up with the other students — especially in English.
In Dalian, primary school students learned English from the first grade, but in her hometown, they started only in middle school. It left Li feeling woefully inadequate.
Just two months later, she returned to the Central Primary School in Jiache because she, too, had trouble adapting. At that point, she gradually grew indifferent to the excessive attention her rural classmates paid.
On returning to Yunnan, however, her grades suddenly improved. From the middle of her class, she jumped to rank among the top few students.
She also began planning for the future: she dreamed of attending junior high school in the county seat, senior high school in the city, and then medical school in Dalian. Most of all, Li longed for the hustle and bustle of the big city with her new mother.
In the summer of 2015, Li visited Wu in Dalian. She went shopping, ate seafood and was introduced to Wu's relatives and friends. Wu says they all knew she had a daughter and they all liked her.
However, Cui Jin recalls that, in the beginning, Wu felt Li was a little too distant, and had to teach her how to greet and get along with people.
After the break, academics took precedence again. At the end of elementary school, she ranked fifth among students in her age group, which got her into a middle school in Honghe County — just as she planned.
In the years that followed, she flew to Dalian and back more than a dozen times. She says she was never scared. "As long as I met my mother, nothing else mattered."
The reality of TV
"X-Change" stayed on air for more than a decade, claiming it taught "rebellious urban children the importance of hard work, and gave rural students a platform to achieve their dreams."
Rave reviews quickly followed, but so did controversy.
In 2015, Zhou Jiawen of Jinan University analyzed 55 urban and rural participants who appeared on the show from 2014. The study found that urban children were usually from affluent backgrounds, rebellious, and at odds with their parents.
Meanwhile, rural participants were generally poor, hardworking, and strong-willed. According to the study, this served to "create the false impression that children from the city have severe behavioral problems."
Zhou also concluded that the vast majority of the show's promotional material in 2014 revolved around urban characters — only rarely did they broadcast the rural characters' point of view.
Writing for a journal in 2015, CCTV reporter Liu Yishan argued the converse. He stated that "X-Change" reflected a wide range of societal problems: poor education of city children, uneven distribution of social resources caused by the urban-rural dichotomy, and left-behind students.
Liu also underscored that the show disseminated mainstream values, like diligence, affection, and friendship.
Incidentally, Hunan TV, the network on which "X-Change" airs, set up funds to support the show's rural participants and the schools it featured. By 2014, they had donated 1.51 million yuan to 41 children and 17 schools.
Li Leyou says that after the show was broadcast, Hunan TV gave her a monthly stipend of 500 yuan ($80) until she graduated from junior high school. Wang Jianrong, the vice principal of her primary school, says: "The show also inspired many caring viewers to donate money and material."
Off camera, however, the contrast between urban and rural children is still stark. Researcher Zhou Jiawen points out that many urban children leveraged their fame to become influencers and performers.
Like Cui Jin. Even before participating in the show, he posted prolifically on Weibo, China's microblogging platform. After his episode of "X-Change" was broadcast, his popularity surged. He went from having about a hundred thousand fans to 2.11 million.
And on returning from the U.S., Cui chose to discontinue his studies to focus on building his online presence. He began posting short videos every day: "All I had to do was say, 'Hey, everyone!' and I'd get tens of thousands of likes," he says.
About six months later, he says he started to forget who he was, forcing him to take a step back and think. Eventually, Cui decided to concentrate on comedy and fashion videos, which he now posts regularly on Weibo and video platform Kuaishou.
In comparison, the show's rural participants have found it much harder to develop a fanbase online. According to Yunnan social worker Zhu Jiangfeng, children from the city come to the countryside to contemplate what they've taken for granted, which helps them get back on track.
"But for rural children, the disparity between the city and the countryside is hardly a source of inspiration," he says.
Vice Principal Wang Jianrong believes the problem is not the show itself, but the state of rural education — especially at home. "Many families just manage to make ends meet, and parents have neither time nor energy to pay attention to their children," he says.
Zhu has sponsored more than 20 children in Jiache, and visits their homes every year. He's found that many families have multiple children and heavy burdens. Moreover, girls are often forced to drop out of school to find work in the city or get married.
But the situation has gradually improved over the last few years. Wang says that since 2013, rural parents have become increasingly aware of the need to engage more in their children's development, particularly in academics.
"At the same time, the education bureau has made more efforts to counter the dropout rate," he says. Now, junior high schools in Honghe County have a graduation rate of 75%.
For the young in rural Yunnan, however, the urban-rural divide is extensive. Li Li, who shared a class with Cui Jin during the show, says he would have felt inferior seeing people like Cui now. He says: "It is difficult for us to reach their level, even if they're just normal kids from the city."
Bridge between worlds
In 2018, after 13 years on air, "X-Change" abruptly ended. Director Zhang says that it had become difficult to find truly underdeveloped places since the advent of China's poverty alleviation initiative.
"Some rural houses are now more beautiful than ones in the city. I believe that the end of 'X-Change' is a sign of positive progress," he says.
Every time Li Leyou goes back to her village, she helps her grandparents wash and cook, and tends to the crops too. She likes chatting with her grandmother about school and the transformation of their village.
A few years ago, concrete roads were laid in the village. Many have since bought motorcycles, and now, it takes just ten minutes to get to the nearest town. Soon after, new buildings sprung up one after the other, each shinier than the next.
The Li family still lives in their mud-brick house, though they no longer raise pigs. A fresh slab of cement has been laid at their doorstep, and the government whitewashed the walls of their house two years ago.
Their family has more than two mu (about 1,300 square meters) of land, on which they cultivate rice and corn. Occasionally, they sell their harvest to earn that extra bit of money.
After harvesting the crops, Li's 60-plus grandfather travels nearby to do odd jobs for a month or two, which earns him a few thousand yuan. And as a low-income household, the family receives nearly 10,000 yuan annually in government subsidies.
And yet, they continue to struggle. Three years ago, Li's aunt went to attend nursing school in Kunming, which costs more than 8,000 yuan ($1,200) a year — not including monthly living expenses.
These last two years, Li has visited Dalian for her summer and winter breaks. On July 23 this year, she got off the plane and was greeted by her "brother" and "mother" at the airport. On the car trip home, Wu and Li chatted incessantly.
For Li, Wu is an important role model, strong-willed and hardworking. Li says knowing her has helped her become more self-confident, and that she's now brave enough to express her opinions.
Li dreams of going to university in Dalian, but she's anxious about not scoring high enough. At one point, she began losing sleep and her grades suffered, leaving her on the brink of depression.
Zhu Jiangfeng feels that Li is under immense pressure to succeed academically. "Because so many people have helped her, she's afraid that if she doesn't get into university, she'll have failed them," he says.
Li Jingxu, who is in the same grade as Li Leyou, says that out of more than 1,000 students in their high school who took the college entrance exam this year, only a dozen made it into top-ranking universities, while about a third of the class made it into second-rung universities.
Back in Zongla, village chief Li Kedou says no one from the village has ever completed a bachelor's degree.
But Li's grandmother feels her granddaughter is different — more astute — than the other children in the village. She says: "I'm certain Li Leyou will be able to leave the mountains behind and live the life she wants."
Li Li and Zhang Tao are pseudonyms.
A version of this article originally appeared in The Paper. It has been translated and edited for brevity and clarity, and published with permission.
Translator: Lewis Wright; editors: Li Yijuan, Xue Yongle, and Apurva.
(Header image: Cui Jin (left) and Li Leyou, 2021. Zhao Zhiyuan/The Paper)