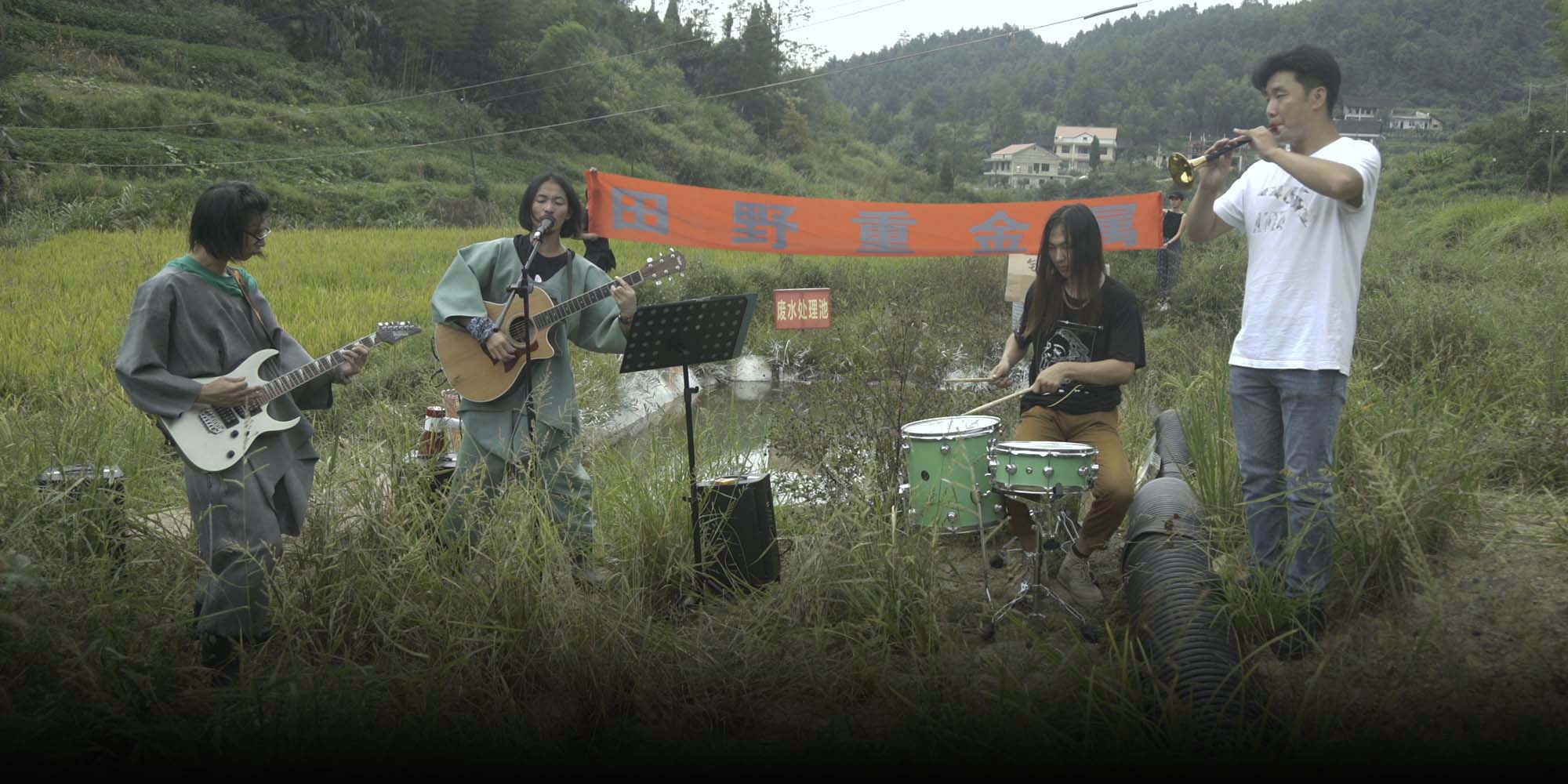 MULTIMEDIA
Chinese Artist Fights Heavy Metal Pollution — With Heavy Metal Music
Sixth Tone follows the performance artist Nut Brother as he stages a series of rock gigs to highlight the water pollution crisis in China's post-industrial heartlands.
Chinese artist Nut Brother has spent much of 2021 on a truly surreal music tour. Over several months, he staged heavy metal gigs at a series of unusual locations, including a remote lake, a zinc plant, and a yak pasture on the Tibetan Plateau.
The obscure venues were spread across northern China, but they had one thing in common: They all suffer from severe heavy metal pollution. The artist aims to use the unconventional gigs to focus public attention on an environmental problem that still plagues China's post-industrial heartlands.
"It's heavy metal against heavy metals," Nut Brother, who is quoted under his pseudonym to protect his privacy, told Sixth Tone.
The 40-year-old has become famous for his socially engaged performance art over the past decade. In 2015, he made international headlines when he vacuumed up polluted air and created a brick out of the smog.
Another high-profile project saw him use an excavator to hurl dolls belonging to migrant children in Shenzhen outside the city limits — a stunt designed to highlight the inequities in the city's education system.
The heavy metal tour is one of his most ambitious projects yet. Working with a team of volunteer researchers and fellow artists, Nut Brother has spent months investigating the pollution-related issues in each location he has visited — often conducting chemical analyses of local water sources himself.
The team has extensively documented each leg of the tour, posting the results of their investigations and footage of the gigs to Chinese social media. They hope to generate enough attention to convince local authorities to take action and clean up the pollution — a tactic that has been successful following previous projects.
In September, Sixth Tone joined Nut Brother for one of the performances, which took place at Da Ping Coal Mine in the central Hunan province.
The location was chosen to shed light on how, despite China closing 5,000 outdated coal mines in recent years due to environmental and safety concerns, many have left behind daunting pollution issues that have yet to be resolved.
At Da Ping, Nut Brother's team found that iron and manganese levels in local water sources still exceeded China's water quality standards even after purification. Local residents have been petitioning the authorities to fix the problem for years, but to no avail.
It's unclear how widespread heavy metal pollution remains in China. The last time the government conducted a nationwide survey on the issue, in 2014, around 16% of the country's total land was found to be contaminated with heavy metals and other chemicals.
The Heavy Metal Country Tour — as Nut Brother has named the project — is already stirring up heated debate. In Da Ping, the artist received several calls from contacts saying they'd been told to delete social media posts related to the projects. But that hasn't prevented several posts from going viral online.
"This is so cool!" one user on social platform Weibo wrote under a post by Nut Brother. "I admire your bravery and sense of justice."
Editor: Dominic Morgan.
(Header image:Heavy metal band  "Soil Improvement" performs a song written for Da Ping Coal Mine's pollution issue in front of its wastewater procession pool in Sangzi Town, Xinhua County, Hunan province, Sept.14, 2021. The band was formed and named for Nut Brother's tour. Fu Beimeng/Sixth Tone)