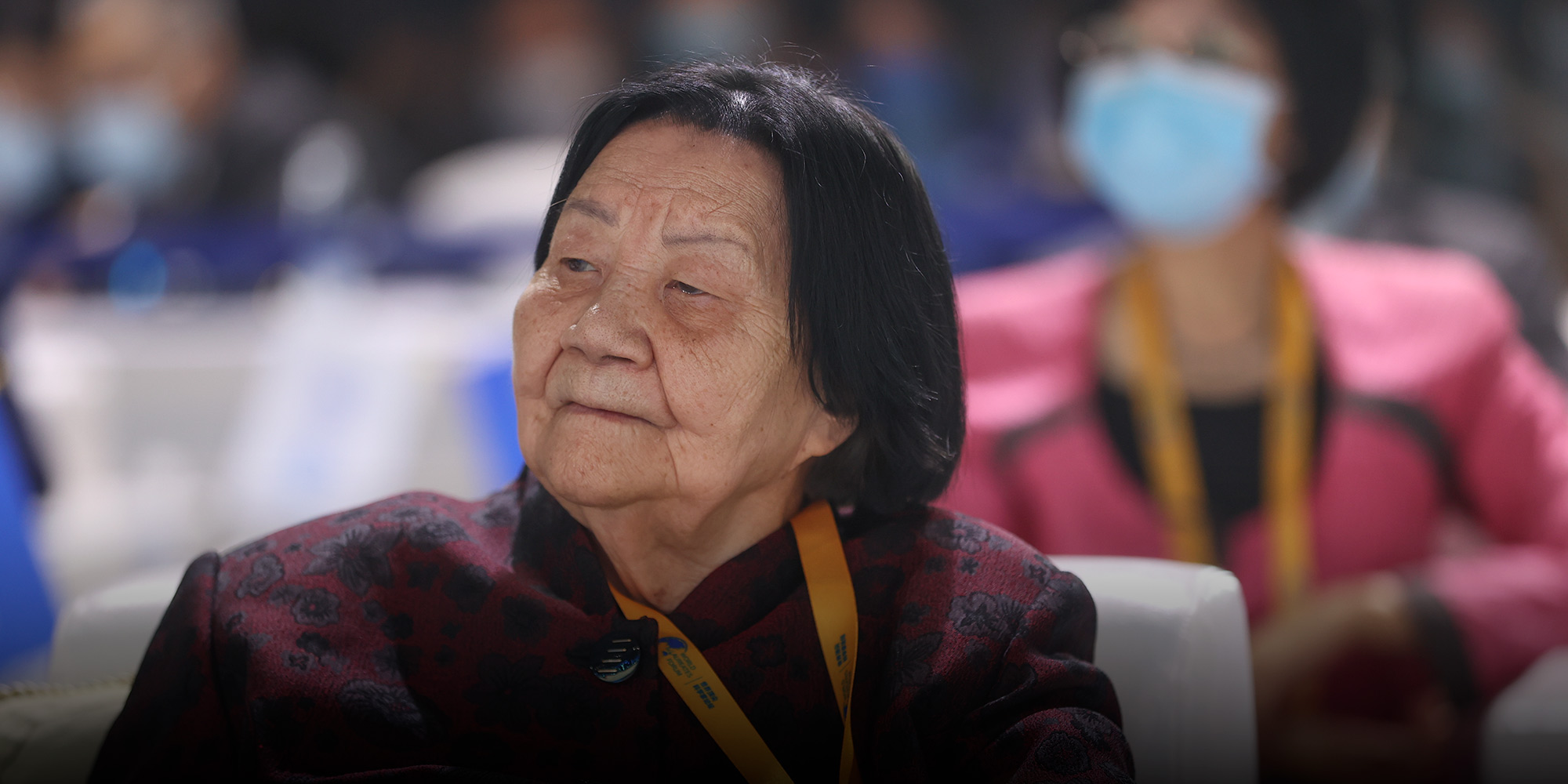 FEATURES
Through the Glass Ceiling, and Beyond
When astronomer Ye Shuhua fought for a men-only job in 1951, it turned out to be the first of many barriers she broke through.
SHANGHAI — When the telescope at eastern China's Purple Mountain observatory captured a snippet of a hitherto unknown asteroid in 1978, the astronomers named it after Ye Shuhua in honor of her contributions to China's modern astronomy advancements.
Her career in astronomy began in 1951, when Ye, then in her early 20s, joined the Shanghai Astronomy Observatory. It was just two years after the founding of the People's Republic of China, and Ye had just succeeded with a small revolution of her own by becoming the institute's first female researcher.
During her first decade at the observatory, she worked on measuring time using the positions of stars relative to Earth. In the early '70s, the government decided to move China's time service to the Shaanxi observatory in central China for its better broadcast reach and better protection from a potential enemy invasion. Ye had to brainstorm what the Shanghai observatory should work on next.
That's when she decided to build China's very-long-baseline interferometry (VLBI), a network of telescopes that work together to track celestial objects and spacecraft. Because a VLBI performs best when the telescopes are far apart, Ye was determined to build three: one on the eastern coast in Shanghai, one in northwestern China's Xinjiang region, and one in Yunnan, in the country's southwest.
There were enormous challenges to overcome, both technologically and financially. At the time, the most technologically advanced countries had just begun experimenting with VLBI networks. Ye's proposal met strong headwinds. But she didn't budge.
Now, decades later, the four-telescope-strong network — an additional one was built in Beijing — is foundational to China's ambitious space exploration program.
Ye became the head of Shanghai Astronomical Observatory in 1993, becoming the first female leader at a Chinese observatory — and there haven't been many since. She was also the vice-president of the International Astronomical Union, a non-government organization of astronomers, between 1988 and 1994.
Earlier this month, while Ye Shuhua, the 17-kilometer-wide space rock, was hurtling along its orbit around the sun somewhere between Mars and Jupiter, Ye Shuhua, the considerably smaller human, gave a speech at the 4th World Laureates Forum in Shanghai.
"If you want to get something, you have to fight for it," Ye, standing on the podium in a crimson red coat, told the audience in fluent English.
Speaking with Sixth Tone during the forum, Ye discussed her work at the Shanghai Astronomy Observatory, women's role in astronomy, and the outlook of the Chinese space program. The interview has been edited for brevity and clarity.
Sixth Tone: You've devoted your life to astronomy. What attracted you to this field?
Ye Shuhua: I like it because astronomy doesn't involve competing with people or with the world — the universe is the only thing in your eyes. The most important thing we do is to help people understand the secrets of the universe better. Besides, astronomy actually has many practical applications, such as our Beidou satellite navigation system and time measurement.
Sixth Tone: Having witnessed the evolution of Chinese astronomy for 70 years, which developments instilled you with the most optimism?
Ye: I think now, like the last 10 years or so, is the best era for astronomy in China. There is a lot of big equipment being built. Look at FAST, our 500-meter telescope, which is the envy of international peers. I'm not saying it's the greatest thing in the world, but it's very distinctive.
The first giant radio telescope was built in the United States (territory Puerto Rico), but at that time, some 50 years ago, there were still many technical challenges even the U.S. couldn't overcome. With technology advancements in recent years, Nan Rendong, who's a really good friend of mine, decided to lead the project of building a giant telescope in China. He and his team put in a lot of effort to improve the design of FAST and made it really efficient.
Sixth Tone: Have you been to FAST? What was your impression?
Ye: Yes I have been there. I just think it's too spectacular so it has attracted too much of an audience. People from China and abroad come to check it out. Of course we welcome them, but the more people, the larger the impact on observation work. For astronomical observations, we don't want to have a lot of people around.
But as time passes, maybe people will gradually get tired of it and lose interest, and not so many people will come.
Sixth Tone: Was building China's VLBI network a difficult process? 
Ye: When the People's Republic was just founded, the country still faced all kinds of difficulties. At that time, time keeping and broadcasting were the most urgent tasks. So my colleagues and I put a lot of effort into it. But later, the government realized that placing time work in Shanghai would be dangerous — if a war ever broke out on the eastern coast of the country, the time service could be easily knocked out. Also, it's difficult to broadcast time to the western part of China, so they decided to move the time service to the central province of Shaanxi.
But in this way, the Shanghai station lost what it does for a living. So we had to find something else. I looked around and thought the most promising work is VLBI. At that time, this technology just appeared in the U.S., and even in the U.S. the project was struggling to gain approval because it's expensive and difficult. But I was very ambitious and not afraid of anything at the time, and I was convinced that it was the best thing to work on.
I proposed that we should build three stations in China, but there was only enough money for two stations. Building the Shanghai and Yunnan stations was the easy option, but I decided to work on the hardest, which is the one in Urumqi, in Xinjiang. At the time the city had a tiny observatory with very few staff and barely any equipment.
But I thought that if I didn't insist on setting up the Urumqi station, no one would care about this observatory and no one would want to put in the hard work. VLBI works better when the stations are far apart, so I was very stouthearted. People say do the easy task first and then work on the difficult. But I did the reverse. If you don't seize the opportunity, it may be gone forever.
With VLBI, my colleagues at the Shanghai observatory help determine what to do when a spacecraft needs to change orbit in space. The calculations are very accurate and impressively fast. I'm very proud.
Sixth Tone: Shanghai has recently built the world's largest planetarium. Have you been there?
Ye: I have. I think this planetarium is certainly very beautiful. But there is still a lot of room for improvement.
I hope that the planetarium can be more accessible and enjoyable to all kinds of people, so that even senior citizens can visit and learn about the universe. Many elderly people's views are constrained by religiosity, so if they can understand the universe, maybe it will help them a little. If the planetarium is full of very sophisticated stuff, the general public might not learn much during a visit. What I hope for is a planetarium that serves the whole society.
Sixth Tone: What is one of the unsolved mysteries of the universe that you would like to know the most?
Ye: Ah there are so many. Black holes, for example. Everyone wants to know more, right? But personally I think projects that are directly related to practical use are the foremost important thing that we have to do well. For example, we want to go explore the moon. But if we don't devote efforts in the VLBI, we can't guarantee a successful landing every time.
Sixth Tone: In the last decade or so, China has built many sophisticated and large instruments, like FAST. But is the progress of China's theoretical astronomy developing as fast as the hardware?
Ye: Previously, there was a significant lack of resources in astronomy. And because for practical fields like telescopes and satellite navigation, we have to make sure the data are 100% correct, we allocated a lot of humanpower. But it does not mean that no attention was paid to theoretical astronomy research. For example,  our current head of the Shanghai Observatory is very much into black hole research. Now that the number of people in astronomy is increasing, and astronomical research is getting more support, there will be a more balanced development in the future. I even expect China to lean toward theoretical astronomy research.
Sixth Tone: You're the first female director at any Chinese observatory, and there are still very few females in leadership roles in China's astronomy field. Did you have to break the glass ceiling?
Ye: After I graduated from university, I came back to the Chinese mainland after working as a teacher for two years in Hong Kong. I went to the Purple Mountain Observatory to look for a job, and they told me they only had a vacancy for a man. I was stunned when I heard that. That was in 1951. So I wrote a letter to the director of the Observatory, where I listed five reasons why he was wrong to not hire me.
When I was young, I wasn't afraid of anything. And the letter did get me a job at the Shanghai station.
Sixth Tone: Astronomy is still heavily dominated by males. How can we encourage more women into the field?
Ye: In astronomy, there are now more and more female scientists. But the proportion is still small. Women are still burdened with more duties than men in and outside the family, like caring for children and the elderly. This situation is not unique to China — women around the world face it.
I feel a bit guilty about my own family, because I spent most of my time at work and had to constantly go on business trips. But it's the nature of my job, so there's nothing more to say. I hope that, in the future, if there are better arrangements for childcare and family responsibilities, women will definitely get a better working environment. I'm afraid it's not so easy to change — it can only be done gradually.
Contributions: Xu Jialu; editor: Kevin Schoenmakers.
(Header image: Ye Shuhua is pictured during the 4th World Laureates Forum in Shanghai, Nov. 1, 2021. People Visual)