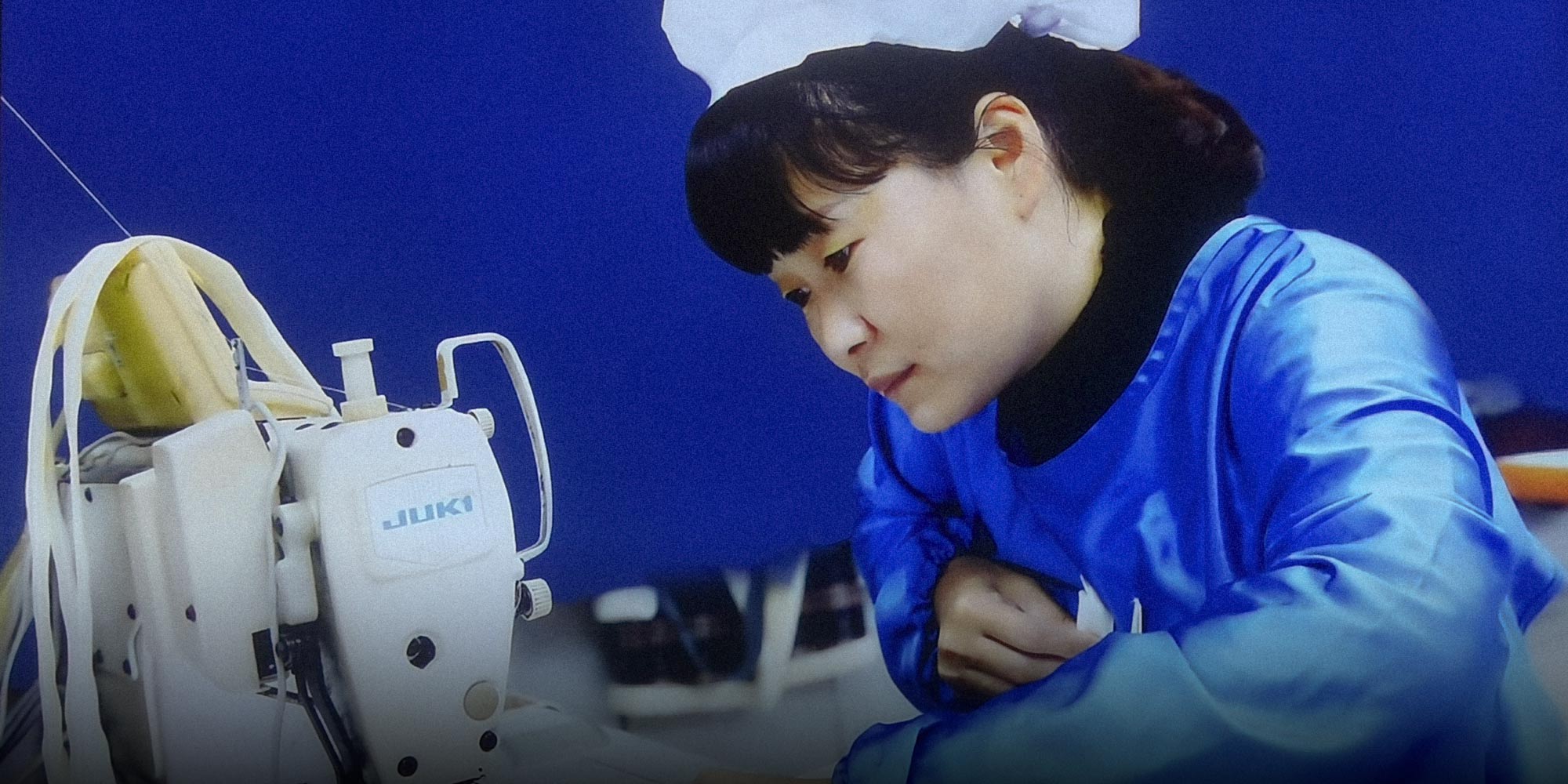 SIXTH TONE ×
Pocket Science: Few Takers for China's Many Factory Jobs
With the lure of gig work, China's young are wary of manufacturing jobs, which many believe only entails hard labor and scant growth.
Summers in Changzhou, in the eastern Jiangsu province, have always been stifling. And at the turn of the millennium, the Changzhou Laosan Group's main factory workshop had no air conditioning, just fans. It wasn't uncommon for workers to collapse during shifts.
Li Chengxia, 42, now chairwoman of the Laosan Group Workers' Union, gradually rose through the factory's ranks. She recalls those sweltering days on the shopfloor: the boss often placed green buckets full of ice around the workshop in a vain effort to cool the workshop down.
The constant perspiration forced the company to rule out making white garments in the summers, fearing workers would stain them. Li knew that outcome all too well; after a long day's work, her clothes were inevitably damp.
In June this year, a notice at the factory's main entrance advertised vacancies for seamstresses, listing eight job benefits, including paid on-the-job training. It stipulated just two requirements: applicants should be in good health and aged around 16-35.
At the time, the weather was no different from before. But 20 years on, the factory's working conditions have markedly improved. In 2003, when Li signed up, the entrance teemed with hopeful applicants. But the job alert in 2021 barely had any takers.
For some years now, the disinterest in such factory jobs is not limited to the Laosan Group alone. It cuts across the entire Yangtze River Delta, encompassing Shanghai and Jiangsu and Zhejiang provinces.
The reason: young people are no longer willing to join the manufacturing sector, which many hold synonymous with long, physically demanding workdays, perennial training, and scant personal growth opportunities.
This, experts and executives say, coupled with the lure of lucrative salaries in China's booming gig economy, has discouraged graduates from working, or staying long, in factories.
The numbers are telling. According to official statistics, 41.1% of full-time drivers working for China's ride-sharing tycoon Didi were originally in the manufacturing sector. And among the drivers who joined delivery giant Meituan during the pandemic, 35.2% were previously factory workers.
Amid the continuing labor glut, companies have slowly begun to adapt. While some focus on changing recruitment practices, and improving work culture and employee benefits, others have turned to migrant workers from distant provinces or more automation.
Then and now
For Li, the factory was a dream job. In her childhood, wealthier families in the countryside asked local tailors to stitch them new bespoke clothes every year.
She grew up in difficult circumstances and wanted to study garment-making so she could make her own clothes without spending too much money.
Local villagers held such factory work in high regard too, since, unlike farming, it didn't involve being exposed to the elements all day.
In 2003, just after the Spring Festival, Li, then 24, and her relatives left their hometown in the eastern Anhui province for Changzhou in search of work.
Those days, every factory she visited swarmed with job applicants. Some even required hopefuls to pass an exam, which for Li was a steep ask — she had had few relevant skills at the time.
Applicants were also quizzed about family backgrounds; employers hoped to hire people from poorer families, ideally with many children. Companies believed such workers tended to stay longer because of the added pressure to earn.
Li recalls that after a week, she still had no job and had spent virtually all of the meager sum of money she had brought with her.
But just before she gave up and left for home, a Laosan Group factory boss decided to hire her as an assistant worker. In this role, she did odd jobs earning 200 yuan ($30) a month while those on the assembly line took home around 800-1,000 yuan.
In the 18 years since, Li steadily rose through the ranks. She was selected as a Nationwide Model Worker, and is now Chairwoman of the Laosan Group Workers' Union. She is also a deputy at the current National People's Congress (NPC), China's top law-making body.
In that time, however, the Laosan Group hasn't fared as well — from 10,000 workers in 23 factories, their employees have dwindled to just 2,000 in five factories. What's more, there are hardly any young people in their ranks — the vast majority of remaining employees were born in the '70s and '80s.
Li says that around 2008, the number of assembly workers began to drop. Over the following decade, it only got worse.
Official statistics show that, in 2019, only 36% of companies in Zhejiang reported having no "problems finding employees."
Yongkang city in Zhejiang is China's hardware capital. Huang Kangzhuang, CEO of a thermos-manufacturing company there, says they've faced a perennial labor deficit.
Their current labor shortage is estimated at 10-20%, and they mainly lack unskilled workers; where salaries are low, the turnover rate is high.
According to the head of a labor services company in Hangzhou, Zhejiang's capital, in recent years, interest in logistics, courier services, and fast food delivery has boomed.
He attributes this to workers being enticed by the recent surge in gig economy jobs, which entail a salary at the end of each day and high earnings in the short term.
The Hangzhou executive says most workers prefer this even if it means missing out on the stability of the social insurance system that traditional companies offer full-time employees.
"A lot of them use [Ant Group's consumer credit services] Huabei and Jiebei as well as credit cards, and have poor credit ratings," says the executive. He also underscores that such workers need a daily salary to keep up with loan repayments. Now, he says, more than half his workers have opted for "same-day salary" work, and factories have trouble recruiting.
Old wages, new burdens
An official survey from August 2020 found that one in four employees in Suzhou, Jiangsu province, changed jobs in the first half of 2020, and at two companies surveyed, every post had been rehired at least once.
For companies, the high turnover rate of unskilled workers causes an additional burden: they have had a hard time training technically proficient employees.
The aspiration for higher salaries is another important factor. The 2020 survey also found that more than half the companies believed salary expectations were too high.
But according to a government report last year, of the six industries primarily employing migrant workers, the average monthly wages in manufacturing were lower than those in construction, transportation, logistics, and storage.
In a July 2020 survey, Meituan's research division showed that 42.8% of freelance workers earned more than 5,000 yuan per month — around 1,000 yuan more than the average wage of a migrant worker in an industrial job.
Such government and corporate surveys point to one of the primary reasons that turn the youth away from factory jobs: the wages offered are just not as attractive as they were back in Li Chengxia's day.
It's among the reasons why Li, as an NPC deputy in 2018, proposed a wage increase for technicians.
But back in 2003, when Li was still at the bottom of the ladder after working as an assistant for five months, she took on other roles at the factory, thus mastering new skills. Her tenacity earned her a reputation as being the "most difficult to manage and least obedient" employee.
"There were some people who did everything just as they were told, and who, after more than a decade, were still only able to perform just one task," she says.
According to Li, in the past, each factory team had seven or eight workers dubbed gugan or backbone. Such formidable workers — she was one — always scrambled to pounce on the next available task.
"Though each gugan was equally indispensable, none had exclusive rights to a particular job. The sense of dignity such key team members possessed was very powerful," she says.
Once such employees gained a reputation, they only took on harder tasks. "We wouldn't do some of the simpler tasks; we'd rather not show up altogether, as we felt it was beneath us," she says.
Within just a few years of joining the factory, Li's salary skyrocketed. In 2004, after 18 months in garment-making, her monthly salary, including bonuses, was 2,500 yuan ($400) — the second best-paid employee in the entire factory.
By 2008, she earned 10,000 yuan, while the factory boss only made 6,000-7,000 yuan a month. "But now, the base salary for relatively skilled employees is a little more than 10,000 yuan," says Li, adding that there's also little scope for wage hikes.
According to Huang Kangzhuang — the Zhejiang-based CEO — unskilled workers in his factory earn 5,000-6,000 yuan a month. He says workers who carry out more technically complex tasks are generally aged between 35 and 45, and have at least a few years of experience.
For instance, metal workers earn more than 10,000 yuan a month, while workshop supervisors, some with more than a decade of experience, often earn around 15,000 yuan.
Over the last few years, Huang says worker salaries have continually risen, while profits have tanked. In 2019, Wang Jiangping, vice-minister of Industry and Information Technology, publicly stated that China's manufacturing companies chalked up an average profit of just 2.59%.
Labor costs have also pushed companies towards greater automation. Beginning 2010, the Laosan Group started exploring every innovation in automated equipment each year.
Chen Xuejun, a Laosan Group factory boss, says he doesn't hesitate to purchase good machinery the moment it is in the market; in just two years, he says, he earns the money back.
But Li Chengxia says automation has dealt technicians in the textiles industry a body blow.
New machines don't require any technical proficiency to use, but after working with them for a few years, technicians may be versed in just reading washing directions and making shirt collars. In stark contrast, prior generations, just following a process sheet, could assemble entire garments in a few hours.
Automation also leaves companies with fewer incentives to provide employee training. With the advent of such machines, Li says, companies believe training is no longer necessary, particularly since it may empower employees to seek work elsewhere.
A time to upskill
The burden of training falls not just on companies in the manufacturing industry alone. In China, the vocational education system, considered the largest in the world, plays a vital role in picking up the slack.
"Following rapid changes to the greater social environment, the vast majority of students who are or will be employed in the manufacturing sector aren't resilient or hard-working enough, and lack a clear vision of their professional trajectory," says Gao Jun, a teacher at a higher vocational college for close to 30 years.
He believes there are still many respectable opportunities, but only if workers are willing to invest at least a decade in the manufacturing industry. "But fresh graduates are often unable to think that far ahead," he says.
Among his friends and students, some have worked in mechanical manufacturing for more than 20 years, eventually becoming indispensable to their companies, while earning annual salaries of 300,000-500,000 yuan.
"This used to be a relatively likely scenario for students but is increasingly rare now," he says. "Wages are still quite low for most assembly line technicians, but those with a high level of proficiency make a decent living."
Unlike the management executives, however, technicians cannot possibly rise very far up the company hierarchy. Like Li, Gao also believes that increasing technicians' wages is the only way to restore faith in the profession.
Companies are often conflicted about hiring millennials; while they want more in their ranks, since they master technology faster, youth also often implies volatility — they tend to make snap decisions.
Gao says collaborations between schools and companies have usually produced lackluster results, as students are quick to give companies their two weeks' notice.
Partnerships with overseas companies have been equally disappointing, with almost all the students leaving once service contracts came to an end.
"It's because there are now so many avenues open to them, for example, opening online stores. Nowadays, factory workers make short videos even on the job. Many young women showed potential, but left to become livestreamers."
According to Li Chengxia, a factory colleague's daughter earns tens of thousands of yuan every month as a livestreamer, and has even managed to invest in multiple properties.
Gao, however, believes students cannot be blamed alone, and companies bear part of the responsibility too. He says, "It's normal that they start as workers, but later, there should be possibilities for promotion. Otherwise, who can blame them for leaving?"
Li Chengxia echoes Gao's sentiment. She says in her profession, there are no longer as many avenues for promotion as before, such as seniority or employee evaluations.
A report in the magazine Educator pointed out that local governments have few experts in vocational education, lack a proper understanding of its importance, and are generally indifferent. Or they genuinely do want to make a difference, but their lack of knowledge leads to poor policy decisions.
All work, no stay
One of the companies interviewed stated that the most unstable period for younger employees is the first few days on the job; those unable to deal with the pressure simply quit.
Wu Liang, 25, started thinking about leaving just two months after joining an electronics factory.
In 2019, Wu completed an undergraduate degree in Nanjing, Jiangsu's capital. He found a job as a quality engineer at an electronics factory in Kunshan, 250 kilometers away. It paid 6,500 yuan a month plus a meal stipend for a six-day work week — overtime offered even more money.
On his second day, the mentor supervising him abruptly quit after falling out with a supervisor. The mentor was two years younger than Wu. "The truth is that he (the mentor) would talk back to them, and definitely didn't stop at just one or two remarks," says Wu.
After two years at the electronics factory, the mentor joined Foxconn, which he quit, too, to become a headhunter in his hometown in Guizhou province. Now, he finds employees for electronics factories in southern cities Shenzhen and Dongguan, among others.
Wu's next mentor was in his mid-30s and had graduated from a specialized high school focusing on vocational skills. After more than a decade on the job, the new mentor had developed exemplary skills.
He told Wu that graduates like him were often unwilling to take factory jobs, where work is monotonous, pay isn't good, and the schedule is grueling.
"Making molds is hard manual labor that is essentially only for men. The molds can weigh up to 100 kilograms — if you drop it on your foot, you're finished," says Wu.
Despite the physical hazards, it was the overtime on business trips that pushed him to quit.
Such trips meant daily work at a client's workshop, where protective coveralls that left only the eyes exposed were mandatory. Starting 8 a.m., he worked 12 hours straight inspecting cellphone cameras. Quality issues with such tiny components aren't visible to the naked eye — they require microscopes.
He was then required to make careful measurements, some of which had a margin of error of fewer than 5 microns — human hair is approximately 70 microns wide.
Next, he had to weed out defective parts. "Every day, we'd look at tens of thousands of components. On particularly busy days, I'd inspect as many as 40,000. My eyes couldn't take it anymore," says Wu.
When the job was at its most intense, Wu got just one day off a month, earning nearly 8,000 yuan. In 2019, he worked through the Mid-Autumn Festival or got only three days' leave for National Day.
Such trips fell to him simply because of the manpower glut. "The assembly line workers were supposed to go on such trips," says Wu. In May 2020, Wu's apprenticeship ended just as he quit.
Later, he chose to start graduate school. When that didn't work out, Wu found a job as a tester at an alarm system manufacturer in Nanjing. This had a more relaxed schedule. Now, he works from 8 a.m. to 5.30 p.m. and has the weekend off, but earns just as much as he did in his previous job.
Weathering the norm
The physical toll manufacturing jobs exact is why some companies are reticent about hiring students, who they believe aren't resilient enough.
The head of the labor services company in Hangzhou says students are capable of two kinds of jobs: delicate handcraft work in electronics factories or jobs well-suited to their specializations. He underscores that students are just not cut out for physically demanding jobs.
Beginning last year, Wang Erxiao, a production manager at a printing and packaging plant in Zhejiang, found more and more new applicants, mostly young women, asking if the job involved night shifts.
"It's true that night shifts aren't good for your health," he says. "When I worked that shift, I felt that my hearing and memory were affected. No matter how much I slept during the day, I always woke up feeling groggy. It's debilitating."
Many workers at the plant are aged around 45, but he hopes to recruit more people between 25 and 35, as they might find it easier to master the plant's new equipment.
But Wang, who's worked at the plant for a decade, says he rarely finds such employees. And when he finally hires one, they quit after only a few days. "Twelve-hour shifts — it's only a matter of days before they give up."
Wang says the work in the factory was always messy and tiring, affording employees little time and space. "But factories have ways to ensure people work in such a way that they have no time for leisure or reflection — they're forced to invest all their energy into production," he says.
Though employees at the factory get two days off a month, most choose not to take any holidays so they don't lose salary, which is calculated on individual output. Taking time off also means losing the "full attendance bonus."
Wang was most keen on quitting when his child was about to start school. He says the next generation is crucial "because when we're older, our wellbeing will depend on them."
He hopes his child will grow up to become a teacher or a doctor, which in his opinion, are professions that will always remain relevant and stable.

Li Chengxia concurs. She says most families only plan on having one child and will do anything to ensure a good education. That way, they won't have to work in a factory when they're older. "After all, who would want their child to end up as a factory worker?" she says.
Amidst a personal cash crunch in 2007, Yu Yazhou turned to the tubular pile industry in Suzhou. Those days, the monthly salary of more than 2,000 yuan sounded very attractive to him though hardly anyone wanted this job.
"It's a noisy and unpleasant environment that taxes one's quality of life and offers little time off," he says.
Originally from Xi'an in the central Shaanxi province, Yu, 39, has worked in the same industry for 14 years now. But he still recalls his early days in vivid detail.
When he joined and completed a week of safety training, Yu chose the most tiring but best-paid position. He opted to operate the 17-kilogram heavy air impact wrench — a pneumatic tool used to tighten or remove screws. When used, it sounds like a cannon going off.
In the summers, the temperature in the workshop sometimes exceeded 40 degrees Celsius. Each day, he tightened or removed over 20,000 screws. When it got too hot, he stood in front of an industrial fan so powerful that lightly-built workers could be "blown away."
By night, Yu could hardly feel his tired arms. And the next morning, they still ached: "When I picked up the wrench, they were numb again," he says. Sometimes, he couldn't sleep because his arms and feet were swollen from fatigue.
Each day was absolutely exhausting. When he couldn't hold the wrench steady — because his arms hurt so much — he thought about how desperately he needed the money.
In the factory, workers switched day and night shifts every 10 days. On switching to the night shift, Yu constantly stared at the clock as he worked, thinking, "It's almost 3 a.m., it's almost 3 a.m."
At the end of his first month, Yu was elated to receive 2,400 yuan. "Generally, people who can tough it out the first three days tend to stay on much longer. If they can't handle it, they leave immediately," he says.

For years, his life was split between work and sleep, and on waking, he knew exactly what lay ahead.
Now, things have changed for the better. Yu is a team leader, where his job mainly consists of ensuring his team completes their required output before the end of their 12-hour shift so that the next team can take over without any issues.
"It feels good," he says.
Change in the air
To expand recruitment, the Laosan Group has considerably relaxed their entry criteria. In the past, they paid more attention to where applicants came from, believing people from certain places were more inclined to forming gangs and fighting.
Now, they don't discriminate against applicants. The company also slashed educational requirements — even the illiterate can apply. Retirees and people with disabilities are eligible too.
The company even encourages workers with children to be picked up and dropped off at school, who work shorter shifts but have pay deducted. And while recruitment earlier depended mostly on internal recommendations and word of mouth, it's now done online, through short video ads.
"Many other companies are also easing their requirements — some more quickly than others," says Li Chengxia.
The Laosan Group has also started organizing two-month summer programs, which begin in July for employees' children aged 3-12. The programs aim to retain employees during the summer holidays when they request leave to take care of their children.
From the company's point of view, if such employees went on leave, the assembly line would grind to a halt.
The summer classes have been popular since they began in 2013; some years, as many as 70 to 80 children enrolled. While they comprise a range of activities, employees prefer singing, dancing, and drawing, and help with homework.
And when companies in the Yangtze River Delta have trouble recruiting people locally, they turn to far-flung provinces.
"We are developing local agents in the Yunnan-Guizhou-Sichuan region, who bring back groups of prospective workers every month. Especially after the Spring Festival, they recruit thousands of workers — one village alone can produce hundreds of candidates," says the owner of a labor service company in Hangzhou.
At the factory where Yu Yazhou works, two-thirds of the workers are from these three provinces.
Take, for example, Xiaolong from Liangshan, in the southwestern Sichuan province. Not only has he chosen to stay long-term at his company but also convinced more than 80 others from his hometown and neighboring regions to apply.
In such areas, the young and middle-aged are willing to leave town for migrant work. He says a village near his hometown originally had 90 households, of which only 18 still remain — the rest work outside.
Back when he was a student, Xiaolong yearned to find work in the city. Now, after working for more than a decade, he has a four-year-old child who starts elementary school in two years. And late last year, he borrowed some money and bought a house in his hometown.
Xiaolong first worked at a leather company, where he quickly became a team supervisor. His wages eventually rose to nearly 10,000 yuan ($1,500) — far more than what any company in the vicinity offered.
But he chose to leave when he couldn't stand the pungent smell of the chemicals they used to treat animal hides.
His aptitude for learning, however, helped his reputation. "I understand all the techniques, but I'm not educated enough to pass the engineer exams," he says.
"As long as you pass, you can easily find work for more than 10,000 yuan a month no matter where you go."
Gao Jun, Wu Liang, and Wang Erxiao are pseudonyms.

A version of this article originally appeared in China Business Journal. It has been translated and edited for brevity and clarity, and published with permission.

Translator: Lewis Wright; editors: Zhi Yu and Apurva.
(Header image: An archive photo shows Li Chengxia at work. Zheng Dan/China Business Journal)