The focus on methane in the surprise climate agreement China announced with the United States during the COP26 conference on Wednesday is a sign the country is committed to curbing emissions of the powerful greenhouse gas, experts told Sixth Tone. But they warned living up to the pledge will not be easy.
In a joint declaration, the world's two largest greenhouse gas emitters said they would cooperate on reducing methane emissions, which they consider "a matter of necessity." Despite not signing up to a global methane pledge, China said in the statement it intends to "develop a comprehensive and ambitious National Action Plan on methane."
"Formally the declaration doesn't add anything new (to China's pledges on controlling methane)," Lauri Myllyvirta, lead analyst at Centre for Research on Energy and Clean Air, told Sixth Tone. Alongside the country's plan to peak carbon emissions by 2030 and become carbon neutral by 2060, authorities had also announced intentions to reduce methane emissions.
"However, making an international commitment to such an action plan creates expectations that there would be measurable targets and outcomes," Myllyvirta said.
Responsible for half a degree Celsius of global warming, methane is the second most detrimental greenhouse gas. It is less abundant than carbon dioxide and breaks down faster, but it traps over 80 times more heat over a 20-year period, making controlling emissions crucial for mitigating global warming in the near term, according to experts.
But the main obstacle for methane control efforts, they said, is that the gas has a variety of diffuse sources. This means that, in many cases, it is hard to pinpoint, measure, and lower emissions.
About 60% of global methane emissions are the result of human activity. The latest official data show China's non-natural methane emissions in 2014 originated mostly from the energy (44.8%) and agriculture (40.2%) sectors. Landfills and waste are responsible for most of the rest.
Coal mining
China's coal sector is responsible for the largest share of the country's anthropogenic methane emissions. The gas is trapped inside coal seams and is released during the mining process.
While methane released in high concentrations can be directly used for electricity generation, according to Myllyvirta, lower concentrations of the gas found in ventilated mine fumes require special equipment to be captured ​​or converted into carbon dioxide.
Although Chinese authorities have, over the past decade, pushed coal companies to either use or flare coal mine methane, studies have found the effects seem to fall short of expectations, as methane emissions from the coal industry continue to grow, likely driven by increased production.
"There is still a lot of room to improve the utilization rate of methane emissions during the coal production process," said Sheng Jianxiong, a researcher at MIT Center for Global Change Science in Massachusetts, U.S.
Sheng told Sixth Tone that another option for reducing methane from coal production is closing down mines and transforming the country's policies to rely more on renewable and nuclear energy. In a paper published in September, Sheng and his team found that abandoned coal mines are still emitting methane and called for mitigation measures.
Agriculture
Farming produces methane mainly from livestock burps, farts, and manure, as well as from rice cultivation.
Changing the diet of ruminants such as cattle so they achieve a better "feed utility rate" can make them less gaseous, Diao Qiyu, professor at the Feed Research Institute under the Chinese Academy of Agricultural Sciences, previously told Sixth Tone. According to Myllyvirta, people shifting to diets with less meat, which can be promoted through government policies, would also help.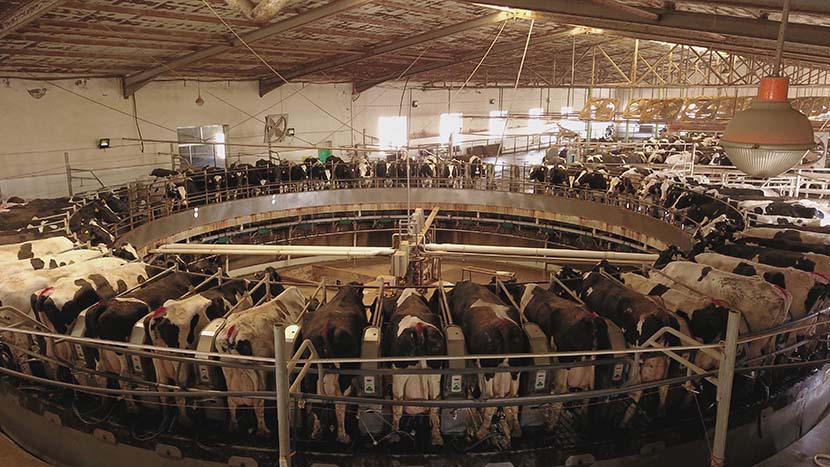 Cows at a dairy farm in Wuzhong, Ningxia Hui Autonomous Region, June 29, 2020. People Visual
One of the methane sources most challenging to control is rice paddies, of which China has about 300,000 square kilometers. Rice grows best in fields with a layer of water, but wet soil contains microbes that decompose organic matter and produce methane. Researchers are studying several emission reduction methods, such as managing rice paddies' irrigation time and water levels, and creating a new drought-resistant strain of rice.
But a lack of funding for agricultural research projects as well as the question of who will bear the costs of emission-reduction efforts remain major concerns, experts said.
Natural gas and monitoring
In recent years, China has increased its consumption of natural gas — of which methane is the main component. In a bid to reduce air pollution, many homes in the country's north that previously used coal for heating have been linked up to a growing gas network, for example.
Further increases are likely. As part of China's Nationally Determined Contributions, released ahead of COP26 in line with the 2015 Paris Climate Agreement, China vowed to curb methane emissions in part by increasing gas extraction and production.
But with an expanded gas distribution network comes an increased potential for large leaks, making adequate monitoring necessary, said Myllyvirta. Neglected natural gas infrastructure has been identified as a major source of methane emissions in the U.S. "Monitoring, standards, and enforcement for this industry have to be strengthened in both countries," he said.
In general, monitoring is a prerequisite for the large-scale adoption of emission-reduction techniques, as well as for China to be able to set reduction targets for each sector, he said.
But measuring methane is difficult. A consortium of scientists aiming to better quantify global methane emissions noted in a 2020 paper that the variety in process and sources — both human and natural, spot and diffuse, and at times unintentional — complicates such work.
There are two main measurement methods. Satellites can capture atmospheric concentrations for large areas but cannot identify specific sources. Qin Hu, senior director of research of the Environmental Defense Fund's Beijing Representative Office, told Sixth Tone that methane emissions are usually calculated by taking spot measurements on the ground and extrapolating that data, especially for diffuse sources such as farmland.
Sheng, the researcher at MIT, argues China's local environmental departments should play a role in monitoring and measuring methane emissions from local businesses. "(We) need a national inspection network (on methane)," Sheng said. "Field surveys are needed to be able to identify every specific emission source."
Next Steps
The Chinese government has several policy options available that would significantly aid methane reduction efforts, Qin said. Regulatory requirements and incentives are necessary to help companies bear the costs of applying reduction technologies and hiring expert staff, he suggested.
Qin also highlighted the urgency for policymakers to be speedy with developing and rolling out the promised National Action Plan, a top-level overarching policy framework on the issue.
Reducing methane emissions, "is a systematic process involving setting the mechanism, goal, policy instructions, technical support, and other supporting measures," Qin said. "We are still in the first stages."
Editor: Kevin Schoenmakers.
(Header image: An exterior view of a methane-emitting power plant in Wenling, Zhejiang province, Nov. 7, 2021. People Visual)