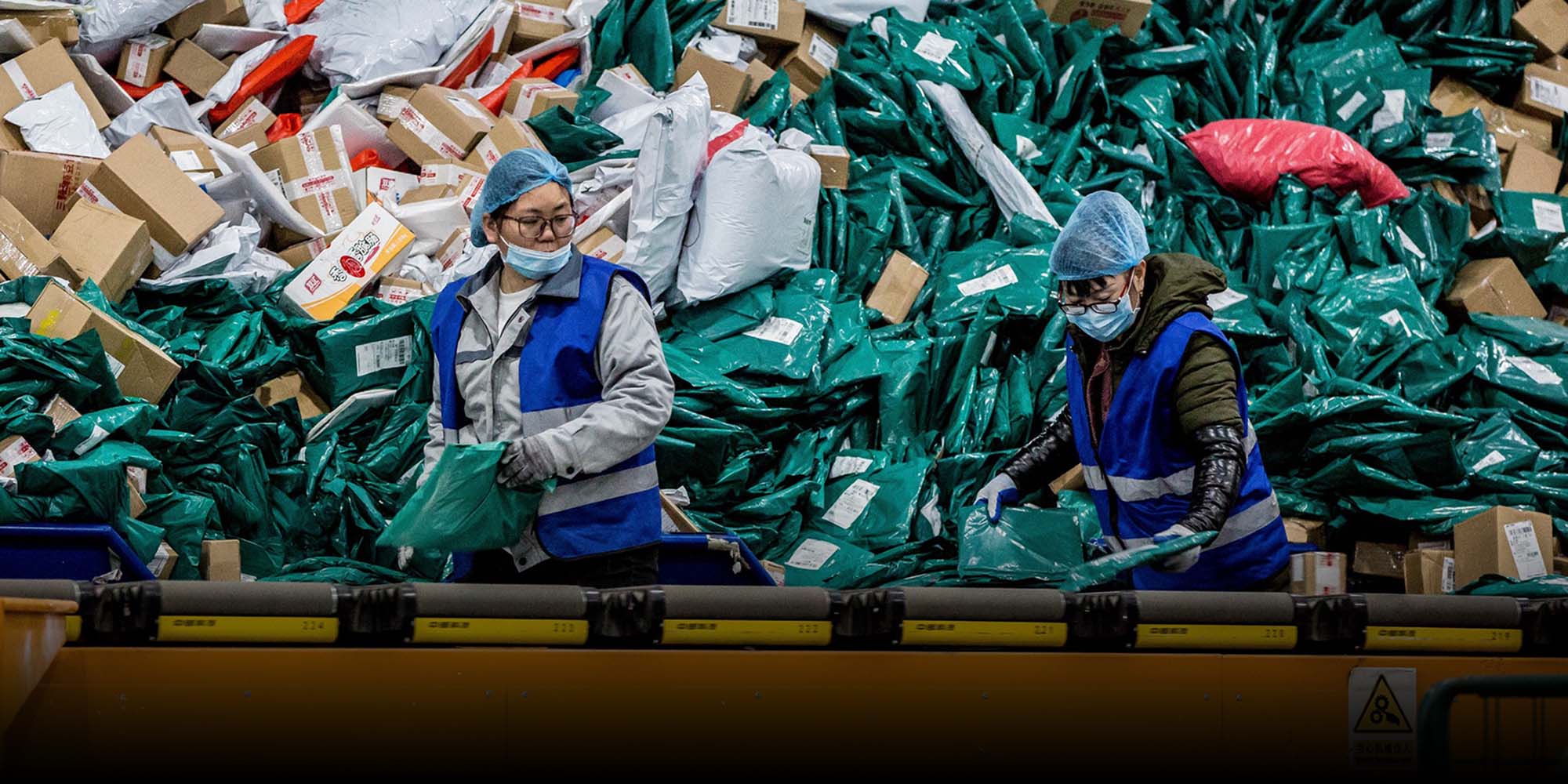 NEWS
Alibaba Tries an Unfamiliar New Singles' Day Strategy: Restraint
The world's biggest online shopping festival used to be an unabashed celebration of celebrity and consumerism. This year, the sales stayed high — but the mood was markedly somber.
China's "Double Eleven" shopping festival ended in the traditional fashion on Thursday: with reports of a host of new sales records being set. But the 13th edition of the world's biggest online shopping extravaganza was a more sober affair than in previous years, reflecting a technology sector struggling to improve its image.
Alibaba — the tech giant that created the festival — deliberately sought to rein in expectations for this year's "Double Eleven," also known as Singles' Day, after enduring a difficult 12 months beset by a string of regulatory setbacks.
The suspension of Alibaba affiliate Ant Financial's initial public offering last November was followed by a series of antitrust investigations that led to a $2.8 billion fine in April. Between the 2020 and 2021 editions of "Double Eleven," Alibaba's market capitalization fell by nearly $300 billion.
With the Chinese government pursuing an unprecedented campaign to regulate big tech companies and stamp out the worst excesses of economic inequality, Alibaba attempted to rebrand "Double Eleven." Green initiatives, domestic brands, and rural products took center stage, while the company's annual promotional gala lacked the star power of previous years.
"Alibaba, it seems, is keen to work within the bounds of new regulatory and cultural contexts — toning down 'Double Eleven's' most ostentatious displays of entertainment and consumption," Michael Norris, research strategy manager at Shanghai-based consultancy AgencyChina, told Sixth Tone. 
Meanwhile, Alibaba had to deal with intensifying competition from rival e-commerce giant JD.com and a host of newcomers, including video platforms Douyin and Kuaishou.
All of this cut into Alibaba's bottom line. The e-commerce giant reported that merchants sold 540.3 billion yuan ($84.5 billion) worth of goods through its platforms from Nov. 1 to 11 — an 8.5% increase compared with the previous year. But this growth rate was far lower than the 26% the company recorded during last year's festival.
It was also significantly below the growth rate posted by its main competitor. JD.com, which runs a Oct. 31-Nov. 11 sales period, said its platforms had processed sales worth 349.1 billion yuan, up 29% on the previous year.
But what does this year's "Double Eleven" mean for the future of Alibaba and Chinese business more broadly? Sixth Tone has outlined the six main takeaways from the festival.
Getting in line with the "New Era"
With China pursuing an egalitarian campaign in pursuit of what it calls "common prosperity," Alibaba made several moves to signal it's in step with the government's agenda.
"Alibaba, in keeping with this year's 'common prosperity' theme, has shifted focus away from unabashed consumerism," Norris said. "This is exemplified by the removal of the live sales tally, which was previously one of the event's most iconic symbols."
Another notable feature of this year's festival was the sight of celebrity livestreamers selling fruit and vegetables from low-income regions. On Nov. 2, Li Jiaqi — often dubbed China's "lipstick king" — sold 4 million yuan worth of agricultural products on behalf of the Rural Revitalization Bureau of Qinghai Province via his Taobao Live show.
Dampening down the star power
The festival used to be synonymous with the glitzy variety show Alibaba hosts on the night before Nov. 11 each year, known as the Tmall 'Double Eleven' Gala. But after a year of crackdowns on "idol worship," the company toned down this year's show.
While previous galas featured appearances from international superstars including Katy Perry and Taylor Swift, the line-up in 2021 consisted mainly of domestic singers, actors, and Olympic champions.
"This year's restrained 'Double Eleven' Gala also reflects calls for an end to celebrity idolatry," said Norris.
Giving "Double Eleven" a green makeover
A major theme of Alibaba's public relations campaign ahead of this year's festival focused on its sustainability efforts. The company has faced repeated criticism in the past over the environmental impact of "Double Eleven," which results in billions of extra packages being delivered each year.
This year, Alibaba launched a number of new green initiatives. E-commerce platform Tmall created a special vertical to showcase energy-efficient products. The company issued "green vouchers" to encourage consumers to donate a portion of the profits from their purchases to a charitable project of their choosing. And Cainiao, Alibaba's logistics arm, expanded its packaging recycling program, with a company spokesperson claiming the company has added around 20,000 recycling bins at pickup points over the past year.
Boosting domestic brands
This year's "Double Eleven" once again showcased the increased brand power of Chinese companies, many of which are beginning to outperform well-known global brands in China. 
Lifestyle platform Xiaohongshu said searches for domestic brands on its app had increased 59% year-over-year during the Oct. 20-Nov. 10 "Double Eleven" sales period. Sportswear brand Maia Active, cosmetics firm Perfect Diary, and perfume maker To Summer were among the most popular domestic brands on the platform.
According to a survey of Chinese consumers ahead of "Double Eleven" by global consultancy AlixPartners, 55% of respondents said they were considering purchasing fewer foreign-branded products to support "made in China" goods. However, this shift in sentiment is being driven more by rising consumer confidence in domestic products than by an increase in nationalism, Britton Russell, a director at AlixPartners Hong Kong, told Sixth Tone.
"The preference for domestic brands is also growing significantly in the Gen Z cohort, the group that'll dictate spending in the coming years," said Russell. "They no longer seek out high-end foreign brand names purely for social status. They are looking for products that can truly represent their identity."
Livestreams reigning supreme
Livestream e-commerce received a massive boost while China was locked down during the early months of the COVID-19 pandemic last year: Daily active users of livestream platforms doubled from 2019 to 2020. Now, it has established itself as an essential channel for brands to connect with customers.
This year's "Double Eleven" kicked off with a record-breaking sales feat by China's top livestreamers, Li Jiaqi and Viya. The pair each hosted shows on Oct. 20, the night before the festival began, that sold a combined 20 billion yuan worth of goods. 
According to AlixPartners, 97% of surveyed consumers said they planned to watch a livestream during "Double Eleven" — up from 67% in 2020. The top three product categories consumers normally purchase via livestreams are fashion, lifestyle electronics, and skincare products.
"We see livestreaming as being a must-have marketing tactic for 'Double Eleven' now," said Russell. "Basically, everyone is going to watch livestreams during Singles' Day."
Intensifying sales wars
"Double Eleven" used to be a battleground for China's twin e-commerce giants, Alibaba and JD.com. But now, a number of rival tech giants have jumped on the e-commerce bandwagon and have begun offering their own "Double Eleven" deals, including Kuaishou, Douyin, and Xiaohongshu. 
The intensifying sales battles have led some in China to label this year's shopping festival the Singles' Day of "involution" — a buzzword that refers to growing competition that produces no useful result. Many consumers have complained about receiving an escalating number of ads via text messages and phone calls.
With the festival already reaching hundreds of millions of consumers, it's unlikely the new players can reach untapped markets — at least in major cities. This will make cutthroat competition for market share inevitable, and could dampen consumers' enthusiasm for the "Double Eleven" in the future, according to Chen Ye, a research analyst at market intelligence firm ChemLinked.
"Everyone is talking about grabbing the market from other competitors rather than exploring new markets," said Chen. "Such a marketing war will stimulate some consumers, but at the same time some will feel bored."

Editors: David Cohen and Dominic Morgan.
(Header image: Workers sort packages at a warehouse on the day before China's "Double Eleven" shopping festival, Huai'an, Jiangsu province, Nov. 10, 2021. IC)