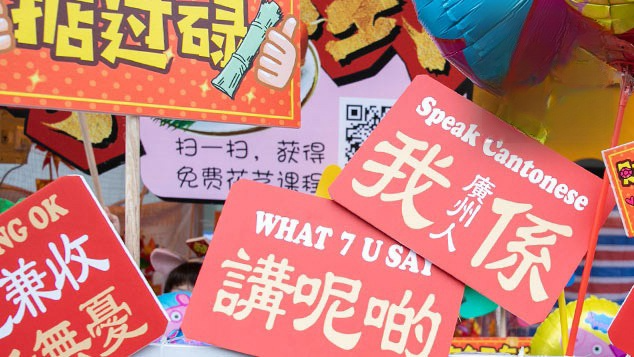 SIXTH TONE ×
Canton's Unease: As Mandarin Spreads, Locals Face Identity Crisis
Amid the push for linguistic unity, languages across China stare at irrelevance. Cantonese is no exception.
In November 2020, a local Guangzhou newspaper launched a simple challenge to test locals on their Cantonese proficiency. Across the city's streets, reporters asked children to pronounce a series of Cantonese words.
Though the challenge comprised words commonly taught in primary school, such as "pencil" and "mock test," only a few got them right on the first go. Such was the apparent fluency in Cantonese across a city once called Canton, where the language originated.
It wasn't the first time. In 2017, an independent news channel stopped random pedestrians to quiz them on Cantonese. One woman the channel interviewed grumbled: "I'm from Guangzhou, but I can't speak Cantonese." Asked if she wanted to learn Cantonese, she just shook her head.
For the Guangfu people predominantly from the southern Guangdong Province, Hong Kong, and surrounding areas, Cantonese is more than just a language. It is an important tenet of Guangfu culture and history, from which stems their identity.
But such challenges and interviews point to a changing trend. Fewer and fewer people born in Guangdong speak the language in the absence of a Cantonese-speaking environment. What's more, some are even reticent about engaging with the language.
And as Mandarin increases in popularity, amid the push for linguistic unity, dialects and languages across China are to some extent in crisis. Cantonese — with millions of speakers, which proponents of other dialects regard as being relatively safe — is no exception.
Crossroads
According to a 2019 survey, nearly 120 million people speak Cantonese worldwide. Of the approximately 100 million people living in Guangdong province, around 67 million speak Cantonese.
Outside Guangdong, around 33 million speak it in the Guangxi Zhuang Autonomous Region, Hong Kong and Macao, in addition to another seven million speakers around the globe among the Chinese diaspora.
Examining survey data, scholars Shan Yunming and Li Sheng, in a 2018 paper on language attitudes and the Cantonese identity, found that more than half the respondents in Guangdong were pessimistic about the future of Cantonese. Younger people were more concerned about the decline than middle-aged people.
The paper found that though 90% of people in Guangzhou were bilingual, speaking Mandarin and Cantonese — the former overwhelmingly dominant as the medium of instruction in schools.
Like Xiao Min, a fourth grader, who grew up in Guangzhou primarily speaking Mandarin. Of the 30-odd students in her class, only a few spoke Cantonese.
For Xiao, though her school held annual performances in Cantonese, which required all students to participate, she was never interested in learning Cantonese simply because of the limited daily opportunities to speak the language.
Twin brothers nicknamed Honghong and Jianjian were born in Foshan and study in second grade. But since they primarily use Mandarin in school, they speak just a few Cantonese sentences with their grandmother, who cannot understand Mandarin.
"Most of the content they're exposed to now is in Mandarin," says their mother. "In a few years, they might not be able to speak Cantonese at all."
Amid such disinterest in Cantonese amongst the younger generation, Cheng Jing is an outlier. A fifth grader, he was born in Guangxi Province, a region with many dialects, before moving to Guangzhou with his parents more than six years ago.
His family lives in an area where Cantonese is dominant, though Cheng primarily speaks Mandarin. But he's decided to learn Cantonese, saying he believes it would otherwise become inevitably awkward talking with relatives back home who don't speak Mandarin.
Fallout
In 1956, China began implementing a policy to promote Mandarin. According to the Ministry of Education, as of September 2020, the nationwide penetration rate of Mandarin was 80.72%.
Almost two decades later, the government's reform and opening-up policy ushered in large-scale migration, and with it, expanded the scope and frequency of interaction between people from different regions. With its large population, multiple ethnicities, languages, and dialects, China needed to promote a common language to facilitate better communication.
In 1992, Guangdong Province announced its shift to Mandarin. Since then, municipal departments and educational institutions in Guangzhou have gradually replaced Cantonese with Mandarin.
According to Article 10 of the Law on the Standard Spoken and Written Chinese Language, formally implemented on Jan. 1, 2001: "Putonghua (meaning common tongue) and the standardized Chinese characters shall be used as the basic language in education and teaching in schools and other institutions of education, except where otherwise provided for in laws."
Some primary and middle schools even banned other dialects on campus.
In October 2018, parents of students at an elementary school in Guangzhou's Liwan District received a text message from the school.
It said: "In order to instill love in China's national language among teachers and students, starting next week, all teachers and students are asked to speak standard Mandarin on campus, and to not use dialects, non-standard pronunciation or intonation. Mandarin should be spoken on campus, in the classroom and for after-school communication."
The message left many parents confused and uneasy, leading some to file official complaints. Subsequently, the Liwan District Education Bureau agreed to allow students to speak in their own dialects after class.
The continued promotion of Mandarin has also led to unintended consequences: the gradual fading of Cantonese slang, which is more succinct, conjures up vivid images, and is often rooted in Cantonese history and cultural customs.
"Sometimes, the boys don't even understand some Cantonese slang, so they have to use Mandarin and English," says the mother of twins Honghong and Jianjian. "They can sing Japanese and English songs but have trouble singing ones in Cantonese."
Han Xiaoying, a third year university student, has lived in Foshan since she was a child. While fluent in Cantonese, Han was unfamiliar with its slang. "My roommates were surprised that I didn't understand the slang they use," she says. It left her feeling out of place, but by asking them to explain, she says she's begun to understand Cantonese culture better.
The lack of new cultural input in Cantonese hasn't helped either. Take for example the golden age of Cantonese in the 1980s and 1990s, when fresh talent and star power helped drive Cantonese culture.
From the wave of musical forerunners like Sam Hui, George Lam, Alan Tam, Leslie Cheung, Anita Mui and the band Beyond, to megastars like the "Four Heavenly Kings" (Jacky Cheung, Andy Lau, Leon Lai and Aaron Kwok), Faye Wong, and Sammi Cheng, all emerged in the early 1990s followed by new musical talent like Eason Chan and Nicholas Tse later in the decade.

But by the turn of the millennium, the continued economic development of the Chinese mainland led many young creative artists to the north of the country while the older generation gradually faded, leaving a void in creative content.
Coupled with the improved quality of mainland art and culture, the popularity of Taiwanese culture, and the strong influence of European, American, Japanese, and South Korean soft power, the influence of Cantonese songs, movies and TV dramas began to wane, causing the new generation to pay less attention to Cantonese.
Revival
Cantonese can be traced back to the Kingdom of Nanyue (204-111 BCE) in the southern Lingnan region. Broadly speaking, it refers to the language spoken in Lingnan, encompassing not just Guangdong, but Guangxi, Hainan, Hong Kong, and Macau.
Its origins are found in the Yayan language to the north of the Central Plains, which spread to the Guangdong and Guangxi regions during the Qin and Han dynasties, and then integrated with the ancient Yue language in the area. Cantonese dates back more than 2,200 years.
In a 2017 paper, scholar Guo Xi wrote, "Language transmission has always been a global problem." This is especially true of local dialects. While Mandarin increasingly dominates the lives of the Guangfu people, the "voice" of Cantonese grows smaller.
To bridge the widening gap in regions where the language was more common, many families have begun placing more emphasis on creating a Cantonese environment for their children.
"I think children in Cantonese areas probably don't stress the importance of speaking Mandarin properly. The most important function of Mandarin is communication, so it's good enough just to reach that level — how well you speak isn't a priority," says Lin Yulan from Foshan.
In her twenties, Lin grew up speaking Cantonese with her family. As a child, however, her parents didn't place much emphasis on a Mandarin education.
But things changed when Lin's sister was born in 2005. On starting elementary school in 2012, her sister found it difficult to switch between Mandarin and Cantonese because of the former's predominance in school and among her classmates.
"When my parents found she couldn't switch easily, they told her to speak Cantonese more. Now she speaks with us in Cantonese pretty fluently," says Lin.
In addition to families, some schools have started Cantonese classes or related activities.

In November 2020, the Shuiyin Road campus of Zhixin Middle School introduced Cantonese as an elective. Teachers introduce knowledge points through situational dialogues and systematically explain the basics -- such as Cantonese Pinyin, vocabulary, and grammar. Teaching is also conducted using Cantonese songs and dubbed animated classics.
The Cantonese elective course proved enormously successful. The introduction of the electives gave local students not just better knowledge of their mother tongue, but also helped students elsewhere better understand Cantonese.
Starting September 2020, the Affiliated Elementary School of South China Normal University designated Thursdays as "Cantonese Day." It is aimed at helping teachers and students understand the culture better through a series of activities.
The move hopes to boost awareness of students' linguistic heritage and help them appreciate, conserve, and pass on this intangible cultural trademark.
Meanwhile, Jinan University, Guangzhou University, and Guangzhou Sport University have all established broadcasting majors in Cantonese to nurture Cantonese-speaking broadcasters for TV stations.
On June 2, 2021, the Ministry of Education released a report about the linguistic demography across the Guangdong-Hong Kong-Macao Greater Bay Area.
The report observed that Shenzhen, Guangzhou and other cities in the Pearl River Delta region were required not only to improve Mandarin, but also to focus on the role Cantonese and other Chinese dialects play in transmitting regional culture.
In October 2019, Cantonese training was held in Guangzhou's Panyu District to help newcomers better integrate; and in July 2021, the city's Bureau of Migrant Service hosted a livestream on Cantonese culture and living customs in Guangdong.
Meanwhile, in the arts and culture sphere, local speakers have leveraged Cantonese to create new material, injecting more energy into spreading the language.
Guangzhou Zibuyu Troupe is a local independent theater group focused on staging performances in Cantonese. In early 2017, it was awarded the title "Spokesperson for Cantonese Culture" at the Guangfu Temple Fair for a Cantonese performance which combines traditional singing and spoken storytelling techniques to a rhythmic beat.
The multimedia era has helped usher in more high-quality Cantonese content. Well-known Cantonese-language content includes Dayo Wong's stand-up comedy shows, Cantonese videos on major social platforms, the highly innovative Cantonese opera film "White Snake," or even the viral celebrity "Tea Break Brother" who reminds people in Cantonese: "It's 3 p.m., have a cup of tea!"
The popularity of these shows and content creators point to a resurgence in Cantonese culture. China's various local dialects and languages, each with their own unique characteristics, constitute a broad and profound Chinese-language system, endowing people with a strong sense of identity and belonging.
In a report on the tasks of language reform in 1958, Premier Zhou Enlai stated: "We promote Mandarin to eliminate the barriers between dialects, not to prohibit or eliminate dialects."
The message still holds: Mandarin and other local dialects can and should coexist.
The article is written by Huang Yarou and additional reporting is by Zheng Siqi, Liang Qihuan, Xu Shiqi, and Zhong Qiao, who are students at Guangzhou University (advised by Li Li).
A version of this article originally appeared in News Window. It has been translated and edited for brevity and clarity, and published with permission.

Translator: David Ball; editors: Li Yijuan, Xue Yongle, and Apurva.
(Header image: Signs celebrating the Spring Festival in Guangzhou, Guangdong province, Feb. 2, 2019. Lin Zejun/IC)