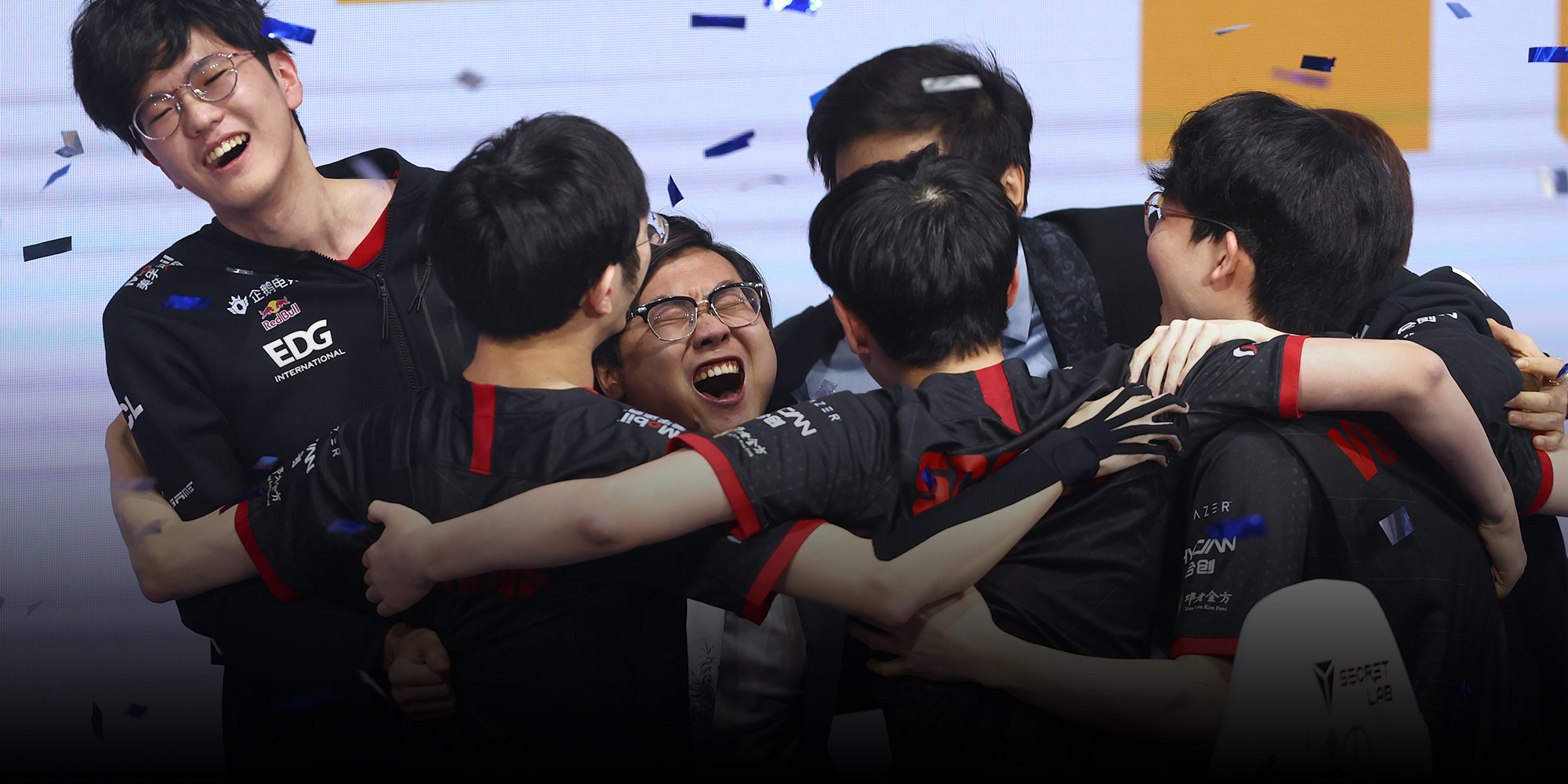 NEWS
Esports Fans Shave Heads, Drink From Toilets to Celebrate China Win
After seven years of failing to enter the semi-finals, China's Edward Gaming beat Korean rivals 3-2.
Fans ran outside in impromptu parades, with the most fervent running naked and carrying team banners. Others posted videos of themselves having their heads shaved or drinking from toilet bowls — any outlet for the joy of victory.
While the celebrations were decidedly analog, the sport they were rejoicing was electronic. Thousands celebrated in the streets and in college dormitories after midnight Sunday when Edward Gaming (EDG), a professional esports team based in Shanghai, took the crown of the 2021 League of Legends World Championship in Reykjavik, capital of Iceland, according to videos posted on social media.
Sixth Tone was unable to determine where these celebrations took place.
Staged by American video game developer Riot Games, the League of Legends World Championship is one of the esports world's most prestigious tournaments.
"It is the most international esports competition in China, with the longest history," Wang Qunkai, an esports commentator based in Shanghai told Sixth Tone. "It attracts the most attention from Chinese audiences."
EDG became the third Chinese-owned esports team to win the world championship since the country started competing in 2012. Previous victories were secured by FunPlus Phoenix in 2019 and Invictus Gaming in 2018. All three teams have international rosters but are Chinese-owned and have majority Chinese players.
This year's final, aired between 8 p.m. on Saturday to around 1 a.m. on Sunday, broke esports streaming records in China. Over 80 million people watched broadcasts of the final Tencent Video and Weibo, respectively, according to domestic reports, making it the most-watched "League of Legends" match ever.
"League of Legends," a strategy game where two teams of five heroes face off to destroy the other's base, has been one of China's most popular video games since its official 2011 launch in the country. With over 100 million Chinese playing the game by 2017, the massive player base is supported by 29 China-based servers, compared with just one in North America.
EDG was the underdog in the matchup against South Korea's DWG KIA, which won the title last year in Shanghai, but was able to turn the tables after losing two games in a row against the South Korean team.
Since its founding in 2013, EDG had never before progressed beyond quarterfinals in the world championship. Nevertheless, the team has built a huge fan base in China thanks to their charisma, according to Wang Qunkai, the esports commentator.
"People respect their resilience despite the fact they always ended in the quarterfinals," Wang said. "Now, many feel their years-long wait has not been in vain."
Editor: David Cohen.
(Header image: Team members of Edward Gaming celebrate after winning the League of Legends World Championship finals in Reykjavik, Iceland, Nov. 6, 2021. Clive Rose/Riot Games Inc. via People Visual)