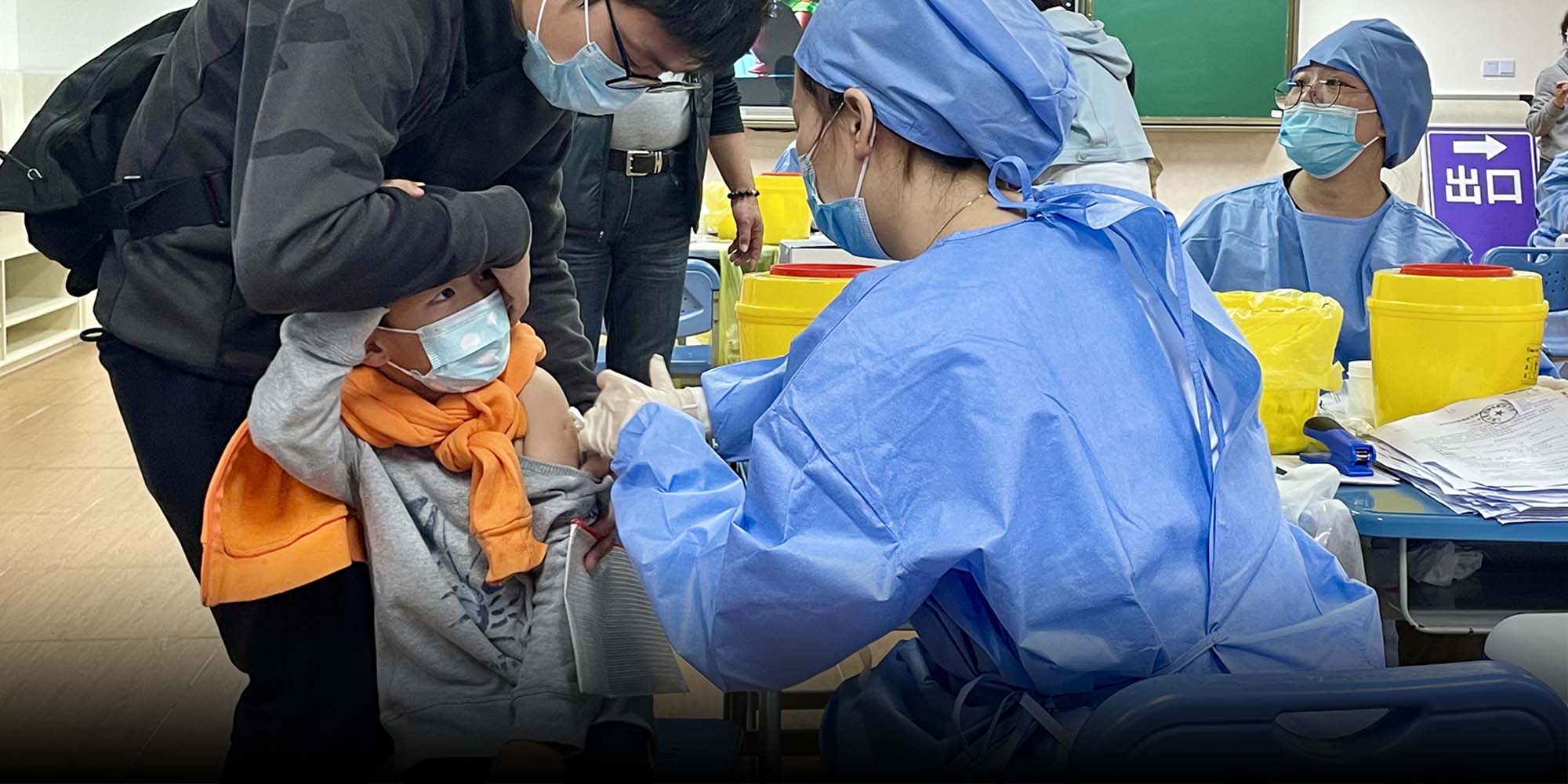 NEWS
Shanghai Begins COVID-19 Vaccinations for Children
Teachers said half their class or more got shots on the first day, but some parents said they're holding back.
SHANGHAI – Long lines formed outside the city's schools and community health centers Saturday as many primary school students received their first shot of COVID-19 vaccines.
The city began taking vaccine signups for children aged 6 to 11 on Oct. 28.
Cities across the country moved to vaccinate young residents around the end of October, as a new COVID-19 outbreak infected hundreds spread across a dozen provinces.
On the campus of Shanghai Minxing Road Primary School in Yangpu District, parents and their children lined up in pairs for vaccination on Saturday afternoon.
Teachers across the city contacted by Sixth Tone said at least half of their class had gotten the shot, but some parents said they were holding off because they have concerns about the safety and effectiveness of the vaccines.
At the Minxing Road school, staff in disposable blue scrubs checked the children's medical histories. "If a child has taken medicine in the past few days, we won't vaccinate them today," one worker told Sixth Tone. "For safety, we advise parents to take them to the community health service center after their children fully recover."
Eight children at a time received shots in a large classroom. Televisions showed cartoons, and parents tried to calm kids by covering their eyes or patting them on their back as they braced for the shot.
Students were held 30 minutes for observation after the shot. There were two cases of minor discomfort for the whole day — one student fainted upon seeing the needle, and another complained about chest tightness following the shot.
In the waiting room, a parent surnamed Yuan told Sixth Tone that more than half of her child's class came for vaccination on Saturday. "It is safer to get vaccinated, given the epidemic rebound in China," she said. "All the adults in my family have received the shots, and none suffered any side effects."
Several other parents told Sixth Tone that they didn't have an opinion on the vaccine, and were only "going with the flow."
A mother named Li Qiong said there's nothing holding people back. "In China, the vaccines are for free. In foreign countries, people have to pay for it, and they don't necessarily have access to it," she said. "It's of course better to get vaccinated as early as possible as you can develop immunity earlier. The vaccines are particularly essential in a big city like Shanghai, where there is a huge migrant population."
In Huangpu District, where students also received their first shots over the weekend, a teacher told Sixth Tone that as many as 85% of all fourth and fifth-graders at her school had been vaccinated.
"The percentage is a bit lower in the lower grades. For instance, for the third grade, it's around 70%," said the teacher, declining to be named as she's not authorized to speak to the media. "It's completely voluntary — the school didn't pressure any students or their families. Most parents had already received the vaccines and didn't suffer any adverse effects, so they decided their children should go for it."
The teacher added, however, that she would be more cautious with her 5-year-old daughter, as she personally experienced a low fever and felt very uncomfortable after receiving the second shot of the vaccine.
In Pudong New Area, parents told Sixth Tone that many classes saw immediate take-up of no more than half. "Many chose to wait and see, like I did," said a mother surnamed Yang, who has a child in the fifth grade.
"This is essentially an issue about health, and the kids are so young and they're still growing. I'd rather be cautious. After all, many of those who got infected in the latest rounds of domestic outbreaks had been vaccinated." Yang said her school didn't pressure parents to agree to the vaccines.
Another parent of a second-grader from a Pudong school told Sixth Tone that she chose to pull her son from the program because her son is allergic to milk and eggs. "Less than half of students at my son's class went for the shots," the mother surnamed Zhu told Sixth Tone.
"Many just caught a cold in the past week. My son's allergy has made it impossible for him to receive flu shots. Of course, I'm worried if this relatively newly-developed vaccine will be safe enough for him," she added.
In the suburban district of Baoshan, the mother of a first-grader told Sixth Tone that she found an excuse to get her child out of the vaccine. Concerned about side effects, her family took their 7-year-old daughter for a flu shot last week, knowing that it meant she couldn't receive any other vaccines within two weeks.
"The school didn't say it's compulsory, but did ask parents to write down the reason why if they chose not to get their child the vaccine," she explained. "I couldn't think of any other appropriate reason."
Editor: David Cohen.
(Header image: A student receives his first shot of COVID-19 vaccine at Shanghai Minxing Road Primary School in Shanghai, Nov. 6, 2021. Zhu Jingyi for Sixth Tone)