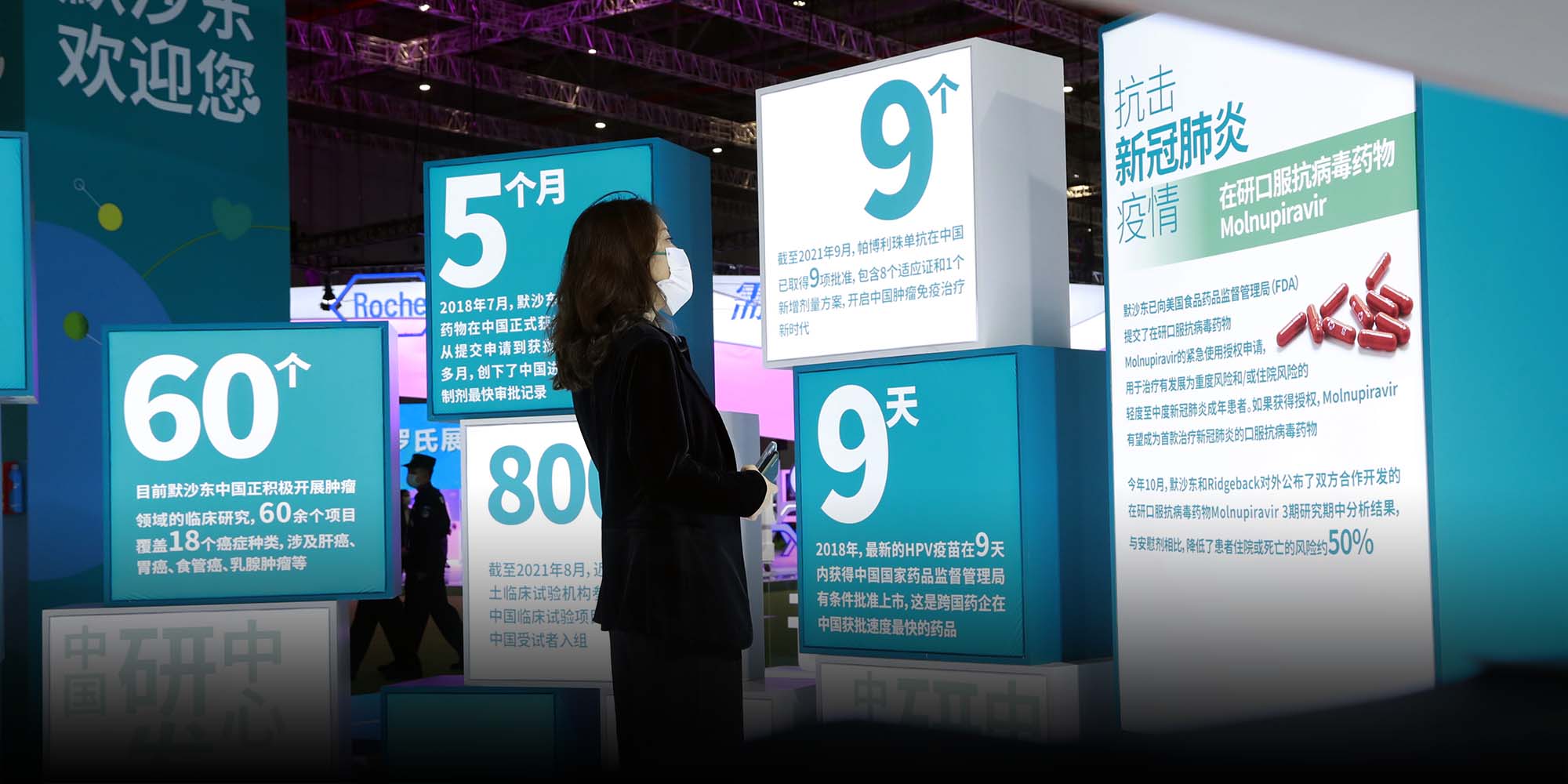 NEWS
Big Pharma Eyes Openings Brought by 'Healthy China' Plan
China has launched a campaign to tackle a looming health crisis by 2030. Global drug makers are looking to get on board.
More than half of the world's top 20 pharmaceutical companies by revenue are attending the fourth China International Import Expo (CIIE) in Shanghai this week, as they look to cement their positions in the Chinese market.
China's health needs are set to grow rapidly over the next decade. The country has one of the world's fastest-aging societies and has seen significant rises in the prevalence of obesity and a range of chronic diseases in recent years.
The State Council, China's cabinet, launched a "Healthy China 2030" strategy to tackle the nation's growing health challenges in 2019. The plan places a strong focus on disease prevention, but also sets targets for ensuring premature mortality due to chronic illnesses is controlled and the country's average healthy life expectancy is raised, among others.
At CIIE, pharmaceutical firms focused on promoting their latest newly-developed drugs and announcing new deals to cooperate with local partners. The event in Shanghai has become a high-profile platform for global companies to build closer ties with Chinese authorities.
Sanofi, the French pharmaceutical giant, is exhibiting at the expo for the fourth consecutive year. In 2021, the firm is promoting 20 newly developed products and health solutions aligned with China's most urgent medical needs, including vaccines and treatments for rare and chronic diseases.
The company also sees growing opportunities in digital health care. Sanofi recently teamed up with JD Health — one of the biggest Chinese players in the industry — to develop new solutions related to online diagnostics and treatment.
"We hope to continue exploring innovative forms of digital medical care in the future, providing high-quality, innovative digital medical solutions to Chinese patients, and contribute to the 'Healthy China 2030' strategy," Pius Hornstein, head of Sanofi Greater China, told Sixth Tone Friday.
German drug maker Bayer — also attending CIIE for the fourth time — is exhibiting several new cancer treatments, as well as solutions for managing diabetes and promoting cardiovascular, digestive tract, and scalp health. It also launched a new intestinal health product developed in partnership with two Chinese entities — Jiangnan University and Wecare Probiotics, both based in the eastern Jiangsu province.
Japan's Takeda, meanwhile, says it aims to begin marketing more than 15 new drugs in China by 2025, benefitting over 10 million patients. As of October 2021, Chinese authorities had granted nearly half of them regulatory approval, Shan Guohong, president of Takeda China, told Sixth Tone's sister publication The Paper earlier this week.
(Header image: Global pharmaceutical firm MSD exhibits a series of new products at the fourth China International Import Expo in Shanghai, Nov. 5, 2021. Tang Yanjun/CNS/People Visual)