When a new energy company approached residents of a tiny hamlet in the northwest Shaanxi province to discuss a solar photovoltaic project two years ago, they were unaware that the ensuing construction would turn into one of their worst nightmares.
Locals in Bianjiaqu, a village group with just over 200 residents, said that the company sidelined their concerns during negotiations for the project and accused them of bulldozing the collectively-owned farmland without consent. Residents told Sixth Tone that they were only promised 20,000 yuan ($3,125) compensation per person — an amount they said is too little — and a new road connecting the village to remote fields that has yet to materialize.
A group of 59 residents from the village has now signed a petition outlining that the land acquisition process damaged the local ecological environment, wildlife has disappeared, and so too have many plants, causing more sandstorms than previously. At the center of the controversy is Shaanxi Yulin Changxing New Energy Ltd., a subsidiary of state-owned conglomerate Shaanxi Yulin Energy Group.
According to Bianjiaqu resident Gao Zixiong, the solar installation project that started last year razed the 1,200-mu (80 hectares) forest belt, resulting in extreme weather events. He said the village had weathered stronger sandstorms the past two springs.
"When there was a shelterbelt, the sand wouldn't blow in much on windy days. But last year, the sand was so fierce that we couldn't leave our homes and farm the land," the 60-year-old man said.
"During windy days, you can't even see people clearly in the village," said another resident Gao Linfei, who isn't related to Gao Zixiong.
Bianjiaqu is located in the southern outskirts of Mu Us Sandyland, among a village cluster within the Gaojiabao township administered by the city of Shenmu. A major coal hub, Shenmu is one of the target cities of the second phase of Beijing-Tianjin Sand Source Control Project, which involves planting trees in northern China to reduce sandstorms that could impact the capital Beijing.
According to Gaojiabao township government, which administers Bianjiaqu, the company's solar project encompasses nearly 3,500 mu of land — more than five times the size of Vatican City — from two village groups in the area. The township government has designated half of the acquired area as "forestable land" and the remaining half as "grassland."
China has massively invested in renewable energy projects over the years — its solar power capacity is the largest in the world — to replace coal, a major source of carbon emissions. However, the country's policy on land use for solar photovoltaic programs forbids developing on officially-determined ecological lands, such as natural reserves, wildlife habitats, and ecologically fragile regions.
Sixth Tone couldn't independently verify whether the occupied land in Bianjiaqu sits on the official redline, which would make it ineligible for redevelopment. But satellite images analyzed on Sentinel Hub and World Wayback Imagery show that a large patch of land near Bianjiaqu, which was previously covered by vegetation in 2018, was bare by November 2020.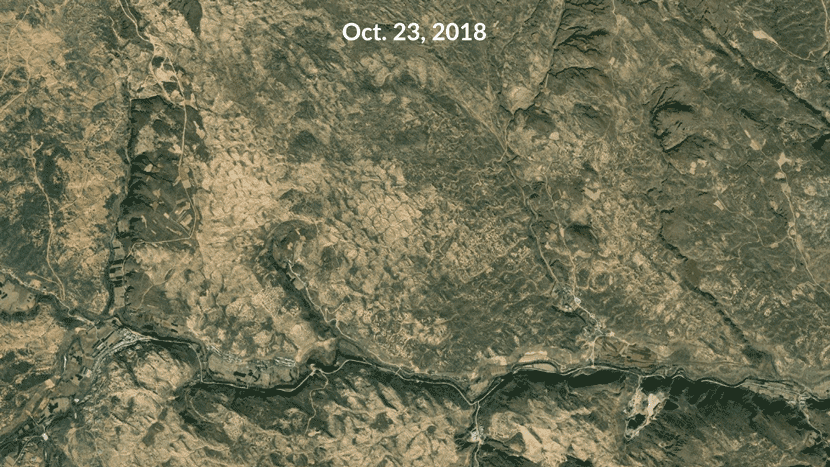 A GIF shows the Maxar (WV03) images captured in 2018 and 2020. From World Wayback Imagery, reedited by Sixth Tone
Meanwhile, locals said they weren't aware that the company would take away their most fertile land, stating they weren't shown the content of the agreement during negotiations, according to domestic media Xiaoxiang Morning Herald. They accused the village chief and group leaders of signing on their behalf.
The village leaders didn't respond to Sixth Tone's phone calls.
After becoming suspicious, the villagers hired a local land surveying firm to assess the size of affected areas, only to find they had given up more than 2,000 mu land of plants and fields, and more than the neighboring village group, also affected by the project.
But the company behind the project denies any wrongdoing. In a written statement to Sixth Tone, Shaanxi Yulin Energy Group said that the program had completed all necessary formalities with the local government and is a "demonstration project" to fulfill China's climate goals to meet carbon neutrality by 2060.
The conglomerate said the program has invested 1.65 billion yuan for the project and only acquired around 3,500 mu of land as agreed with the village cluster. Work on the solar energy project began last May and is expected to install 300 megawatts of solar energy capacity, which will be added to the provincial power grid.
But locals said the land acquisition process is contentious and predatory. They have petitioned local authorities over the environmental concerns and even sought help from environmental activist and artist Nut Brother who uses unconventional means to raise public awareness of such issues.
But their pleas have so far been rejected. Responding to the locals' petition in July, environmental inspectors said that the company's solar panel installation project was legal, as they had completed the due procedures.
This week, several locals told Sixth Tone they have gone into hiding fearing legal actions against them.
"They say we obstructed the project," said Gao Linfei, who has left the village to avoid arrest.
"I don't know anything about (my husband's) current situation," said another woman who said her 65-year-old husband has been detained. She declined to be named for fear of retribution.
The Gaojiabao township government hadn't responded to Sixth Tone's interview request by time of publication.
However, a statement provided to the Xiaoxiang Morning Herald and seen by Sixth Tone reiterated that the solar power installation is legal, adding the project is expected to reduce carbon emissions by around 465,000 metric tons a year — equivalent to annual greenhouse gas emissions from 101,128 passenger vehicles.
Contributions: Xu Jialu; editor: Bibek Bhandari.

(Header image: A dog is seen at the Mu Us Sandyland in Yulin, Shaanxi province, March 2021. People Visual)