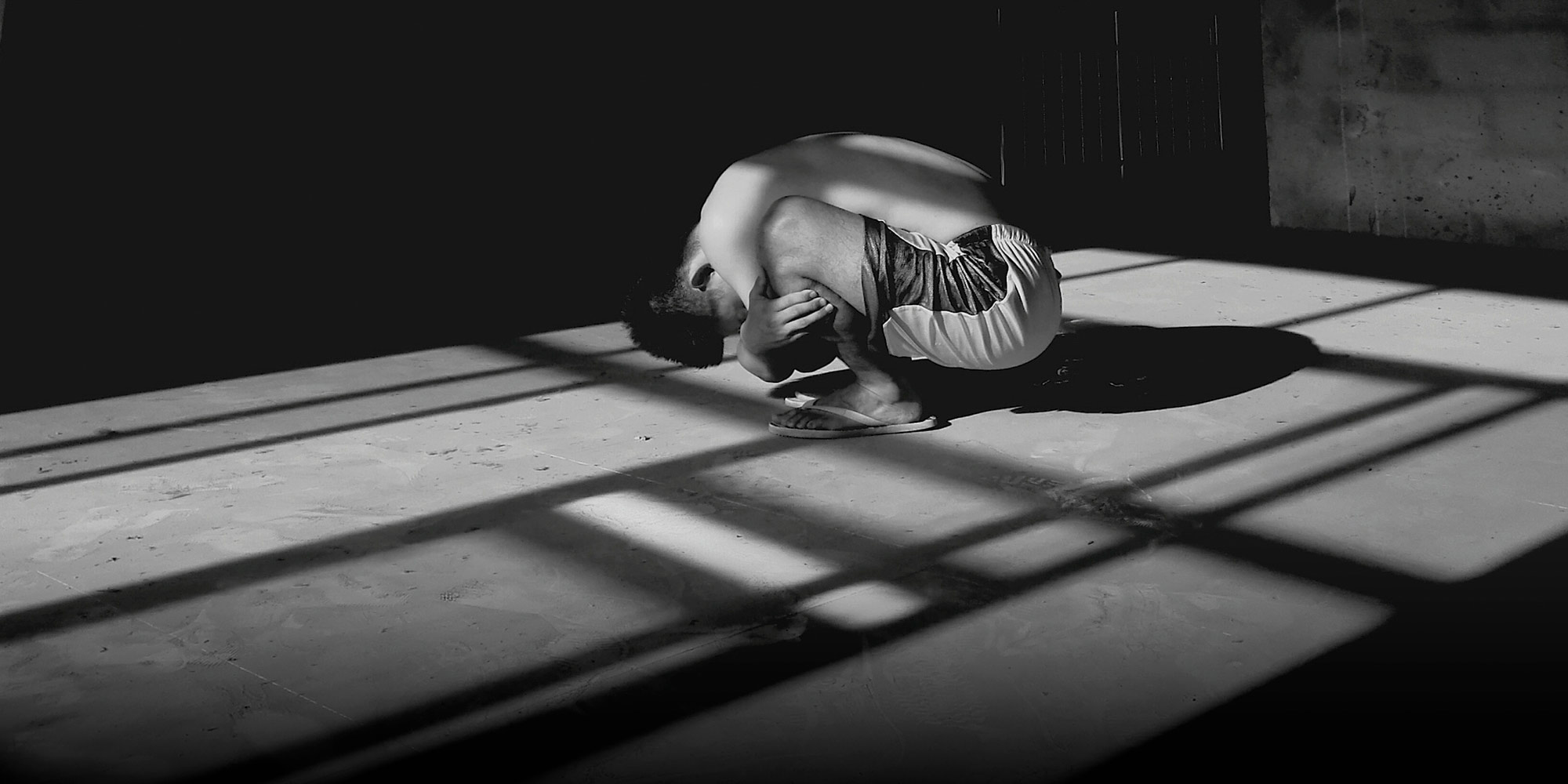 SIXTH TONE ×
Call of Duty: Why Family Care for the Mentally Ill Is No Game
Family support is essential for people with mental illnesses. But it leaves caregivers struggling with the emotional fallout.
Early this year, 24-year-old Xu Yanwen finally managed to admit her mother to a psychiatric hospital for the first time in 17 years, under the pretext of needing a nucleic acid test. 
It did not go well. As soon as her mother noticed the deception, she began thrashing around in bed, screaming that Yanwen would die, while also threatening to kill herself.
Distressed about stepping into the hospital ward, Xu paced the hallway instead. "I don't regret bringing her here, but it's hard to bear," she says. "We've lived together for so long, and I know she won't be by my side anymore." 
Before leaving the hospital, Xu retrieved her mother's clothes and belongings — a flimsy bundle stored in a plastic bag. In a daze, she carried it back to her rented apartment and sank into a sofa, replaying the songs her mother had recorded on her phone.   
Then it dawned on her. For the first time, Xu had the opportunity to change her life before graduating college. "This decision was best for my mother and me," she says, comforting herself, though unable to shake a sense of guilt.  
Across China, families play a fundamental role in caring for people with mental illnesses. But given the unpredictability of such diseases, the endless cycle of caregiving takes its toll — physically and emotionally. 
It's why more people, like Xu, increasingly opt to send their loved ones to hospitals rather than care for them at home, where they are left to shoulder the burden in isolation. 
And though mental health experts underscore that families are essential for a positive recovery, the problems faced by these invisible caregivers are many, including social discrimination due to the stigma around such diseases, insufficient welfare policies, and a lack of treatment resources.
Relief, and relentless guilt
Xu's parents divorced when she was just three years old. Soon after, she lost touch with her father and was sent to stay with her maternal grandmother. At age 7, she moved back with her mother and enrolled in school. 
Those days, her mother frequently yanked Xu from bed in the middle of the night, pinching her and interrogating her: "Are you a ghost? What did you do to me just now when I was sleeping?" 
It always left Xu awake the rest of the night. The next morning, she would cautiously monitor her mother's moods and try to get through the day without incident. 
Her mother was usually calm before bed but could become erratic in an instant, and Xu would often wake up to her mother yelling obscenities, calling her a prostitute. Only years later did Xu learn what such gender-based slurs actually meant.
But it wasn't all bad. She says they shared pleasant times together too. Xu enjoyed reading, as did her mother when she wasn't in the middle of an episode. Sometimes they even chatted about the books they read. "I try not to go down that path now," says Xu. "I know those moments are long gone." 
Over the last two decades or so, Xu always knew with each bout of her mother's mental illness, another lurked around the corner. It was the unknown that worried her — what would her mother do during the next episode? 
Xu's elementary school was close to their house, and her mother would sometimes run over unannounced to start scouring the campus for objects she deemed threatening. "She would curse and scream, and she was afraid of being seen by people who knew me," recalls Xu. 
She persisted with school until she was 8 before finally deciding to withdraw. "My mother agreed too because she always believed I wasn't safe there, and that there were things that could torture people," says Xu.    
At 13, she texted her father for the first time, telling him: "I want to attend school somewhere else." With her father's help, she enrolled in another school two years later. There, she lived on campus, visited home on the weekends, and started rebuilding her social networks. All the while, her mother remained at home, alone. 
Besides Xu, her mother had no other contacts on WeChat and wasn't part of any family groups. Xu wanted to teach her about using the internet but was worried that her mother might make awkward posts online and cause trouble. 
In high school, Xu once covertly invited a psychiatrist to her house, pretending the doctor was a friend. That was the first time her mother's schizophrenia was diagnosed. 
After prescribing medicine, the doctor told Xu to crush the pills and add them to her mother's meals, but when she looked carefully at the instructions, she found that possible side effects included sudden death. Given that her mother lived alone, she worried something bad might happen, and threw the pills out.
Xu recalls the constant dread she felt at the time. She was scared of people pointing and staring or her mother harming others during an episode. Most of all, she was afraid whenever she left home for school because it might be the last time she saw her mother.
Her mother's condition deteriorated when Yanwen started college, so she rented a place close to campus. But her mother constantly locked herself in her room and repeatedly dialed 110 — China's emergency services hotline. 
"She has never been admitted to a hospital, nor has she been officially diagnosed," says Xu. "If something were to happen because she kept calling the emergency services, it would make things worse." Standing outside her mother's bedroom door, Xu resolved to take her to a psychiatric hospital.   
Xu says she didn't want to always feel isolated, unsupported, and adrift. Her life had only just begun. She wanted to learn a foreign language and even had plans to complete a graduate program. 
"I was also thinking about my future when I sent her to the hospital," she says. "I didn't want to be dragged back and forth. I want a better life, a more normal life, but this made me feel selfish."
The excluded 
Before officially becoming a psychiatrist, Dr. Yao Hao at the Shanghai Mental Health Center always thought positively of family caregivers; they cared for the ill family member, sought help when necessary, and willingly took on an unpaid, selfless role.  
But after working at a hospital, he found some families brought in patients, paid the hospital fees, and never visited again. They completely severed any emotional contact with the patient, and some disappeared altogether.   
Dr. Yao often wondered how such people chose to abandon a loved one in a country that so valued filial piety and family ties. And whether such behavior was necessarily "bad."
For some patients in their 60s, the only family able and willing as caregivers were their octogenarian parents, who struggled to even look after themselves. How then did they care for someone else? 
For other family caregivers, their patient underwent treatment and was discharged, only to relapse and be sent back to the hospital. Such a vicious cycle burdened them financially and upended the lives of everyone in the family, and those who were actually able to help were few and far between. 
Rather than keeping them at home and shouldering a massive burden, many understood that it would be better to move the patient to a hospital.  

In 2013, over half of the patients at one psychiatric hospital in Beijing met the discharge criteria, but in almost all cases, their families opposed the decision. In 2017, Beijing Anding Hospital, among the country's best psychiatric hospitals, had nearly 800 inpatients, of which a fifth stayed in the hospital long-term. 
The longest was a patient who stayed over 20 years, and some remained in hospital until they died. 
Xiao Xiaoxia, a professor at South China Agricultural University, first noticed the issues around family caregivers of persons with mental illnesses in 2010. 
She had joined a social services project for people with disabilities and their families, where she realized that half the project participants were families of individuals with mental illnesses. She asks: "Does this mean that those families are the most marginalized of the marginalized?" 
One afternoon in 2010, she visited the family of a patient with a mental illness living within her service area. An elderly man leaning on a crutch answered the door. 
Despite it being bright outside, the house was so dim that the lights were on. From the front door, she could smell rotting food intermingled with an unpleasant odor from the bathroom. 
The man who answered the door was once a professor at the prestigious Chinese Academy of Sciences. In the two decades of caring for his schizophrenic daughter, he had lost his job and went through a divorce. He had managed to hold temporary jobs when he was younger but was now unemployed and relied on welfare to support him and his daughter.
Theirs was originally a three-room residence, but following inheritance claims with relatives, father and daughter were limited to using just one bedroom and the living room; the other two bedrooms stayed locked. To prevent his daughter from running outside in the middle of the night, the old man slept out in the hallway.
"We're a family wrenched apart, destitute and homeless," the old professor told Xiao. 
The visit was also Xiao's first look at the social exclusion and isolation that family caregivers and patients with mental illnesses face. She asks: "Why is there no societal support for those long-suffering family members who sacrificed themselves to care for their relatives?" 
And answers: "Because of societal discrimination and biases, family members are unwilling to admit or let others know — unless as a last resort — that they might have someone like that in their family."
She also wondered whether the families she hadn't met yet had it even worse than those she had managed to reach out to. 
Emotional triggers 
Changes to a person's illness can extend their families' caregiving indefinitely, leaving them in a constant state of flux.
"When my mother is good, everything's good; when she's not, then neither are we," says 23-year-old Lin Lin, whose mother was their entire family's "emotional trigger."
Her mother first fell ill in March 2016. Lin Lin says it started with poor sleep and slowly graduated to hallucinations and paranoia that she was being followed. The hospital ultimately diagnosed her with schizophrenia. 
The first time Lin Lin witnessed the horror of such an illness was when she saw her father's internet search history before he could clear it: "Will schizophrenia impact life expectancy?" "Long-term use of antipsychotic medication could lead to hyperglycemia, hyperlipidemia, and even diabetes." 
Coupled with mental decline and impaired social function, they would naturally shorten one's life span. But it wasn't about symptoms alone; it's also the thought that "she might leave me too soon," says Lin Lin.  
From high school until she finished college, she always lived in perpetual fear of spring. Studies have found that the initial onset of an illness for over half the patients with mental illnesses occurred in spring, and those with a history of mental illnesses experienced higher recurrence rates in spring. 
In March 2017, her mother started exhibiting depressive tendencies, which doctors diagnosed as a shift from schizophrenia to clinical depression. After trying different medications for over a month, a mood stabilizer finally worked, and her mother's condition started improving. 
But the next spring, she suddenly experienced a manic episode. She always lost her memory when ill and, believing herself to be fine, would reject the idea of seeing a doctor or taking medicine. 
Those days were an unending nightmare, says Lin Lin. Her mother fought with her father, her family, and her friends, threw pillows around, and shattered cups. After finally being tricked into going to the hospital, she was diagnosed with bipolar disorder. 
In March 2020, depression and COVID dealt a double blow. And in the spring that followed, the medication Lin Lin's mother was on for the last few years caused stomach and gallbladder problems.
"Isn't it exhausting just hearing about it?" says Lin Lin. Like a game with no end, they had gone through several iterations of that cycle in the past few years.
Over the many years they spend caring for loved ones, family caregivers have to learn the overlaps and shifts of mental illnesses, as well as the side effects of the medication. 
Lin Lin and her father experimented with ways to manage her mother's condition, like speaking softly, encouraging her, and always being alert to her health or mood swings. 
They also learned about changing or adjusting her medication and when to immediately see the doctor. To give her better care, Lin Lin moved back home after finishing college and found a job close by.
Late last year, her mother began exhibiting signs that her condition had worsened. She had tended to do well in the winter, but her health took a turn for the worse even then, leading to yet another manic episode. 
The most frightening part was the ever-shrinking gap between episodes; between May and August this year, her mother had two more mild manic episodes. 
An infinite loop
For patients like Lin Lin's mother, long-term recovery and care takes place at home. Hospital treatments tend to focus on pathological diagnoses and their time and resources might be limited; even the best hospitals in China sometimes lack their own psychiatry department. 
In 2018, China averaged 2.9 psychiatric practitioners (or assistants) and 7.3 registered nurses for every 100,000 people. In comparison, the world average was four psychiatrists and 13 nurses per 100,000 people. 
Dr. Yao from the Shanghai Mental Health Center says medical professionals can only help patients when they actively seek treatment. Once discharged, the bulk of the responsibilities falls to family caregivers over time and amid more closed settings. 
In other words, their family's support and resources are of the utmost importance for patients with mental illnesses. 
Lin Lin stresses that while it is difficult for family caregivers, it's the patients who suffer most. However, every time her mother became ill, Lin Lin and her father became anxious and depressed. They barely slept, ate very little, and lost weight. 
During one of her mother's recent episodes, Lin Lin developed an odd sensation in her armpits that, at its worst, left her unable to write. A check-up showed she had lobular hyperplasia, an endocrine disorder triggered by depression and anxiety from adverse mental stimuli.
While ill, Lin Lin's mother always told her and her father that it was because of their dereliction of duty. As the rock of the family, her father rarely expressed his grief and remained stoic instead. But that gave cause for her mother to attack him; she often accused him of being cold-hearted and uncaring.    
Initially, Lin Lin and her father couldn't help but lash back, yet those outbursts only deepened their sense of guilt. They tried to restrain themselves and gradually suppressed any resentment or pressures that arose while caring for Lin Lin's mother. 
Over time, self-doubt took root, and the more they doubted themselves, the more nervous they grew. "I know this isn't right," says Lin Lin, "Our bad moods will impact [my mother's] condition, but sometimes we can't help it. It's like an infinite loop we can't escape."
Her father in particular bore the brunt. Lin Lin says that he had been with her mother through her entire illness, so when her mother grew despondent, she always pointed the finger at him first. But it's hard to blame her, says Lin Lin repeatedly. Her mother faced the greatest hardships after all. 
Patients and caregivers share a long-term and deep bond, so the patients' hermetic circumstances will affect the latter. Their extended caregiving also places the mental health of family members at high risk. 
Xiao Xiaoxia says many patients these days rarely leave their residence outside of hospital visits; they often only stay at home, cloistered. But if they just had someplace to go, even briefly, it would allow their family members to get some fresh air and alleviate some stress.
One of the best ways to support the long road to recovery for patients with mental illnesses is localized community support. Some countries have even de-institutionalized their mental healthcare. 
Dr. Yao explains this entailed closing their psychiatric hospitals and sending patients back to their communities, and eventually integrating them into society. 
"The community not only helps patients recover, eliminate symptoms, but also helps them regain a sense of meaning and life goals, and enables that next level of recovery," says Dr. Yao. 
"Communities need to provide family caregivers with timely and accurate information, caregiving advice, and medication follow-up, while social workers should observe the caregivers' mental health in their homes and give them more support." 
In 2020, Mind China, the public service organization that Dr. Yao founded, launched "On Wings," a program specifically aimed at family caregivers of patients with mental illnesses. 
The program's manager, Li Kunmei, says she found that families needed help in simply getting patients to the hospital. During schizophrenic episodes, patients demonstrate incredible strength, are more resistant, and oftentimes aggressive. 
"When their family members turn to community health managers or the police for help in taking them to the hospital, some of them avoid getting involved by labeling it a family matter," says Li. 
Once a family gets locked into that cycle, then problems could end in tragedy.
In 2014, a 56-year-old man in Shanghai killed his 26-year-old son, who lived with a mental illness, and then committed suicide. Though they received welfare, the treatment costs had ballooned into hundreds of thousands of yuan, with no end in sight. 
In 2019, a 66-year-old father in Nanning beat his son to death with a crowbar after he refused to take his medication; the father's defense was that he was afraid his son would harm someone during an episode.  
When it comes to mental illnesses, people often only see the illness and the patient, not the caregivers and the families of those patients. But both are essential for a positive recovery. 
Inner strength
I first got in touch with Lin Lin and Xu Yanwen through a group on Douban — China's review app — about mental illnesses and care.   
The group had over 10,000 members, where family caregivers often sought advice. One user asked, "I just learned that my mother has paranoia. She has all the symptoms I found online, and she has even harassed my classmates, friends, and their families. What should I do?" 
The reply with the most likes read, "Nothing. Just bear with it, and then get as far away as you can once you get married." 
In her book, Professor Xiao says caregivers and people with mental illnesses are mutually dependent on each other in everyday life and emotionally. Both experience rejection, which may intensify their feelings of being needed. 
She writes that nobody else accepts people with mental illnesses; nobody else is willing to care for them. That feeling of being needed compels caregivers to place their patient's health, needs, and interests above their own, causing them to lose touch with their own needs, hopes, and self-perception. This in turn slowly lowers their self-esteem and weakens their social relationships.
Eden Social Welfare Foundation, a charity program in Taiwan, set up a hotline specifically for caregivers of patients with mental illnesses. One volunteer phone operator, Xiuwen, says the first thing to do when handling calls from family members is to recognize their efforts as caregivers. As their lives revolve around their patients, they often forget about themselves.
"I really did lose a part of myself. Whenever I do something now, I always subconsciously think about my mother and how it will impact her," says Lin Lin. She "thinks, rethinks, and rethinks again" about marriage. 
"My mother will probably feel terrible if I never get married. I feel like she'd blame herself," she says. But she's afraid that any new additions to her family might misunderstand her mother's illness or even hurt her. 
"I sometimes wonder if other people might not think highly of me or that our genes are bad because of my mother," she says with a wry smile. 
Other family caregivers also repeatedly expressed concerns about genetics. After seeing her mother fall ill, one woman around Lin Lin's age picked up a shard of a bowl that her mother had broken and tried to kill herself. She's afraid she might turn into her mother one day. 
Many families of those with mental illnesses are locked in that vicious cycle, but researchers and social workers are still looking for the possibility of change in families and to support caregivers in stepping beyond that hermetic world. 
When motivated, caregivers could then proactively support patients. Dr. Yao says families are an interactive system; providing support to every single role will help the entire family grow together. 
After Dr. Yao's "On Wings" program launched, eight online communities were formed, and a dozen or so volunteers served over 350 family members in over a year. 
There, professional psychiatrists, social workers, and clinical psychologists post caregiving knowledge and teach caregiving skills daily. Once a week, they run an online Q&A to provide live support for caregivers, while biweekly, they hold an hour-long chat session about setting boundaries and avoiding emotional captivity. 
The topics are meant to help both caregivers and patients establish a positive, interactive relationship. But the program can only currently serve a limited number of families and offers no offline assistance.
Dr. Yao says caregivers need a safe, warm online space to express the feelings and difficulties they bottle up in everyday life. Such spaces help find others with similar experiences, gaining feedback and support.
Lin Lin joined such an online group and found people from across the country, which comforted her immensely and chipped away at her sense of confinement. 
"Turns out there are a lot of people trying to hold on like I am," she says. Her mother once joined a group for patients, too, but later left because "being in the group was like a daily reminder about her illness." 
Lin Lin says that if her city had a similar group where people could come together for encouragement, it might even aid her mother's recovery, but she has yet to find such a group.   
When I shared the caregivers' group with Xu Yanwen, she declined to join, saying, "I don't want to right now." She says she's managed to normalize her life a bit. "I want to avoid returning to a place where I have to constantly deal with illnesses."
Xu Yanwen and Lin Lin are pseudonyms. 
A version of this article originally appeared in Beijing Youth Daily. It has been translated and edited for brevity and clarity, and published with permission.
Translator: Katherine Tse; editors: Zhi Yu and Apurva.
(Header image: EyeEm/People Visual)