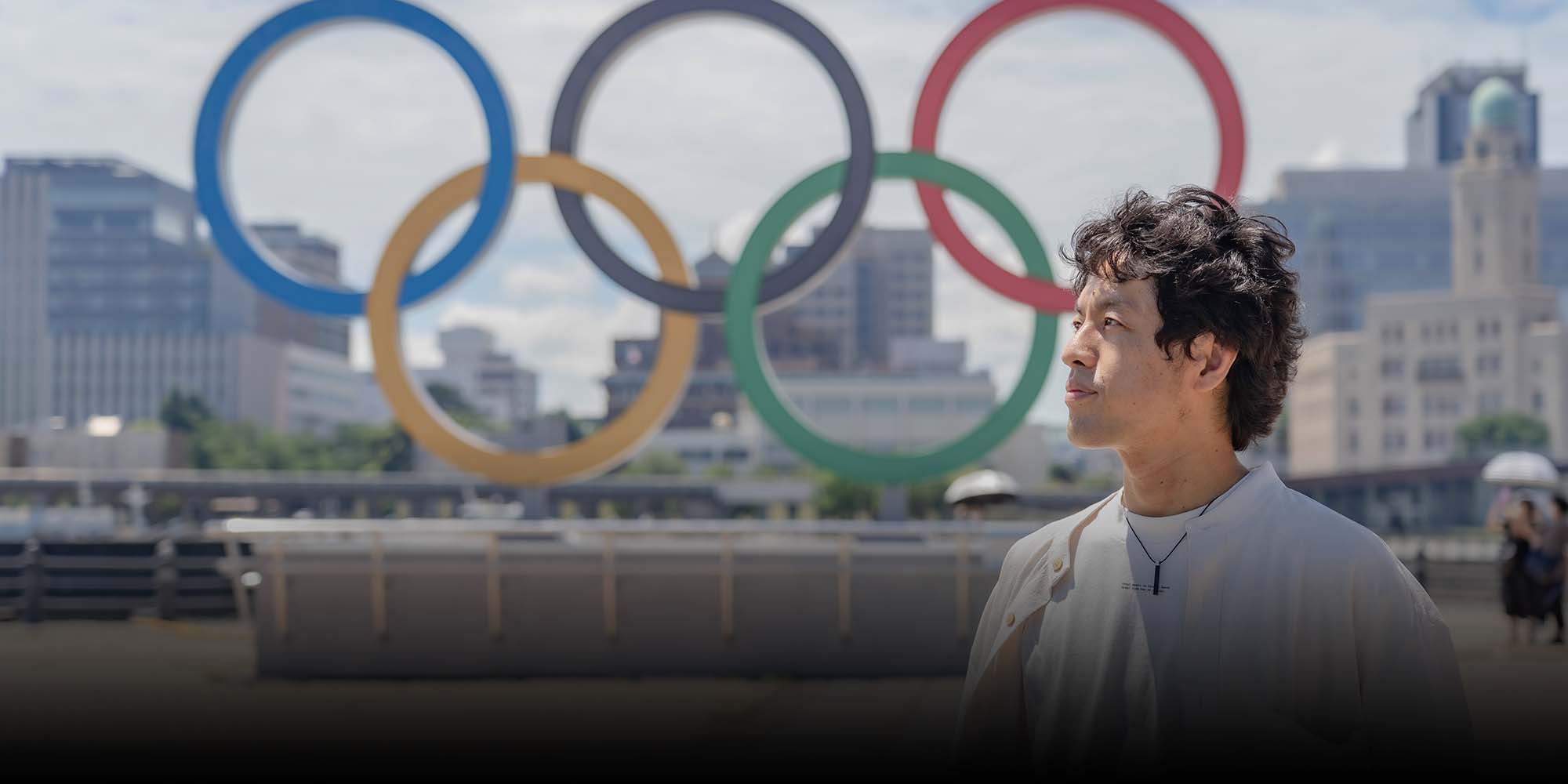 MULTIMEDIA
'What Is the Meaning of Holding This Olympics?'
After years of focus on China, Japanese-born filmmaker Takeuchi Ryo turns his lens to Japan in new documentary.
As the fireworks light up Tokyo's night sky at the Olympics opening ceremony, protesters wearing masks gather outside the National Stadium.
"Tokyo doesn't need the Olympics!" they yell.
The protests are one side of the delayed Tokyo Summer Games seen in Japanese filmmaker Takeuchi Ryo's 80-minute documentary "Two-Sided the Olympics: TOKYO 2020 DIARY," released via video streaming platforms Aug. 9. They appear throughout the film, forming a backdrop to the games.
On the other side, Takeuchi meets and follows eight Chinese, or China-linked participants — athletes who don't win medals, volunteers, and journalists — over the six weeks leading up to the games. One is Liao Yujing, a writer who has mostly written about the cultural communication between China and Japan since the 2011 Tohoku earthquake. Invited to participate as an Olympic torchbearer in Tokyo's streets, he flew to the Japanese capital in mid-June and faced five weeks in quarantine. However, when he got there, Tokyo canceled the outdoor torch relay because of increasing COVID-19 cases.
Finally, Liao participated in a substitute indoor event in which torchbearers passed the torch from hand to hand without running. "I did think it was worthless for a second," Liao says. "But when the ritual started, it brought me happiness. And that made it worth it."
The film follows Takeuchi's own attempt to make sense of the controversial COVID-era games. The 43-year-old director told Sixth Tone that he started filming expecting to hear inspiring stories. But, he said, "I saw trouble everywhere: the growing COVID cases, incomplete facilities, and chaotic services. Everything that happened confused me. A question stuck in my mind: what is the meaning of holding this Olympics?"
Takeuchi is famous for films that explain aspects of Chinese culture and events to a Japanese audience. In 2021, he finished a series of films about the COVID-19 pandemic in China, including "Nanjing's Anti-Epidemic Scene," "Long Time No See, Wuhan," and "China's Post-Pandemic Era." The three films have been viewed over 4.7 million times on YouTube. He's just as popular on Chinese social media, with 4.5 million followers on the Twitter-like microblog service Weibo and praise from state media for offering a "true depiction of China."
Recently, Sixth Tone met with Takeuchi in Shanghai to discuss the making of "Two-Sided the Olympics" and his experience of working in China. The interview has been edited for brevity and clarity.
Sixth Tone: You named the film "Two-Sided the Olympics." Why do you call it "two-sided"?
Takeuchi Ryo: Well, because I saw the two sides of many aspects of this Olympics. In terms of whether the games should be hosted or not, there were supporters and also opponents. In terms of the Olympics itself, most people only paid attention to the games and medals — that is the story of what happened onstage. However, there were also many things going on behind the scenes and we wanted to document the stories happening outside of the games. So this is another two sides of the Olympics.
We didn't have a clear storyline before we started filming because the story in the end usually differs from what you've imagined. However, I did have a vague idea of what kind of stories I was looking for.
I thought I would make something that is inspiring, interesting, and very positive. That was the original idea. However, after filming started, I gradually realized that it was not inspiring at all. On the contrary, I saw trouble everywhere: the growing COVID cases, incomplete facilities, and chaotic services. Everything that happened confused me. A question stuck in my mind: what is the meaning of holding this Olympics?
Sixth Tone: But you leave this question open until the end. Do you have an answer now?
Takeuchi Ryo: No. I still don't have an answer.
Sixth Tone: All the main characters in this film are Chinese, or people who have a specific connection with China. Why approach from this angle?
Takeuchi Ryo: Because the target audience of this film is Chinese. A Chinese character could make the audience feel a connection to the story. It's different from my previous works, such as "Long Time No See, Wuhan" or "Beyond the Mountain." When I made these films, I considered Japanese people or people living outside China as the main audience.
Sixth Tone: In your documentaries, you're often both the director and the protagonist. What makes you decide to include yourself as part of the story?
Takeuchi Ryo: My documentary is very different from those produced by big news organizations. I'm not worried about expressing my feelings and opinions in the film. Sometimes, personal thoughts can bring the story closer to the audience.
In my view, all documentaries are subjective. There is no documentary in this world that could be 100% objective, so I might as well emphasize the subjectivity. This is also the reason why I present myself in the film as a host. I want to let people know that this film presents the reality that I have seen. Is this the truth or not? I'll leave it to the audience to decide.

Sixth Tone: As a Japanese documentary filmmaker, you have spent a long time filming stories about China and gained a good reputation. What kinds of stories interest your audience the most?
Takeuchi Ryo: Yeah, I found out that many Japanese audiences are particularly interested in new technology and high-tech lifestyles in China. Earlier this year, our team finished a three-episode documentary series called "100 Faces of Huawei." This series got very good feedback, especially in Japan.
This series doesn't have a character-driven story. Compared to a typical documentary, it's more like an in-depth business news program. But people liked it. I think one of the reasons is because traditional Japanese media outlets don't report much on China. Many people in Japan want to know about their neighbors. They want to know what is happening in China, but information is hard to find.
Sixth Tone: Are there any other stories you're interested in filming in the future?
Takeuchi Ryo: Actually, I already have a plan. My next documentary will be a story about the Yangtze River. I directed a documentary about the river ten years ago. It was a TV program for (Japanese national broadcaster) NHK. We started from the source of the river and documented the history and culture of cities along the river. It's the 10th anniversary this year, so I decided to revisit those places. I want to capture a story about how China changed in the past 10 years through the river.
The story will be told from my own perspective this time. It's very different from the one I filmed 10 years ago. The last film was produced for a TV station, so the production process was very old school. There was not much interaction with the audience. But now, we're in a new era of the internet and social media. We invited our audience to participate in the production process on social media by offering suggestions or pitching ideas. It feels like we're making films with them together. So I'm really excited.
Sixth Tone: The pandemic has reshaped people's understanding of the world. It has also had a large impact on international communication. As a foreign filmmaker who has been living in China for almost 10 years, what changes have you noticed after the pandemic?
Takeuchi Ryo: I do notice that public opinion is becoming more extreme, especially on social media. There are many prejudices against different people. It's not good. But this is a trend that is happening not just in China, but also in Japan and other countries.
The whole world is becoming more conservative after the pandemic. I think it's natural. The pandemic cut off the connections between people. We can only get information from the internet, so it's easy to generate prejudice.
It's also another reason why our documentary is so important now. Compared to news reporting, a documentary can convey a more thorough set of information. So I want to show the real China or real Japan to the world through my lens.

Editor: David Cohen.

(Header image: A poster for "Two-Sided the Olympics: TOKYO 2020 DIARY." Courtesy of Takeuchi Ryo)