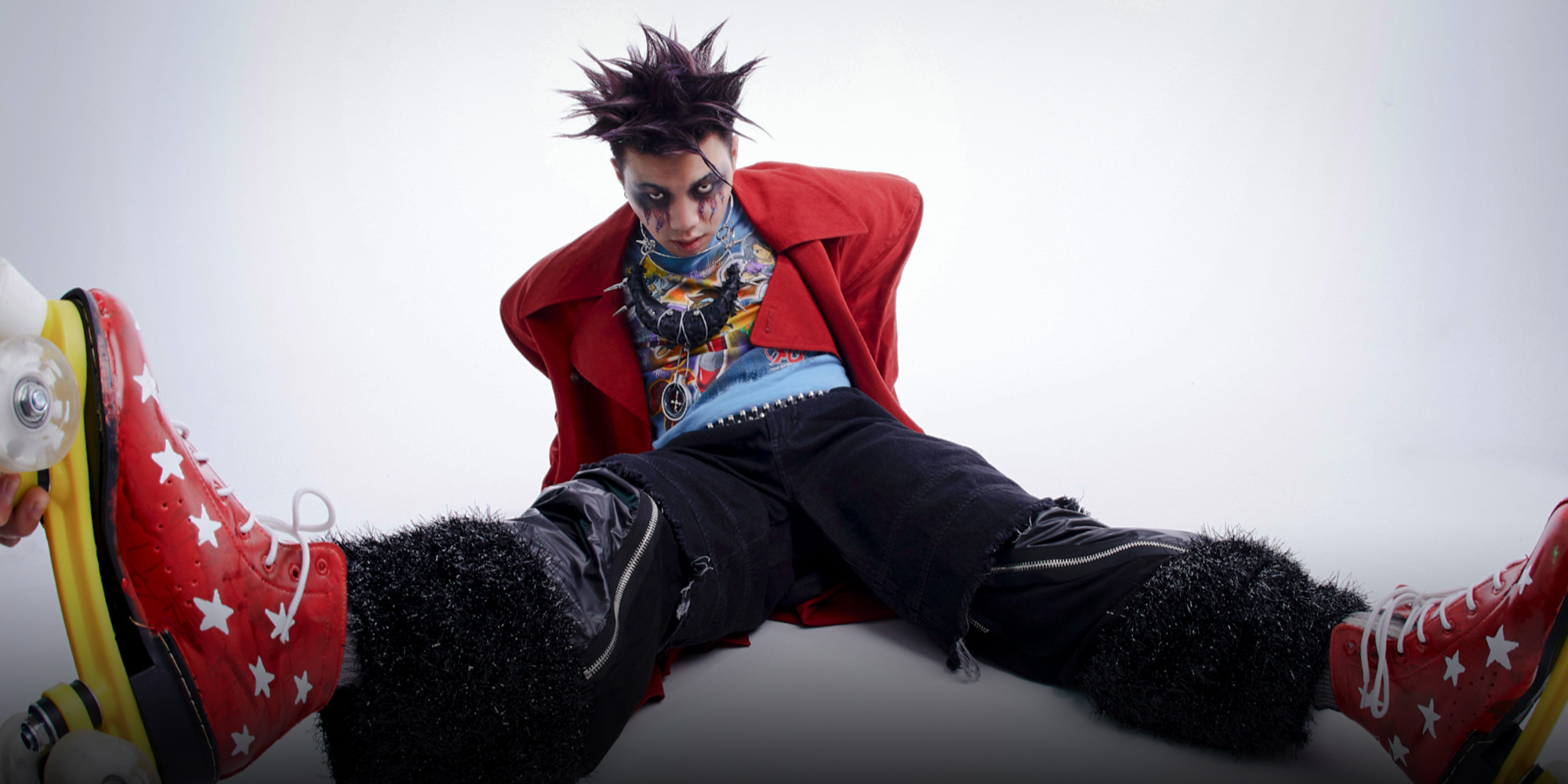 FEATURES
Wild, Creative, Disturbing: Inside China's 'Hyperpop' Music Scene
Young Chinese are creating a thriving underground scene for fast-paced, emotionally charged "hyperpop." The music industry is baffled.
Around halfway through filming for a September episode of "Strawberry Man" — one of China's hottest new music talent shows — the judging panel was confronted by something completely new. 
An underground artist named Jiafeng shuffled onstage. Spiky-haired, heavily made-up, and dressed in a ragged outfit of clashing colors and overlapping layers, he was clearly not the kind of polished indie performer that normally appears on the contest. 
But the real shock came when Jiafeng launched into his song, "Useless Cuteness." A heavy electronic beat started up. A pulsing, bubblegum pop-style melody kicked in — the sort of sound made famous by the classic video game "Dance Dance Revolution." Then, the 30-year-old began singing in a squeaky, autotuned falsetto. 
It was a manic, joyous blend of musical influences — a classic example of the trendy subgenre known as "hyperpop." And the judges were baffled. 
Zhang Yadong, a high-powered Chinese producer, sat stony-faced through the performance before commenting frankly that he disliked the song. After the broadcast, he went even further. "You're an alien here, you shouldn't be on this stage," he allegedly told the singer as he walked out of the studio.
The encounter — which Jiafeng later revealed in a viral post on the social platform Weibo — has since become infamous in China. For many, it encapsulated the yawning divide that has opened up between two generations of Chinese musicians.
On one side, there's an insurgent group of young hyperpop artists who are attracting a growing following with their playful, club-friendly music. On the other, there's an old guard of music industry gatekeepers who appear perplexed — and a little disturbed — by their underground success.
For these veteran producers, who have spent their careers managing studiously edgy pop and rock acts, the self-proclaimed "useless" new movement violates all normal standards of good taste. Yet hyperpop fans argue that attitude is out of touch.
"They don't understand hyperpop at all," Jiafeng tells Sixth Tone. "I feel sorry for these people. If you hold hostile feelings toward this kind of happy music … what kind of person are you?"
Hyperpop hits China 
Hyperpop's origins lie in the London music scene of the mid-2010s. British DJ A.G. Cook and his record label PC Music first gained traction with a catchy, nostalgic sound that drew heavily from cheesy '90s Eurodance in 2014. 
The style soon started to be labeled hyperpop — a reference to its exaggerated, buoyant, and camp ethos. From the beginning, it was hugely divisive. The Guardian described PC Music's output as "sickly, abrasive, and ultra-synthetic." Music magazine Fact called it "pure, contemptuous parody."
But British teens embraced it — and the movement soon spread to China. Cook played a key role in its move east, collaborating with the Chinese pop star Li Yuchun (also known as Chris Lee) on a pair of tracks in 2015 and making several appearances in the country.
Jiafeng, who grew up in the central Chinese city of Changsha, saw Cook perform for the first time at a Beijing music festival in 2017. He was instantly hooked. 
"When I first heard this type of music, I thought it was something amazing," he says.
The young DJ began playing around with hyperpop, but decided to put his own spin on the genre. Whereas Cook drew mainly from electronica and Eurodance, Jiafeng took inspiration from the Asian styles he'd grown up with: bubblegum pop and high-tempo K-pop by the likes of Lee Jung-hyun. The influences run through his most recent album, "Emotional Dance Music."
Other young Chinese creators were similarly inspired. The movement's postmodern aesthetic — a semi-ironic embrace of consumerism, blending of different strands of pop culture, and focus on self-expression — appeared to resonate with a generation that had grown up online.
"It's for TikTok users, children, or people who want to be younger — including me," says Bloodz Boi, a rapper and hyperpop artist based in Beijing. "It's easy to create, everyone can do it. The songs are almost all one or two minutes long — totally 21st century." 
The music they're producing is wild, colorful, and highly emotional; Chinese youth culture outlet On the Road characterized hyperpop as "malfunctioning emotional music." The scene's visual aesthetics reflect this. Fans prefer to dress and dye their hair in effervescent colors. Many incorporate unusual materials, such as latex or metal, into their outfits.
Clayton Sun, a 22-year-old hyperpop fan, says the genre is a refraction of online culture, which tends to push everything to the extreme. Most Chinese listeners are digital natives, he adds. 
"They're young people who follow trends and are deeply influenced by internet culture," says Sun. 
The music also has a following among LGBT Chinese, Jiafeng says. Many of the top hyperpop artists overseas, such as PC Music's Sophie, identify as transgender or nonbinary — a trend commentators attribute to the scene's promotion of freedom of expression and performativity.
"My gay friends appreciate this music and give me so much encouragement," says Jiafeng.
Clashing with the mainstream
Now, hyperpop is a niche, but vibrant scene in China. Though it has yet to produce any big, crossover hits, underground artists like Jiafeng are reaching a wide audience online. They're also starting to get noticed by China's mainstream music TV shows.
For Chinese artists, an appearance on these shows can be a game-changer. Talent contests have come to wield an enormous influence over the country's music industry. The launch of "The Rap of China" and a string of copycat shows has helped propel hip-hop from a largely subterranean phenomenon to a mainstream staple over the past five years.  
China's streaming platforms appear to be hunting for the next big thing. This year, several have launched catch-all shows featuring musicians from a wide variety of backgrounds, which has given several hyperpop artists a shot at the big time. 
But these appearances have all followed a similar pattern: a warm reception by the studio audience; vacant stares from the judges. 
Jiafeng was disheartened by his experience on "Strawberry Man." He hadn't anticipated quite how viciously Zhang — a legendary producer who has worked with top Sinophone artists like Faye Wong, Han Hong, and Karen Mok — would turn on him. 
"I was aware that the music might not be the easiest for them to understand," he says. "But I didn't think it would be the hardest, either." 
Yet the judges' reactions didn't come as a total surprise. Not long before, Jiafeng had watched Billionhappy — a hyperpop artist from Shanghai — receive the same treatment on another show, iQiyi's "New Generation Hip-Hop Project."
"The judges had the exact same expression," recalls Jiafeng. "They didn't know if they should appreciate this music or not. The sound itself is just pure happiness ... Maybe they were searching for some sort of rebellion, or something they call 'real.'"
Billionhappy himself is more philosophical about the incident. He has grown used to people misunderstanding hyperpop, he says.
"Most of the judges on the show were very confused about my music," he says. "Some said my song was like Eurodance; some thought it was a nursery rhyme. Most of the comments were negative. Of course, other judges thought it was trendy."
With breakout TV success now seeming unlikely, it's unclear where Chinese hyperpop will go next. Some mainstream artists have flirted with the movement: Pop star Chris Lee has dabbled in alternative forms of pop music, while Akini Jing's music has been likened to the output of PC Music.
But China's hyperpop artists often find themselves overlooked. When Chinese media have covered hyperpop, they have tended to frame it as a global youth trend and focus on producers working in Europe and the United States.
The artists who spoke with Sixth Tone appear mostly pessimistic about hyperpop's chances of breaking into the mainstream in China. The music is just too niche. But none of them plan to give up: The creativity the music inspires and the unity it creates between musician and audience inspires them to continue delving into it.
"There will always be listeners who think my music is too strange and who scold me, but I'm actually at peace with negative comments," says Billionhappy. "I know what I'm doing, and I'll definitely be able to do better in the future." 
GG Longxia, another hyperpop musician from the eastern city of Hangzhou, echoes this view. He recently made his own demoralizing TV debut on Tencent's talent show "The Coming Ones," but he's refusing to take it to heart. What matters, he says, is the joy hyperpop gives to him and his fans. 
"I find sincerity, cuteness, sadness, anger, jealousy, and more in this style of music. I can express any emotion — or even just being handsome or f***** up," he says. "This music will attract all the lovely people." 
Editor: Dominic Morgan.
(Header image: Gao Jiafeng poses for a photo. Courtesy of the artist)