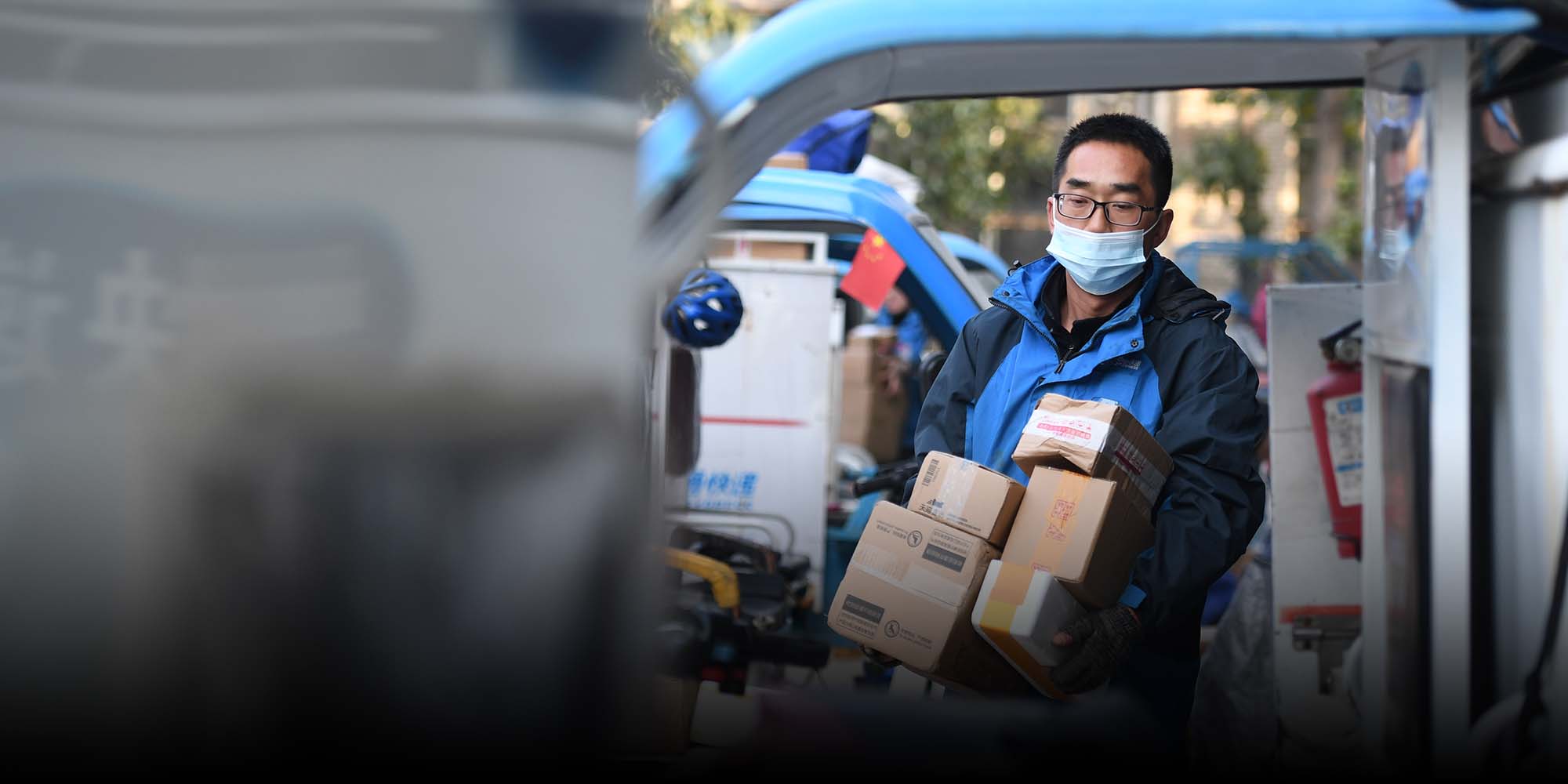 NEWS
China's Couriers Say Bosses Took Their Raise
A pay increase for couriers, presented as a "common prosperity" income equality package, has been delivered to wrong address.
SHANGHAI – As China kicks off its "Double Eleven" annual sales season, ZTO express delivery person Zhao Shugen is entering his busiest season of the year. Last year, the country's courier services handled 3.96 billion parcels between Nov. 1 and Nov. 11.
It's a tough job. Zhao, who gave a pseudonym because he is not authorized to speak to the press, told Sixth Tone that he works 15 hours per day, delivering between 500 and 600 parcels to addresses in Shanghai's Pudong New Area. At 1.1 yuan per parcel, he makes about 10,000 yuan ($1,562) during a normal month.
ZTO and other parcel companies promised workers like him a raise in September, but many say the extra money is going to their bosses instead.
ZTO and China's five other major parcel companies announced in late August that they would increase rates for parcel delivery by 0.1 yuan per parcel starting Sept. 1. For an average worker, they estimated, this would translate to a raise of 500 yuan per month.
Zhao said he is yet to benefit from the price hike. "I'm still making 1.1 yuan from each parcel I deliver," he told Sixth Tone.
The catch is the decentralized structure of the delivery industry. Although delivery companies run many local operations, they contract some stations to local franchise-holders. The franchisers hire and manage the couriers themselves.
"The extra 0.1 yuan per parcel has been taken away by the station where I work," Zhao said. "It seems like the managers of delivery stations in this area have all agreed on this — when I spoke with couriers from other companies, they said the same."
In their announcements, the express companies wrote that the extra money was intended for the drivers. One of the companies, YTO Express, emphasized that the extra money is not for local operators and it urged them not to "intercept" it. It seems that many local operators did just that.
Out of a dozen couriers interviewed by Sixth Tone in Shanghai's six districts in October, half of them said their pay had not increased since the announcement. The drivers reported pre-increase rates ranging from 0.9 yuan to 1.5 yuan, with the lowest recorded in suburban Songjiang District and the highest in downtown Jing'an District.
A ZTO spokesperson said there are channels for couriers to file complaints if local managers don't pass along the extra pay. "We'll punish the people in charge if they aren't complying with the rule."
"In Shanghai, no courier should earn less than 1 yuan per parcel — it's abnormal if their income is lower than that. The per parcel delivery fee should be between 1.2 and 2 yuan depending on the specific location," he added.
Zhao said he and his co-workers had tried calling ZTO to complain, but the calls were never answered. "It's useless," Zhao said.
When Sixth Tone reached out to two delivery stations in Pudong, people in charge there said it was "not convenient" to comment on the salary hike.
In suburban Songjiang District, Huang Yabin, who works with YTO Express, said he had heard about the hike on the news, but not from his manager.
"I asked my boss for the money and he denied my request. My per parcel delivery fee is still less than 1 yuan. My boss set the rate instead of following the company rule," he told Sixth Tone.
When reached by Sixth Tone on Tuesday, a YTO Express media relations officer said the company has been working in detail to make sure the September pay hike benefits its frontline couriers. He said that the company was not aware of local franchises failing to pass on the pay raise to couriers, and would investigate any reports.
Some workers are expecting to see a pay increase. A ZTO worker in downtown Jing'an District surnamed Miao said her manager promised to pay 0.1 yuan more per parcel once the policy was introduced. However, Miao has yet to receive her full salary for September, so she said it's too early to be confident she'll get the full amount.
As Miao mainly delivers parcels to office buildings, she said her job is easier than most in the industry. "You can deliver parcels directly to the recipients in office buildings during work hours, but you have to call them to make appointments for delivery in residential buildings or else they could file complaints." Miao said she makes a bit over 10,000 yuan a month.
With the Double Eleven period starting, it's a high-stakes period for the workers.
Huang delivers around 500 parcels a day in a regular month, but during the Double Eleven shopping festival, the amount can exceed 2,000. "My income can be four to five times the level of average months," he told Sixth Tone.
Zhao said that he typically worked 20 hours a day during the period in previous years to deliver more than 1,000 parcels. "My income will definitely increase, but the number of complaints I receive will also grow," he said.
"The fines go up to 500 yuan per complaint — sometimes, they turn a whole day's work into ashes," Zhao said, adding, even in average months, he's fined around 1,000 yuan over complaints from clients.
"It is hard to find people willing to be a delivery person these days. Though a salary of 10,000 yuan per month is guaranteed, the workload is huge," said Zhao. "We work seven days a week for the whole year, with no leave unless you find someone to cover for you. Most of the young people at my station quit after a few months."
Editor: David Cohen.
(Header image: A delivery man holds packages outside a wholesale market in Taiyuan, Shanxi province, Nov. 1, 2021. People Visual)