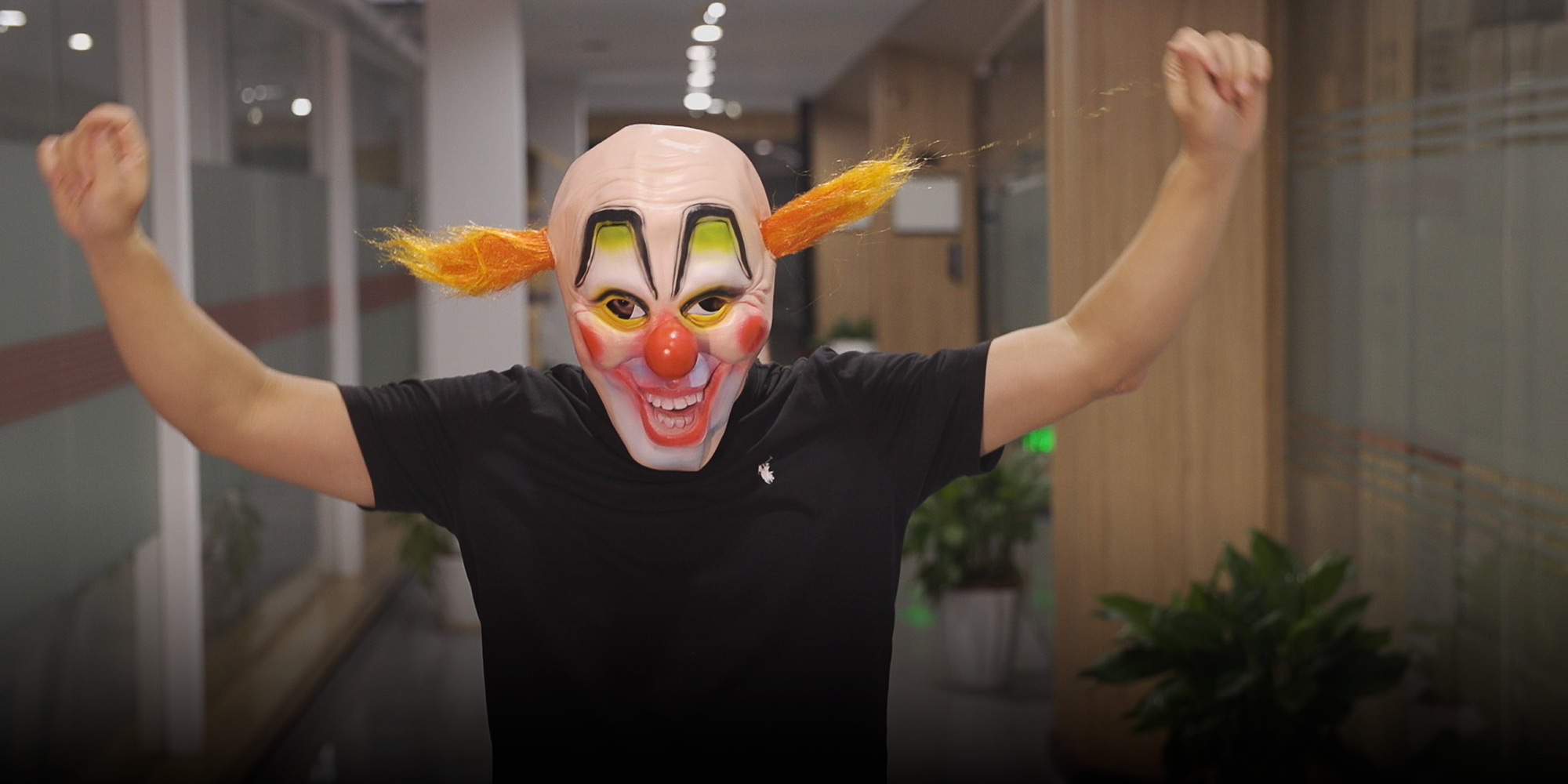 MULTIMEDIA
House of Screams: Inside China's Hidden Horror Trade
Du "Mr. Mask" Xifan is making a killing by feeding China's growing fascination with ghouls, gremlins, and gore.
ZHEJIANG, East China — At the edge of an industrial park in the city of Ningbo lies Du Xifan's house of horrors: A dimly lit warehouse filled with zombies, orcs, mutilated dolls — and hundreds of other ghoulish objects.
Du — also known as "Mr. Mask" — is making a killing in a little-known, but fast-growing market in China: horror. His company offers a huge range of grisly props and costumes, which are seeing booming demand thanks to young consumers' growing love for spooky escape rooms and murder mystery games.  
"The mask styles are constantly changing," the 30-something tells Sixth Tone. "We currently have over 1,000 kinds of masks on sale." 
It's not a business Du ever expected to be in. When he started his company in 2013, he planned to focus on exporting made-in-China goods to the Western market via e-commerce.
After testing out a wide range of products, he found the best-selling items were Halloween masks and props: plastic pumpkins, witches' hats, and "Scream" masks. He gradually stopped offering other goods and focused solely on horror.
"We were targeting the North American market at the time, and there was a very strong need for Halloween-related products," says Du. "For people there, buying Halloween masks and decorations is a must each year." 
But the COVID-19 pandemic changed everything. As the virus took hold, Du saw his overseas orders plummet by more than half. His remaining orders, meanwhile, often fell through due to disruptions in the global supply chain. 
With his business in dire straits, he came up with a desperate solution: "I thought, maybe I can try selling some of our masks in China." 
In May 2020, Du opened an online store on the Chinese e-commerce platform Taobao. To his amazement, orders started flooding in. Within 12 months, his Taobao store had received a blue crown — confirming that it had fulfilled over 10,000 orders successfully. Sales this year have already topped 2 million yuan ($310,000).  
Chinese media regulators impose a number of restrictions on horror content and the mainland film industry has produced few hit horror flicks, but the genre still has a big following in the country. The Hollywood-made "Saw" franchise and Japanese cult classic "Ring" are particularly popular. 
Domestic buyers have little interest in generic Halloween costumes, Du has found, but they snap up products that cater to local tastes in huge numbers. He has begun filling his warehouse with grisly female ghost masks inspired by Hong Kong and Japanese horror movies.   
"The other vendors were all selling copies of masks sold overseas," says Du. "We were the first ones to try and cater to the needs of Chinese market."
Yet some things are the same everywhere: This month, the hottest items are red tracksuits and other costumes inspired by the Netflix series "Squid Game," Du says. China has yet to officially approve the TV show for release, but it's attracted a big audience on illegal streaming sites.
Another major source of demand is China's fast-growing market for escape rooms, haunted houses, and murder mystery-style role-playing games — known locally as "script murder."
These facilities are increasingly asking for customized horror masks and props, Du says. They're also ordering more alternative products, such as funeral-themed items like prayer flags and electronic incense and candles. 
Du himself has little interest in the gory goods he sells. He isn't a fan of horror movies and he doesn't dress up for Halloween. All he cares about is whether the products make money, he says.  
He's not a believer in the occult either, though he keeps an open mind on the subject. "I've never seen a ghost, but I'd love it if I did," he says.
But Du admits that his masks sometimes give him a fright if he bumps into one unexpectedly. He prefers to finish his day early — and get out of the warehouse before it gets dark, he says. 
Editor: Dominic Morgan.