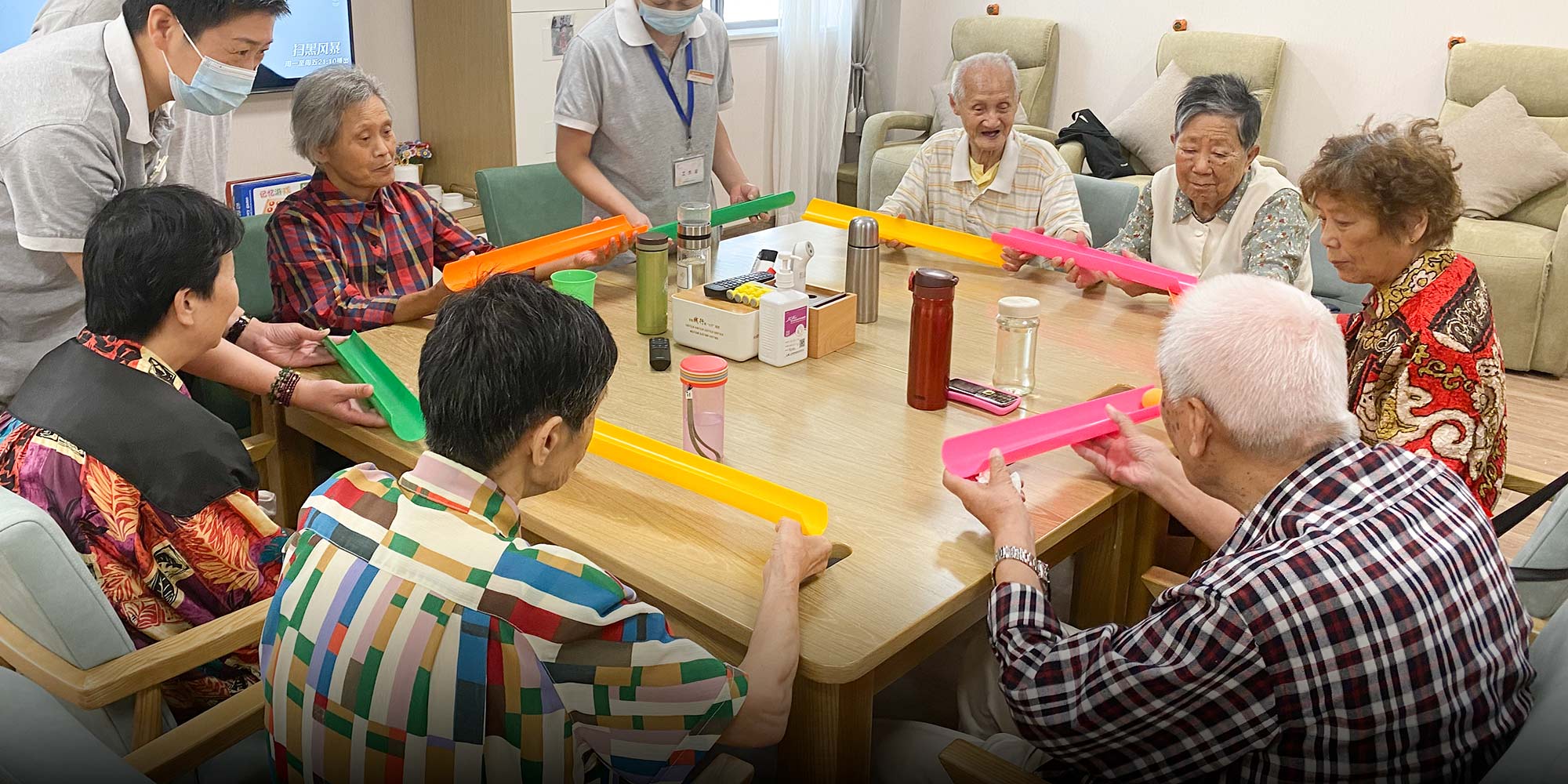 FEATURES
China's Solution for Loneliness: Play Time for Grown-ups
Social isolation has become a serious issue affecting China's 260 million seniors. Now, there's a push to help them build new relationships — by organizing play dates.
SHANGHAI — Inside a downtown community center, eight retirees are sitting around a table, each clutching a length of plastic drainpipe.
"Everyone pass the ball through your drainpipe one by one," a social worker instructs the group. "Anyone who fails to catch and pass on the ball will receive a 'punishment,'" she adds with a smile.
It's play time at Huayang Integrated Elder Care Center, and the game of catch is one of many activities the staff has organized for the neighborhood's senior residents. The room almost looks like it's hosting a child's birthday party: There's sand painting equipment, a ring toss set, and stacks of memory game cards.
But the fun and games have a serious goal: The center sees them as vital to boosting its elderly members' mental and physical health.
"They're lonely at home by themselves," says Shi Junjie, director of the facility in Shanghai's central Changning District. "Interacting with the staff and other elderly people makes them very happy."
Huayang is one of many Chinese organizations turning to an unfamiliar tactic to tackle the country's loneliness crisis: play dates for pensioners.
While social isolation is an issue affecting elderly people around the world, the problem is particularly acute in China. Decades of large-scale internal migration has led to millions of retirees becoming "elderly drifters" — moving across the country to assist their overworked adult children with child care. Many struggle to adapt to life in their new cities, where they often know no one apart from their own relatives.
The loneliness this causes can have severe health consequences. Studies have found that social isolation is linked to a range of mental health conditions, including anxiety and depression. It can also contribute to earlier cognitive decline and mortality.
Now, there is a growing push in China's care industry and wider society to provide seniors with toys and organized games. The hope is that playing more will help retirees stay mentally sharp — and make new friends.
It's a novel concept in China, where there is strong cultural pressure on seniors to avoid doing anything considered "childish." But attitudes are starting to soften as the benefits of play-based activities become clearer.
Wang Fuqing, a committee member of the China Association of Gerontology and Geriatrics, says the organization is encouraging elder care facilities across the country to experiment with play dates. He became a strong supporter of the idea after running a trial at a nursing home in Beijing, he says.
The facility organized two play sessions for its residents each week, each lasting for two hours. To the staff's surprise, the attendance rate was an unprecedented 98%, Wang says. After three months of play sessions, the staff also noticed a marked increase in the residents' cognitive abilities and emotional well-being.
"Some said that because of the toys and games, they were willing to walk out of their rooms and get to know the others," says Wang. "Their memories had also improved."
At Huayang, the members' favorite activities are sand painting and coloring, according to Shi, but the staff also provide more physical games like hoop toss for the seniors to practice.
"If the elderly don't exercise, they age quickly," says Shi. "Toys and playing games can delay aging."
Group games like catch, meanwhile, help break the ice. When Zhong Zhixiang, 98, drops the ball from his drainpipe, his punishment is to sing a song. He gets up from his chair and belts out a tune in English: "Remember, you loved me when we were young."
Zhong, a former worker at a glass manufacturing factory, says he relishes the play dates at Huayang and particularly enjoys the hoop toss. His only complaint is that the center doesn't provide any marbles, which was his favorite game as a child.
Yet the resistance to play dates remains strong in China. Many in society — including large numbers of seniors — believe that the elderly should stick to "serious" activities, such as cooking, child care, and calligraphy.
These stereotypes exert a powerful influence on behavior, as can be seen in China's toy market. There is huge potential for toys targeting the elderly — the country has more than 260 million people aged 60 or over, a figure that is expected to surpass 400 million by 2040 — yet the market remains in its infancy.
There is currently not a single Chinese institution or company specializing in producing elderly toys for the domestic market. In Japan, by contrast, the market is highly developed: toy giant Bandai was marketing 20% of its products to adults as early as 2008.
Because specialist toys are so hard to find, some Chinese elder care facilities are having to make their own. The staff at Lezhi — a Beijing-based senior care services provider — creates building blocks, memory cards, and other toys by hand, according to Cheng Yalu, a social worker who works for the company.
But there are signs that social attitudes toward the elderly are gradually evolving. Lezhi often found that clients' family members were confused by the company's idea of giving toys to seniors, Cheng says. However, after seeing the visible benefits the toys have brought, the family members now fully support the initiative. Many have even purchased toys for their elderly parents themselves.
The only problem is that some family members believe that simply buying a toy and "throwing it at the elderly" is enough, according to Cheng. "This is a big mistake," the social worker says. "What the elderly really need is companionship."
Song Delong is also convinced that toys and games will soon be a common pastime for elderly people across China. He quit his media job last year to set up one of China's first elderly toy stores in Beijing.
The 42-year-old had the idea of setting up the store after working as an advertising executive for state broadcaster CCTV, where he handled deals related to "Sunset Glow" — a documentary series about the lives of elderly people in China.
He opened the business — a 180-square-meter space in Beijing's Tongzhou District — in October 2020, but he initially faced skepticism. Several elderly customers flatly told Song his store was poorly positioned in the market, because the elderly shouldn't play with toys.
But attitudes are slowly changing, Song says. After making a loss for the first five months after opening, the store is now profitable, and Song has expanded his range of toys from around 400 to more than 700. The most popular are traditional Chinese games like the three-dimensional puzzles Baguenaudier and horseshoe locks, and the throwing game pitch pots, he says.
Key to the business's success has been making the store part of the local community. Song has introduced a membership program, where seniors can pay 100 yuan ($16) a month to spend as much time as they like in the store. More than 400 people have already signed up.
"They come here and play with these toys for hours, and some bring their grandchildren to play together," says Song. "Many elderly people have a relatively monotonous life in retirement. Their spiritual needs haven't been paid enough attention to."
Chinese seniors, who have been thrifty all their lives, are often still unwilling to spend money on toys for themselves, Song says. Most buyers tend to be people in their 60s, who are looking for ways to entertain elderly relatives in their 80s and 90s who can rarely leave their homes.
"They functionalize toys and think that playing with them can prevent Alzheimer's disease," says Song. "But I think that playing is just playing. The point is that the toys can make them happy."
But Song believes that seniors' spending habits will change once the toy market gains momentum. He's already noticed an uptick in visitors in recent months, with some customers even traveling from outside of Beijing to see his store.
"It's not that they don't want to play; they just didn't have a place or a person to lead them," says Song. "Years ago, when some elderly women started square dancing, people thought they were crazy. But then, more and more people joined, and it became a trend."
Sourcing toys remains a laborious task. Due to a lack of specialist suppliers, Song often has to visit major children's toy stores and hand-select products likely to appeal to the elderly. His main criteria are ensuring toys are safe, non-toxic, and will remind seniors of their childhoods, Song says.
Yet there are tentative signs that things are changing in China's toy industry, too. Jinma, a toy manufacturer based in the eastern Zhejiang province, is one of the first companies in the industry to experiment with products targeting seniors.
Jinma began to explore the market after receiving a letter from a retiree complaining that he couldn't find any toys to help "delay Alzheimer's disease," Qiu Jian, the company's director, tells Sixth Tone. The results have been promising so far: elderly toys account for around 10% of Jinma's wooden toy sales.
Now, Song is working on new ways to connect with elderly customers. He has partnered with several local authorities to organize game competitions for local seniors. He's even preparing to host an online tournament for elderly players of the video game "Honor of Kings."
But the store's top priority will always be providing a fun place for local residents to kill time, Song stresses. The store is surrounded by decades-old housing complexes with a large number of elderly residents. Many are "elderly drifters" whose children moved to Beijing to find work, he says.
"Retirees in big cities have good material living conditions, yet they experience many negative emotions," says Song. "Toys designed for them can give them a more fulfilling life in retirement."
Additional reporting: Liang Jiaqi; editor: Dominic Morgan.
(Header image: A group of seniors play a catching game at Huayang Integrated Elder Care Center, Shanghai, Aug. 20, 2021. Fan Yiying/Sixth Tone)