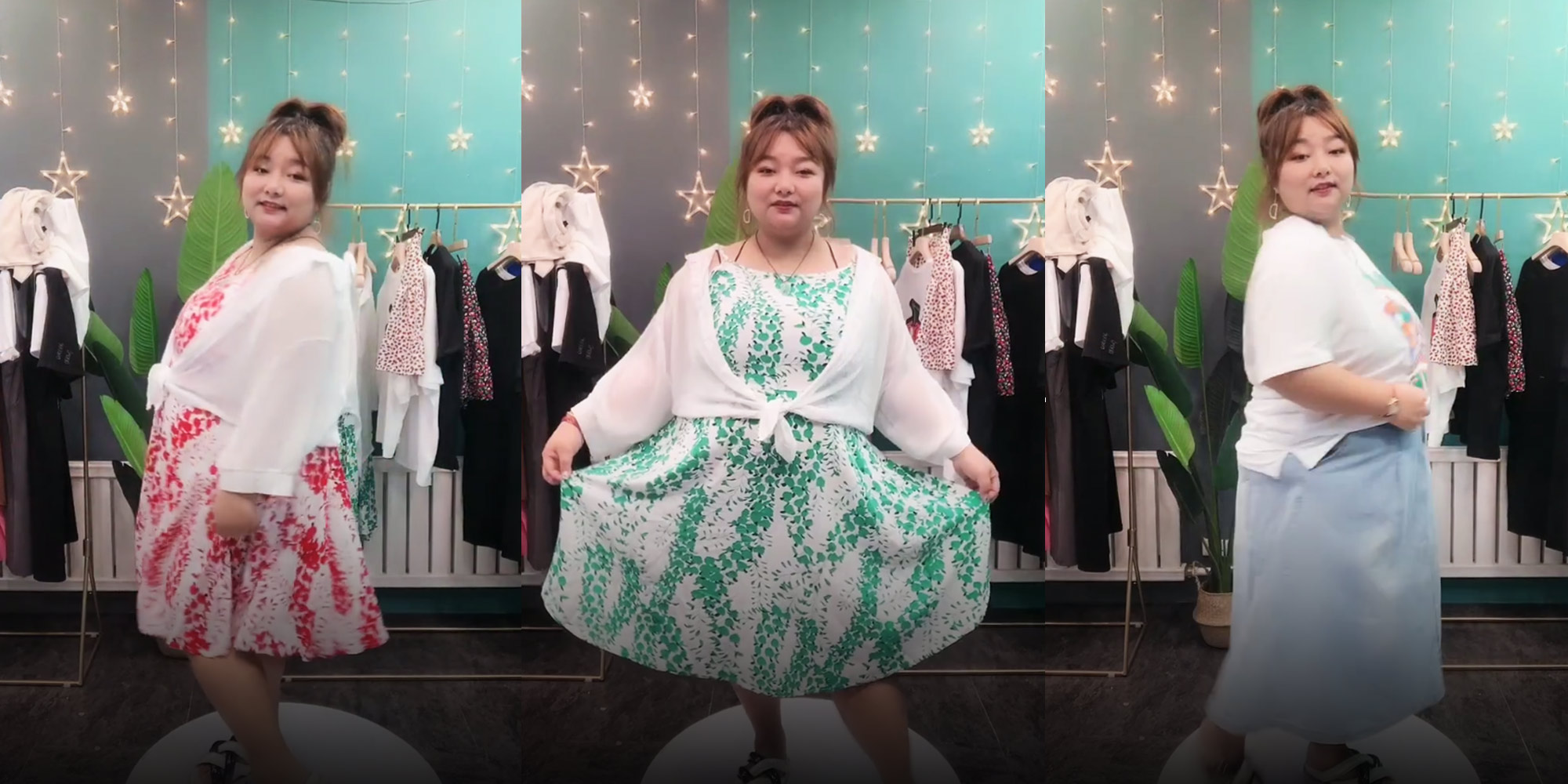 SIXTH TONE ×
For Your Size Only: The Little Livestream Making it Big
As online shops selling plus-sized clothes gain momentum across China, they increasingly function like virtual alliances for women.
Every day after dinner, starting at around 8 p.m., Panpan models her clothing line for hundreds of thousands of fans. For the next six hours, the 29-year-old changes outfits, breaks down each dress, and then interacts with viewers — all on a livestream operated through Kuaishou.
She generously displays her round belly in front of the camera. That's because she chooses not to use shapewear, thus offering a realistic perspective on whether the clothes she's selling cover one's stomach or not.
Standing at 1.6 meters and weighing 110 kg, Panpan makes a living selling plus-size women's clothing on the livestreaming app Kuaishou with her husband Song Pinjie.
Dubbed "Big Panpan's Plus-size Women's Clothing," the couple's online store specializes in outfits for women who weigh up to 125 kg, where a summer dress costs around 30 yuan ($5). The combination of accurate sizing and value for money has garnered Panpan an impressive 360,000 followers online so far.
For three years now, the couple has operated their store out of the Yiwu Commodity Market, an e-commerce depot that offers online retailers space and equipment for livestreams in Haicheng, in the northeastern Liaoning Province.
Their store comprises two 50-plus square-meter spaces — one to shoot videos; the other to dispatch goods they source from the Xiliu Market, just 2 kilometers away. Unlike similar wholesale markets in Hangzhou and Guangzhou in the southern Guangdong Province, two of Xiliu Market's five floors house around 700 vendors dedicated to plus-size women's clothing.
But Big Panpan's Clothing is not just a store. The women who join the livestream often do so at critical junctures in their lives — when picking a new outfit for a job interview, sprucing up before a blind date, or in the midst of hectic wedding planning.
It's why the last ten minutes of the livestream are so important. That's when Panpan and her prospective customers gather to chat and support each other.
Across China, such livestreams have begun to increasingly function like virtual alliances for plus-size women. They offer not just an emotional outlet for those watching, but new opportunities for the women who host them.
From 2XL to 4XL
Panpan wasn't always as big as she is now.
In April 2014, Song Pinjie sold women's clothes on Taobao, China's e-commerce giant, when a friend introduced him to Panpan. Panpan had completed a degree program in fashion design and worked at a clothing factory as a pattern maker.
Working in the same industry, Song and Panpan had a lot in common. "At that time, she weighed 69 kg," Song recalls.
By the time they tied the knot a year later, Panpan had put on more than 15 kilos. By the third year, she weighed more than 100 kg and her dress size had jumped from 2XL to 4XL.
A lot of that weight gain boiled down to their line of work. "While dating, I always had to wait for Song to finish his work on Taobao before going out. And then, our dates would always involve eating something late at night," says Panpan.
And after they got married, their lives were tied closely to the fast-paced demands of e-commerce in China. The irregular work-life schedule, along with late-night cravings, meant a quick trip to "plus-size for Panpan."
At 1.7 m tall and weighing 60 kg, Song Pinjie is slim. Six years into their marriage, the couple has never quarreled over Panpan's figure, though they recall acquaintances occasionally joking: "Your wife is too fat — she should lose weight."
Panpan knows in her heart that Song would never let those comments affect him. He's not only her husband but also her friend: "We haven't been apart for more than 36 hours since we married," she says.
"I don't really mind her figure," says Song, smiling sheepishly. "But I'd also like her to be healthier. It's no use though —she's tried losing weight before but couldn't manage more than a week."
But when his wife got to 95 kgs, and she was out of breath climbing up three floors, Song got anxious. He booked her for weight loss massages, which she stopped after a week, saying, "It's like going to school."
Panpan then tried low-fat diets — such as eating boiled spinach — and managed to lose some weight. "At her heaviest, she was 114 kg. Using this method she got down to 107 kg, and then stopped again. The reason: she wanted to eat barbecue in summer," says Song.
She even signed up for a fat-loss bootcamp in Xiangyang, in the central Hubei Province. But once she got there, she was told she couldn't join because her heart rate was too high.
A lot of that has to do with the job. A fast heart rate is typical for livestream hosts because of their hectic lifestyle.
Every day, the couple starts work around 3 or 4 p.m. They receive deliveries, take photos, stack shelves, record videos, prepare for the livestream, and carry out stock checks. When they get back home, they do the accounts. A typical day often ends around 3 a.m — or 12 hours of work.
Panpan spends half this time on livestreams, starting after dinner at 8 p.m. and stopping only at 2 a.m. Viewers frequently ask her, "Why don't you lose weight?"
People often attribute failure to lose weight to poor self-control. But for Panpan, it's the intensity and schedule of her job. "After the livestreams, I'm always really hungry," she says.
Shopping for clothes is like torture for her. Before she started livestreaming, if Panpan found a pair of pants she liked, she always bought a second pair as a backup. Sometimes, when a pair of jeans frayed after only a few wears, she would have a tailor sew a patch on the inside so no one could see they'd been repaired.
Most malls aren't particularly friendly to plus-sized women either. Last year, Panpan spotted a coat she liked at a store. More importantly, it "looked pretty big," she says. She asked the salesperson about its price but was simply told: "You won't fit into it."
Panpan wanted to try it on anyway, but the salesperson just said, "You won't fit into it even if you try."
These kinds of experiences may be common for plus-size women, but the constant rejection still left Panpan feeling uncomfortable. "I've been selling clothes for years — sometimes, I know when I can actually fit into clothes."
Now, Panpan has a lot of clothes. But even if she only visits the mall once a year, she says she still knows she will face embarrassment.
New opportunities
Before moving his operations to Kuaishou, Song Pinjie spent six years selling office attire on Taobao for women weighing 45-60 kg. In 2018, however, he noticed a dip in sales.
At the same time, he realized that Kuaishou's user base had slowly grown to hundreds of millions of users. And simultaneously, at Xiliu Market, where he normally purchased his goods, more stores started producing plus-size women's clothing.
Song knew Liaoning and its neighboring provinces of Shandong, Hebei, Jilin, Heilongjiang, and Inner Mongolia offered a natural market for plus-size women's clothes. According to Song, this is in part because, "Women in these provinces are generally taller and bigger."
And the vendors in Xiliu Market always have their finger on the pulse. Sensing a business opportunity for plus-size women's clothing on video-sharing platforms, they were quick to pounce on the trend.
"In 2016, there were only around 30 vendors producing clothes for plus-size women," says Song. "In 2018, there were about 80, and now there are 600-700." The profit margin is also considerable, he says. A typical dress worn by Panpan sells in other stores for more than 300 yuan, while the cost of such items may be less than 50 yuan. Such a dress typically retails for around 60 yuan on Panpan's livestream.
In the fall of 2018, Panpan and Song officially started selling plus-size women's clothing on Kuaishou. In just a few weeks, one of Panpan's videos started trending, and their channel gained more than 1,000 followers. In the video, Panpan models a pair of leather trousers, and clearly articulates the concerns of plus-size women.
"Before I make a video, I think about how I can highlight the special features of clothes for bigger women. We can't wear low-rise pants, while those leather trousers were so easy to wear since the waistline went up above my navel," says Panpan. The pants stretched like magic and gave plus-size women the confidence to wear something they'd not dared to before.
As well as giving the couple a new boost to their business, the livestream has had an even bigger impact on Panpan's own life.
Soon after they married, Panpan quit her factory job to focus on helping her husband's office clothing business. But now, Panpan is front and center during the livestreams, while her husband's role shifted from seller to video assistant and store manager.
Song is very happy for his wife: "Before, I thought of her as a good wife. But now, she can hold up half the sky!"
When she first began shooting, Panpan didn't know what she could tell strangers. So she just recorded videos with her cellphone without speaking and used whatever background music the app recommended. She then highlighted the key features of the clothes using subtitles.
Before long, she realized this approach couldn't compete with videos made by her chatty peers.
Song then started paying close attention to what other plus-size female hosts said on their streams. Panpan jotted their phrases down and recited them over and over again. Sometimes, she'd record a dozen or so takes just to get one line right. When their sales from videos alone could no longer compete with other hosts, Panpan decided to start livestreaming.
Outside work, Panpan says she doesn't enjoy socializing or going out much. But to her surprise, she was a natural on camera. And after three years of videos and livestreams, she's now even at ease revealing her belly. "I thought since the internet was so huge, my friends and family wouldn't stumble upon the videos," she says.
With a background in fashion design, Panpan has her own take on fabrics and styles. She tries to add her perspective when introducing clothes, avoiding elaborate descriptions to focus instead on quality and size. She says, "I try on each item one by one, keeping only those that look big on me to introduce to my fans. If it just fits, I don't know how it'll look on other people."
The difference between well-made plus-size items and regular ready-to-wear clothing is subtle — and the couple keeps a close eye on such differences for their followers.
The fabric should be comfortable and stretchy, so larger women can wear the pants above their navel; the seams and crotch require an extra line of stitching; stitches should be close together; and elastic thread should be used.
According to Panpan, plus-size pants require more fabric than regular-sized pants. The couple pays close attention to such details. Since some plus-size pants are stitched just like ordinary pants, they worry that buyers will all end up returning products if the stitches come apart.
It's why Panpan doesn't sell as much as top hosts. However, she still boasts a large number of repeat customers and few returns. "My fans rarely abandon me," she says.
New worries
Despite her new-found confidence, not long ago, Panpan considered a gastrectomy.
Every time she's at Xiliu Market to pick up goods, Panpan spends some time chatting with other female bosses. And when the subject of gastrectomies eventually comes up, she says she hears of other hosts who have recently had the surgery.
While most get the procedure in Beijing or Guangzhou, the closest city offering it is Shenyang, a two-hour drive away.
Panpan considered the surgery not to become more "attractive" but because she was worried about her job and wanted to lose weight as quickly as possible.
She and Song once reasoned that their sales were not as high as other hosts perhaps because clothes didn't look as good on a woman who weighed over 100 kg.
"The majority of online hosts in the plus-size women's clothing industry actually weigh just 60 to 70 kg," says Panpan. Livestream hosts in this weight range find it easier to conceal their bellies, and the instant effect of changing clothes can stimulate a woman's impulse to buy, she explains.
In her opinion, people who watch livestreams of plus-size hosts are still visual animals. Even when women hosts are no longer plus-size, looking "feminine" attracts more fans and orders, with viewers believing they can achieve the same results themselves.
According to Panpan, other hosts lost around 50 kg after a gastrectomy, and even managed to continue their business after the surgery. In addition, some hosts selling plus-size clothing who are under 50 kg even make several million yuan per year in profits — much higher than what Panpan and her husband made last year.
To increase sales, Panpan says some hosts lie about their weight too. This way, the plus-size women watching may believe they'll look as good since they weigh the same.
According to Panpan, buyers then end up with clothes that look nice on screen but feel small when they arrive in the mail. "So some customers over-report their weight to me in the livestream, believing they'll get larger clothes that actually fit," she says.
Some manufacturers intentionally make smaller clothes to save on fabric and costs. Once, Panpan opened a package from another plus-size clothing store that was mistakenly returned to her address. "It was marked as 6XL, but in our sizing, it was 4XL," she says. The two sizes can represent a contrast of 20 or 25 kg.
Insisting on recommending more accurate measurements, Song measures the bust size of every item of clothing when selecting the products they sell, unlike other sellers who only look at style.
Sometimes, the couple says, it is difficult to sell clothes with manufacturers reluctant to accept reorders when the average order for each item is only a few dozen pieces. In such cases, Panpan and her husband have no choice but to apologize to their customers one by one and refund their purchases.
Another reason Panpan considered surgery is because she's now expecting her first child. Her latest post is a video of her sharing the news with her fans.
In the video, Panpan is sitting at a table dressed in her pajamas, not wearing makeup while speaking to her fans like they were sisters. In the past, fans shared their worries about being too overweight to conceive, with the problem sometimes even leading to marital problems.
It wasn't easy for Panpan to get pregnant either. She has polycystic ovary syndrome, a hormonal disorder with symptoms that include obesity and infertility. The obesity leads to low levels of progesterone and a higher risk of miscarriage. After finally getting pregnant, Panpan decided to break the news to her fans to give them something to be cheerful about.
She didn't post any new videos for eight days after that announcement to get through the unstable early pregnancy phase. Her family asked her to stay at home and rest, while her husband prepared traditional Chinese medicine for her twice a day, as well as folic acid and progesterone supplements. In the afternoons, he also took Panpan to the hospital for extra progesterone injections.
Panpan says doctors explained that her high blood sugar may cause the baby to become larger, making giving birth difficult. More seriously, it could lead to medical issues in the child.
Worried, Panpan decided to first give birth before possibly having the stomach surgery.
Plus-size women's alliance
With livestreaming, Panpan has a new professional identity. But the job has also brought her, and Song Pinjie, more pressure than ever before.
When they were selling on Taobao, clothing styles seldom changed. If Song's store on Taobao had some stock left over, he could sell it the next month. However, with Kuaishou, the couple must release at least 20 new styles each day so there's always something fresh for viewers.
Moreover, there are always a few less-than-complementary voices during the livestreams, and the comments on Panpan's looks and figure eventually take a toll.
The competitive market, and the constant stress from dealing with vendors, led to an emotional build-up, which came to a head in 2019. It culminated in Panpan and her husband arguing frequently. Both were diagnosed with anxiety disorders.
At the time, Panpan's first thought each morning was: "I don't want to livestream." Song suspended his store and took Panpan to Tibet for over a month to relax. When the livestreams stop, hosts lose money and fans. But Song believed his wife's wellbeing was more important.
Eventually, their fans dragged them back to livestreaming. During the break, they received frequent messages and even phone calls from customers who constantly asked where Panpan was. They even left comments like: "If you're not feeling good, try and relax. Just ignore the haters. We'll wait for you."
Song is still very moved at the response from their customers. It felt like the relationship with their fans was not just transactional but more like friendship. So, after the trip, Panpan returned to work.
From her livestreams, some dedicated fans have bought almost 200 items of clothing over two years. "It's the equivalent of buying 70 or 80 pieces a year, which is almost an entire wardrobe," says Song.
It's not just their wardrobes — women also visit Panpan's livestream while looking for an outfit before a job interview, when they're going to be a bridesmaid, before a blind date, or even for their wedding.
Perhaps they feel that only someone else who is plus size can understand their needs, know how to cover up their insecurities, and help them step out into the world with greater confidence.
Once, a 31-year-old woman from Handan, in the northern Hebei province, joined the livestream at around 2 a.m. Her job involved hauling saplings to the mountains, and she earned 80 yuan a day for a 12-hour shift.
The woman's limited salary meant she couldn't afford plus-size clothes that usually retail for over 100 yuan, so she often bought short sleeve tops from Panpan's store for 29 or 39 yuan, matching them with pants for 39 or 49 yuan.
"She said that carrying the saplings was really exhausting, so she'd always sleep for a few hours after work," says Panpan. "When she woke up, she joined the livestream to chat with me for a while."
Panpan also recalls a man buying clothes for his wife. "Once, I phoned him to discuss returning some items, but no one answered. Then he texted me saying he was hearing impaired and couldn't hear the phone," she says.
Panpan then realized why the man — with the username Xin — was usually quiet during the livestream. He explained to her that his wife wasn't well educated and couldn't type, so she always had him buy the clothes.
From then on, whenever Xin wrote "Speak slowly, I don't understand" during the livestream, Panpan knew he hadn't been able to read her lips. She'd then scroll back to his question and explain it to him again but slower.
Panpan doesn't even mind fans taking her videos and using them to sell clothes. "As long as you don't do anything bad, I hope you can also become financially independent and have your own careers," she told them. She's particularly proud of being able to give her parents 5,000 yuan every Lunar New Year, and hopes other plus-size women can experience the same sense of achievement.
In the three years she has spent selling plus-size women's clothing, Panpan has not only solved the problem of what to wear for other larger women, but for herself too; she used to only wear black, but she now wears a wider variety of styles and colors.
She hopes that her small livestream can solve plus-size women's problem of worrying about not having much to wear. She hopes the anxiety will be replaced with something better — deciding which outfit to wear.
This alliance works both ways. Panpan hopes she and other plus-size women can get dressed with confidence and can all see more of the world with their heads held high.
A version of this article originally appeared in Renjian Houshijing under the author's pen name A-Min. It has been translated and edited for brevity and clarity, and published with permission.

Translator: David Ball; editors: Li Yijuan, Xue Yongle, and Apurva.
(Header image: A collage shows Panpan modeling clothes, 2019. From @宁盼盼 on Weibo)