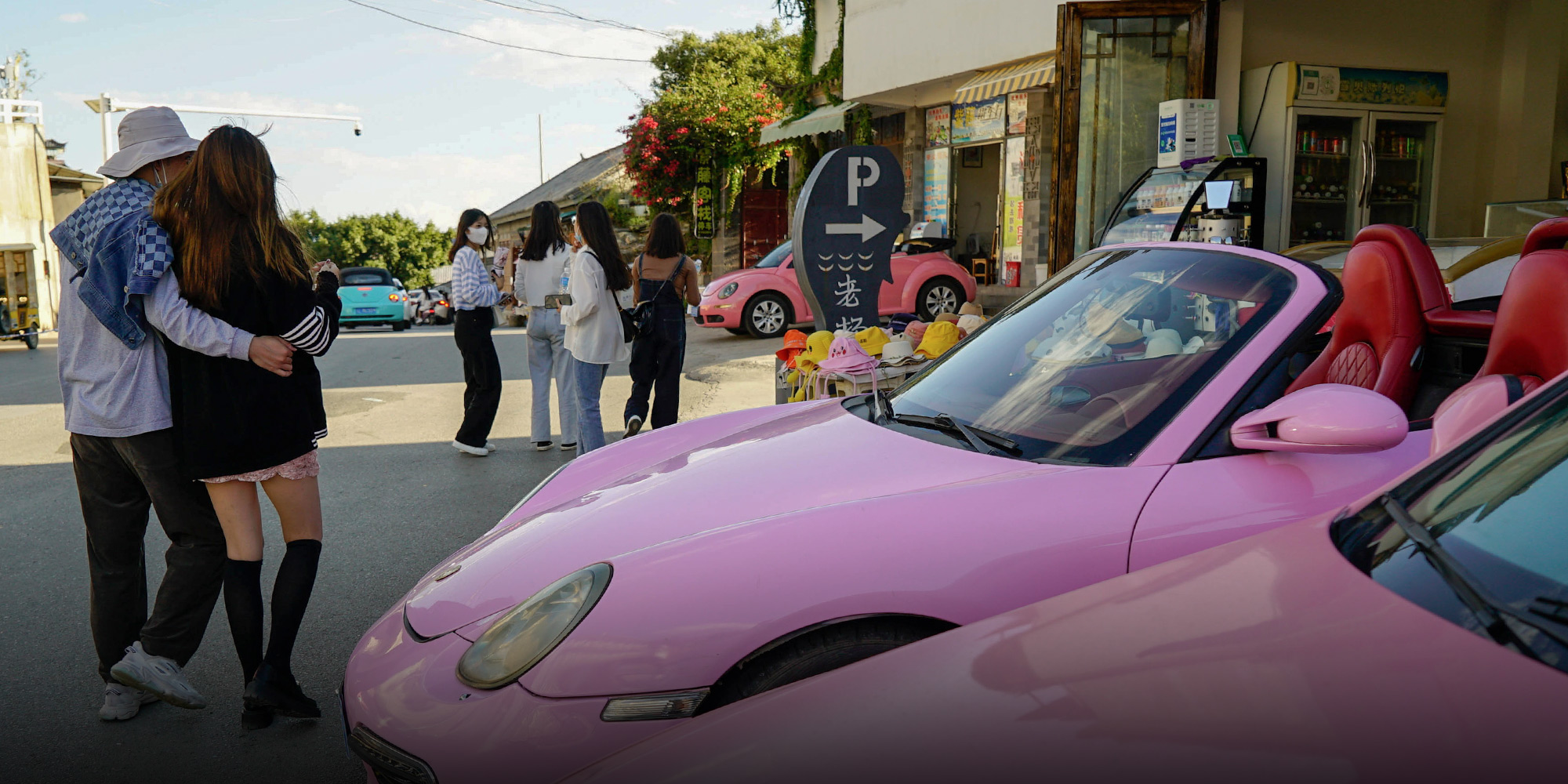 FEATURES
China's Latest Tourist Craze: Bright Pink Convertibles
In China's vacation hotspots, a new fashion for "grammable" rental cars is flooding streets with colorful sports cars — and fueling safety concerns.
YUNNAN, Southwest China — Hongwu Road used to be just another sleepy street in Dali's picturesque old town. Then, the sports cars arrived.
More than 20 businesses have set up shop here to hire out brightly colored convertibles to tourists. Pink Porsches, sky blue BMWs, and canary yellow Minis are now triple-parked along the sidewalk, packed so tightly together passersby can barely squeeze past.
The upmarket rental cars have become hugely popular in several Chinese vacation hotspots in recent months, fueled by hype on Chinese social media. For travelers, they offer a cheap thrill, a way to access off-the-beaten-track scenic spots — and the perfect backdrop for a selfie.
But local residents are less keen. There are rising complaints that rental sports cars are contributing to an uptick in traffic, noise pollution, and road accidents as tourists zoom along narrow, winding roads in powerful and often poorly maintained vehicles.
For many, it's just the latest example of how social media-driven tourism is transforming life in Dali — a southwestern getaway known for its stunning lakes, mountain scenery, and laid-back pace of life.
"The trend is a microcosm of Dali's tourism development," a local resident, surnamed Yang, tells Sixth Tone. "It's also got its pros and cons."
It's unclear exactly when the fashion for fancy rental cars emerged in Dali. Dong Peitian, a local taxi driver, says he first noticed colorful sports cars on the road a few years ago. Since then, they've rapidly multiplied.
"When more people saw the business opportunity, more cars were dropped on the road," says Dong.
As word of the sports car craze has spread, entrepreneurs from across China have moved to Dali to get a piece of the action. It's an easy business to get into: New entrants typically buy a few second-hand convertibles, cover them in an eye-catching wrap, and start renting them out within weeks.
You Jiang, an entrepreneur originally from northeast China, set up a convertible rental firm named Bonnie Car Rental in Dali with his relatives in May. The family now owns four outlets in the city, including one on Hongwu Road — the area now known locally as "Sports Car Street."
"It's the right time and the right place," says You, who estimates the business made around 100,000 yuan ($15,500) during the weeklong National Day holiday in early October.
The holiday was a bumper time for the businesses. Dali's tourism industry took a big hit in 2020, with visitor numbers down 26% on the previous year. But the Golden Week saw 1.6 million people visit the city — not far off its pre-pandemic peak.
The rental firms, meanwhile, have benefitted from the buzz they're generating on the Chinese lifestyle platforms Xiaohongshu and Dianping.
Zhou Jinyuan and Guo Jing were among the many tourists to visit a "sports car" rental shop in Dali after hearing about the businesses online. The pair — who had never met before their trips to Dali — connected through Xiaohongshu and agreed to pool for a convertible to drive around Erhai Lake, the ear-shaped lake that lies north of the city.
For just 340 yuan, plus an optional 80 yuan for insurance, Zhou and Guo got to keep an off-white 2007 Volkswagen Beetle for 12 hours. That afternoon, they took turns posing in the driver's seat against a backdrop of golden rice fields, and recording videos of the lake reflected in the car's wing mirror.
Guo, a 25-year-old from the southern city of Guangzhou, says she partly wanted to rent the drop-top because it would look great on social media. However, it was also a fun experience in itself, she adds.
"The reason people travel is to experience something different from their daily life," says Guo, who drives a Buick at home.
Many travelers feel the same way. Convertibles have become so popular in Dali, rental firms say they've become an entire new market segment.
Seven years ago, Wang Cuigang set up a business near Hongwu Street to rent out electric scooters. Now, he's added a fleet of bright yellow BMW Z4s and Volkswagen Beetles.
"The competition is fierce," says Wang, a native of the northeastern Jilin province. "I'm now working on the shop's online presence and asking friends who are homestay owners to recommend me to their guests."
For Dali's residents, the sudden fashion for sports cars hasn't come as a big surprise. Social media-led tourism has become a key driver of the city's economy in recent years.
"It's an industry born out of 'tourism culture,'" says Yu Zekun, a local vintage store owner. "I just think this is what Dali is supposed to have."
The sports car craze is part of a larger trend in China of businesses offering services that will go viral online. Restaurants, hotels, and even entire villages are now intentionally trying to become wanghong — "internet famous" — by creating gimmicks that visitors will want to share on their social feeds.
Bookshops build spectacular, multistory piles of books. Local governments turn villages into "fairytale lands" by painting houses a variety of bright colors. Other venues simply declare they are "wanghong" and hope that visitors take their word for it.
"The word circulates on the internet so much, maybe people start to believe that just by calling something 'wanghong,' it can get some prestige," says Carwyn Morris, a research associate at the University of Manchester who focuses on wanghong culture in China.
In Yunnan, the region where Dali is located, tourism accounted for over 50% of the province's economy until the pandemic struck. There, the wanghong phenomenon is especially pronounced. 
On the navigation app Baidu Maps, dozens of destinations in Dali advertise themselves as "wanghong." There is a "wanghong" parking lot offering good views of a popular "wanghong" road, which is said to resemble Kamakura, Japan. A real estate development named Dream Land, meanwhile, has become "internet famous" for looking like the Greek island Santorini.
Zhou and Guo, the tourists who rented the Volkswagen Beetle, said they'd made a list of wanghong destinations to visit in Dali based on what was trending on Xiaohongshu. It included a giant tree, a restaurant with lakeside views, and Dream Land — or "Little Santorini."
Dream Land was already closed when the pair arrived. However, they decided to "check in," or daka, on Xiaohongshu anyway, to show their followers that they'd been there.
Long-term residents are generally philosophical about the way wanghong tourism has changed life in Dali. Yunnan province has one of the lowest income levels in China, and locals remember how much less prosperous the city was before the tourist industry took off in the late 1990s.
"No matter whether it's transportation, accommodation, infrastructure, the development of attractions — none of it was as good as it is today," says Yang, a Dali native who owns a restaurant just outside the old town.
But the convertible trend has sparked real backlash. Yu, the vintage store owner, says he hates how pretentious visitors blast loud music while cruising in the sports cars.
"I can tell immediately that they're renters," he says.
Other residents complain about the safety risks the cars are causing. There has been a spate of shocking road accidents involving tourists in Dali over recent years. 
In 2018, a newlywed couple died after crashing a Jeep convertible while taking photos. Several visitors have accidentally driven into Erhai Lake. Many more accidents did not make the news, locals said. 
It doesn't help that the car rental industry is loosely regulated. The vast majority of rental shops operating in Dali are tiny businesses. Many set up quickly to cash in on the new trend, and they deliberately use old cars to keep costs down.
During their drive around Erhai Lake, Zhou and Guo complained repeatedly about the battered Beetle they'd hired. The car's Bluetooth speaker was broken, the right rear window didn't fit properly, and the steering wheel was heavy. "It's like driving a go-kart," Guo said when she took the wheel.
The rental operator, however, had earlier assured the pair the vehicle was fine. When they pointed out the warning light was on, a staff member told them not to worry: "It's just old."
China's Ministry of Transportation introduced new guidelines to regulate the rental industry in April, but for now the firms are largely left to police themselves. Wang, the rental shop owner, says he tries to ensure his business doesn't hire out vehicles to dangerous drivers. 
"We wouldn't rent a car to someone with less than a year's driving experience," says Wang. "I also want to see how you drive — I wouldn't dare rent one to drivers who are rusty or don't even know where the brake is."
The rental industry also threatens to derail Dali's attempts to restore the reputation of its tourist industry. Yunnan province used to be China's number one source of tourism-related complaints, with travelers frequently claiming they'd been pressured into buying overpriced souvenirs by tour operators.
The provincial government has launched a "tourism revolution" to clamp down on bad actors, but the nascent convertible rental market appears to fall outside the scope of this campaign.
Scams and disputes over insurance claims and deposits between Dali's car rental firms and customers have become a common issue. On social media, several users have warned about unscrupulous rental businesses.
"Make sure you keep your inspection form in case the car rental people say there are problems afterward, and choose a new model if you can," wrote one commenter on Xiaohongshu. "Make sure you take photos and videos of your car before and after use," wrote a Weibo user.
Even Yang, the restaurant owner, worries about the impact the car rental shops are having on Dali. Though she appreciates the fact that many entrepreneurs have come to the city in the hope of making a living, she says that the businesses are dangerous.
"Health and safety is definitely overlooked," says Yang. "When my friends come to visit, I always tell them not to rent a car."
Editor: Dominic Morgan.
(Header image: Tourists walk past rental convertibles in Shuanglang Town, Dali, Yunnan province, Oct. 6, 2021. Jiang Yaling/Sixth Tone)