"It's not okay that there are people who still haven't tried night owl beverages," Yuan, an office worker, posted on social media at 3 a.m., gushing about a popular new kind of drink that claims to reinvigorate late sleepers.
The accompanying photo showed her clutching a retro glass bottle which contained a visible sliver of ginseng. Yuan praised the drink as a "nutritious tea for office laborers," a "libation for staying up late and regaining energy," and "something that all balding late sleepers deserve."
Night owl beverages, or aoyeshui, are a new product that brings together two of urban China's most widespread phenomena: a thirst among consumers for creative variations on so-called new-style tea drinks and busy lifestyles characterized by long work hours, late nights staring at screens, and frequent indulgences in spicy and fatty foods.
Sold in retro glass bottles designed in a "China chic," or guochao, style that evokes classic Chinese packaging, the beverages are hyped up by brands and influencers as providing "nourishment" and "wellness." They often contain ingredients considered to have medicinal properties in China, such as ginseng, jujube, chrysanthemum, or kudzu root. They're flavored not with sugar, but with royal jelly, a milky secretion produced by worker honeybees.
Night owl drinks fall squarely into the trend of "punk yangsheng" — young Chinese people compensating for their unhealthy habits by half-heartedly partaking in the yangsheng, or body-healing, habits of older generations. Middle-aged people might sip goji berry tea to stay young; their children are now buying bottled beverages with infused goji berries to make up for lack of sleep.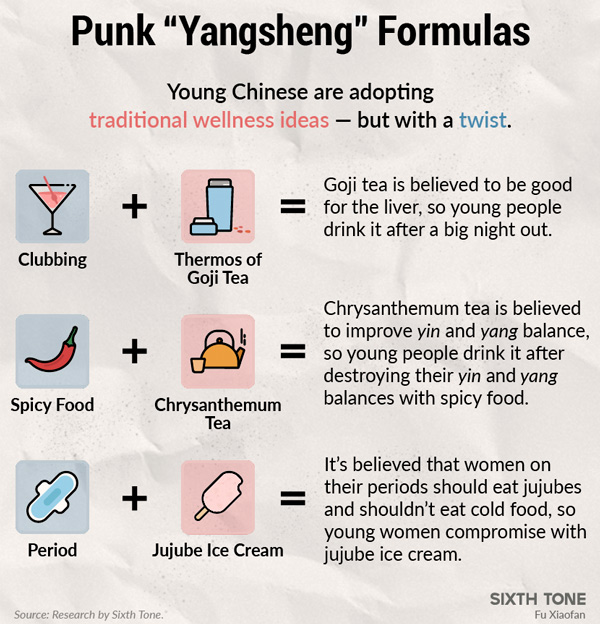 Aside from night owl beverages, other trending yangsheng drinks include those that promise results like a clearer complexion, more energy, weight loss, and reduced edema. Priced between 20 and 40 yuan ($3 to $6), they're not cheap. But that doesn't seem to have curtailed their appeal.
Many young people in Chinese cities live by the mantra: "stay up late, then use the most expensive skin care products to compensate." As a result, they espouse "sub-health," a kind of gray area between wellness and illness. Nearly 80% of late sleepers, defined as people who don't go to bed until after midnight, are between 18 and 34 years old. Meanwhile, nearly two-thirds of white collar workers in China buy health products for themselves, with their top two reasons being maintaining everyday health and dealing with the effects of staying up late. Many young people, for example, worry about falling victim to sudden cardiac death.
To soothe their fears, young urbanites are hitting the bottle. There are no public sales figures, but lifestyle social media platform Xiaohongshu already has more than 400,000 posts related to night owl drinks. Influencers have touted the beverages with endorsements ranging from, "the magical solution for late nights," to "something every balding night owl deserves," and "you have to try this after a late night." One blogger wrote, "You can see each and every ingredient: jujube, chrysanthemum, monkfruit. What's not to love?"
Multiple new-style tea brands have started selling night owl drinks and a range of other yangsheng beverages. Several well-known traditional Chinese medicine (TCM) companies have even jumped into the market with cold, bottled, and slickly marketed herbal teas. Zhima Health, a brand owned by TCM firm Tong Ren Tang, recently launched a line of herbal coffees themed around chiku, a term that literally means "eat bitterness" and refers to bearing hardships as well as the widely accepted notion that only bitter medicines are effective. One latte, with black sesame, is called "the bitterness of early balding." Another, flavored with motherwort and rose, is called "the bitterness of forever singlehood."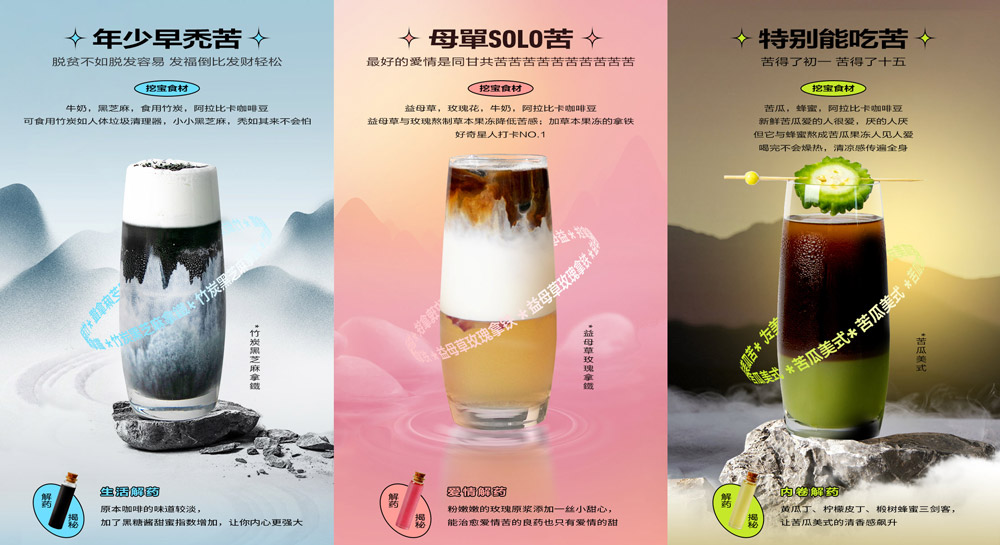 From left to right, a latte with carbonized bamboo and black sesame, a latte with motherwort and rose, and a bitter melon Americano, all marketed by Zhima Health, July 2021. From @知嘛健康 on Weibo
In their physical stores, brands will also emphasize their beverages' supposed health credentials by clustering different yangsheng products together, such as sesame balls, yangsheng pastes, and white fungus. Some even set up TCM clinics or offer Chinese bone setting and other similar services in-house.
But experts question the actual health benefits of these drinks. Does a sip of a night owl beverage really reduce the side effects of staying up late? Food industry analyst Zhu Danpeng has his doubts, saying, "Without clinical data, it's hard to determine whether a product making function claims can actually lead to improvements." Moreover, in TCM theory, ingredients need to be carefully matched to an individual, something which mass-marketed products can never achieve. Consequently, some people dismiss the new beverage fad as a "stupid tax" on young consumers.
But to investors, yangsheng drinks promise healthy profits. They're a well-defined product that is easy to market with a distinct target audience.
The Food & Beverage Innovation Forum (FBIF) reported that Water Store, a yangsheng tea brand, had acquired 10 million yuan in financing from venture capital company Plum Ventures within three months. When Water Store opened its first store in Qingdao last year, it sold over 3,000 delivery orders in its first month.
Chunfeng, which also sells yangsheng tea drinks, raised tens of millions of yuan by the time its pre-Series A funding ended this March; it is currently in the midst of its Series A funding. Its founder, Hu Kaiji, previously disclosed that the monthly sales of each store ranged from 200,000 to 600,000 yuan and that the company already had over 60 locations.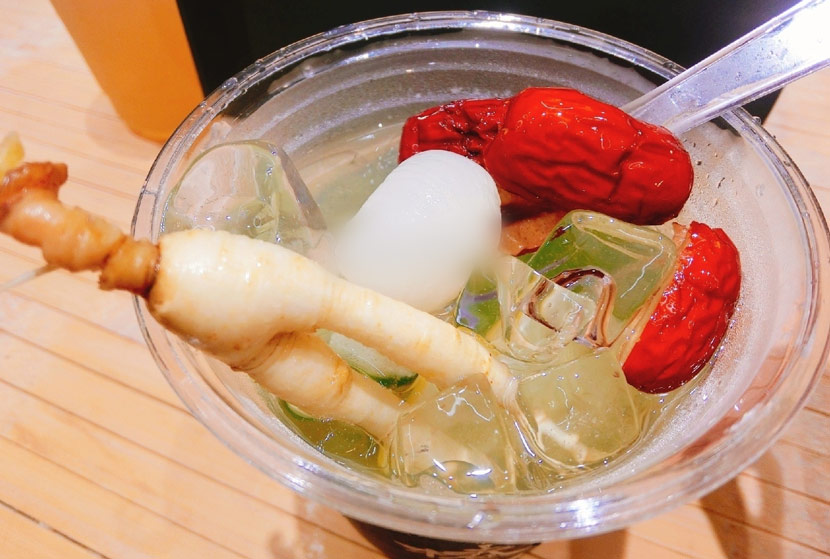 A photo of a Chunfeng beverage taken by a drinker in Shanghai, June 2019. From @小牛奶冲呀 on Weibo
Zhima Health is also broadening its reach. Beijing Business Today reported that Zhima Health planned to add 300 stores across Beijing in the next year, while store employees said that the company already had plans for locations in famous shopping street Wangfujing as well as in newly opened Universal Beijing Resort.
Gao Jianfeng, a founding partner of BOGO Consultants, pointed to two factors behind the emergence of yangsheng drinks. For one, the prevailing homogenization of new-style tea drinks means that businesses have to craft new concepts in order to differentiate themselves. Second, ideas like yangsheng and "big health" fall directly in line with current consumer trends, triggering both conversations and young people's desire to consume.
There is a strong overlap in marketing strategy for yangsheng beverages and new-style tea drinks. Both use constant product updates to sustain exposure. "Most of the products that fall under new-style tea drinks are seasonal," Gao explained. "A new season brings new products, so only a limited number of products stay on the menu and continue to sell well over several years." But compared to common tea drinks, he added, there is still room to price yangsheng tea drinks much higher — music to investors' ears.
Gao sees no looming issues for the sale of yangsheng tea drinks, aside from the low barriers to entry that might lead to a more crowded market and reduced profitability. Another pitfill might be the possible disconnect between marketing promises and actual effectiveness.
Recent missteps of other brands are warnings that excessive marketing tactics can backfire. Genki Forest, a bottled beverage brand, originally labeled and marketed their milk teas as "sucrose-free and fat-free," but people mistakenly took "sucrose-free" to mean "sugar-free" and spread the idea that you couldn't gain weight from those drinks. Consequently, legal experts said the company was misleading consumers. Likewise, social media users have pilloried companies for describing plant-based meat as"healthy and low-fat" and giving hyaluronic acid water the tagline: "drink yourself beautiful."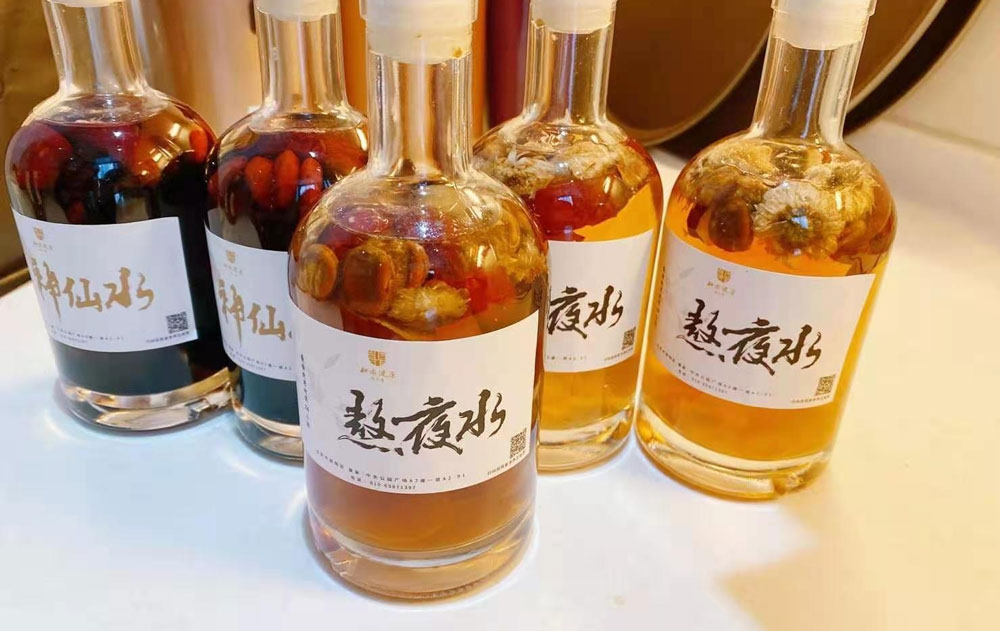 Zhima Health drinks featuring ingredients commonly used in traditional Chinese medicine, March 2021. From @知嘛健康 on Weibo
"If any food or beverage is not approved as a 'healthcare product' by the State Food and Drug Administration, then it can't be marketed that way," explained Zhu Danpeng. If they do so without being able to prove its efficacy, then they could be in violation of the Food Safety Law and the Advertising Law.
The drinks' purposely bitter taste may also dim sales prospects. At the Zhima Health branch in Beijing's Shuangjing Subdistrict, employees said that the store could sell over a hundred yangsheng drinks every day, mostly to trend-chasing Xiaohongshu users. The beverages on offer were mostly coffees, teas, and dairy-based items flavored with various herbal ingredients.
A first-time customer said that she had read about the drinks online and came to the store out of curiosity. After a taste, she expressed that it "wasn't that bad" but that she "probably wouldn't get it again," since 38 yuan wasn't cheap.
Another customer said, "I didn't think the night owl drink would taste great, and after having it, I'd be more willing to spend my money on a milk tea or a fruit tea that tastes better."
A version of this article was originally published by Kaiboluo Caijing. It has been translated and edited for length and clarity, and is republished here with permission.

Translator: Katherine Tse; editor: Xue Yongle.
(Header image: A staff member holds a bottle of Night Owl, which claims to provide nutrition to fuel all-nighters. From @椿风 on Weibo)