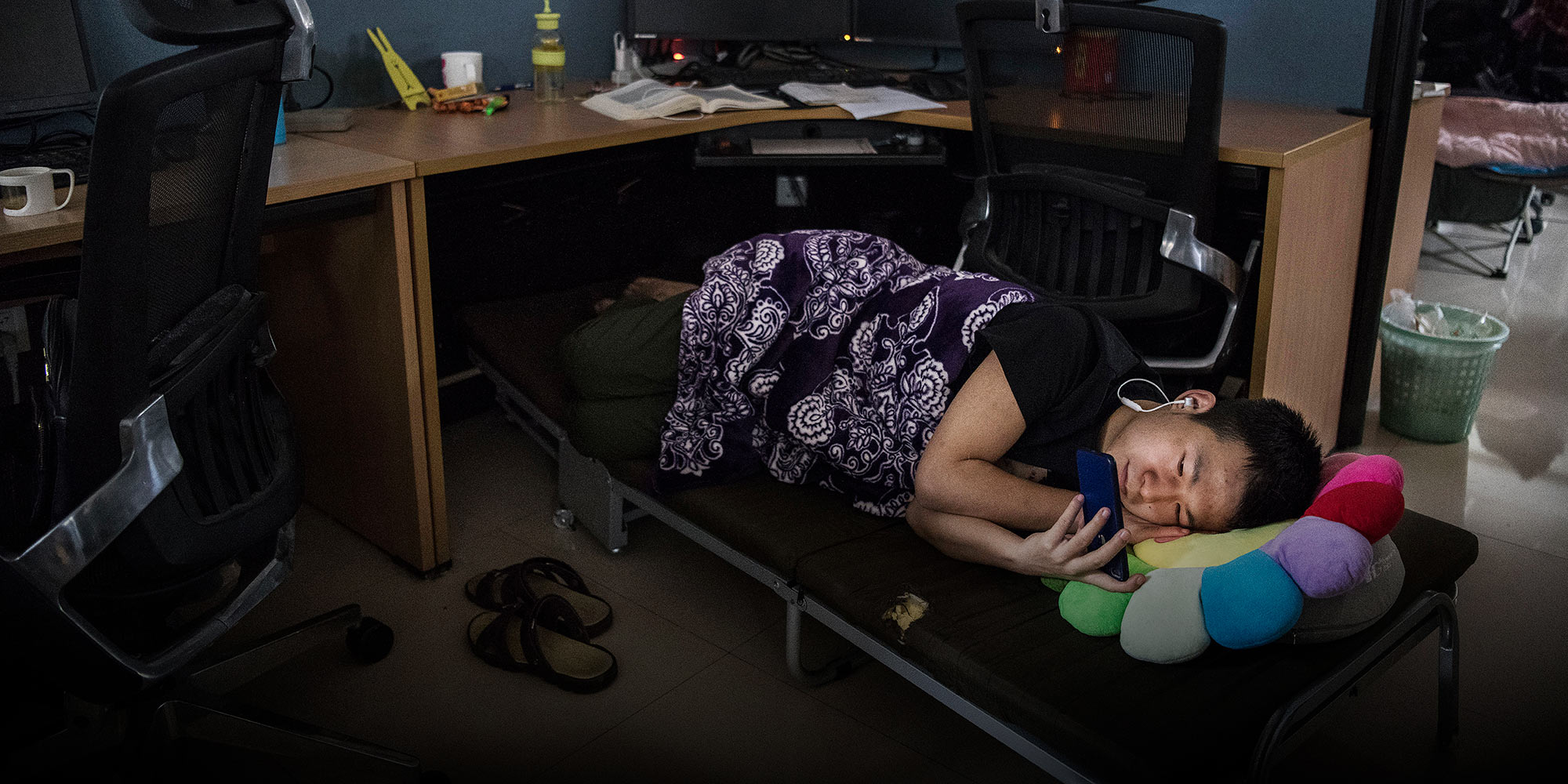 NEWS
Chinese Workers Bring New Weapon to Overtime Fight: A Spreadsheet
A grassroots database has opened a window on big tech work hours.
Fed up with long work hours, thousands of Chinese employees have joined an online campaign called "Worker Lives Matter," renewing a debate over mandatory overtime and revealing a sample of working hours at major Chinese companies.
On Thursday, a grassroots online database that asks Chinese employees to report their actual working hours went viral on GitHub, a Microsoft-owned platform that allows developers to share code and help each other build software. As of Friday, the survey has over 5,000 respondents, including employees from major tech companies like Tencent, Alibaba, and ByteDance.
Github was home to 2019's "996.ICU" campaign, which challenged the notorious schedule that asks workers to be in the office "9 a.m. to 9 p.m., six days a week."
"The campaign is initiated by Chinese programmers to address the current situation where overtime work is prevalent and unregulated in companies, including tech firms," read a manifesto attached to the latest campaign, adding it was created by anonymous developers in China. "We workers need lives as well," it states.
The database includes information drawn from a survey, including the employee's job, start and finish times, lunch and dinner break, working days per week, and observations on other controversial issues such as the number of employees over the age of 35 — the age at which Chinese tech companies are rumored to fire employees.
Sixth Tone analyzed 10 major tech companies listed in the database, including Tencent, Alibaba, Huawei, ByteDance, and Baidu, each of which was represented by dozens of responses. Most respondents claiming to be employees at these companies said they started the day around 10 a.m. and finished at 9 p.m., with around three hours' break for lunch and dinner total. Most of these staff report working five day weeks, with a minority reporting six days.
Among them, Pinduoduo is reported to have the longest working hours, with respondents saying they work six days a week and do not leave until 10:30 p.m.
The survey does not have any means of confirming the respondents' claims about where they work. Pinduoduo did not reply to a request for comment.

The organizer of the campaign, who goes by the name ZhangNanBei, declined an interview request Thursday, saying there are "remaining issues" to be resolved in the survey.
Apart from the database, the project has also created at least 10 open group chats on QQ, a messaging app owned by Tencent. Sixth Tone joined one of the group chats and found 2,000 members discussing and complaining about their working hours. QQ limits groups to 2,000 members.
Zheng, a 25-year-old employee at TikTok parent company ByteDance, who filled out the survey and joined a QQ group after a colleague shared it with him privately, told Sixth Tone he usually goes to office before 10:30 a.m. and leaves at 9 p.m. five days per week, though sometimes he has to work until 10 p.m.
"For me, 996 is not just physically tiring, but also mentally. When we have tight deadlines, even going to the toilet is a rush," he said. "I am really jealous of a friend who can have a dog and watch movies at night. I feel like my life is just surrounded by work."
A Huawei employee surnamed Su, who also joined the campaign, told Sixth Tone he has to work from 9:30 a.m. to 8:30 p.m. three days per week, finishing at 6 p.m. on the remaining two days. He said that overtime is bad for both employees and companies. "Most of the time with 996, employees don't take the job seriously."
Huawei declined to comment for this story, while ByteDance did not reply.
The overtime debate started in March 2019 on GitHub after a programmer created a campaign calling out e-commerce companies Youzan and JD.com for pressuring employees to work overtime. It set off a debate over working conditions in big tech that saw leading CEOs publicly berated online. Public anger about overtime reached a peak in January, when a 23-year-old employee at e-commerce platform Pinduoduo died suddenly on her way home at 1:30 a.m.
In August, China's top court ruled published a set of labor-related rulings to clarify legal standards of working hours and overtime wages. Meanwhile, tech firms including ByteDance, Meituan, and a gaming division at Tencent have moved to limit overtime and weekend work.
But both Zheng and Su doubt that grassroots pressure will bring about change.
"The campaign is just a demand by low-level workers. I don't think anyone from the management will join us," said Zheng.
"It all depends on whether the government will actually try to enforce the law," said Su.
Editor: David Cohen

(Header image: An employee watches a video on his cell phone as he rests at his cubicle during lunch break, at a tech company in Shenzhen, Guangdong province, April 12, 2019. Kevin Frayer/Getty Images/People Visual)