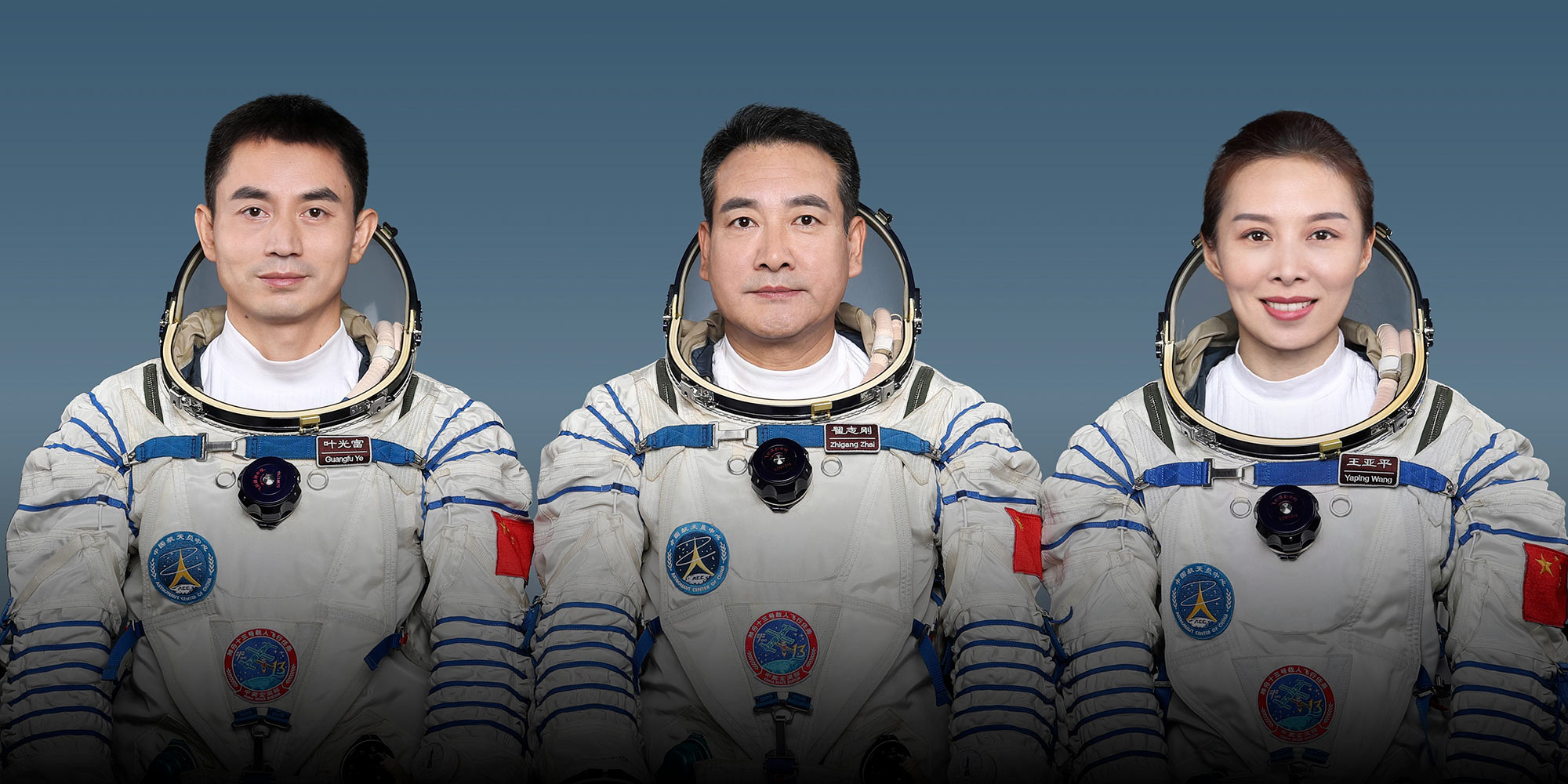 NEWS
China to Send First Female Taikonaut to Its Space Station
Wang Yaping will travel with two other astronauts as part of the country's longest crewed mission to date.
A month after China's taikonaut trio returned from space, the country is sending another three-member team, including its first female astronaut involved in the Chinese space station-building mission.
Wang Yaping is part of the second crew that will board the Tiangong space station — or "sky palace" — expected to be completed in 2022. The other two members include mission commander Zhai Zhigang, the first Chinese to perform a spacewalk in 2008, and first-timer Ye Guangfu.
The mission, dubbed Shenzhou-13, is scheduled to blast off early Saturday morning from the Jiuquan Satellite Launch Center in northwest China. The three astronauts will spend six months aboard the Tiangong space station, the longest time in space for any taikonaut.
Lin Xiqiang, a spokesperson with China Manned Space Program, said during a press conference Thursday that the mission will further assess the technologies involved in controlling the two robotic arms attached to the space station and test conditions that support lengthy missions. He added that Wang will also conduct a spacewalk, making her the first female taikonaut to perform the task.
Though China's space program has accelerated rapidly in the past few years, it remains mostly dominated by men. Wang will only be the second female taikonaut to head to space after Liu Yang completed her mission in 2012.
However, Wang's journey to space Saturday isn't her first. The now 41-year-old flew on the Shenzhou-10 in 2013 to the prototype of the space station before the official unit was launched this year. At that time, she had given a science lecture to students from space.
"I'm happy to say that after eight years of unremitting efforts ... (I'm) about to fly to space with the dreams and expectations of my students," Wang said at Thursday's press conference, adding she hopes to host another lecture session during the Shenzhou-13 mission. "I will take everyone with me to explore and discover together."
The taikonaut trio said they plan to celebrate the Lunar New Year, which falls in February next year, in space. They are expected to return to Earth in April.
"This is the first time Chinese people will spend the Spring Festival in space," Wang said. "I heard (the support team) has prepared a big new year present for us. We don't know what's inside, and we're just as excited as everyone else."
Contributions: Xu Jialu and Nie Yiming; editor: Bibek Bhandari.
(Header image: From left to right, taikonauts Ye Guangfu, Zhai Zhigang, and Wang Yaping, 2021. Xinhua)