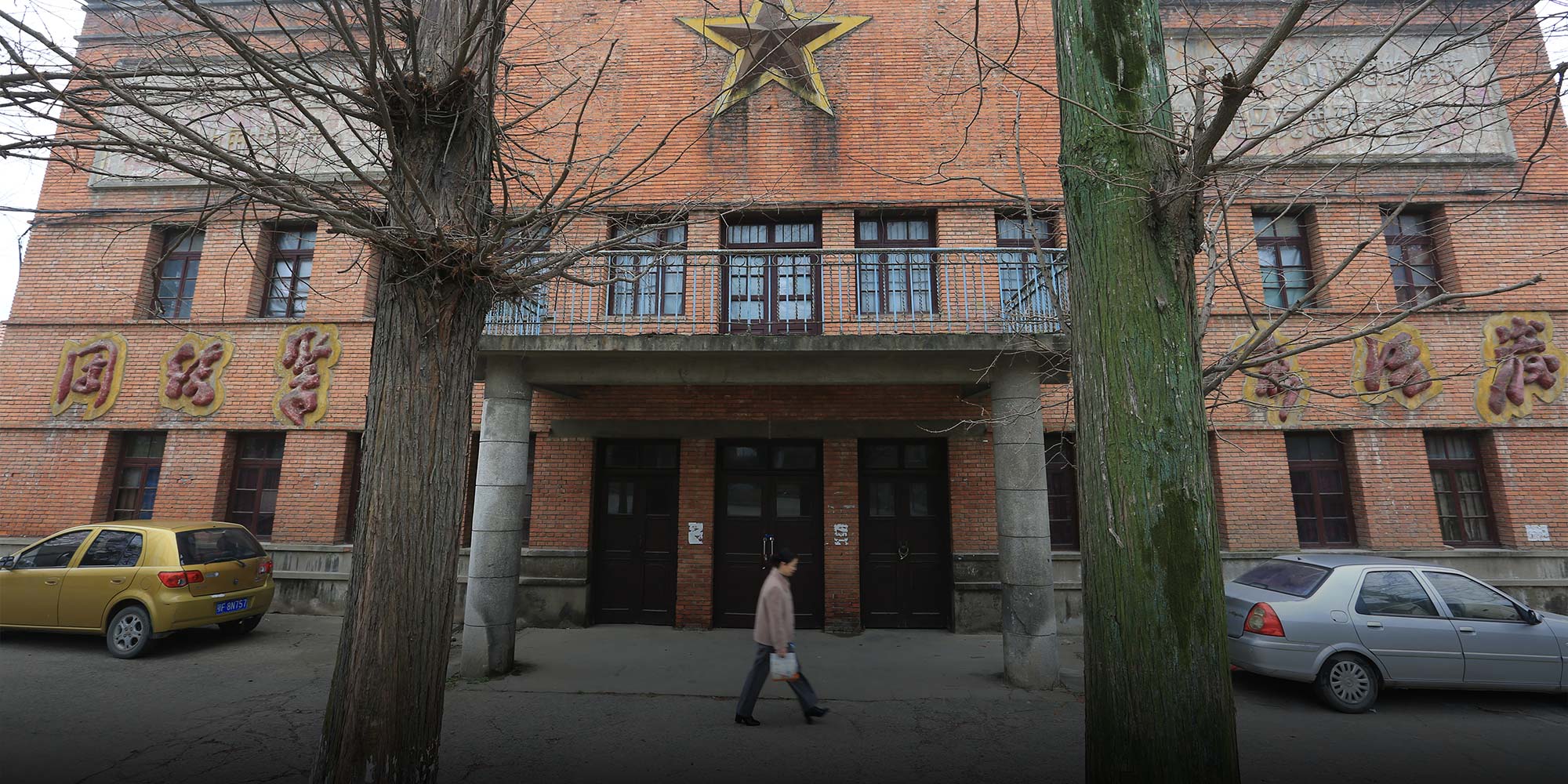 SIXTH TONE ×
China's Factory Children and Their Splendid, Closed-Off Youth
A generation of Chinese people grew up on socialist-era compounds that formed their own little societies.
Sometimes, when he is in a nostalgic mood at night, Pan Yizhi will sit up, light a cigarette, open his computer, and browse satellite imagery on Baidu Maps, carefully tracing the highways, railways, and rivers around his hometown. Faces and stories from his past begin to appear.
He grew up on the grounds of a factory complex with the mysterious code number "475," also known as the Liaoning Xiangdong Chemical Plant, in northeastern China. Originally built in 1947 in a different province — and called a brewery to mask its true purpose of gunpowder production — the factory was part of China's military industry.
For Pan and others from his generation, such factories were a unique environment to grow up in. Isolated from the outside world, they provided workers and their families with everything — schooling, health care, entertainment. But as China's planned economy was dismantled, so were the factories. Pan's "475" has sat abandoned for years.
He now leads the "Children of Factories and Mines Group" on the social media platform Douban. Communal life as they knew it may no longer exist, but Pan and other members find it difficult, whether willingly or unwillingly, to shake off the past.
Building the Third Front
Most people in the group, including Pan, grew up in "Third Front" factories, enterprises with complicated histories. In the mid-1960s, feeling under threat from both the Soviet Union and the United States, the Chinese government decided to build a second complete national defense and heavy industry system by relocating factories and scientific research institutes to inland areas that enemies couldn't easily invade.
This campaign divided the country into three areas from the outside in: the "First Front," coastal and border regions likely to be the immediate war fronts, the "Third Front," interior regions less likely to be affected by war, and the "Second Front," the area in between. From 1964 to 1980, the state invested more than 205 billion yuan ($32 billion with today's exchange rates) in the Third Front regions, almost as much as the country's gross national product in 1970.
The more than one hundred factories and mines relocated to the Third Front area brought along over 200,000 workers and other personnel who migrated with their work units. Many had graduated from vocational colleges and universities and were among the country's best-educated people.
The Third Front factories where they worked were remote and dispersed. To withstand enemy attacks, the factories were built close to or even inside of mountains and were divided into separate and dispersed departments. Cloaked in secrecy, there was limited communication between factories and the outside world. Each plant was distinguished by its own code number. Even the internal documents and work IDs of employees would only include these factory code numbers.
As they took root in these factories and mines, the new residents formed a unique culture. "Your factory was your home," Pan says. His family, who lived in "475" for fifty years, called it "our factory." His mother was a teacher at the factory's elementary school, his father was a dispatcher in the production department, and his brother and sister-in-law, sister and brother-in-law, nieces and nephews were all born in the staff hospital. Until he went to college, Pan attended the factory school.
Undertones of collectivism were present in almost every activity. Chen Zhigang, from Factory 401 (Dongfang Turbine Factory in Sichuan province, southwestern China), has strong memories of the collective weddings. "Back then, everyone got married together. There wasn't a wedding banquet, no meal together, but lots of sunflower seeds, peanuts and candy would be ready," he says. There would be approximately ten pairs of couples in each group wedding, and each couple would be assigned a flower girl and boy by the factory school. The newlyweds might not even know the kids. Chen, who was in first grade at the time, was one of these flower boys.
At the wedding, all the newlyweds would line up in a row, and the factory leaders — who monitored the entire procedure — would give their blessings. Richard Wagner's "Bridal Chorus" played in the background and there was confetti, but there were no Western-style vows, let alone Chinese-style worship of heaven and earth. "It was a revolutionary wedding. The leader would announce that you are a revolutionary couple from now on, helping each other and contributing more to the socialist construction," Chen says, laughing at the memory.
"A Closed Freedom"
The large number of industrial migrants who moved from the northeastern coast to the interior was unique to that era. They brought customs and accents from the places they moved away from, and, because of the closed nature of the factories, the cultures inside and outside their gates were entirely different. Pan says the Third Front factories were small "enclaves."
Chen didn't realize that he had lived a privileged life until he left the factory. Since childhood, he had grown accustomed to drinking two bottles of fresh milk a day. To safeguard supply, Factory 401 had its own dairy farm, and every month a row of milk tickets was issued to families who had ordered milk. Every day, Chen took a ruler and cut off a milk ticket, and then lined up with his buddies after school to get milk. At the time, he didn't think there was anything special about his life. It wasn't until he went to college and talked to friends who had grown up elsewhere that he was surprised to find out that his peers had never drank fresh milk when they were children — at most only drinking milk powder.
In addition to dairy farms, family homes, and schools, the Third Front factories had complete sets of facilities including hospitals, public spaces, staff canteens, recreation centers, and even radio and television stations — so that residents could meet all their needs without leaving the premises. "Since my grandfather's time, it's been free to see a doctor at the factory hospital. They've never felt like being sick, or housing, was a big deal." Chen sighs.
"This environment also brought a stronger feeling of peace and stability, without pressure," Chen says. After meeting more and more people outside the factory, he realized that factory and mine children were a special group. Due to the relatively regimented environment in which they grew up, the enterprising spirit of factory and mine children seems weak compared to others around them. "None of the kids who stayed at the factory became leaders. They were more content with the status quo," Chen says. In the first half of their lives, material freedom and spiritual confinement were two sides of the same coin.
Nostalgia in dialects
All regions of China have their own dialects. In Third Front factories and mines, where relocated employees worked alongside local hires, dialects from all over the country mingled together, thus constituting a unique language ecology.
Chen's parents are from Sichuan, so he spoke Sichuanese when home. Outside of his home, he spoke Mandarin like the other children in the factory. Before leaving the factory, Chen never realized that he was on a linguistic island.
On the day he reported to university, Chen was asked for the first time by his classmates whether he was a northeasterner. With his strong northeastern accent, he realized that he had been speaking a very strange version of "Mandarin."
Wang Wenchao had the same experience. His family worked in the Qingshan District of Baotou, in northern China's Inner Mongolia. The district was established in the 1950s to accommodate two new munitions factories — 617 and 447 — and its first generation of residents, including Wang's grandmother, came from all over China. "Our accent is always taken as northeastern by non-northeasterners, but as standard Mandarin by northeasterners," Wang says. "Only those from Qingshan District in Baotou, Inner Mongolia can identify it as their own."
Starting from when the generation of Wang's mother were children, standard Mandarin was mixed with the words and accents of Inner Mongolian and northeastern Chinese. In addition, Wang grew up with his grandmother, who was from Beijing. From the time he was a child, he learned a Beijing accent. When he was still at the factory school, his accent made the whole class laugh. The children were only surprised by differences in voice and accent and didn't realize that it reflected their families' different origins.
Leaving the factory
As China began to change ever faster, younger generations wanted to escape the confines of the factory.
"I used to ask a question endlessly, when will you leave with me?" The first time Wang Lei heard the songs of Cui Jian, known as the "Father of Chinese Rock," he felt that the music had popped from the recorder into his head. "It was shocking! There was such a voice in the world!"
Wang Lei comes from Boshan District of Zibo City, in eastern China's Shandong province, which is surrounded by mountains on three sides and holds the Boshan Electric Factory. The factory was formed by the merger of three military enterprises. Wang Lei's father lived and worked in this factory, and he, a child of the factory, would eventually take over his father's job.
After realizing he loved this type of music, Wang Lei started to practice it himself. In the late 1980s, he was a young rocker with long hair, pierced ears, ripped jeans, and an appreciation for Baudelaire's modernist poetry. The idea of leaving had been brewing for a long time, and then one day he made up his mind about it.
When Wang Lei's father found out that he had missed work for a month, the two clashed and his father beat him. But he still wanted to go to Beijing to make music, and for a different way of life. He could not accept that in 10 years he would be living the same life as his parents' generation.
The next day, on March 4, 1992, he arrived in Beijing — alone, with 1,000 yuan.
After about six months, Wang Lei started to perform with rock bands. Although he didn't have a place of his own and was staying wherever he could, he didn't feel like it was difficult.
More than 20 years have passed since Wang Lei's seemingly reckless decision. In 2013, he co-founded the band Leiluo. As times have changed, many people now envy Leiluo, thinking that they were making music and pursuing their ideals. But in the opinion of Leiluo's co-founder, keyboardist Lele, this was just a one-sided fantasy. "They envy your wounds, but refuse to make changes themselves," they sang in the song, "Children of Factories and Mines."
For Leiluo, the label "children of factories and mines" represents not only this particular group of people, but also a state of mind: people living in a large, closed system, caught in a comfort zone, and not wanting to escape. As Lele says, "You're given utopian stability and assurance for the future — will you have the courage to give it up and choose your own path?"
"We were fortunate enough to experience the 1980s, an era when something came out of nothing. It was this generation that started to have the concept of the 'I,'" Wang Lei says. "All our parents' generation had was the collective 'we,' feeling like a part of a machine, a brick in a wall. But our generation began to consider the feelings of the individual."
Coming home
Wang Wenchao had the same idea — to escape from the factories and mines and live a different life from his father's generation.
When he went to the big city for his undergraduate studies, he made friends with similar interests, who were well-read or had sophisticated lifestyles. At that time, in his eyes, the people in his hometown, including his parents, were "narrow-minded, coarse, and only thinking about daily necessities all day long."
However, after leaving the ivory tower of the university, real life knocked him down a bit. To get a foothold in the big city, he had to take on utilitarian values and strive to earn money to survive and get ahead. This overwhelmed him.
Around Wang Wenchao, whenever PhDs talked about work at universities, they talked about where to publish and how to get a promotion — and treated teaching as an obstacle to these things. In his distant hometown, however, his father often told him about his own experience in the university. He advised him to teach well and be sincere.
In the last semester of his doctoral studies, Wang Wenchao was left stranded at home due to the coronavirus outbreak. He saw relatives with low incomes openly devoting considerable time and money to their hobbies. He grew fond of these people and even envied them, even though they were judged by others as being unmotivated. He had the sudden realization that this land had instilled a sense of idealism in him — he just hadn't recognized it yet.
Unlike Wang Wenchao and Wang Lei, Pan Yizhi had wanted to work in the factory since childhood — but before he could graduate and return there, Factory 475 disappeared.
The downfall of the factories was, in a way, a foregone conclusion. In the 1980s, China ended constant war preparation. For Third Front enterprises, they inevitably faced a sharp decline in military needs. Production lines idled, enterprise efficiency declined, and there were other problems. The defense industry began a "military-to-civilian" transition program.
Factory 475, which produced gunpowder, had never produced civilian products before. Like other military factories, it could only take one step at a time and see what happened. After a slow process of experimentation, Factory 475 began to produce float glass, silvered mirrors, faux leather, and other products. The new items were produced quickly, but the factories couldn't compete, and so they disappeared off the market just as rapidly. Factory 475 couldn't escape bankruptcy.
Some of the 5,000 families were merged into other military factories; some were relocated to coastal towns; some went to live with friends and relatives. Factory 475, which had a glorious history of 60 years, was uprooted in 2006. After 45 years of being hidden deep in the Nurulhu Mountains, the enterprise came to a historic end.
Gone were the Lunar New Year fireworks that were once a highlight of factory life. Wang Wenchao recalled that almost everyone would come out to celebrate, with lanterns made by each sub-plant lining the roads as if in a fierce competition. The fireworks soared into the sky, lighting up people's faces. But the fireworks were brief. As the afterglow of their glory years dissipated, people found their feet still sinking into the solid reality of life.
The children of factories and mines have decided to leave something: Pan Yizhi wrote a long novelistic memoir, "Children"; the Leiluo band produced the album "Children of Factories and Mines"; Chen Zhigang is planning a nonfiction work related to factory and mine children. These are another type of fireworks, which rise and flow through time in words and music, carrying the memories of a generation.
Pan Yizhi and his parents returned to visit their former factory after six years. Though they had mentally prepared themselves, they were still shocked by the scene outside the car window: a dilapidated and empty city with ruined walls. Pan and his parents stood in front of their former home holding umbrellas in a drizzle, the three of them in a daze. After a long pause, his father suddenly said, "It's like a dream."
This article was written by Wang Ruixue, Guo Yiqian, Hou Yuxi, Jia Mengya, Jiang Minyu, and Zhang Zhifei, who are students at Jinan University (advised by Liu Tao and Zhang Jianmin).
A version of this article was originally published by Xinwen Xuesheng. It has been translated and edited for length and clarity, and is republished here with permission.

Translator: Matt Turner; editor: Xue Yongle.
(Header image: A woman walks past an old "Third Front" factory in Xiangyang, Hubei province, Feb. 13, 2021. Li Fuhua/People Visual)