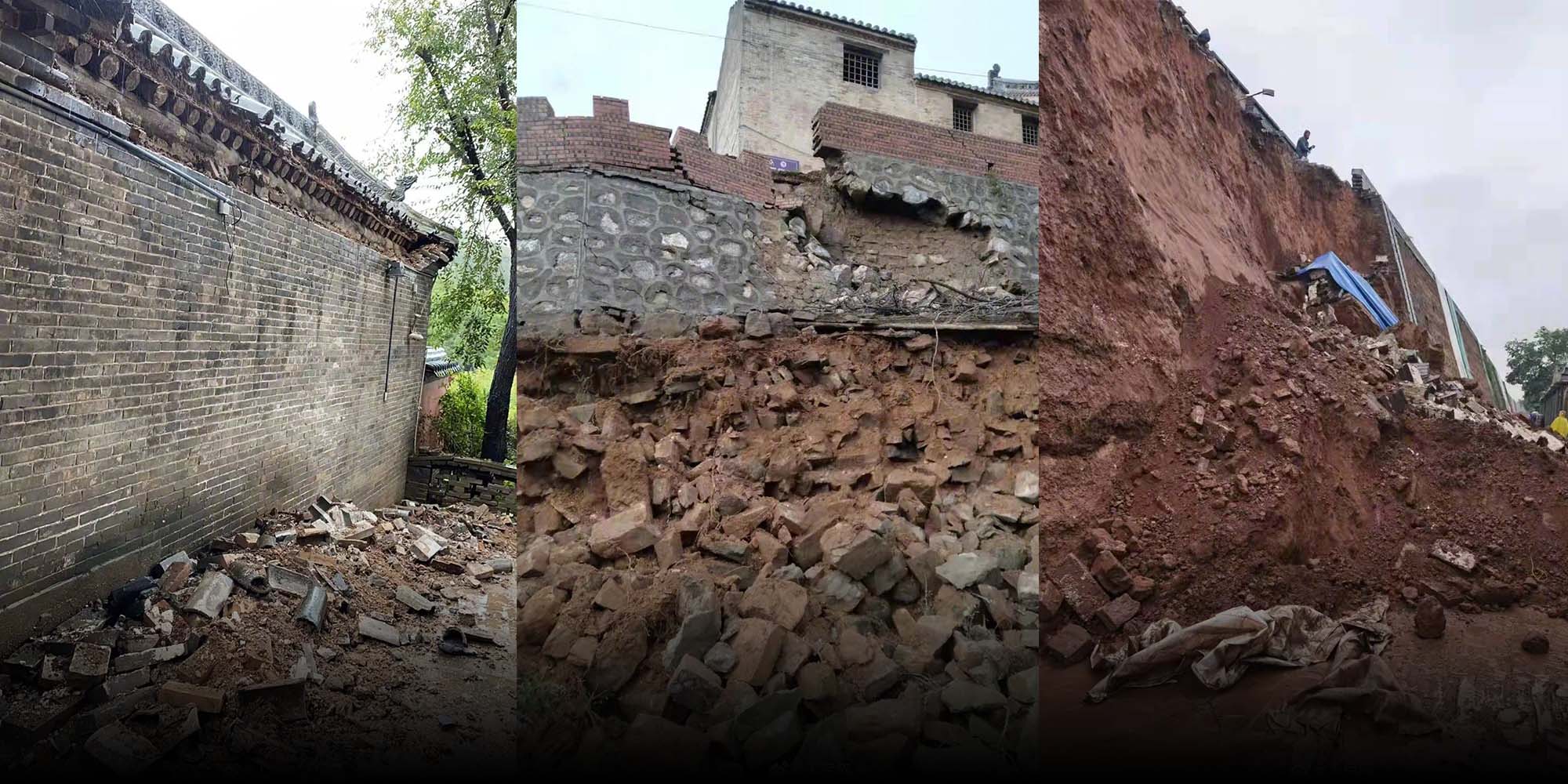 NEWS
Shanxi Floods Damage Hundreds of Heritage Sites
Extreme weather events are threatening historic and cultural sites across China.
Hundreds of cultural heritage sites in the northern Shanxi province, including one prominent UNESCO World Heritage Site, have been partially damaged by the devastating floods that battered the region over the past week.
A total of 1,763 immovable cultural relics in the province have suffered various degrees of damage, including cracked and collapsed walls, leaking roofs, and other structural damage, domestic media reported Monday, citing the National Administration of Cultural Heritage. Shanxi is home to 53,875 immovable cultural relics, the most of its kind in China.
Heavy rains across parts of north and central China over the past week have caused widescale destruction, with at least 15 people killed in Shanxi as of Tuesday, provincial authorities said. More than 120,000 residents have been evacuated to safer grounds since the downpour started on Oct. 2, and an estimated 1.75 million people have been affected across 11 cities and 76 counties.
The consequences of climate change and extreme weather have become more pronounced globally, with China also experiencing record rainfall and flooding over the years. Apart from human casualties and economic losses, such events have also harmed heritage sites integral to China's history.
In Shanxi, a 25-meter section of a wall in the ancient city of Pingyao — a World Heritage Site — collapsed due to the downpour. Experts say some historic sites in Henan — ravaged by floods in July — which has the second-most number of cultural relics in the country, are also under threat from extreme weather events.
"It's so exhausting … I can't save all (the cultural relics), I can't protect them from damage, and their safety is more important than our lives. I'm pouring my eyes out," Zhang Ting, head of Zhengzhou Museum in Henan wrote in a social media post after the July floods, underscoring the challenges many conservationists face.
In August 2020, floodwaters caused by heavy rains nearly submerged the feet of the 71-meter-tall Leshan Giant Buddha in the southwestern Sichuan province, though no damage was reported.
Concerns over the impact of climate change on cultural relics and heritage sites have become a global issue over the years, with studies suggesting that many World Heritage Sites in the Mediterranean region face a high risk of damage due to rising sea levels and potential flooding. There is even a possibility that the world-famous Italian water town of Venice may be submerged by 2100 if global warming is not curbed.
Editor: Bibek Bhandari.

(Header image: A photo collage shows some of the historial structures damaged by floods in Shanxi province, October 2021. From @人民网 on Weibo)