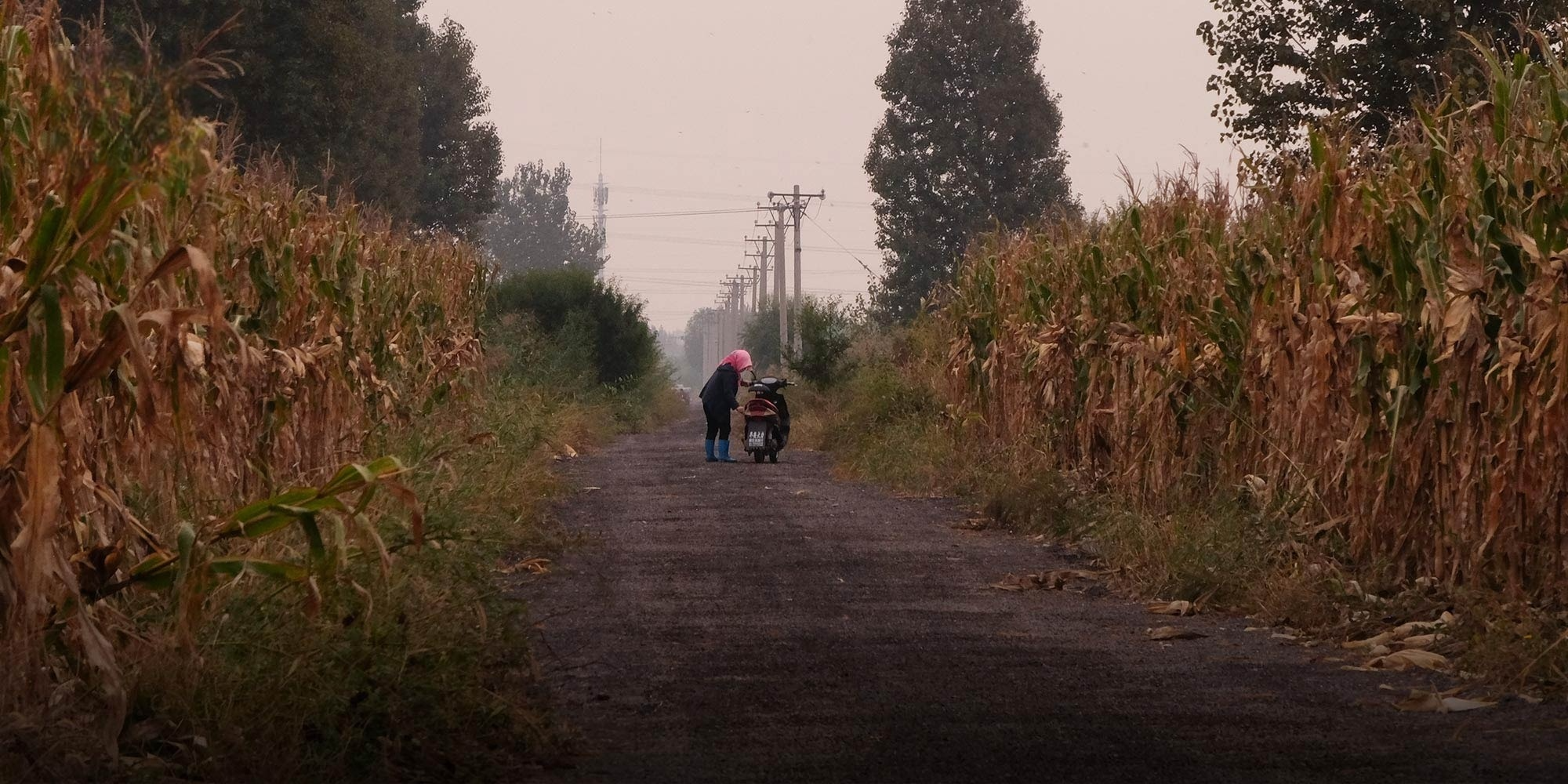 FEATURES
Hammered by Blackouts, China's Rust Belt Grinds Down
High coal prices continue to hammer businesses in northeast China.
LIAONING, Northeast China — Recently, the entrance road to Xingcheng Powder Metallurgy Company has been unusually dark at night. The only lights left on are those of the guard hut, leaving the rest of the facilities, a sizable factory that makes automotive gears, obscured by darkness.
"We turned off the streetlights to save power," a security guard at the company, located in the coastal city Huludao, tells Sixth Tone.
Like many cities across China's coal-dependent northeast, Huludao is in the middle of an energy crisis. Since September, high coal costs and inflexible electricity prices have caused shortages that forced local governments to implement rolling blackouts for energy-intensive industries. The shortages made national news when, starting Sept. 23, they became so "severe" that power to residential areas was cut unannounced to prevent the grid from collapsing.
By Saturday, when Sixth Tone visited the city, residential power had been restored in line with calls by the central government to make sure people could enjoy "a warm winter." But usage curbs for companies were still in place across northeast China, hurting businesses and threatening the government's revitalization plans for what is known as China's rust belt, which has also had to contend with several COVID-19 outbreaks.
At the metallurgical plant, employees working through the National Day holiday week that began Oct. 1 had all been moved to the night shift. Gao Song, a worker at the factory, tells Sixth Tone the plant had canceled daytime shifts to avoid using power during peak hours.
In normal times, Xingcheng Powder Metallurgy can produce 4,500 tons of car parts a year, which are sold to major brands including state-owned Chinese car maker FAW Group. Liu Pengfei, the factory's administrative director, tells Sixth Tone that the local government asked them to adjust their production to conform to province-wide power rationing. "This does affect our business to a certain degree," says Liu, declining to comment further. "This is a sensitive matter."
Some local companies have tried to convince the government to alter its approach. Wang Shuxuan, the 84-year-old founder of Huludao Fire Fast Spin Auto Parts Company, a smaller plant in a quiet rural township, pines for daily outages to be replaced by a schedule of several days with power alternated by several days without.
A hale and hearty engineer, Wang proudly explains his company's achievements over the past two decades. Starting in 2001 with Wang's patented invention for making steel cylinder liner, a key component in car engines that prevents compressed gas from escaping, the company has grown to export its products to over 40 countries around the world, including the United States.
But with intermittent electricity, the factory has been forced to suspend part of its production line. Key to making a strong and durable cylinder liner is applying a chromium layer. But this process requires non-stop power, as the chromium has to be preheated for over 10 hours. Doing so daily is a waste of money, Wang tells Sixth Tone.
Now, he is stuck with over 5,000 unfinished liners that are worth 400,000 yuan ($62,000). "If they don't give us power continuously, then the factory is doomed," Wang says. He sent his workers home to celebrate the National Day holiday while he continues to plead with local officials.
China has seen few power shortages in recent years, and the current crisis caught many by surprise. "I don't really understand. People say that the northeast is the last place that would ever be short of electricity," says Luo Yixiao, a manager at a local aquaculture farm in Panjin, another city in Liaoning province. Unannounced blackouts hit the farm two weeks ago, killing 100,000 yuan worth of shrimp as aerators were unable to keep pumping oxygen into the ponds, he tells Sixth Tone.
Limited initial information, competing explanations, and sensitivity around the topic have given rise to conspiracy theories. One popular — since debunked — hypothesis shared across social media paints the issue as a global power play, with China supposedly limiting its industrial output on purpose to hamper other countries. "I don't know much about the reasons, but I think it is to contend with the United States," Wang remarks.
Some of the confusion possibly stems from Liaoning's history as a coal production powerhouse. That picture is no longer accurate, with the province now relying on coal from elsewhere — mostly neighboring Inner Mongolia — for over 80 percent of its needs. Liaoning itself has reduced its own coal production, closing 259 coal mines since 2016 as part of China's "supply-side reform," which aimed to remove excess capacity. Huludao had dozens of coal mines in 2016. But nearly all of them, representing 810 million tons of annual production, have since closed.
Cutting down on coal overcapacity has proven a bit out of pace with this year's soaring demand, Yuan Jiahai, professor at North China Electric Power University, told Sixth Tone in an earlier interview. Meanwhile, power plants are disincentivized to increase output because they cannot pass on their rising costs to their customers, Yuan said.
Residents and businesspeople alike fear the shortages may continue to cause havoc. On Sept. 27, days after widespread blackouts began, Huludao authorities called on its population of over 2 million to voluntarily limit their electricity consumption. Companies were asked to "leave electricity for civilians" by not increasing demand during peak hours in the morning, late afternoon, and evening. They should "think politically and consider the bigger picture," the statement from the municipal industry and information technology bureau read.
One day earlier, a now-retracted article on social messaging platform WeChat caused turmoil online. Xinbei water company, a utility business in Jilin province, which borders Liaoning, told its followers that water supplies could be affected by "irregular, unplanned, and unannounced" power outages that may continue until March next year, before apologizing for making "misleading" statements the following day.
In Panjin's Yushu township, power cuts hit Liu Tianduo's house — and her business on the first floor — for three days straight. Liu tells Sixth Tone that she now seldomly pulls down her deli's electric roll-up door at night, fearing that she and her children end up locked inside. There's the risk of a break-in, as nearly happened to a neighboring shop that also opted to keep its door up, Liu says, but she sees no other option. Memories of the three-day water and electricity outage are still fresh. "When the power was out the other day, we ate instant noodles the entire day," Liu says. "My oldest son almost threw up."
Even if electricity supplies remain stable, the current high cost of coal — the price of thermal coal reached an all-time high of over 1,400 yuan per ton on Thursday, close to double last year's price — would present problems during the northeast's bitingly cold winter months. Despite a campaign to install electric and gas-powered alternatives, many rural families still use coal stoves to stay warm.
Li, a Huludao resident, tells Sixth Tone that his parents, who live in a village outside the city, usually burn through up to two tons of coal every winter, but that they couldn't afford current prices and would have to look to burn corn stalks instead. "If there's no electricity or no coal during the winter in northeastern homes," he says. "You just can't live in them."
Editor: Kevin Schoenmakers.
(Header image: A woman walks by her scooter in Panjin, Liaoning province, Sept. 30, 2021. Yuan Ye/Sixth Tone)