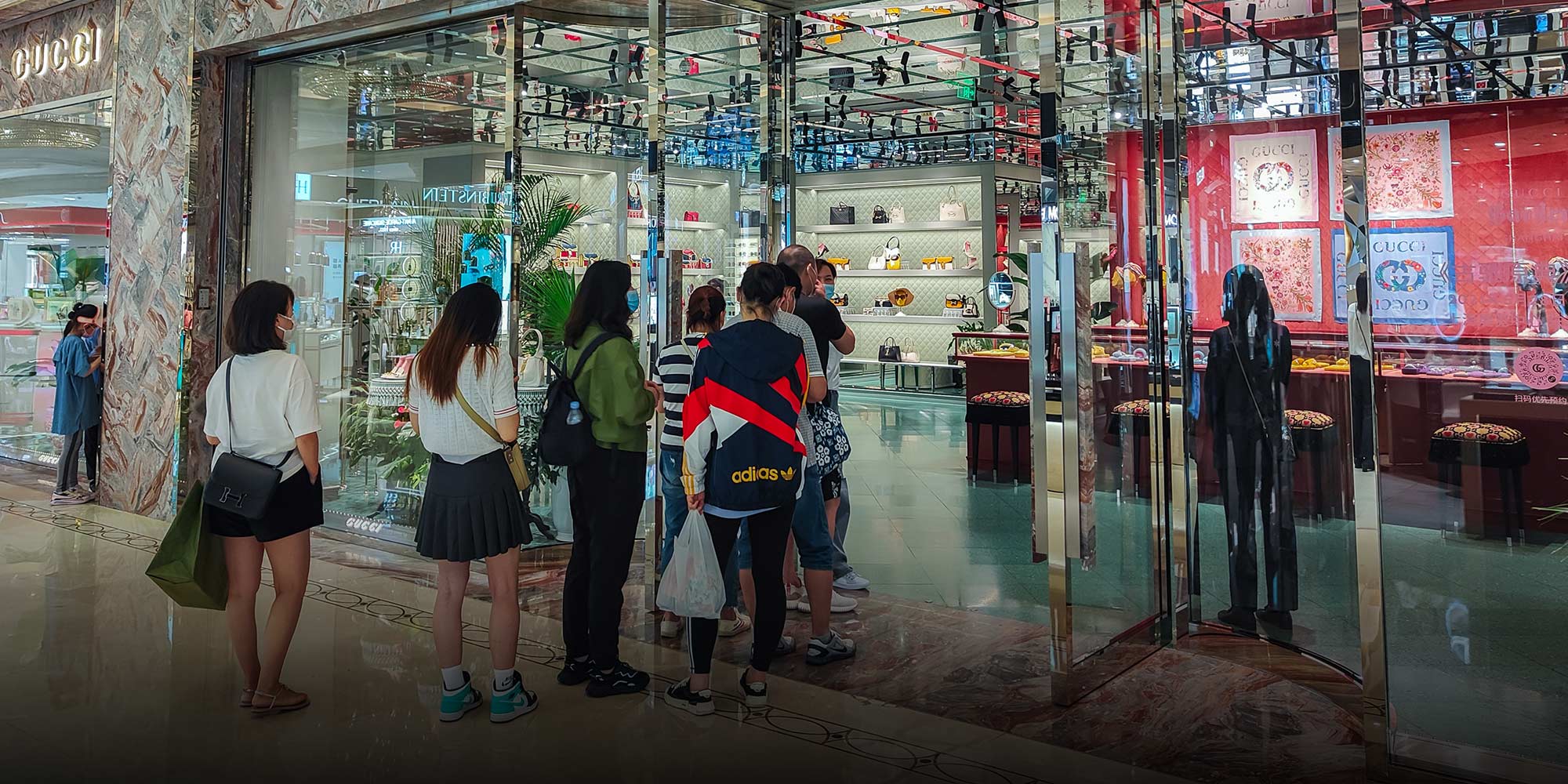 NEWS
China's Luxury Shoppers Slash Spendings to Shop Abroad, Report Says
Buoyed by the prospects of border opening, high-end Chinese consumers are becoming less inclined to splurge domestically.
China's young female luxury buyers are slamming the brakes on their shopping spree at home, hoping international travel may soon resume, according to a new fashion consumer report released Tuesday.
The country's luxury connoisseurs — mostly in Shanghai, Beijing, Chengdu, and Shenzhen — are showing less urgency to purchase such items, while waiting to splurge abroad, New York-based market research agency LookLook said in its report. In China, nearly 75% of personal luxury goods shoppers are said to be women.
"COVID-19 has changed the dynamics of luxury purchasing everywhere, but especially in China," Malinda Sanna, founder and CEO of LookLook, told Sixth Tone.
In 2020, the pandemic shrank the global personal luxury goods market in over a decade by as much as 23%, according to the consultancy firm Bain & Company. However, several luxury brands reported revenue growth in China as early as last summer when the country was fully open and people were barred from traveling abroad.
But luxury sales growth in China slowed down in mid-2021, according to Sanna. It coincided with the overall plunge in national retail sales, which grew by a meager by 2.5% in August compared with the same period last year, and far lower than the expected 7% growth forecast.
"The spending pause will be reversed when wealthy Chinese begin to travel to shop once again, so it could take place very soon," said Sanna.
She added that the demographic aged 18- 35 in first- and second-tier cities are considered "most influential" by the company's clients, which include luxury conglomerate Richemont and jewelry brand Tiffany & Co. Most Chinese buyers prefer shopping abroad — whether in person or through professional shoppers known as daigou — due to tax rebates and wider options.
According to LookLook, an increasing number of Chinese consumers are also becoming more inclined toward purchasing domestic high-end brands such as women's clothing line Icicle and beauty brand Florasis. The report noted the emerging trend of "Virtual Double" in China, where consumers can either rent or buy luxury fashion, as well as play with virtual try-on apps.
"My hypothesis is that (the level of interest in virtual fashion) is built on China's enthusiasm for video games," Sanna said. "I think China will be at the forefront of virtual fashion, as it emerges as a worldwide phenomenon."
Editor: Bibek Bhandari.
(Header image: Shoppers wait outside a Gucci store in Shanghai, June 29, 2021. Wang Gang/People Visual)