SHANGHAI – On a sunny October afternoon, students at East China Normal University hung out with dozens of stray cats lolling around campus, snapping photos and posting them on social media platforms. But a new online campaign now rewards them for such posts.
Pet food company Royal Canin, together with the local authorities and non-profit organizations, launched the campaign on video streaming site Bilibili last month to reduce the growing number of stray cats around the country. Called "Responsible Pet Ownership, Neutering for Love," the push allows university students to collect "likes" on their videos, while obtaining free vouchers to help neuter homeless felines.
Chen Zhongming, a member of East China Normal University's animal rescue group, told Sixth Tone that one of their videos had already amassed 1,500 "likes" on Bilibili. In return, they expect to receive vouchers worth over 3,000 yuan ($465) that would cover costs related to pet food and neutering about 10 stray cats.
"The campus space will always attract strays," Chen said. "Neutering is the best solution to reduce and control their numbers, and the campaign will lessen our burden."
Unchecked reproduction and abandonment of pets have led to millions of stray animals over the years, with local governments adopting the popular trap, neuter, and return (TNR) approach as a solution. Authorities in Shanghai are even developing an app, connecting rescuers with potential pet owners willing to adopt the animals after they're neutered.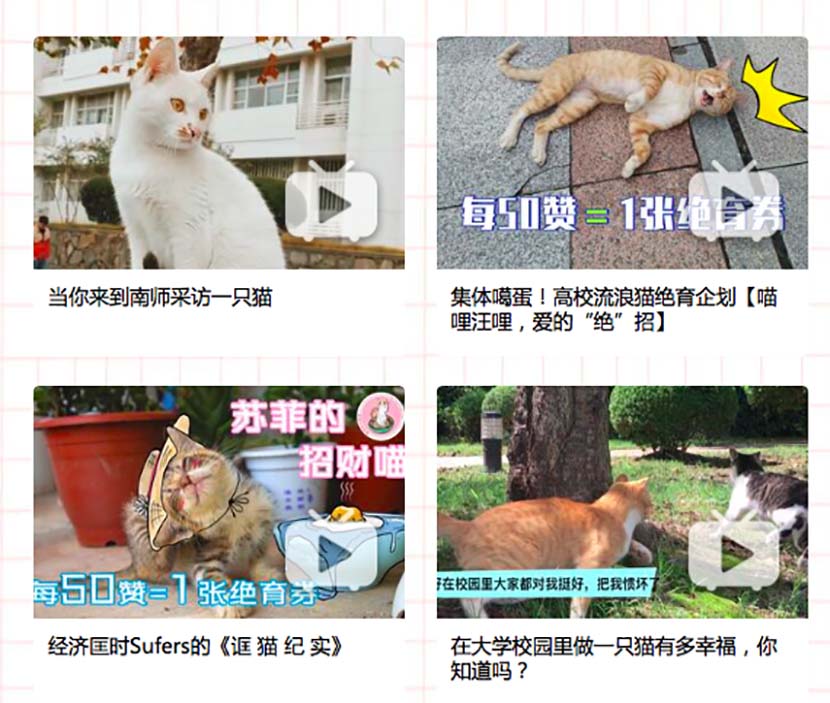 A screenshot from Bilibili.com shows the videos uploaded by students on helping stray animals.
Since the campaign was launched on Sept. 16, Bilibili has received over 460 videos from college campuses across the country. Royal Canin said they will hand out 500 neutering vouchers and 4 tons of pet food to animal protection associations in over 50 universities nationwide based on the videos' popularity.
"It enables more students to understand the importance of neutering stray animals on the campus," said Zhang Yanyan, director of the Beijing-based Capital Animal Welfare Association. "People should also pay attention to stray animals and learn to become responsible pet owners."
Xie Yifan, another member of East China Normal University's animal rescue group, said more people are gradually learning about the TNR approach, even outside their community. She said the group usually receives funds and food from pet companies, as well as students and other pet lovers.
"Even middle-aged women in nearby neighborhoods are aware of neutering while rescuing the strays," Xie told Sixth Tone. "It's amazing."
According to Stacey Osborn, general manager of Royal Canin China, local authorities have also helped raise awareness about TNR as a scientific rescue method, while encouraging people to advocate responsible pet ownership. She believes the younger generation, deemed as more socially and environmentally conscious, will play an instrumental role in improving the country's pet welfare.
In Beijing, nonprofits like Lucky Cats are already witnessing a rise in pet ownership through adoption. The organization has helped over 2,500 strays find new homes in the last two decades.
"In 2004, people couldn't understand why we should spend money on neutering stray cats — even cat owners had little awareness," Zeng Li, head of Lucky Cats, told Sixth Tone. "But after a long period of awareness campaigns, neutering has become popular among people who care about stray cats."
Meanwhile, student rescuers like Xie said such campaigns shouldn't be just limited to cities. Referring to her hometown in the northern Inner Mongolia Autonomous Region, she said locals, especially the elder generation in the countryside, still aren't aware of neutering, which has resulted in a large number of stray animals.
"Such practice (TNR) should not only prevail in first-tier cities but throughout the country," Xie said.
Editor: Bibek Bhandari.
(Header image: IC)