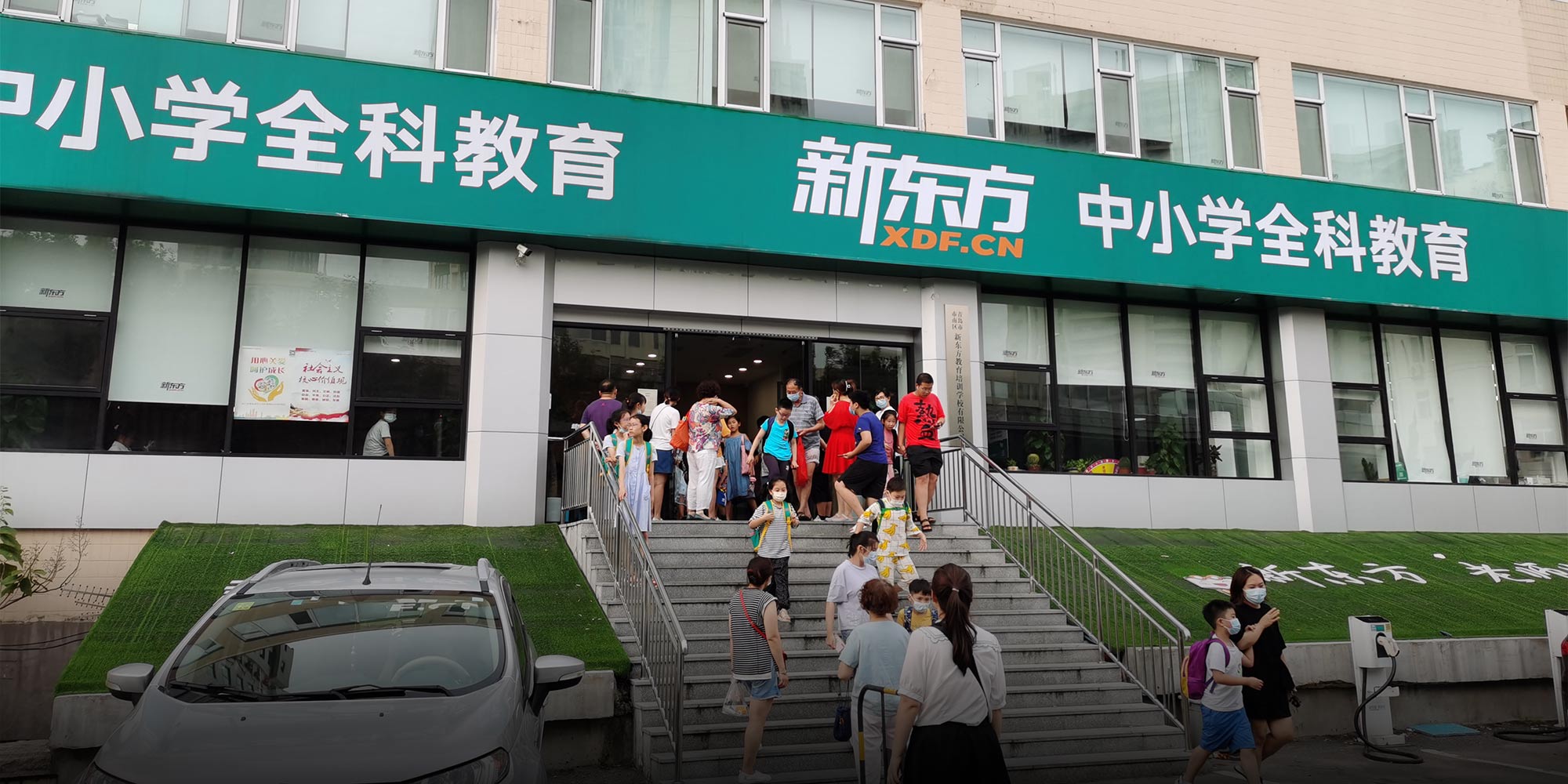 NEWS
China's Tutoring Sector Faces Massive Layoffs and Shakeups
The New Oriental education service is reportedly letting go 40,000 staff as the education clampdown affects businesses.
SHANGHAI — One of China's largest private education providers may lay off tens of thousands of staff and even shut key business units in the aftermath of the government's clampdown on the sector, according to financial news outlet Late Post.
The New Oriental Education and Technology Group plans to dismiss over 40,000 staff by the end of the year and scrap its entire tutoring business targeting primary and middle school students, the media outlet reported Friday, citing an internal company meeting from mid-September. The company's founder, Yu Minhong, was quoted as saying that downsizing in-person operations was mainly due to the limitations on tutoring time and pricing set by the authorities, adding the "the adjustments are urgent."
China introduced the "double reduction" policy in late July to ease academic pressure on children from after-school activities and accommodate the needs of working parents. This has led to children enrolled in the country's compulsory education program spending extra hours at school — authorities say the policy is working — while dramatically reducing private tutoring.
As the industry adapts to the new normal, several tutoring agencies have announced a scaling back of operations or staff cuts. In early August, internet company ByteDance started downsizing its education unit, while industry giant Juren Education said it would close all of its centers nationwide due to "operational difficulties" earlier this month.
At the New Oriental, some 10,000 employees had already left the company amid uncertainties, according to the Late Post report. The company had hired around 100,000 people at the start of 2021 when the tutoring sector was still a booming business.
When reached by Sixth Tone for a comment on the mass layoffs, a staff member at New Oriental's Shanghai branch didn't deny the news report, adding, however, that there wasn't an official notice on the matter.
On Monday, one of New Oriental's centers inside a shopping mall in the Pudong New Area — previously advertising private tutoring during the summer vacation — had suspended academic classes. Instead, it provided calligraphy and robot design classes, as well as day camps exploring biodiversity or the history of automobiles.
At another New Oriental branch just three kilometers away from the mall, no students occupied the school's two floors and dozens of classrooms on Sunday. A course consultant told Sixth Tone that while they still offered academic classes, they no longer involved an initial aptitude assessment like before.
"Currently, we only have one teacher for teaching Chinese to younger students," the staff, who requested anonymity, said. "We haven't received any official notice (about downsizing) yet and will continue with our duties until then."
Meanwhile, other tutoring centers, such as Xueersi, plan to stop in-person classes from October and instead move online, according to parents and teachers in Shanghai, who were notified of the decision on Monday. One teacher told Sixth Tone that they only offered classes on weekdays, with no students coming during weekends, mounting rental costs for the company.
Some say that the move to cut back or scrap in-person classes may also be due to the new national directive on tuition fees, barring private tutoring centers from increasing prices by more than 10% than the government-set prices. Such centers used to set their own fees, and the cap would affect their operations — therefore, they're seeking new ways to minimize costs, according to the teacher.
However, not everyone was happy about the tutoring centers moving their classes online. Even though Xueersi charges 220 yuan ($35) for each 90-minute class, which many parents regard as affordable, they are concerned it would affect their children's physical and mental health in the long run.
"Going online means a great challenge for my child's eyesight," a mother of a second-grader told Sixth Tone. "The interactions and effects from online classes are not the same as compared with in-person sessions."
"If operating costs are the result of government-guided pricing, we might have to pay around 130 yuan for each class," said Huang, father of a first-grader. "But I'd rather pay the original price for in-person sessions instead of the reduced price for online classes because the classroom environment and the face-to-face interactions cannot be replicated online."
Editor: Bibek Bhandari.
(Header image: Students and their family members outside a New Oriental branch in Qingdao, Shandong province, Aug. 11, 2021. Song Peng/People Visual)