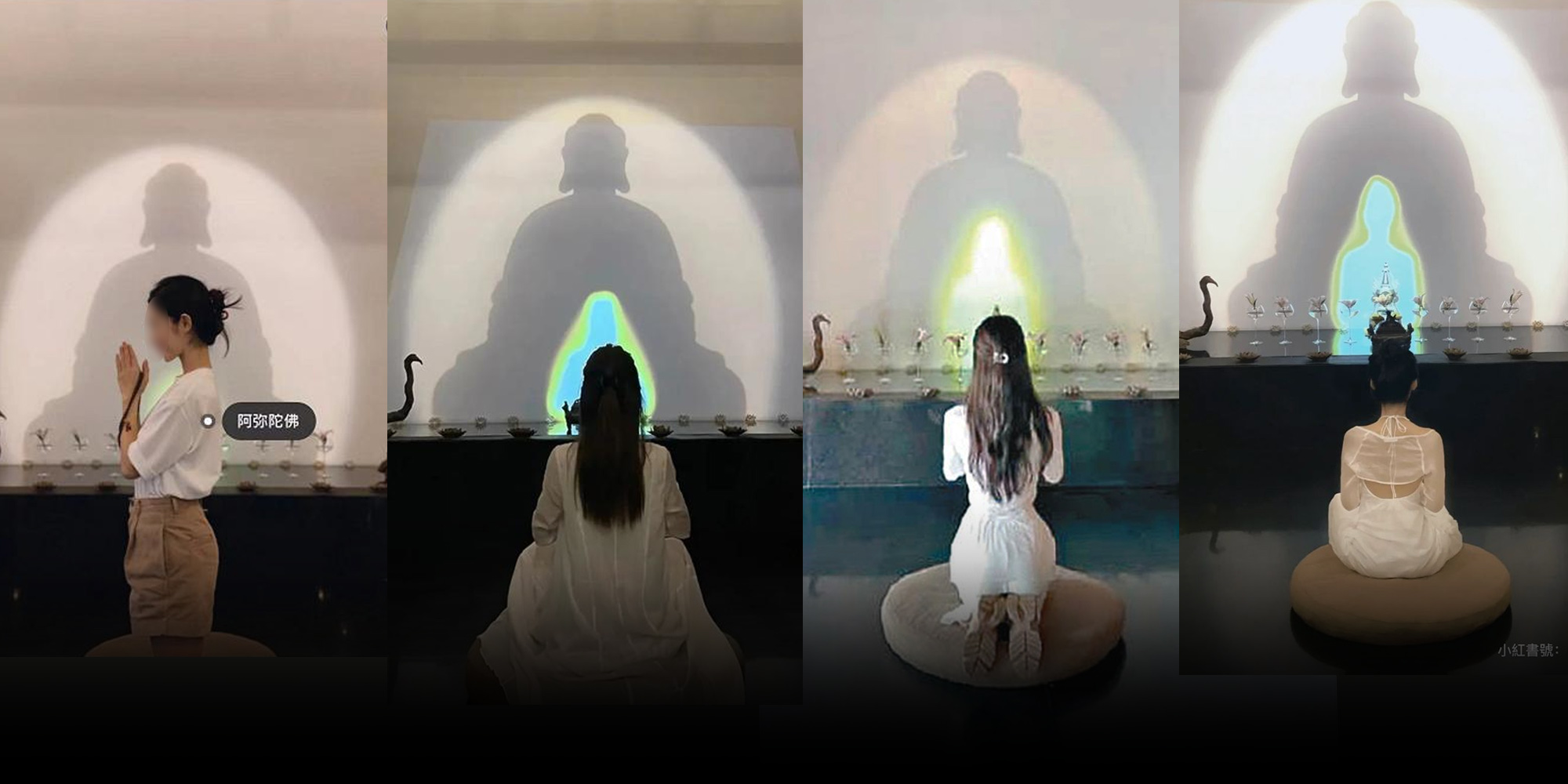 NEWS
Chinese Social Sites Ban Online Influencers Capitalizing on Buddhism
Several state media outlets have criticized the trend dubbed "foyuan" for turning religion into a profit-making tool.
A woman is praying to a Buddha statue. Another one has parts of the Buddhist scriptures painted on her nails. A third sits writing religious texts but in the wrong sequence.
The women are all so-called online influencers, part of the growing community using Buddhism to boost their social media rankings. Known as foyuan — which loosely translates to "female Buddhist socialite" in English — the women usually post photos, often in seductive poses and sometimes wearing revealing outfits, with some hoping to profit from advertisements and sell products related to Buddhist culture.
The trend emerged early this year on Chinese social media, also the birthplace of other recent viral buzzwords such as tang ping — where young Chinese espoused lying flat to accomplish the bare minimum — and jing fen — for socially averse millennials who identified themselves as spiritually Finnish. And while many online trends complete their life cycle before being immortalized into the virtual ether, some are crushed — like foyuan.
On Thursday, leading social media platforms Douyin — the Chinese version of TikTok — and Little Red Book said they banned several online influencer accounts accused of hyping themselves as Buddhist socialites for spurious marketing purposes. The platforms also deleted dozens of related posts and videos involving such content.
Buddhism is one of the five officially recognized religions in China, but its commercialization over the years has led to greater scrutiny to end such practices. In 2017, Chinese authorities banned religious profit-making activities, as well as prohibited the commercial operation of temples.
In the wake of the female Buddhist socialite trend, China's influential state media outlets have banded together to denounce such behaviors. A 
commentary
 published by state broadcaster China Central Television on Thursday said the Buddhist socialites have not only "destroyed the serious atmosphere in religious places," but are also suspected of 
breaking regulations
 that ban commercial promotion in the name of religion. 
"While seemingly standing aloof from the world, they are in essence materialistic," the commentary said. "Buddha, for them, only means a persona and a tool to attract traffic and seize profit."
The Workers' Daily newspaper, which is backed by the All-China Federation of Trade Unions, also slammed the online trend, saying, "A fox cannot hide its tail by wearing a kasaya," referring to the robe worn by Buddhist monks and nuns.
A Douyin user with the username Chanchan is among the several accounts since deleted. Responding to the controversy, she said she was only sharing her daily routine with her more than 300,000 fans on the short video platform.
"After my fan base grew, I promoted products and recommended ones I liked to netizens and fans, which I think is reasonable and legitimate," she said using a separate Douyin account.
While some people regard foyuan as a trend used by trolls to stigmatize all women practicing Buddhism, practitioners of the religion see them as outright offensive. A 22-year-old woman surnamed Zhang, who is also a devout Buddhist, told Sixth Tone that the online photos and videos are anything but serious and solemn like Buddhism.
"When I encountered situations that confused or bothered me, I would visit a temple and feel like I was in a pure place where I could get relief," Zhang said. "Foyuan goes too far … My friends and I don't pose for pictures like them or take photos of worshiping Buddha only because the images look pretty."
Editor: Bibek Bhandari.
(Header image: A collage shows posts from "female Buddhist socialites" on Little Red Book. From Weibo)