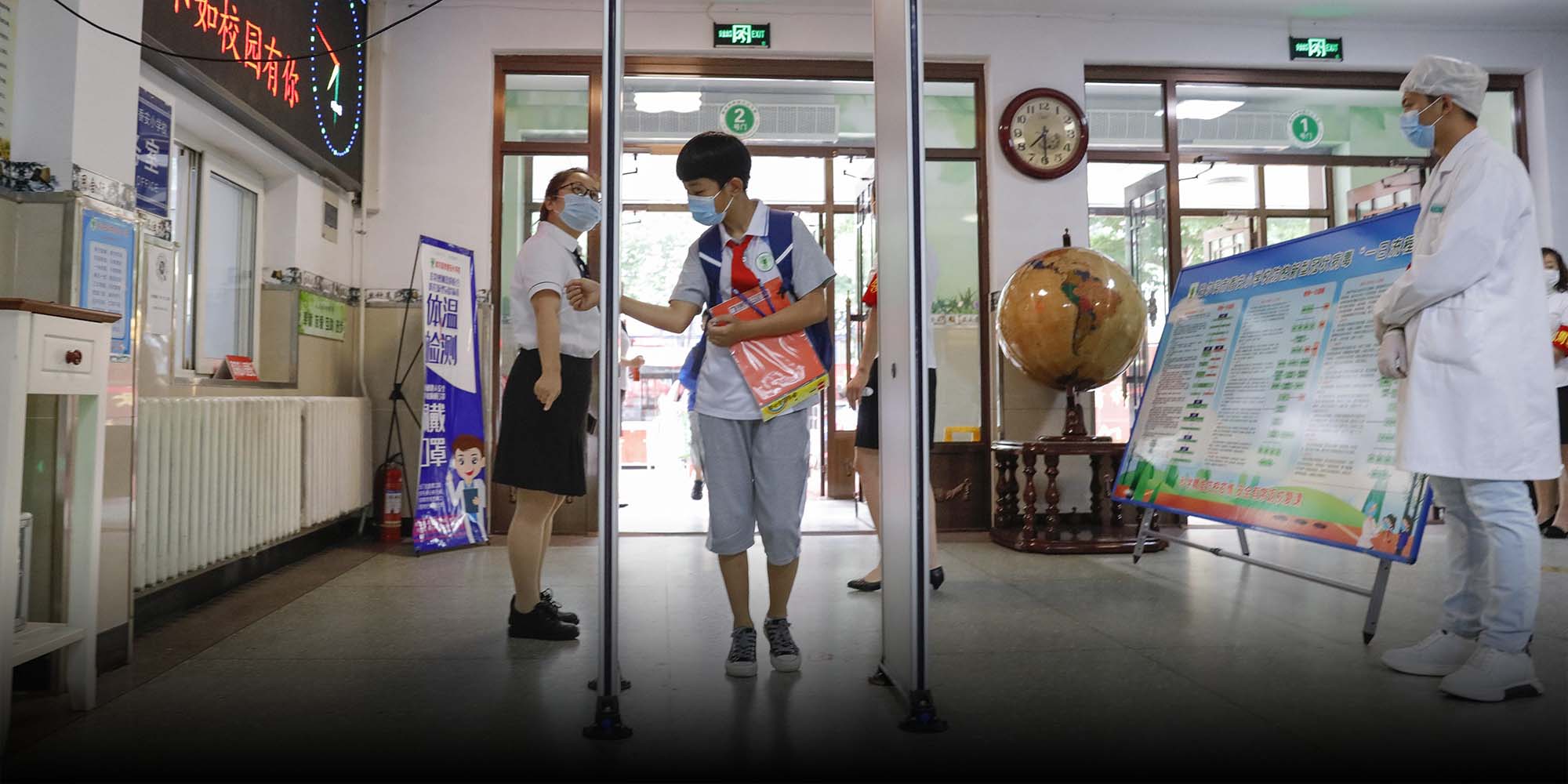 NEWS
Chinese Schools Discourage Holiday Travel Amid COVID-19 Surge
While some students must get school approval, others need to undergo 14-day home isolation before returning to class.
Schools in several cities are tightening measures to control the spread of COVID-19, with some canceling in-person classes and others prohibiting holiday travels amid local outbreaks that have affected many children.
In the northeastern city of Harbin in Heilongjiang province, all kindergartens, primary, and middle schools suspended classes for a week starting Wednesday amid a surge in local infections. At least 11 people have tested positive for COVID-19 since the first case was reported Tuesday, according to local authorities.
Schools across the country have been on guard following the recent outbreak in the eastern Fujian province, where dozens of children had contracted the virus. Two students in the city of Putian tested positive for the virus on Sept. 10 in the fresh wave of infections that is said to have links with a local student's father who may have been infected during quarantine.
As of Wednesday, Fujian had reported around 440 positive cases, according to local health authorities. As many as 92 were children under the age of 14 have been hospitalized, with the youngest being less than 4 years old.
To prevent any possible virus flare-ups during or after the upcoming seven-day National Day holiday, several schools have asked parents and students to refrain from long-distance travel lest they want to be subject to quarantine upon their return. Education authorities have routinely discouraged school staff and students from leaving their cities for holidays during local outbreaks.
One parent from Shanghai said their child's school had demanded that students who travel during the holidays must complete 14-day home isolation before they return to school.
"It's literally banning travel outside the city during the holiday," said the parent, who declined to be named. "It's a bit extreme because that means my family's travel plans will again fall flat along with our summer vacation, which was ruined by the domestic outbreak triggered in Nanjing."
Another school in Shanghai requires students to provide a negative COVID-19 test report within 48 hours of returning to school after their travels, according to another parent. Students must also first get travel approval from their class teacher before leaving the city.
In the eastern city of Nantong in Jiangsu province — which recently contained its COVID-19 outbreak — some schools have asked students and teachers not to travel during the holiday, according to one teacher.
"The school is trying to reduce the risk to zero," said the teacher surnamed Yu. "But many students' parents still frequently travel for business. I wonder whether the tight control over teachers' and students' travel alone is secure enough."
Meanwhile, in Beijing, some parents said the majority of schools have only asked students not to travel to areas designated as medium- or high-risk. However, parents are required to inform schools of their travel plans before leaving the city.
Earlier this month, following the outbreak in Fujian, the country's top education authority had encouraged all teachers and students to stay put for the holidays, including during the just-concluded Mid-Autumn Festival and the National Day holiday that starts Oct. 1.
Editor: Bibek Bhandari.
(Header image: A student checks his temperature before entering school in Harbin, Heilongjiang province, July 20, 2020. People Visual)